BATSKILLS IN IRELAND A REVIEW Report by Owen Kelly ITTA Tutor/Coach
also BATSKILLS - 'The Fun Way To Learn'

PINGIS is the buzzword in West Cork and Batskills were invited to give a demonstration at the monthly training scheme to players and coaches alike. Peter a sports teacher and Dave an ETTA coach took centre stage as they gave a background to the development of this new exciting development in coaching table tennis.

Every coach has they're little tricks to keep their sessions fresh and interesting. Over the last 20 years I've used various targets including up turned yoghurt pots, smiley faces and even chocolates to capture interest and help extend that very short concentration span that most kids have today.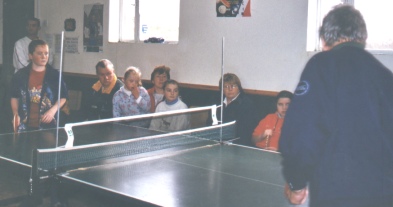 Enter Batskills, a collection of coaching aids specifically designed to capture that interest through FUN games. As a Tutor we encourage coaches to plan a session that has a number of exercises with time allotted for games at the end of a session. Batskills could certainly revolutionise my coaching sessions, especially with the beginners and large numbers, with the aid of Batskills equipment the training exercises become fun games and this means the whole session is fun from beginning to end, none of the "This is boring! When can we play matches?"

So how does this work? The Skills Set has a number of targets for the players to aim at; they are scaled down versions of equipment used in other sports and are consequently easy to recognise. There is a soccer goal that can be placed on the table as a target and the players can serve and try and score a goal. A lot of coaching is about stimulating the interest of the players and they all got tremendous satisfaction when they scored a goal accompanied by "oohs" and "aaghs!" when the ball hit the cross bar or post and failed to score. Splitting the players into teams you can create a fun team game, service exercise, that can keep a high level of concentration far longer than the normal set exercise. One of the other advantages being you can cater for a larger number of players on just one table. If you are lucky enough to have more than one table a coach/teacher could set up another exercise on another table with a different target. There are a number of others including a basket ball hoop, ideal for the drop shot or short service, rugby posts that can be used either up close to the net in order to play between the posts or scoring a conversion for 2 points as another type of target. Why not play a game of cricket with the mini set of stumps, go show jumping but make sure you clear the water! There are 8 different targets in all each being easily adapted to any exercise the coach would like to emphasis.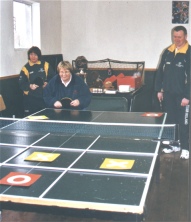 The star of the skill games in my mind is the noughts and crosses set. A grid of 9 squares is laid out on one side of the table, just like a large noughts and crosses game. Either in teams or playing in pairs players have to hit or serve the ball into one of the spaces. If they hit an open square they can then place either their nought or cross in the space, the winners being the team who make a line first. There are a number of variations with this game including the numbers game. Each of the cards has a number from 1 to 9 on them. The cards are place in the grid and if you hit that space you score that number. Two teams can play up to a given number ie 31. The first team to score 31 wins, but be careful, if you go over 31 you bust and have to start again. Coaches could put the high numbers in the squares you want players to aim for most.

Each of the skill games comes with an illustrated coaching card with adaptations and alternative uses for the targets. You can even use the equipment on the floor or even school desks, especially useful for those with limited tables and large numbers. I think 6 per team would be as large as you would want to go, even so being able to accommodate 12 players on one table will appeal to a number of coaches especially in West Cork where most clubs and schools would have only two tables at their disposal.

A very useful adaptation for the games would be using 9 tables with a game on each table providing a fun skill circuit or Tablethon as Batskills call it. On its own or with a robot as well this could be an ideal way of demonstrating the sport and could be used as a promotional tool for provincial branches to help developing schemes in schools with large numbers as the games can be adapted to almost every standard. I should not have been surprised at the interest our "elite" players had in the equipment as well as the younger beginners. Even parents wanted to have a go.

The Skill Set would in itself be a major help to coaches and teachers but Peter and Dave then introduced the Rally Set. The Rally Set again is a very simple concept, using specially adapted equipment to encourage players to develop they playing skills. The Rally Set consists of a net system, which easily fits on to the existing net set of all tables. A second net can be raised or lowered on this equipment. This means that the net height can be placed at any level. Players can then be encouraged to use topspin to loop over a higher net; this can be raised to a considerable height. The net can also be set so that, players have to play between the nets in order to keep the ball lower. The set also comes with extendable lines that divide the table into different areas encouraging accuracy, this is also developed through the use of vertical posts like gates, that can be moved closer and closer together as the players improve.

We had a mixed age and ability group trying out the equipment and everyone seemed to be able to enjoy and benefit from the games and tasks. Special guests, World Special Olympic Mixed Doubles Gold Medallists Emily Meagher and Michael O'Grady from CoAction in Bantry trained along side players from 7 years-old to, well I shouldn't really say!

I was very impressed with the equipment and can see many benefits, there is a great potential here to raise the enjoyment level of training sessions. It will take sometime to assess the equipment in a working environment but I think the experience will benefit both players and coaches alike.

The sets are light, easy to set up and can be flat packed to take up very little space. Each game can be individually bought as a full set or either Skills or Rally. In Ireland sets can be bought through Celtic Table Tennis.