The Man in the Driving Seat by Owen Kelly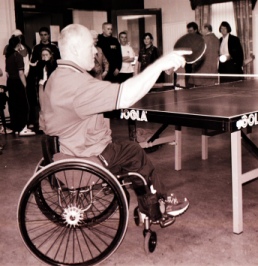 Michael Cunningham has been one of our top Paralympic Table Tennis players for a number of years and his reputation a highly skilled proponent of the game has been long established. I had the pleasure of interviewing him over the phone, after he pulled up on the side of the road. About some of what it takes to play table tennis from a wheelchair point of view.

Michael first pointed out that because quite a number of players do not start off at a young age in a wheelchair. Many of those who take up the sport only decide after finding themselves in a wheelchair after an accident or illness and this is often later on in life rather than in main stream where players generally start at a much earlier age.

There are kids out their in wheelchairs integrated in to regular National Schools as Michael pointed out to me and many of those schools have or could purchase a table tennis table. The sport is ideal to provide access and inclusion for those kids and it would be easy for teachers to provide a suitable facility relatively inexpensively. He would like to appeal to schools to consider table tennis as an ideal vehicle to get wheelchair athletes more involved in sport.

Wheelchair table tennis is part of the Paralympics where players are medically assessed on their physical ability not on their ability to play as in Special Olympics.

"It is more like the world of boxing, where athletes are assessed by weight rather than ability."

There are many different classifications, which include a number of physical illnesses such as polio or MS or physical handicaps like amputees. These are assessed on a continuing basis, as some are degenerative in nature.

The physical restrictions have also to be assessed by the coach who must take a number of factors into account when coaching a player. As in main stream equipment is important and within wheelchair the chair is a fundamental piece of equipment. Michael describes his chair as needing to be strong, durable as well as light and manoeuvrable. He has a specially adapted chair that he would also use on a day to day basis.

He uses a 3-degree camber on his wheel-base in order to increase the stability as well as to turn the chair quicker. He points out that if he used anything wider to increase his centre of gravity that he would have difficulty gaining access as the chair would be too wide for most doors. Some players also use a "booster" seat in order to increase their height at the table but if this is too high then it increases the chances of toppling over. All in all Michael's chair costs in the region of 5,000 Euro.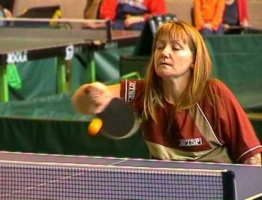 Some players use an adapted blade and these are often dependent on the physical ability of the player as well as their personal preference. As in main stream every advantage is sort. Different players use a longer handle or blade face, a more pointed bat face as well as a horizontal bottom surface. Many of the adaptations are to increase the reach of a player, which is obviously restricted when in a sitting position. Michael himself chooses to use a standard blade.

In the same way as main stream players choose different rubbers to gain an advantage and are dependent on style. Michael tells me that long and short pimples are commonly used and for exactly the same reasons as everyone else does, sometimes to cover up their technical ability to play a shot and not because they are physically restricted.

Coaches also need to be able to assess the physical abilities of each player on an individual basis and coaching needs to be built upon these adaptations. The ability of a player to use their fingers, hands, reach and core strength are all important. For example if players over reach themselves they might end up not having the core strength to recover their position.

Michael's own skill level is extremely high and anyone who has had the opportunity to watch Michael in action could not fail to be impressed with his technical ability.

Michael has represented Ireland eight times at the Paralympics on five of those occasions at table tennis. He is a multi talented sports man who on one occasion won a Gold medal for Javelin.

"Sport is a major priority for me, it is a great equaliser and it can break down barriers."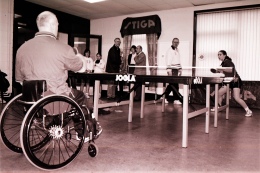 Michael takes great pride in being treated equally by main stream athletes and regards it as an honour to have played against the likes of top Irish International Colum Slevin and relishes each new challenge he faces.

"Being treated equally is very important and within table tennis I am treated in that manner. When I play someone and they take every advantage they can against me I know I am being treated as an equal."

Michael finds Table Tennis an ideal way to socialise as well as compete.

"It is a fabulous way to find your own level and mix with all sorts of players, table tennis provides me with that opportunity."

Michael talks in an enthusiastic way about the sport and is a great ambassador for what the game is all about. However like in all aspects of life there are difficulties and problems that need to be over come. Some are unique to wheelchair while others are the same for everyone.

"Travel is expensive, we live on an island (Ireland) and are not able to just take a train or hop in the car like many athletes abroad."

Everyone in Irish table tennis suffers from the same problem but it is even more apparent when travelling in a wheelchair.



"Take Cathleen Reynolds, one of our top Irish wheelchair players. She does receive some funding from the Irish Sports Council, around 12,000Euros I believe. That might sound like a lot but when you have to play in a large number of tournaments to reach the top 3 or 4, table tennis becomes an expensive sport."

If you compare that with the 12-20.000 pounds sterling that GB squad players get we are at a considerable disadvantage just on financial terms.

Michael outlined for me just what it takes to get to an event in Europe. When flying you often need to be accompanied and that is again another expense. When you arrive at the airport you then have to find suitable transport as well as accommodation that is accessible.

"When we travelled to the European Championships in Sweden all our luggage went missing. Many Paralympic players have to take medication or carry other specific medical equipment. Loosing that along with your table tennis equipment can be very traumatic."

Michael also recounts that he has seen his wheelchair fall off the conveyer belt on a number of occasions and if a wheel buckles it can be a major blow to your effort.

Top wheelchair player like their main stream counter parts train 3 to 4 days a week and at weekends.

"Just because you are in a wheelchair doesn't effect the level of competitiveness."

Most Irish players have to earn a living away from the sport, however in Europe they have to compete against semi-professional players.

With all these odds stacked against our wheelchair players it is remarkable just how successful they have been over the years. Michael himself has not been in a position to compete over the last couple of years, mainly due to the financial pressure that top competition necessitates.

But Michael does not appear to be bitter or critical of anyone. My impression was of a man who remains a table tennis enthusiast encapsulating many of the qualities of a top sportsman. He is skilled, passionate, dedicated, and competitive taking each and every challenge head on.

I learnt a considerable amount about table tennis in my short conversation and would like to find out more. If you are like me why not check out the upcoming Paralympic competition due to be held in Dublin on the 10th-11th and 12th March at either DCU or the IWA (dependent on numbers).

For more information on Paralympic table tennis abroad check out International Paralympic TT website.

If you want more about Irish Paralympic table tennis you can check out an interview from a few years ago with Ronan Rooney after the Sydney Para-Olympics. Here