TABLE TENNIS IRELAND NEWS
Full News Archive
Munster Junior Top 8's 10th-11th April 2010
Goleen Community Sports Centre was the venue for the finale of the Munster Junior Rankings. The Top 8 Juniors in each of the 4 age categories were invited to play with a 9th player given a "wild card" placement. A couple of players were away on international duty but this didn't take anything away from the intensity or quality of table tennis on display. The was the first time many of the players and coaches had had the opportunity to compete at the new Goleen sports Centre and many were impressed by the quality of the facility.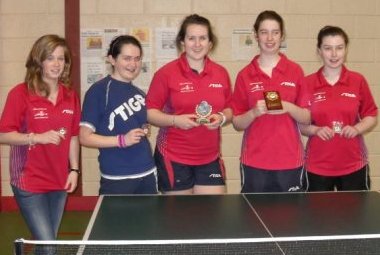 Over the 2 days of competition there were many thrilling encounters and the action started early on Saturday morning with the under 12 and under 17 age groups. This event was dominated by Andrew Reck from Ballincollig, he managed to secure 7 of his 8 wins without conceding a set. His final match against Ian Brown also from Ballincollig was a tremendous display from both these top players with Andy finally taking his first Munster Title 7-11, 14-12, 7-11, 11-5 & 11-5. This was a great achievement coming into the tournament as the 3rd seed. Ian Brown was 2nd and Alex Cooney took 3rd with only a 3 point advantage over Michael Lagan of Killarney.

The under 17 girls had a severely reduced field with only 5 competitors but the quality was still apparent with five of the matches going to the full 5 sets. However it was Deidre Murphy from Ballincollig who rose to the occasion remaining undefeated throughout the day after securing an initial 5 set victory over Emily Burns 11-6, 12-14, 9-11, 11-8 & 11-7. With all the matches finishing so close the positions came down to a matter of sets for and against. Niamh Buttimer secured 2nd with Emily Burns 3rd, Aisling Healy 4th and Emily O'Reilly 5th.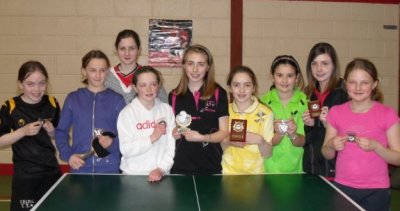 On the other side of the age groups the under 12s put in some excellent performances showing themselves as the stars of the future. A full complement of under 12 girls gave each a series of 8 matches with Lynn O Shea of Killarney taking the title with an unbeaten record and dropping only 1 set to Briella Brady. The Killarney girls showed their ability with Valentine Pudtkalis taking 2nd and Ballincollig's Chloe Brown took 3rd.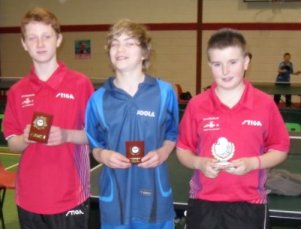 The under 12 boys also finished with one player unbeaten on the day and that was Alan Walsh from Ballincollig who has shown a high level of improvement throughout the season. Gearoid O Donoghue undid the pre-tournament seeding taking a well deserved 2nd place after bamboozling his opponents with his long pimple stylings. Roman Pudkalis (Killarney) finished 3rd and a good performance from Kinneigh's moved him up from 7th to 4th during the day.

The matches were fought out in good spirit and many of the parents took advantage of the sunshine and an early finish time. Sunday would bring more matches and more competition for many of the players.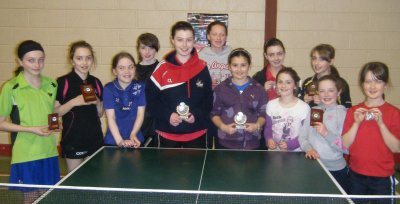 Sunday kicked off with the U10 Girls and with only 6 in this category the matches moved on a pace. Kerry O'Mahony remains undefeated with a good performance from Siobhan Burns moving her up into 2nd on the day. Courtney Drummond was 3rd, Devon Brady 4th, Kate Cronin 5th and Kymblee Shorten 6th. The girls all deserved credit playing well and displaying their very young talent to the appreciative spectators.

The future of Munster Table Tennis looks very bright indeed in the under 10 boys' category and many were surprised by the very high standard of play. This event also had special significance for the host club as the pre-tournament James Kelly heralds from this club. However it was another West Cork player Tom Walsh from Bantry who caused the first upset recording a significant win against No.3 Paul Cooney (Ballincollig) in the opening stages, after losing the first two sets 5-11, 8-11 he staged a comeback to take the next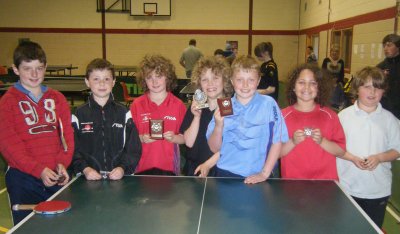 3 sets 11-7, 11-7 & 11-9. However Paul will have another 2 years at this age level as he is only 8yrs old. Niall Brown (Ballincollig) almost upset the home crowd as he pushed James Kelly to a five set battle after losing the first 2 sets he took the next two 11-9, 14-12 but James came back to take the final set 11-7. There was also good local support for two other Goleen players Zico McSweeney-Oliveira and Sam Coughlan who finished 7th & 8th respectively and with another West Cork player from Skibbereen Sean Finn Gallagher-Spencer taking 9th. The final match for the top 2 places came down to a matchup between James Kelly and Karl Walsh (Ballincollig) and with some good offensive play from both players this both entertained and thrilled the local crowd with the first win at a Munster Top 8 by a local player.

The U14 Girls' event also had a couple of local players on display with Mair Kelly and Mairéad Supple competing for the first time. It will be a couple of years before they will be able to match the experience shown by Emily Burns (Ballincollig) who only dropped 1 set against 2nd place finisher Valentina Pudkalis (Killarney). Valentina went into the event as the 4th seed but recorded a fine win against U12 Champion Lynn O'Shea 11-7, 10-12, 11-8 & 12-10 to take the 2nd place spot Lynn recovered well to take 3rd ahead of Chloe Brown (Ballincollig). 5th was a late call up Niamh Cotter from Bantry, with Mair Kelly 6th & Mairéad Supple 7th.

The Under 14 Boys is a very competitive category, the seeding went out the window at an early stage with unexpected wins by many players and at the half way stage it was impossible to predict. Alan Walsh took out Shane Foley, while Barry Kelleher upset the No.1 seed Michael Lagan who also lost to Shane Foley and Shane O'Connor in the final round. Colm Murphy was having a good day beating Shane O'Connor in 4 sets and Brian Kelleher in the final stages.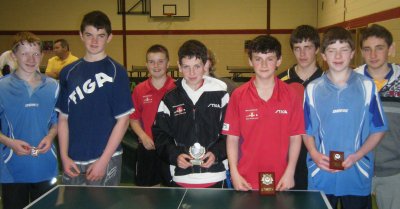 After Shane O'Connor defeated Shane Foley (Kinneigh) 8-11, 11-7, 11-7, 12-14, 11-8 it gained enough wins to secure the title, Colm Murphy also from Ballincollig moved from 5th up to 2nd while Barry Kelleher came from 6th to 3rd after ousting club mate Shane Foley by 1 point on count-back, the closest of all margins. Michael Lagan lost out on count-back once again to Brian Kelleher who took 5th by a 2 set margin. All this added up to a very close and well contested event and a treat for the assembled players, coaches and spectators.

West Cork Chairman Owen Kelly thanked all those who had contributed to a successful event over the weekend and especially the Goleen & District Community Council, rural workers and all the local help and support he had received behind the scenes including Tommy Jermyn the Hall Committee Chairman.

Many of the players will be back in action next weekend in Dublin for the Butterfly Irish Junior National Championships.

Ireland win Junior British League 2010
A fantastic TEAM performance results in a great achievement for the Irish Junior Boys Team as they win the Junior British League Premier Title for the first time.

Following on from Weekend 1 when the Irish Boys blew the opposition away, they travelled to the final weekend of the event carrying the weight of expectation of the Irish table tennis community. The players did not disappoint and rose to the occasion magnificently, taking scalps off higher ranked players and in the case of Paul McCreery, progressing through the weekend with a 100% record. There was great spirit and support among all the members of the team which helped to deliver solid individual performances. The Junior British league is a very well run event and a perfect event for Irish teams to participate in. It is the perfect standard to challenge and develop our players whilst providing the chance of real success by finishing in a medal position. Psychologically this is a big boost for the players and staff in the run up to big events such as the Six Nations, Austrian Youth Open and European Youth Championships. Ireland's Junior Boys epitomised the meaning of Team over the course of the two weekends at Junior British League.

NPC Marcus McDonnell was understandably thrilled: "I would like to personally like to congratulate each team member for their great contribution – It wasn't plain sailing all the way and each player had their ups and downs along the way but kept their chin up and got back to the task at hand very quickly. Paul McCreery, Sam Hanley, Ashley Robinson and Sam Logue were all in the top 10 of best individual averages, with Paul McCreery topping the table with 18 wins and only 2 losses. We will look forward to defending our new title late in 2010."

Technical Director John O'Donoghue was keen to highlight this historic achievement: "I am absolutely thrilled that we have finally won this title, its a title we haven't won before. I would like to pay tribute to the players and coach for pulling off this victory against England's top ranked players."

Bargain Bat for Beginners
I am often asked about what bat a player should get and especially from parents of players who are just starting. I keep about 20 bats in my coaching box for all the players without bats, some are better than others! So there is no need to buy a bat straight away. Once a child has started playing more regularly then I think it is a good idea for them to have their own bat.

The majority of players I have who are starting out are from about 9yrs - 12yrs of age. The bat I suggest as a good starter bat is the TSP Bandit. I have a couple in my coaching box and they are always a popular choice for the kids. They seem to last a long time in my box and they are used at least 5 times a week by various players. The bat retails for €11.50 from Celtic Table Tennis. (email: bollarde@indigo.ie, Website www.celtictt.com)

If I think a player has tackled the basic shots and is looking to move on to learning more about "spinning" the ball I usually recommend one of the Friendship 729 bats. They are quite fast and a player can top spin the ball well with this bat. I think it is slightly heavy and it needs a bit of care to keep in good condition as the rubber surface appears thin. They do last as long as some in my coaching box. These bats can also be purchased from Celtic Table Tennis. I suggest the 2040 which you can get for €20.

I have been trying out the Tibhar Volcano on a number of players and have used it myself. This bat give very good control and it is easy to develop both topspin and backspin shots. This bat retails for €29 from Celtic Table Tennis.

Joola have brought out a competition ready bat called the Roscopf Classic. (€35 Celtic Table Tennis). I have not used it myself but all the indications are that this is a good well balanced bat.

Tommy Fitzgerald supplies Stiga equipment in Ireland (01 84528744, website: www.tftt.ie)and I have used a number of their budget bats in my coaching box and they are adequate for beginners. He does have a very interesting offer on at the moment as he has a Stiga 5 Star bat normally retailing at €80 on Special Offer for €40. He also has a number of other bargain offers including 2 Star bats €15.00 (Normally 26.50). One Star bat, 3 balls & cover €13.00 (Normally 22.00). Shirts (original shirts) €5.00 (Normally 28.00) Shorts (Classic) €5.00 (Normally 22.00) and a free pen and 2009 Calendar with each item.

I also suggest that if a player is buying a bat they should also get a case. This significantly increases the life time of the bat, I would also suggest the rectangular cases as they are less likely to tear the rubber when zipping them up.

Most of the bats should last for at least a year and some much longer. However the rubbers do lose their stickiness and if a player is developing well they may well need to move up to the next level.

This is where a player buys a separate blade and adds suitable rubbers as they develop. With rubbers on average costing around €20 and cheap blades around the same the next level takes us into the €60 plus region.

November 2008
ITTF World Men's Top 10
1. WANG Hao CHN
2. MA Lin CHN
3. MA Long CHN
4. WANG Liqin CHN
5. BOLL Timo GER
6. SAMSONOV Vladimir BLR
7. CHEN Qi CHN
8. RYU Seung Min KOR
9. JOO Se Hyuk KOR
10. HAO Shuai CHN

ITTF World Women's Top 10
1. LI Xiaoxia CHN
2. ZHANG Yining CHN
3. GUO Yue CHN
4. GUO Yan CHN
5. WANG Nan CHN
6. LI Jia Wei SIN
7. FENG Tianwei SIN
8. WANG Yue Gu SIN
9. TIE Yana HKG
10. JIANG Huajun HKG

National Club League Event
Results: Division 1
York Road
Bailyborough
Blackrock Blue

Divsion 2
Kilmovee A
Ballyroan 2nds
Ballyroan 3rds

Divison 3
Mountrath
York Road
Kilmovee

All Ireland Schools 14/4/08 UCD
All 3 boys titles and the U13 Girls title to Colaiste Choilm from Munster. St. Mary's Ballina took the U15 Girls Title with Loreto Swords taking the U19 Girls title.

Stiga Irish Junior National Closed Championships 2008
Results of the Stiga Irish Junior National Closed Championships 2008 held in ALSAA Sports Complex, Dublin on Saturday/Sunday 12/13thApril 2008.
Junior Boys
1. Sam Hanley (L)
2. Gavin Maguire (L)
3. Paul McCreery (U)
4. Daniel Keenan (L)
5. Corey ORourke (L)
6. Mark OFlynn (L)
7. Sam Logue (L)
8. Kevin OKeefe (M)

Junior Girls
1. Claire Nelson (U)
2. Fiona Dennett (I)
3. Rebecca Kenny (L)
4. Sara Dolan (L)
5. Deirdre Murphy (M)
6. Kerrie Phoenix (L)
7. Rebecca Irwin (U)
8. Niamh Buttimer (M)

Cadet Boys
1. Ashley Robinson (U)
2. Sam Logue (L)
3. Stephen Slater (U)
4. Daragh Foley (M)
5. Declan OBrien (M)
6. Neil Irwin (U)
7. Alex Cooney (M)
8. Adam Claffey (L)

Cadet Girls
1. Ashley Given (U)
2. Deirdre Murphy (M)
3. Sarah Timlin (C)
4. Aisling Healy (M)
5. Niamh Buttimer (M)
6. Kerrie Phoenix (L)
7. Edel OReilly (M)
8. Nicole Brady (L)

U12 Boys
1. David Cooney (M)
2. Shane Foley (M)
3. Ben ODonnell (M)
4. Kieran Reilly (U)
5. Neil Irwin (U)
6. Ciaran Kelly (L)
7. Michael Lagan (M)
8. Ryan Farrell (L)

U12 Girls
1. Ashley Given (U)
2. Edel OReilly (M)
3. Emily Burns (M)
4. Annalise Walker (U)
5. Amylou Hayes (L)
6. Kate Connerty (L)

Improving Performance by Owen Kelly
I am always talking about ways of trying to improve participation pathways as I feel this should be the main area that we in Irish Table Tennis should be concentrating on at this time. But the question as to how we could improve our performance levels should also be considered. A National Performance Strategy would be appropriate. I do not want to criticise any of the hard working coaches in this area as I have the utmost respect for their skills and their efforts. I would like to look towards how we could make those efforts more effective and efficient and improve the performance structure and pathways at the underage level.

I am sure others share my disappointment that we are not competing at as high a level as we would like and the fact we fell so short of the targets set in the last National Strategy, having said that I do think they were unrealistic in the first place.

I would like to focus on the junior scene from my "outside" prospective. I thought the monthly National Training Camps were a good idea, especially as they were to be held within each of the provinces, which meant less travel and less expense for the players. However I think unless we take a serious look at how these are structured and how they are to be implemented, I don't think they have delivered any improvement so far in the overall standard of players in this country.

I think we have to try and encourage a higher expectation from our players. From my experience of teaching on a day to day basis the work rate and input from the players is very much dictated by the level of expectation levelled upon them from their teacher. I think this can and should be extended to the teachers or coaches themselves. Within a club session a coach often needs to encompass a broad standard of player and consequently it is difficult to set a high level of expectation as one has to deal with participation and recreational players and unless one is solely dealing with an elite squad this is often difficult. However by its very nature at a National or Provincial Training Camp one is dealing with an elite standard and consequently the standard of expectation should both be higher for the player as well as the coaches involved.

Even at the Level 2 Coaching standard coaches would be expected to provide a detailed coaching programme suitable for the players attending, each player should be aware of the technical, tactical, mental, physical and lifestyle capacities that are to be worked upon during these sessions. The coaches of these players should also expect to be provided with this detail and be able to prepare players for these aspects of the training programme and in order to do that they need to be provided with feedback both prior and post training sessions. Quite simply put a player should be able to prepare properly and their coach should be in a position to follow up on any training instructions provided by the provincial or national coaches. In order to do this a session report for each player should be provided as part of the requisite of the supervising coach or delegated to a specific coach dealing with that age group's squad.

Having a player travel to a training camp for one or two days without their coach being provided with feedback for that player I think is bordering on time wasting for both player and all the coaches involved. The links and communication between National, Regional and local coaches needs to be strengthened and the knowledge and skills of each of the levels needs to be addressed.

Simply put teach the player and one benefits, teach the coach and all the players that that coach deals with will benefit. We are constantly investing in the present by providing training and experience for the players but if we provide training and experience for the coaches we will be investing in the future.

I believe the standard of performance in this country is directly linked to the standard of coaching that is being delivered. The standard of performance can be argued but I think we could achieve a much higher level than at present and I cannot see any evidence that the previous or current structure will produce a higher standard in the near or distant future.

The question of how do we provide that training and knowledge I believe should be the central focus of any performance strategy. I have felt very strongly about this for some time and had hoped that the work that I put into the ITTA Level 2 Coaching Course would go some way to addressing this issue. The first course is still in "limbo" with the final part of the practical outstanding. Even before this has been completed I am a little disappointed with the result. I feel that the material within the course is as basic as can be made as it was necessary to provide continuity between this level and the previous Level 1. Even though the course is held over 2 weekends and has a lot of material, I still think it falls short of what a Level 2 Coach should be aware of and implementing on a regular basis. I contend that you cannot cover all the knowledge and skill a coach needs to deal with elite players in 2 weekends. Consequently I feel that preliminary courses are necessary to provide the information before a coach attends such a course, so that they can learn to use and implement their knowledge and then be assessed at a Level 2 Course. There is no substitute for experience and you cannot provide this in 2 weekends, the base knowledge and skills could be polished but not created in such a short time.

Irish Table Tennis needs to look to the future and in order to do so we need to actively encourage our coaches to become more knowledgeable about every aspect of the sport. I believe if you have a player of reasonable talent that most coaches should be able to enable a player to be regularly placed in the top 10 in their age group within Ireland. This is more a reflection on the lack of players and the system we have in this country than the ability of a coach to coach to a high standard. Unfortunately if a coach is able to consistently produce players who achieve at this level in Ireland then their success is often contributed to their coaching ability and it becomes harder to indicate to these coaches that they still need to learn a lot more before their players will be able to compete at the standard we really need to achieve at international or European levels.

I imagine by saying this there are a number of coaches who have already got upset and will be hostile to what I have said. I can only say that as coaches we should always be aware that we need to learn more and that in the real world Ireland has yet to prove itself in table tennis terms. Those in a position of management of Irish Table Tennis need to provide coaches with more information, more knowledge and more experience and need to invest in their coaches in order to raise the standard in this country and not just provide it to a select few but to try and provide it to all its potential coaches around the country.

I believe the best way to teach a coach is to get them to be involved in practical coaching alongside a coach of appropriate standard. At level 1 the ITTA could easily organise a number of seminars or practical sessions delivered by its own coaches or tutors. At a higher level the ITTA should try to regularly invite internationally recognised coaches or coach educators to run master classes and make these available to qualified coaches. I feel this would act as a motivator for qualification as well as providing a real opportunity for our Irish Coaches to learn from the best. As a priority I also think that the ITTA should consider sending coaches away to courses or clubs abroad, I feel this would have a far more significant impact on our performance programme than sending our junior performance players.

As coaches we need to expect more from our players, the players need to expect more from their coaches and as members of the ITTA we need to expect more from those who manage Irish Table Tennis and in this way together, we can expect a brighter future for Irish Table Tennis.

Developing Table Tennis in rural Ireland
It is the Easter Holidays and while the family is away on a shopping trip and the schools are shut I find myself with time to sit and share a few thoughts with those imaginary people who check out my website every now and then.

I want to put down some more ideas and concepts about developing table tennis in Ireland. I am not so involved as I once was mainly due to being so busy coaching in my local clubs and schools, wanting to be as involved as I can with my young family and the direction my local province has chosen to take over the last couple of years. This to a certain extent has put me "beyond" the unpleasantness that is so prevalent and enabled me to concentrate on all that I find good about table tennis in my local scene.

Out of choice I run an open door policy in my three clubs and an "all inclusion" policy within the schools I coach in. This means that I am focused on putting "bums on seats." I do hanker for the days of performance coaching and sometimes I find it frustrating not being in a position to develop the talent I regularly come across, even out here in the wilds of West Cork. I do try to organise regular "performance" training camps and I feel the new West Cork Ranking system this season has gone some way towards helping the minority of players that have managed to reach a higher standard than others.

I see a huge potential for table tennis, especially in this region, I have around 200 players attending regular training once a week and for those that are prepared or able to travel players they can attend at least 4 club session per week (8hrs) and a further session (1hr) if their school also facilitates one of our many coaching schemes. This is due to the fact that the three "clubs" I organise are not really clubs but more precisely coaching schemes. If you pay your membership to one you are also entitled to attend any of the other two and there are a few players who regularly attend these and I have seen a significant improvement in those that can avail of this opportunity.

The Goleen Club that started last year is the main hub of this, mainly because it has 10 tables and enough space to cater for a big crowd. As I only live 15 minutes away and I am the Hall Committee Secretary I also find it easy to open up the hall regularly during the week. Both Skibbereen and Bantry are nearly an hour away and have other restrictions. Skibbereen only has space for three tables and even though we have 5 tables at Bantry it is only open during the school term.

With around 30 players at each club regularly attending Bantry and Skibbereen there is only a certain amount I can achieve due to the capacity of tables, numbers and time. The Bantry session last for 2 hours and even though we do some work on skills it is mainly based around organising fun games and matches. The vast majority only wanting to play matches rather than have structured coaching. It may only be one step away from a youth club but out of it a number of players have shown promise and a few of them make their way out to Goleen once sometimes twice a week for a more formal coaching session.

There has to be more structure in Skibbereen as there are fewer tables. The first session is for the youngest players, all under 10, some as young as 7yrs, with a couple of Special Needs players as well. Around 12 regularly attend this session and I teach them how to serve, the basic rules and we work towards the ITTA 1 Star Award. There are very few "competitive" matches but we play top table and guardian as an introduction to the sport.

The second session is mostly under 12s and all are from the various local national schools. A few of the first group attend this session as well if they feel up to it or I occasionally make a suggestion to their parents if I feel they have developed their skills enough. This session is more based around "winning" a point and I introduce more of the 2 Star Award skills, including top and backspin shots. Again it is mainly top table and guardian as well as a division system I have developed to cater for the large numbers and only three tables. We have as many as 18 at this session and with three tables it is restrictive.

I divide the group into three divisions and each table plays a "winner stay on," system with "matches" up to three. If a player wins 4 in a row they move up to the next group. The next looser in the group above has to move down. This is not always the weakest player but it keeps everyone on their toes! In the first session we play round the table with me feeding at one end in the second group we sometimes play it without the "feeder," the last two left play a one point match. I sometimes use stickers, posters or around Easter chocolate eggs as a reward for the winner.

I use a number of "Batskills" games in both the first and second session. I find the "noughts & crosses" game one of the most popular as well as the target games. We play "team table tennis" and a service game where teams score points for the number of bounces they can get on the opponents side of the table. I occasionally run ranking matches as in Bantry but with the smaller capacity of the session I only use one set up to 11 matches and maybe once or twice a term. I also us SAQ skills and ladder work for all levels of ability.

The third session is a mixed session with a couple of the "keener" players staying on and they are joined by a number of secondary school players. Some of these are only beginners but I think they are more comfortable playing older players rather than the National School age group. This session is much smaller with around 8 players. Some are only there for the fun and I give them some advice but again it is not very structured. With the high ability players I use a lot of multi-ball training mainly working with two and giving another two a shorter session. This is done on a rota basis so they all get roughly the same amount over the course of a month.

The fourth session I call the elite session and sometimes there may only be one or two players. I train a couple of adults as well as coaches and a couple of juniors who travel over to Skibbereen as part of their season programmes. This is much more structured and I give mostly one to one coaching along with some multi-ball, this is often dependent on how "knackered" I am after three hours of training!

I make no claim that this is the ideal or best way to structure my coaching session but I am delighted by the sustained levels of participation, many of the current players have been with me for over 4 years. There are a number of differences between those two schemes as Bantry is 100% boys and I have been unable to retain any of the handful of girls who have tried coming along to the club session. However there are at least 50% girls in the Gael Scoil session held prior to the club session but only a couple of those boys attend the Club session afterwards.

Around 20% of players from both the Bantry Scheme and Skibbereen Scheme play in the West Cork Rankings with a significant number of school players making up the rest of the numbers. We had 44 juniors in the last West Cork Rankings and over 60 at the West Cork Primary Schools Individual Schools event.

My development of table tennis in this area has two distinct structures and I have outlined the club schemes, the sessions that take place out of school. But the school structure is just as important. The two structures overlap and feed off each other. The school provides an opportunity for the players to receive acknowledgement from their school and piers that the club doesn't provide as well. The club provides much more training opportunities and continuity as it goes on even when a player leaves National School and moves on to secondary.

With the addition of the Goleen Scheme apart from a significant number of new players the scheme is also providing a "hub" club opportunity for all those players out there in the various schools and clubs to benefit from extra coaching. I am delighted that so many have been willing to travel out so far and I am also delighted at the improvement we are beginning to see in our higher ability players. However as this standard begins to rise I can see some significant problems on the horizon.

The Long Term Athlete Development Pathway (LTADP) would logically see these players begin to stream into the existing ITTA structures. However I am concerned about a number of problems that will bring to the existing local structure. There is obviously a higher demand placed upon both players and coaches at this level. Living so far away from the centre of our regional base (Cork), the demands on time and expense that these players and our volunteer coaches is likely to have a knock on effect on our levels of local participation.

The dates of last two West Cork Rankings were set at the beginning of the season and it was a general disappointment to note that the Munster Branch decided to host two of its rankings on those dates. Even if the dates had been different we would have been hard pressed to provide coaches for the players who chose to travel. This would be less of a problem if the Munster Branch were able to assure us that these players would not be exposed to all the unsportsmanlike and unprofessional conduct that regularly takes place at these events.

The obvious choice then would be to organise to take our players to the National Junior Rankings and this might well happen next season, but it is unlikely that our players would be in a position to attend more than two as once again the cost in regards to time and money would make it very difficult. My major concern would be that in order to assist the minority of players in their LTADPs that we would have to cut back on the participation opportunities that we are currently providing to the vast majority of our players.

I appreciate that the ITTA and Munster have to find a way of identifying and bringing on talent that is fair but I would argue as to whether it is at present efficient or effective. Faced with the current situation the choice over developing performance players or maintaining participation personally I have decided to remain focused on the latter.

I don't like putting forward problems without solutions but at this time I don't think I have a solution that would appear "fair." My solution would require that our situation would have to be looked into on an individual basis and in the past it has been pointed out that the fact I choose to live so far away from the "centre of everything is just something that I will have to learn to deal with." I feel I have learnt to deal with this and I take pride in what we have achieved. I will not feel very disappointed if the situation demands that we continue to develop on our own separate course. Whether the ITTA will be able to facilitate us and provide "a place for everyone" I cannot answer but I hope it will.

The Dunlop Master 2008.
I had a great St. Patrick's Day. We watched the Dublin parade on the TV and then went off to our local parade. Crookhaven claims to have one of the smallest parades in Ireland and it went off without a spot of rain and even though the wind almost did St. Patrick's job, as the snake was nearly blown off shore like a kite in the heavy winds, the kids of the parish managed to hold on and get it back to the village without us losing one of them!

The evening was a celebration of another kind with a feast of table tennis served up by Mat Syed and Sky Sports and delivered to the Albert Hall. With the greats of Waldner, Saive, Kreanga and Weixing all parading their abilities alongside England's young players Darius Knight and Paul Drinkhall. There was even a side order of celebrity doubles with Glen Hoddle, John Barnes, Jonathan Edwards and James Harper. The three hour show was probably more about promoting the sport than real competition but there were certainly a number of entertaining highlights. I let my young lad stay up to watch it live as he is on his school holidays and just loves table tennis. He told me that the match between Chen Weixing and Saive was the best table tennis match he has ever watched. After it was obvious that Weixing had the edge over Saive in the 3rd set the two players showed off their amazing skills with a couple of rallies that brought the crowd to their feet after barrier jumping and huge shots from around the side of the table. I was also impressed by the sportsmanship showed by both players and was delighted that my youngster was able to witness how a real superstar handles themselves around the table Kreanga and Weixing played out a 5 set final that again demonstrated the sport to the 4,000 spectators as the power of the "pocket rocket" took on the "best defensive" player in the world. Who won? Well you'll have to read the results somewhere else as the real winner on the night was the sport of table tennis and the Greenhouse Project a charity that promotes the development of young people through sport.

My hat goes off to Mat Syed and all the players, coaches, sponsors and those behind the scenes who worked to get this show into the public arena. May there be many more nights like this.

Team Results from 6 Nations International, Guernsey
Cadet Boys
1.England
2.Guernsey
3.Scotland
4.Wales
5.Ireland
6.Isle of Man

Cadet Girls
1.England
2.Wales
3.Guernsey
4.Scotland
5.Ireland

Jnr Boys
1.England
2.Scotland
3.Wales
4.Ireland
5.Guernsey
6.Isle of Man

Jnr Girls
1.England
2.Scotland
3.Wales
4.Ireland
5.Guernsey

Ulster Heroes
As you are probably aware I rarely put finger to type in regards to articles for TTIreland these days but I could not help be moved by the decision of those young players of Ulster to withdraw from playing for Ireland at the up-coming Junior International.

I have worked over the years with hundreds of children whose dream goal has been to represent this island of Ireland at international level and to have young players willing to sacrifice that goal is worth noting.

I do not fully understand the political ramifications of this move or understand exactly why they feel it necessary to take this step. The article on the ITTA website alludes to the "dual eligibility issue" and I suspect that this must be to do with having an Ulster player represent Great Britain at the Olympic Games. There must be some reason why these/this Ulster player can not represent Ireland at the Olympic Games but I do not know this reason. I can appreciate that under the structure in the UK that if a player from Ulster/Northern Ireland were to qualify for the Olympics that there is an opportunity for the region to benefit from increased funding that they may or may not be able to receive from the poorer Irish Olympic organisation.

All I know is this is not the first time Ulster players have made the sacrifice of withdrawing from ITTA organised events. Obviously some one feels that by withdrawing from playing for Ireland at junior level that it will increase the chances of players being able to play for both Ireland and Great Britain in the future. It appears to be a complicated matter and maybe one of those from the ITTA Board who has given unanimous support for this decision would take the time to explain the complexities of the matter to the rest of us in the ITTA.

Whatever the explanation I genuinely believe that those individuals who have stepped aside to enable this political move to be made deserve a huge amount of credit and I hope that they will be provided with an opportunity to represent this island in the future. I am not sure as a coach or a player that I would be willing to sideline the dreams and ambitions of my players without some major concerns.



Table Tennis Ireland Returns
In answer to all the many enquiries I've received, yes I am going to call it a day with this Table Tennis Ireland website. I have been running this site for 8 years and with once again all the new changes within the ITTA I decided it is time to concentrate on all that's happening on my local scene as well as my Special Olympic involvement and other interests.

As you may have noticed the news on the site has mainly been about things happening in around here in West Cork. I have heard so little from the mainstream National scene now I don't involve myself in much that's going on elsewhere. However thanks for all the messages and support I appreciate the many emails I have received. I have decided to keep it going till the end of the season and see what if anything happens.

I don't want to be negative about all the efforts being made by everyone, I am sure they are doing the best they can and it is great that some are being so optimistic, I hope over the next few months to be able to report on all the positive changes that are underway and that the ITTA will emerge like the phoenix from the flames of adversity and I wish everyone luck in this endeavour.

However I can't help express a small word of caution, it feels like only a couple of years ago I was being optimistic about the new National Strategy. This was insisted upon by the powers that be. No strategy, no money. Déjà vu is a strange feeling. Without unity, common purpose and the desire for change I feel nothing will change for the positive. I have heard talk of the desire for change but little of the rest. Maybe there is someone who will write to me and convince me of it but there again....they probably won't. If they do before the end of the season I will pass it on.

Once again thanks for all your comments and I wish you all a peaceful Christmas and a prosperous New Year.
Yours in Sport
Owen Kelly (TTIreland.com)

Portugese Youth Open Championships - Ireland reach the Semifinals

FANTASTIC NEWS FROM THE ALGARVE ITTA Press

When was the last time an Irish team beat a team from France, Germany and Sweden?
When was the last time an Irish team beat all three in one day?

Well it happened at the Portugese Youth Open Championships at the weekend.

Paul McCreery, Sam Hanley and Ashley Robinson beat France B 3-2 and European Champions Germany A, 3-0, in the Group stages. Paul won a thrilling 5-setter against Tristan Florre, while in the doubles Paul and Sam pulled off another 5 set victory to clinch the victory against France. Similarly against Germany Paul won in 5 sets against Yannick Dohrmnann and they won the doubles 11-6 in the fifth set to take another major scalp.

Their results in the group games saw them playing for positions 1 to 7. In their first match here they had a fantastic 3-2 victory over Sweden, who had already beaten England A in the Group stage. They were beaten 0-3 by Belgium in the semifinals. They lost the 3rd/4th playoff to Croatia 0-3 to finish in an incredible 4th place overall.

To put this in perspective:
England A finished in 12th place with Liam Pitchford and Sean Cullen on the team.
England B finished in 16th place, with Daniel Lowe and Zak Zilensnik on the team.
Scotlands team of Sean Doherty and Calum Main finished in 21st place.

Well done to the players and Jing Yi Gao, NPC on a brilliant performance.

This result sends out a very important message to future Irish teams that we can actually win against the top performing countries.

Leinster Grand Prix - Results ITTA Press
Thanks to Tommy Keenan and Referee Mike Strode for co-ordinating a large number of events with great efficiency.
In summary the results are:

SUNDAYS PLAY

Mens Open Singles
Quarter Finals
Na Ning bt David Hayes
Dan Keenan bt Philip Wallace
Leo Stynen (Germany) bt Conor Nolan
Peter Graham bt Brian Fitzgerald

Semifinals
Ning bt Keenan
Stynen bt Graham

Final
Ning bt Stynen


Ladies Open Singles:
Quarter Finals
Atisi Owoh (Nigeria) bt Rebecca Kenny
Clodagh Mc Cullagh bt Sara Dolan
Teresa Devaney bt Aisling Healy
Sarah Kenny bt Sabina Kazimagomedova

Semifinals
Owoh bt Mc Cullagh
Kenny bt Devaney

Final
Owoh bt Kenny

Under 21 Men

Semifinals
Dan Keenan bt David Hayes
Lukasz Zareba (Hungary) bt Corey ORourke

Final
Keenan bt Zareba

Under 21 Ladies
Semifinals
Sabina Kazimagomedova bt Kerrie Pheonix
Rebecca Kenny bt Aisling Healy

Final
Kazimagomedova bt Kenny

Restricted Singles
Final Robert Gavin bt Philip Wallace

Vets Final
Kevin Mackey by Kevin Devanney
---------------------------------------------

SATURDAYS PLAY
Band 1 Men
Robert Gavin bt Dan Keenan before playing Leo Stynen in one semifinal.
Arther Sobel (Germany) bt Marcus McDonnell before playing Tibor Pofok (Hungary)in the other semifinal.

Sobel and Stynan came through to contest the final which Sobel won 11-9, 11-7, 2-11, 11-9

Women Band 1
Sara Dolan bt Deirdre Murphy before playing wheelchair player Kathleen Reynolds in one semifinal.
Rebecca Kenny bt her sister Sarah before playing Audrey Cowan in the other semifinal.

Dolan and Cowan came through to contest the final which Dolan won 11-8, 11-9, 11-9

Men Band 2
Semifinals
Tibor Pofok(Hungary) bt Brian Devereaux
Dan Keenan bt Attila Kovacs (Hungary)

Final
Pofok bt Keenan

Ladies Band 2
Semifinals
Sarah Kenny bt Niamh Buttimer
Rebecca Kenny bt Sara Dolan

Final
Rebecca Kenny bt Sarah Kenny

Men Band 3
Semifinals
Karl OCallaghan bt Dave Butler
Attila Kovacs bt Maciek Szymanski

Final
Kovacs bt OCallaghan 6-11, 11-1, 6-11, 12-10, 14-12

Men Band 4
Semifinals
Dave Butler bt James Herley
Attila Mandler bt Maciek Szymanski

Final
Butler bt Mandler 11-9, 11-5, 11-8

Full Results can be found on the irishtabletennis.com website

SAQ Coaching
Hi, just thought I'd pass on some info. I am a SAQ Coach and I would like to recommend SAQ as a training technique especially improving speed and agility. I have used this for a number of years and have seen some major improvements in players. I use ladders and hurdles with very young players who both enjoy and benefit from the exercise. SAQ also includes information on the use of Dynamic Stretching techniques and I think these are of benefit to any coach involved in sport.
Yours in Sport
Owen Kelly
(www.ttireland.com)

SAQ Foundation course in
" Dublin Friday 30th November (contact Phena O'Connor on 01-2719506)
" Larne Sunday 2nd Dec. (contact David Smyth Tel: 02828 260478 Mob: 07944 652309 Email: smythd@larne.gov.uk)
" Westmeath Nov 23rd (contact Emma or Sonja at Westmeath LSP for details 044-9395980/9390208
" Mayo Nov 16th (contact Charlie Lambert at Mayo LSP 094-9020000)
" Cork City Nov 16th (contact Eucharia Savage at Cork City - Ph: 021-4924741)
" Cork CIT Nov 23rd (contact Francis at Co. Cork LSP on 021-4800960)

SAQ Level 1 courses will be held
" Kilcormac, Co Offaly, Sat 17th Nov (contact Eamon Henry 057-9346843) - 5 places remain.

2. ENERGISE SPORT / GPA SEMINARS
There are two more Energise Sport Seminars being held this year with two more in the Spring.
The venues are
Dec 1st Queen's University Belfast
Dec 8th Tipperary Institute, Thurles
Info: Log on to www.clubenergise.ie
Please pass the word around to your fellow coaches, managers and trainers.
Dr. Liam Hennessy and the staff of Setanta College - Institute of Strength & Conditioning Studies - will deliver the courses and a certificate will be presented to all who complete the day.

Swedish Open
Forty-one year old Jörgen Persson, the national hero on so many occasions in the past twenty years and more was, on Friday 16th November 2007, once again his country's most successful player at a major international tournament.

In the singles events at the Swedish Open in Stockholm on the third day of play, he was the only player from the host country to survive the second round.

A wealth of experience on his side, he beat Germany's Bastian Steger in six games to progress to the third round.

Seeded two and four respectively, both in the lower half of the draw in the Men's Singles event at the Swedish Open in Stockholm, China's Ma Lin and Ma Long both came through their first round matches with ease on Friday 16th November 2007; as did two players with a mission.

Belgium's Jean-Michel Saive and Sweden's Jörgen Persson also prevailed in style.

Both are desperate to gain direction qualification for the Beijing Olympic Games and thus retain their proud record of having competed in every Olympic Games since table tennis was first introduced in Seoul in 1988.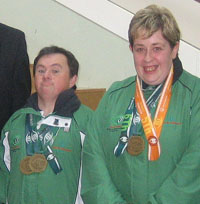 Beech Hill Honour International Athletes
In the week before going to Shanghai, Beech Hill Table Tennis Club presented Team Ireland Special Olympic Athletes Sharon O'Brien and Pat Dorgan with letters awarding them Honorary Life membership of the Club.

It was agreed by the Club committee that any member who is selected to play for his her country at senior international level will have that achievement recognized in this way.

Brian Fitzgerald has also received this recognition as did Teddy O'Connor for his 2003 World Games selection. In Sharon O'Brien's case, the letter has been framed and displayed proudly in the family home.

Guo Yue und Zhang Yining secure China´s Women´s World Cup
Two weeks after winning twice silver and twice bronze at the Women's World Cup two Butterfly aces won the Gold Medal at the World Team Cup in Magdeburg. The World Champion, Guo Yue and the number one of the World Ranking List, Zhang Yining lead China's World Champion Team to the expected win of the title with a 3:0 victory against the Butterfly Team from South Korea. Guo Yue won her single and the double with Li Xiao Xia and through that the 3000 Dollar prize money for the best player of the tournament beating Zhang Yining on the final lap. China's Team received a cheque for 50.000 Dollars for their win in the final.

Leinster show new initiative
The Leinster Junior Branch are currently looking at the possibility of setting up a Leinster Junior TT League which to a large extent would be modelled on the ETTA Junior British League format.

This is a Leinster Junior Development initiative aimed at those players who are not in line for Leinster or Irish selection, therefore it is envisaged that anybody within the top 10 ranking on either list cannot be included on any team entered.

Teams will comprise of three players. There will be 6 divisions: Boys U/17-- U/14-- U12. Girls: U/17-- U/14-- U/12. Matches will be played over two weekends - one at the beginning of the season and one at the end, at a suitable venue in Dublin. Dates will be arranged so as to avoid clashing with any other junior event of note. There will be a fee payable by each team to cover the cost of venue and trophies.

Dates, event and team format, venue, and cost will be finalised at a later date if enough interest in the competition is shown by clubs/schools. Positive feedback from as many sources as possible is necessary to ensure that the project goes ahead.

Please contact me by post or email, or phone at 3 Beechwood Park, Dun Laoghaire, Co. Dublin. Phone/fax 01 2801312. Mobile: 087 6737872. Email: bollarde@Indigo.ie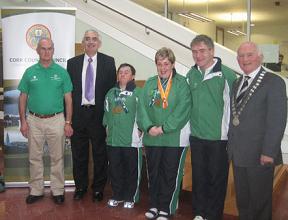 Cork Mayor Honours Special Olympics Athletes
The Mayor held a reception for the 16 Cork based Special Olympic athletes at Cork County Hall. Sharon O'Brien from Charleville and Pat Dorgan from Cork City both represented Team Ireland Table Tennis at the World Games in Shanghai. Head Coach Owen Kelly was also invited and Frank O'Brien (Cobh) one of the four sport specific volunteers also attended. Speeches were given and photographs taken and then all were treated to some snacks in the newly refurbished City Hall.

Eircom the Official Special Olympic Ireland sponsors were represented by our own Michael Healy who is also ITTA Marketing Director.


Leinster Grand Prix
This year sees a significant change to Irish Tournament Table Tennis - for the first time in many years, his year's Leinster Open being has been refreshed and redesigned as a new event, the Leinster Grand Prix, taking place in ALSAA on November 17th and 18th.

With all of Irelands top players expected to enter, along with some strong overseas talent, spectators are guaranteed a display of the highest quality table tennis.

In addition, to encourage participation, there will be a range of banded events designed for players outside of the elite arena. For example - if you are a Leinster league player you could choose from Band 4 (Men) or Band 3 (Ladies) to avoid all higher ranked players, where games at your standard are guaranteed. All players will get plenty of matches, at a level appropriate for them - and the opportunity to pit themselves against the best in the open events.

The format of this tournament addresses criticism levelled at previous tournaments, where the majority of players make the effort of turning only to play a minimal number of games. The Leinster Grand Prix has been designed to give all players plenty of games along with the opportunity to see and pit themselves against the best our sport has to offer. We encourage all players and coaches to enter early and make this tournament a success.

"We are delighted with the format of this years event, and hope that we get a strong response from the massive base of players in Leinster to make this the best supported event in the calendar - our pledge to players is that the event will be organised professionally, will run on time and will give every entrant great value for money" Richard Butler, Leinster Branch Chairman

Connacht Senior Open - Results
Results from yesterdays HP sponsored Connacht Senior Open in the Boatclub Galway.

In Senior Mens
Quarter Finals
Brian Fitzgerald bt Kariem Sabir 3-0
Leo Stynen bt Tery Dolan 3-1
Kevin Devaney bt Kevin OKeeffe 3-1
Rory Scott bt Robert Gavin 3-2

Semi Finals
Fitzgerald bt Stynen 3-1
Devaney bt Scott 3-2

Final
Fitzgerald bt Devaney 3-0

There were two intriguing semifinals here. When German, TCD student, Stynen took the first set 12-10 against top seed Fitzgerald, an upset looked a possibility. However Fitzgerald drew level with an 11-6 second set. The third however was level several times before Fitz won out 12-10. He then finished off a high quality match 11-5 in the fourth set. Meanwhile on the next table there was a nail biter going on. Rory Scott won the first two sets 11-9, 11-9 but Devanney fought back to win the next >> two 11-5, 11-6 to bring us to the fifth and what a fight it turned out to be. On several occasions Scott seemed to be moving to victory but Devanney does not know the meaning of defeat and pulled off a dramatic recovery to win the fifth 12-10. Scott had earlier come from two sets down to win 11-6 in the fifth against Robert Gavin.

In Senior Ladies
Quarterfinals
Atisi Omoh bt Emily Darcy 3-0
Helen Dolan bt Chloe Nealon 3-2
Susan Nealon bt Deirdre Murphy 3-0
Sabina Kazimagomedova bt Louise Long 3-1

Semifinals
Omoh bt Dolan 3-0
Kazimagomedova bt Nealon 3-0

Final
Omoh bt Kazimagomedova 3-1

In the final Kazimagomedova took the first set 11-6 but Omoh took control from there winning the next sets 11-6, 11-7, 11-5. In the quaters Helen Dolan had a real battle with Chloe Nealon, winning 11-9 in the fifth set.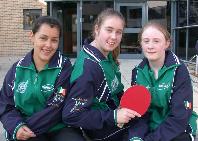 Ballina kick start their new season of in fine style.
Ballina Table Tennis club go top of Div 1 of the Junior British League. Susan Nealon the Celtic/Tibhar sponsored player goes top on averages with 9 wins out of ten while Chloe Celtic/TSP sponsor; averages 8 of 10, Kirsty Wilson averages 6 of 10.

On day one the girls beat St. Andrews A 5-1, Cippenham 4-2,Redland Rats 6-0.

Day 2 ; Waterside B ,5-1 and drew with Waterside A;3-3 in their final match. Over all a much improved performance by the 3 girls especially for Chloe, who for some reason last season struggled to PERFORM when playing for the Irish team, but with last season behind her and a new programme of events selected Chloe is looking forward to the challenges ahead in 2007-08.

The club would like to congratulate you Owen and the Special Olympics table tennis athletes on their success in China

Connaught Senior League kick starts
The 15th of October will see the start up of the Connaught senior league top 8 ranking events' events over 5 weekends. Last year's winner ROBBIE GAVIN will be hoping to retain his title, He will surely have to play at his very best if he is to do so, with players like Kieran Bourke, terry Dolan Kevin Devaney, Kerim Sabir biting at his heels anything can happen. And if last year was anything to go by it will be exciting down to the last set.

An invitation to the Celtic TT sponsored players both Susan and Chloe Nealon by the Connaught branch will see them both compete in the event for the first time. They will have their work cut out for themselves as their involvement sees them arrive from the junior British league on the 15th and travel to Galway to compete in the event that evening, The girls who are currently training in Athlone with both Kerim Sabir and Kieran Bourke are well up for the challenge and are hoping to make an impact .

INTERNATIONAL TABLE TENNIS IN DUBLIN
This weekend, 8/9 September, sees a unique opportunity to see several top class table tennis teams in action in Dublin as UCD takes part in the ETTU European Cup, with the matches taking place in UCD.

UCD qualified for the ETTU European Cup by winning the Premier League. The ETTU Cup is the Club Cup for Europe, for teams entered by their national association. UCD is celebrating it's 60th anniversary this year; the club was founded in 1947, and this is the first time the Club has competed in Europe, and is also the first time an ETTU Cup group has been hosted in Ireland. Coming into this season off the back of 8 Intervarsity titles in a row 2000-2007, UCD equalled the record held for Wine Cup wins by TCD from 1949-1956. UCD also completed the treble last year as the Club won the Cup, to go with the League and Intervarsity titles.

The opposition this weekend are Nord Donetsk from Ukraine, featuring World #252 Ivan Katkov; Marcozzi Cagliari from Italy, featuring Italian internationals Stefano Tomasi and Mattia Crotti; and Clube Desportivo 1 de Maio from Portugal, featuring Portuguese International Nuno Henriques.

UCD feature new Irish #1 Na Ning, fresh from his Top 16 win at the weekend where he had victories over Peter Graham, Daryl Strong and John Murphy, before beating Jason Sugrue in the final 3-0; former Irish Universities Singles Champion & Leinster League Singles Champion, defender James Whiteman; and former European # 3 Cadet Dale Barham from England.

Matches are at 2pm and 7pm on Saturday, and 10am on Sunday, with all 4 teams playing each session. Weekend tickets are 5euro, U18s free. Tickets available in advance from ucdtabletennis@hotmail.com, remaining tickets on the door.

STIGA IRISH SENIOR CLASSIFICATION 2007
Top 3 Results
Mens: 1.Na Ning, 2.Jason Sugrue, 3.John Murphy
Ladies: 1. Atisi Owah, 2. Renata Fullop, 3. Claire Nelson

"This is another fine mess you've gotten me into!"
Just a quick note as I want to spend as little of my summer embroiled in the mess that the combination of the ISC and ITTA have cooked up for Irish Table Tennis but I will give a couple of short comments that must be being considered by at least one or two other table tennis enthusiasts.

Firstly who came up with the date for the AGM? There are only a couple of dates I would avoid during the summer months. That would be the opening of the British Junior League and the finals of the Community Games. I bet you know where this is going? Yes, that is the date that someone who must really know their stuff chose for the postponed ITTA AGM! Come on it is not rocket science guys.

Another issue of mine would be setting the date for the ISC briefing. It may be convenient to all those who are either unemployed or employed by the ISC, retired or living down the road but having a meeting on THURSDAY 2nd AUGUST 2007 in SportHQ, Dublin at 3.00pm is just unbelievable.

It appears that we didn't get it right the first time and the ISC want us to do it again until we do get it right. I wonder if it has occurred to anyone that it was at the ISC's insistence that the ITTA National Strategy was developed, that we jumped through all the various hoops until there was no one left who was willing to jump any more.

The ISC's record stands for itself. Anyone who read John Treacy's letter to Ken Strong surely will be in no doubt that unless we do it the way that the ISC want us to Irish Table Tennis will not receive any funding. I am glad to see that democracy is alive and well. According to Mr. Treacy it was all the ITTA Executive's fault that the Review Committee's recommendations were not passed.

"As an output of this seminar, a Review Group nominated by those ITTA members present commenced a process which was chaired by a Council member of the ISC, to look at the governance of the organisation, its structures and to make recommendations for the structures of a new ITTA which were put to the membership at its recent EGM. The Review Group recommendations were not adopted at the recent EGM as there was a lack of support by the ITTA Executive for these recommendations."

I was at that meeting and I would have said the recommendations were not supported by the majority present because the review committee was not able to answer just the basic questions of how any of their suggestions could be implemented. The membership is unlikely to be fooled twice.

The National Strategy was a farce and do we really want to go through the same process again. The ISC may want to clear the way for a Business Manager but has anyone given any thought to how this individual will develop the sport or are we just going to dive into the unknown and trust both the ISC and the ITTA to do the right thing!

Maybe we should trust an organisation to look after our interests when it sets the date for it's AGM on the same day as The Community Games Finals and the British League, oh and don't forget it holds a meeting to explain their decisions during the working week and don't forget it is also being blackmailed by the ISC. In the words of Laural and Hardy "This is another fine mess you've gotten me into!"

European Championships - Junior 17.07.07 - ITTA Press
Excellent performances from Irish Junior players at European Championships.
Ireland won 6 matches out of the 7 played in one day which is surely a record.
Cadet girls won against Guernsey 3-2 and Iceland 3-0
Junior girls won against Norway 3-2
Junior boys beat Estonia 3-1 and Lithuania 3-2.
The latter was a most exciting match with Mark OFlynn being 9-4 down in the fifth and winning 11-9 at 2-2 in the match. Keith Knox has won 6 singles and the boys have been superb in attitude and team spirit.

Cadet boys won 3-0 against Azerbijan and today won 3-0 against Ukraine.
Cadet girls lost 3-0 to Estonia and Junior boys lost 3-0 to Bulgaria.
Junior girls won 3-2 against Isreal. Claire Nelson came back from two nil down to win 3-2 in the deciding match

Junior Boys playing for 33-36(42 teams)
Junior Girls playing for 33-35 (36 teams)
Cadet boys playing for 29-32(42 teams)
Cadets girls playing for 32-34 (39 teams)
Thanks to John O'Donoghue and Phyllis Kenny for results.

Irish Team Selections:
Cadet Boys: Sam Hanley, Paul McCreery NPC: Colum Slevin
Cadet Girls: Susan Nealon, Chloe Nealon, Rebecca Kenny NPC: Phyllis Kenny
Junior Boys: Keith Knox, Daniel Keenan, Mark OFlynn, Gavin Maguire NPC: John ODonoghue
Junior Girls: Fiona Dennett, Danielle Douglas, Claire Nelson NPC: Shay Logue

Irishmen are European Champions The European Veterans Championships took place in Rotterdam over the weekend, where two Irishmen came home with Gold medals. Dubliner, Colum Slevin, Irelands leading player for the past twenty five years pulled off an amazing feat winning the Over 40s Singles and Doubles titles, while Corkman, Bertie Levinge won the Over 80's Doubles title.

In the Over 40's Singles event won all his matches. In the Final he beat Mircea Nicorescu, France 11-6, 14-16, 11-3, 11-6 to pull off a fantastic victory and become the European Champion for the first time. There were over four hundred competitors from all over Europe entered for this event and to win it while dropping only three sets against top class opposition shows the form that Colum Slevin was in over this weekend.

In the Over 40s Doubles Slevin teamed up with Carsten Egeholt of Denmark. They won all their matches beating Miroslav Cecva / Jiri Vojtek of Czech Republic 11-4, 8-11, 11-7, 11-4. So Colum Slevin completed a fantastic weekend by adding the European Doubles Title to the Singles title.

Meanwhile a man almost twice Slevin's age has done it again. Bertie Levinge, from Kinsale has won the Over 80s Doubles event, teaming up with Curt Osterholm of Sweden.In the final they beat Lumir Ruzha / Rune Forsberg of Czech / Sweden, 8-11, 11-5, 11-8, 11-8. This is Levinge's third European gold medal as he won the doubles last year and also won the Over 75 Doubles a number of years ago.

In the Over 80's Singles event Bertie won all his group matches and then met Andre Joing of France where he lost out after a great battle 11-8, 6-11, 11-4, 4-11, 9-11.

ITTA Press: "Joy, Oh Joy."
What a weekend for Irish Table Tennis, with THREE GOLD MEDALS at the European Vets Championships in Rotterdam.

Colum Slevin, Ireland's leading player for the past twenty five years pulled off an amazing feat winning the Over 40s Singles and Doubles titles.

In the Singles event, Qualifying Round, Slevin had victories over:
Gert Huiskes of Netherlands 3,5,1
Jurgen Selhast of Germany 2,1,5
Rudiger Loos of Germany 3,4,1

Onto the main Competition:
Round 1 - a bye
Round 2- beat Lars Freystatzky, Germany 2,3,4
Round 3 - beat Frank Kassike, Germany 7,-5, 8, 6
Round 4 - beat Peter Vaverka, Slovakia, 9,7,2
Last 16 - beat Abdul Wuraola, England 6,7,7
Quarterfinal - beat Lars Hauth, Denmark 4,9,10
Semifinal - beat Henk van Spenje, Netherlands 9,-12,8,10
Final - beat Mircea Nicorescu, France 6,-14,3,6

WHAT A JOURNEY, WHAT AN ACHIEVEMENT, WHAT A PERFORMANCE - LOSING ONLY 3 SETS IN A COMPETITION WITH OVER 400 PLAYERS FROM ALL OVER EUROPE.

------------------------------------------
In the Over 40s Doubles Slevin teamed up with Carsten Egeholt of Denmark.
In the qualifying group they had victories over Hundsbuescher / Niehoff and Goldbeck / Svoboda of Germany on 3-0 scorelines.
Round 1 - a bye
Round 2 - beat Brair / Selhast of Germany 3-0
Round 3 - beat Hagglund / Persson of Sweden 3-0
Round 4 - beat Campagnolle / Nicorescu of France -8,5,-10,4,8
Quarter Final - beat Wuraola / Kasiske of England / Germany -8,8,4,8
Semifinal - beat Manturov / Leshev of Estonia / Russia 11,10,3
Final - beat Miroslav Cecva / Jiri Vojtek of Czech Republic 4,-8,7,4

Colum Slevin is the first person from Ireland or the British Isles to win the Over 40s Singles European title and THE ONLY person in Europe to win BOTH the Singles and Doubles Over 40s European titles.

--------------------------------------------
Meanwhile a man almost twice his age has done it again. Bertie Levinge, from Kinsale has won the Over 80s Doubles event, teaming up with Curt Osterholm of Sweden.
In the Group stages they brushed aside Bohmer / Sandmann, Neetens / van Gelder and Christian / Lutz, dropping only one set.
They got a bye in Round 1 and then beat Andre Joinge / Michel Hovelaque of France 11-8, 12-10, 11-8. In the semifinal they beat Toni Breumair / Johan Englmaier from France 7-11, 5-11, 11-8, 11-8, 11-6 in a fantastic battle.
In the final they beat Lumir Ruzha / Rune Forsberg of Czech / Sweden, 8-11, 11-5, 11-8, 11-8.
--------------------------------------
Other notable achievements were:

Teresa Devaney winning her group, beating Mehlika Basut of Turkey 3-0 in the next >> round before losing to eventual semifinalist Monika Kneip of Germany 1-3.

25/06/2007 - 2007 European Veterans Championships in the Ahoy Rotterdam had a very successful start up thanks to an amazing opening ceremony attracting thousands of people. After the side event the organizers dedicated to the families and their kids, and the long Sunday night to celebrate the biggest table tennis event never held in the Netherlands, almost 2100 participants filled the hundred tables placed in the largest hall of the Ahoy-complex.

A team of 70 men and women, the most part of them involved as volunteers, is doing everything to make the competition smooth for all the players, while a complete computer network works to provide the results in a fast and proper way. Monday's competitions are played in 400 different groups, that means 2400 matches in one day. Close to the main hall, the 'Promo-town' village offers to all the table tennis equipments manufacturers the opportunity to present and sell their products but also TT fans can enjoy fitness, games, surf on internet or watch Wimbledon live on TV.

Tournament-manager Ton VAN HAPPEN said: "Such event is delightful. Table tennis is a beautiful sport for young and old people. We are proud of the event we have organized, the biggest table tennis one in our country. Also the players are enthusiast for the atmosphere and the sociability they found into the Ahoy. It's really fantastic".

Around the World in 90 Days 28/06/07
In 90 days time the Irish Special Olympic Table Tennis Squad will fly out of Dublin heading for Shanghai in China. The squad was once again in training over the weekend, this time at DCU. The squad was training at the IWA and was in fine form. Both Sharon O'Brien and Pat Dorgan won Gold medals at their recent Munster Regional Games. The 8 player squad was one player down as Paul Sweeny was hopefully sunning himself on a beach somewhere in Portugal. The weather in Dublin could not have been much worse but the rain didn't dampen the squad's enthusiasm as they trained over the two days. Players were well rewarded for all their efforts with a couple of films and a disco on Saturday night. The players will meet up again in July with a break during August.

On a separate item, I bumped into Joe Warne while at DCU, running past with his head phones on he was quiet surprised to see me. Joe was a student at MICC in Dunmanway and played in West Cork for a number of years. He is now dedicated full time to his running, specialising in the 800 metres. He tells me he is ranked around 5th in the country now and is working his way towards the London Olympics. It was great to catch up on the news and I'm sure all of us in West cork wish him the best. For those of you in cork you can catch him running this weekend at the Cork City Sport. Go Joe!

What Is Going On?
I haven't heard much since the AGM was cancelled. I believe the ITTA had a meeting with the ISC. It appears the ISC have taken no responsibility for the unprofessional way they have dealt with the problems facing the development of Irish Table Tennis.

They are still pushing their suggestions for the restructuring of the sport. If the way they have dealt with it so far is an example of the "efficient and effective" management then, lads, we are in trouble!

The principles behind all this are pretty much agreed. The ITTA has jumped through various hurdles and completed the "Strategy" process. The ITTA are also working with the NCTC on developing player and coach pathways as well as coach education. It is irritating that the ISC appear to take no responsibility and undermines both their credibility as well as their authority. But we will just have to push on once more. The ITTA will have to look closely at how to address these suggestions and how best to implement any of the proposed changes. The constitution will have to be reviewed in order not to make the AGMs a complete farce.

Having said that this AGM is a complete farce, well it may have been if it had gone ahead. I for one did not know that you could just cancel and AGM with a days notice. Luckily I had not booked a flight as I made the decision not to go after wasting my time at the EGM. I hear we may have one in September. Surely we do need to identify who is going to do what next season? Can we wait till the season has already started?

I appreciate that we do have to work and follow the ISC but surely we can't let them cock up another season, we have to get some things sorted out. I believe we need to get the membership back on board. With all this mucking about most people I talk to are just sick of it. Can we not use this opportunity to do what we should have done while putting the strategy together and bring all interested parties into one place and have a forum to discuss how WE as an association can get back to the business of developing the sport in Ireland. I believe it would be worth the money. Get in a professional arbitrator, get a general agreement and then move forward. Let's have someone to promote these changes and sell them to the membership.

If we have a forum I would like to put forward a suggestion on how I would like to see the sport develop.

In order for any development initiatives to be implemented there has to be motivated, experienced and competent officers to do so. It does not appear to difficult to motivate coaches within the realms of performance but there are little if any rewards for those involved in participation.

I suggest that we look into a strategy that will identify, train and reward selected officers in the area of participation. Each province/region would have an identify individual who would implement the national participation strategy. Targets could be set and any reward based upon the recorded results. I would call these individuals Regional Development Officers and seek funding for this.

Secondly in order to motivate and encourage clubs to increase participation I believe we should implement the Club Mark Scheme. The ITTA can set the criteria for each level of club based upon the areas they would like to see an increase in (women, veteran, children etc.). These clubs would then be able to be targeted and supported by the associations. From a club point of view if I can identify what it takes to raise the level of the club I can include this in any grant applications for my club, I make to bodies outside of the ITTA and ISC.

I appreciate that nothing of this is new or original but that doesn't mean it isn't relevant. At present we are being asked to generate more money for the ITTA by centralising affiliation. I am a member of an association that looks after the players in my region. It supplies training, events and a number of awards and schemes, all of this is funded by an affiliation fee. It is easy to get that fee because of all the benefits that come from it. However this affiliation is to the local region. The ISC want the ITTA to come along and take the same affiliation fee even though the ITTA are supplying very little if anything in return for club or local league members. Of course there is going to be resistance. In this area I can see the independent Interparochial League becoming a popular alternative. With the level of recreational play in our region I can see the opportunity of developing our own independent association as a realistic alternative, with just one or two performance players signing up to the ITTA as required.

World Table Tennis Championships
At the 2007 World Table Tennis Championships, GUO Yue (CHN) defeated Li Xiaoxia (CHN) in the Women's Singles final, 8-11, 11-7, 4-11, 2-11, 11-5, 11-2, 11-8.

WANG Liqin of China won the 2007 World Champion Men's Singles title against MA Lin (CHN), 4-11, 8-11, 11-5, 4-11, 11-9, 11-8, 11-6.

In the Men's Doubles event, CHEN Qi (CHN) and MA Lin (CHN) conquered WANG Hao (CHN) and WANG Liqin (CHN), 6-11,11-7,6-11,11-3,11-9,11-9, for the championship title.

WANG Nan (CHN) and ZHANG Yining (CHN) retained the Women's Doubles Championship title. They defeated Guo Yue and Li Xiaoxia in the final, 11-5,11-6,13-11,11-9.

There are Women in our Sport!
Over the same weekend as the Level 2 the ITTA also rolled out the first "Women in Sport" seminar. The Women's' game in Ireland is not in good shape, it is almost critical in Munster with only two senior women in the rankings this season. There must be a reason for such a small number of senior women playing and this Seminar hopefully will have been able to identify some of the problems by actually asking the women involved in the spot what changes would they like to see. The women were also given the chance for some coach education.

I was disappointed to hear there were only 8 women who took up the opportunity but you have to start somewhere. It was also a little disappointing that the event had to be facilitated mostly by men rather than women but maybe a forum like this will give the ITTA a chance to identify those who would be interested.

I hear that Arthur Brett and Ken Strong did a great job bringing the course together and congratulations guys for giving up your time for this important area. I also heard that Tara Fusco gave an interesting talk about her experiences as one of our leading players.

I know I have banged on about developing women's table tennis to an annoying extent but I think it could be one of biggest growth areas, as table tennis is so suited for both genders and all sport bodies have acknowledged that more has to be done in this area.

So my first question is where does this lead?

As far as I know loads of ideas and suggestions were made and a couple are to be looked into. The appointment of a Women's Affairs Officer for the ITTA has been proposed. Lads please don't tell me we need a "Men's Officer" it'll only make you look stupid!

The second idea sounds very interesting with each of the women who attended the course working together to try and contact some of the women who used to play in the past, taking names from the old rankings and seeing if we can encourage some back.

I believe most of the women on the course agreed that things have improved and here is an opportunity to move things on even further. So if you are one of those women why not make contact once again. A much needed social event is to be planned in order to bring everyone together. I don't know who the official contact is but you can certainly contact Vicky Ridgway at vickyr@eircom.net and she will tell you more.

Like everyone else I hope this is just the start of a new initiative and not just a token gesture, in order to take it further the ITTA will have to allocate funding in this area. As far as I understand that may not be available, if that's the case then this seminar was full of false hope and promises, you have to invest in order to get any kind of return. Just a weekend away for the girls won't cut it if we want to see a significant increase in women playing, hopefully there will be money available for developing women in sport and it will be spent in this area and not diverted into some other vaguely related scheme.

"Turning Up the Heat," Level 2
I have just had a very busy weekend delivering the second part of the Level 2 Pilot Course. Once again we were all up at ALSAA and it was like an oven in the hall over the two days. Congratulation to all the coaches and Tutors who managed to cope with the heat it certainly cooked my brain!

The coaches had their first phase of assessments with Season and Session Plans delivered and reviewed and on the Sunday a short practical assessment. The Season Plans are to be updated and reviewed again and then the coaches will go through a 12 hour assessment process during the regional training camp sessions.

The feedback I got from the coaches after the modules were complete was very encouraging and Catherine Bird from the NCTC who was observing the course also appeared satisfied with the progress that has been made (still more to do).

The Pilot Course has certainly highlighted a number of areas that can be improved upon and it has given the Tutors a chance to assess and analyse their own contributions so all in all I would say it was a successful weekend and I am looking forward to moving the whole process forward even more.

European Youth Championships
European Youth Championships will take place in Bratislava, Slovak Republic from the 13th to 19th July 2007.

I went out to Bratislava with a school team some years ago and had a chance to look around the capital an interesting lace with lots of old buildings and a great view from the castle up on the hill. However that is likely to be far from the minds of the Irish Squad busy preparing for the European Youths. This is the highest honour for young Irish players and the dream of many who play and train around the country.

There are 39 teams in this year's Under 14 Girls event and 41 in the boys. The Girls will be competing at Level 2 and are in a group with Poland, Switzerland and Kossova. I don't know much about the current standard in the Cadet Girls but I would presume that Poland would be the favourites. I'm sure Susan Nealon, Chloe Nealon and Rebecca Kenny will give all they've got with the team NPC'd by Phyllis Kenny

There are only two more teams in the boys this year with 41 countries competing. Ireland have Austria, Cyprus, Montenegro and Guernsey, which doesn't look too bad. However Austria would be favourites. National Coach Colum Slevin has been working hard with Sam Hanley and Paul McCreery in preperation for this event.

There are 36 coujntries in the Junior Girls and the Irish will be playing at Level 2. Group E looks like a tough group with Slovenia, Estonia, Bulgaria and Portugal. Fiona Dennett, Danielle Douglas and Claire Nelson join forces with Shay Logue NPC.

The boys have a large entry with 43 teams in the whole event and they will play at Level 2 again in Group E Ireland are with Romania, Luxemburg and Latvia. The Romanian women showed how much they have improved at the recent Senior World Championships The boys are likely to be strong favourites in this group. Luxemburg though only a small country have an excellent training system with a special sports centre, they are also likely to do well. John O'Donoghue will NPC Keith Knox, Daniel Keenan, Mark OFlynn, Gavin Maguire and we wish all the players the best of luck and hope they're working hard, it's going to be tough!

International Schools Championships - Selections
International Schools Championships take place in Guernsey from the 22nd to 24th June 2007.
Girls U16 Team: Rebecca Kenny, Sarah Kenny
Girls U14 Team: Chloe Nealon, Ashley Givan
Boys U14 Team: Sam Hanley, Sam Logue
Boys U16 Team: Gavin Maguire, Paul McCreery
Boys U18 Team: Daniel Keenan, Mark OFlynn

NPCs : John ODonoghue, Shay Logue, Phyllis Kenny

ITTA AGM Make or Break?
I had heard rumblings before the ITTA EGM people were talking but I wasn't really that interested. After a number of bad experiences I had absorbed myself in my own corner of the world and was concentrating on my own coaching and on Special Olympics. I had agreed to finish off the Level 2 so that meant I had to have some kind of contact but I was trying to keep it to a minimum.

As the EGM fell on the same weekend as the Level 2 it made sense for Munster to have bodies there so I agreed to go. I have already explained that experience in a previous article and I'm not going into all that again.

Since the EGM I have had a lot of comments on the article and strangely enough all have been positive. Other than from Ken I haven't heard from anyone in Ulster so I don't know how they feel about how things are and I'm not sure that anyone I have talked to knows either, but there are a lot of opinions.

It strikes me that this AGM is going to be really important, I am unable to go as we have our Munster Special Olympic Regional Games on the same weekend and as Head Coach I have to be there. So I want to express my opinion here as I won't get the chance on Saturday.

I have tried to run through all the scenarios I can on the evidence of that meeting and on previous experience. The conclusion for me is one of two things.
1. Ulster is making a concerted effort to bring down the current management of the ITTA. Either:
a. In order to highlight the problems and bring about a fundamental change in the ITTA management structure. Or
b. In order to be able to be in a position to extract themselves from the ITTA and form a separate Northern Ireland Association.

2. Ulster is not making a concerted effort to do anything.

Why have those in Ulster not taken any opportunity to explain what they are about? Is it important that they keep it a secret? I believe the atmosphere at the AGM will be hostile. There are a lot of strong opinions about and all this cloak and dagger stuff will not help us sort out this sport.

If anyone in Ulster wants to make the atmosphere at the AGM less hostile and more conducive to sorting our problems out then why not take the opportunity to comment here on this website? I will publish any letter in full or link to an outside page. Tell me this is all rubbish or tabloid or whatever you want but talk, if you don't I suspect Ulster's reputation will take a very long time to recover if ever.

Level 2 update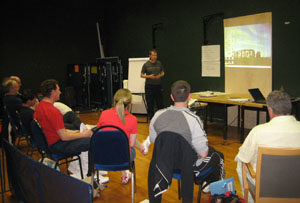 It appears to be doom and gloom on the administration side of things. I keep my fingers crossed that we can all find a solution and that we can all pull together, I don't know whose side I'm on, I'm not even sure what options are available.

Any how that is not what I want to talk about. I just want to tell everyone that we are pushing on with the Level 2 Coaching Course. The second weekend is coming up on the 9th and 10th June. There are 11 coaches attending and I'm getting pretty positive feedback back from the coaches, Tutors and NCTC. This is a pilot course and I for one am learning a lot about what it is that makes a Level 2 Coach.

For those of you who don't know what it is about I'll try and put it into context. We have an Intro/Level 1 Course in operation and have delivered a number of these courses around the country.

The Level 1 Coach is the coach who works in the club and takes local club players from Introduction through Learning to Train. The Level 2 Coach then takes the players from the Learning to Train stage through the Training to Train phase and into the beginnings of Learning to Compete phase. What this means is the coach takes a player from playing locally through to provincial standard.

The Level 3 Coach then takes the player from Learning to Compete through to Learning to Win, provincial to national standard.

As you can see we have a lot of catching up to do as we have a lot of coaches who are already doing the job of Level 2 and some doing Level 3 already. The courses are being designed to bring a coach through the Coach Education Ladder. I feel it is important that we as coaches get an opportunity to learn and experience new aspects of the sport as well as providing a continuity of language and method.

The input of Tutors like John O'Donoghue and our National Coach Colum Slevin who have many years of experience at the top level provides that much needed opportunity for coaches to experience and learn more.

After the next weekend the coaches will have to do some more practical work and we will need to review the course content. We hope this will be done by September. There are plans to review the current Level 1 Course and to develop a much shorter Introductory level more suitable for parent and teachers who would like to get involved in the sport.

The process is moving on, I have been frustrated at the length of time it is taken but I appreciate it is important that we get this right if we want to move things forward and establish a strong coach education structure.

A Bit of a Sticky Mess
I will attempt to explain what has been explained to me. As far as I understand the "glue ban" will not come into effect until January 2008 for juniors (decided at the World Championships) and September 2008 for seniors. I can't clarify whether this means that a junior playing in a senior event can use glue or not.

When I read the ITTF letter to its members, I presumed that they had brought the ban forward and it had immediate effect. I have tried to clarify this with the ITTA and as far as I know there will be no steps to enforce this rule until 2008 and I am not sure how they will be able to enforce it when it comes in. I have not heard of plans to have "glue-testing" at events but this might well happen.

From the retail point of view I believe the manufacturers are going to issue a statement soon to clarify their point of view.

I believe the alternative is the use of water based glue. So far I've heard that this is not working out very well and is a bit messy to use. However the threat to health is very real and personally I took all my players off speed glue some time ago. This may put them at a disadvantage on the table but as a coach and a parent the health of my players is more important to me than their ability to create more speed and spin.

So watch this space and I'll try to keep you all up to date!

ANNOUNCEMENT REGARDING GLUE
Based on a majority decision taken by the Board of Directors of the ITTF, Glues containing harmful volatile compounds are no longer approved by the ITTF effective immediately. Although it is felt by the Board of Directors that the current levels of volatile compounds in Glues used to affix rubber coverings to the table tennis blade are in very small quantities and if applied correctly in a ventilated area provide no serious health risk to the players, it is felt, however, that long term use of such glues may have negative health effects. Therefore, as of immediate effect the ITTF informs all players to cease using glues containing volatile compounds (VCs).

It is, therefore, the responsibility of each player, or his/her parents in case of minors, to cease using glues containing VCs. Any player using such glues will be doing so at his/her own risk and the ITTF will not be held responsible of any consequences or ill effects resulting from the use of such glues.

All existing ITTF approvals of glues are WITHDRAWN effective immediately. This withdrawal applies to ALL glues currently on the market. The ITTF will cease to approve any type of glue effective immediately. However, the ITTF's current "racket testing" programme and protocols will continue, which controls the amount of VCs in a racket in order to protect the health of the players.

The ITTF will publish and circulate widely a list of available glues that are free of volatile compounds. This list will be updated regularly on the ITTF's website.

As of 1 January 2008 for ITTF Junior events, and as of 1 September 2008 for all other ITTF events, the ITTF will implement a new zero tolerance racket testing programme and protocol, using the "e-nez" and RAE instruments to ensure that all rackets used by players are VC free.

In addition, as of today, in the case that a proven severe health incident occurs and is confirmed by the medical authority recognized by the ITTF, then the ITTF would implement the new testing programme immediately (VC free) at that date (confirmation of the incident) and sanctions would be applied for failed tests. An exact legal announcement of this procedure will be made shortly by the ITTF.

The ITTF urges all parties involved, players, national associations, continental associations, manufacturers, and parents to act accordingly.

Adham Sharara
President

Munster in Crisis Once Again by Owen Kelly
EGM's seem all the fashion these days. Not so Extraordinary really. Maybe they should be OGM's? Once again Munster hopes to rescue itself after failing to elect an executive committee for the second year in a row.

Two vacancies had offers, Vicky Ridgway, West Cork TTA Treasurer offered to act as Woman Affairs Officer, a role that was created some years ago and has fallen into decline and myself Owen Kelly West Cork TTA Chairman offered once again to act as Munster Director of Coaching an offer that was also made last year even though it was declined. I will await confirmation as to whether there will be a committee for me to attend or whether my offer will be accepted. A number of other members agreed to remain on the committee fulfilling important requirements but without specific roles.

There were around 16 who attended and most of the clubs in Munster were represented. There were many concerns over the ITTA EGM and the current state of our NGB. The subject of what exactly is Ulster up to was discussed at length along with their non appearance at both the Senior and Junior Interpros.

What is strange about all of it is that Munster is actually going through a major improvement within both Performance and Participation, the clubs are as strong as they have ever been. All agreed that the outgoing Munster Branch did a very good job this year under difficult circumstances. The random nature of the cost of affiliation was discussed and questions were asked as to if our ITTA affiliation actually reflected the numbers we have playing.

One of the major issues is that the increase in participation has not been reflected in the attendance of players at Munster events due to their nature and the distance required by some to travel and to ask players who play in one competition a year to pay the same as those who attend many more seemed unfair. Also there was a concern that clubs that did increase their participation would be targeted in order to raise revenue rather than be rewarded for their investment. In the short term it would be easy to raise the standard of performance by decreasing the numbers participating but is that what we really want?

Nobody wants the job of sitting on the Munster Branch it requires a lot of commitment. You get a lot of criticism, very little thanks and no reward. I am not surprised we can't find anyone willing to take it on and those that do are unlikely to remain for more than one term. It also leaves us open to having very inexperienced officers or those with their own agendas. I did it for 5 years and I know I'm crazy!

What can we do about it? I now feel very depressed about the future of table tennis both within my Branch and my NGB where not so long ago I was feeling optimistic thinking our sport had turned a corner. What is so strange about all this is the massive increase we have at a local level both within performance and participation. However when we look at the development pathway for our potential performance players there are so many brambles and obstacles along that route we have to look to providing an alternative and that is what I plan to continue to do, try and wait out the storm, pray that something gets done to resolve some of the problems and emerge stronger and better prepared if and when the opportunities return.

Ulster Branch Go It Alone!
I believe this is a headline that is likely to appear if my little conspiracy theory is true. But as you all know I'm paranoid that the actions of some groups within the ITTA have hidden agendas.

Unfortunately the EGM over the weekend only served to confirm my suspicions. I'll have to wait and see if the Irish Sports Council is actually politically switched on when it comes to reviewing their report on our EGM. In my opinion they certainly fell into a well executed trap. I can only marvel at the long term planning that must have gone into preparing for that meeting by certain individuals. For my theory to be possible no individual would be able to pull it off and it would require the manipulation of Branch Committees. Obviously that is unlikely!

So what is my theory? Well it's quite simple the Ulster Branch wants to separate and become the Northern Irish TTA with close links with the UK, British TTA British Olympic Council etc. Why? Cause they've got more money and are much better organised.

How are they going to do that then? Well they can't just go it alone as the Northern Irish Sports Council and ISC surely wouldn't let them! What if they try and "engage" with the ITTA but find it just impossible? That might give them some grounds. What if there were a whole load of proposals put to the ITTA by the ISC, "to enable the ITTA to improve their administrative structure," and the ITTA rejected them? Well that might give them grounds to "disengage." But in order for that to happen they would have to ensure that the proposals looked good on the surface but ensure that others would not support them. Now that's the tricky bit!

Sorry fantasising there, back to reality! The EGM, what happened? Oh yes, there were a whole load of proposals that if supported by the right mechanism and their relevance explained would have been accepted by the EGM.

Unfortunately neither the Irish Sports Council, ITTA Board of Management or the Committee responsible for the proposals were willing to present, explain or provide any information on how anyone proposed to implement them.

Now this is just a guess after thinking back on the meeting. If I was proposing these I would say that the idea was:

1. To create an accurate database of membership, in order to accurately assess any increase in participation. This is how we intend to implement this....

2. Allow all the stakeholders the vote at AGM. Change all the relevant voting rules in order to accommodate this.

3. Provide secure postal voting in order to prevent having to hire the Point Depot and to prevent any province where the AGM was being held having an advantage as their members would not have to travel as far.

4. Streamline the Board and provide the structure for the board to employ an individual responsible for Performance and Participation

5. Provide clear and transparent codes of conduct as in other sports and businesses for all the board directors.

All sounds very reasonable to me. But that was not how it was put over.

Now I would anticipate and expect some members at the EGM to have concerns over how the ITTA intended to implement these proposals. That is only natural given the circumstances we now find ourselves in. So why was there no one prepared to support these proposals and answer any question? The first question was, if we have central affiliation how will that effect the affiliation of schools through block affiliation, which currently is the structure on which the Munster Branch is built upon? Answer: Don't know. No one was willing to answer a simple question! Another was how much would this cost? Answer: Don't know. How would it work? Don't know.

After the first vote it was obvious to everyone that the members of Ulster were going to support every proposal without question. The Leinster Chairman asked questions there were no answers. I asked more questions and yet more silence. There were more questions and then more silence, another vote, Ulster for, Leinster against, more questions more silence. Blah! Blah! Blah! And throughout the process smiles and whispers from the Ulster board. All going to plan?

Ken Strong tried his best to explain that he knew nothing "I know nothing!" For some they were confused as to whether they were actually allowed to say anything. Ken did tell us that the committee responsible for these proposals were "sworn to secrecy!" that went down really well! What like that had to sign something, put their hand on a bible? When could they start talking about it! I have some vague memory of a phrase along the lines of "clear and transparent process." Obviously that only applies to double glazing salesmen and not the ISC, ITTA, FBI, MI5 and MIB.

A member of the secret committee offered to dish the sauce. I don't know why Ken didn't ask him to do so? I did but I was only a delegate, so that was obviously not good enough.

So basically you were free to ask what you liked and they were free to ignore it. I'm glad to see democracy still at work.

So that was the EGM from my prospective, a complete waste of time for everyone except the Ulster Branch. Their Chairman could barely disguise his delight in the outcome. I would have described his demeanour as triumphant. He came over to a few of us after just busting to tell us something. Why didn't you explain why you were voting for the proposals, you were on the secret committee? My hands were tied. Well there's a first, someone telling him not to do something and he sheepishly agreeing, ah now isn't that sweet.

On TV, the screen now begins to wobble to indicate a dream or an imagining.

It's the Olympic Games, Beijing? London? I can't quite make it out. Is it a Chinese player? No can't be she is wearing a British shirt? Now we are in some office, I don't recognise it at all, looks new, There's a Northern Ireland flag on the wall and a box of table tennis balls on the desk and beside it? Oh look! A big fat cheque!

It appeared to me that after the meeting everyone was looking around to place the blame for such a farce at someone's door. No one comes out of this well but I don't think anyone can claim total liability either. In my mind the main players are:

The ITTA Board of Management: Did the board request meetings with the ISC and the Review Committee, yes they did. Did anyone take that opportunity? No they didn't.

The Review Committee: Did members of the Review Committee want to discuss it with the board? Certainly a couple of them indicated that they wanted to but were not allowed to. However it appears that the ex-member from Leinster must have discussed the matter with his Branch Committee and it also appears that the member from Ulster did the same with his Branch. But there was no one from Connaught or Munster to let them know what was going on the "Committee of Secrets."

The Irish Sports Council: I think they genuinely wanted to help, it is a shame they went about it in the way they did. There was ample opportunity for the ISC to explain itself. The initial address by the Chairman of the Review Committee was vague and unspecific. The committee took far too long to come to the decisions it did and it appears the Chairman even restricted the ability of the members to discuss the changes or ask for opinions from around the country.

The Ulster Branch: Do I blame the Ulster Branch for wanting to find a way to rid itself from the shackles of an inefficient and ineffective management structure? Would I try and tap into the extensive resources available across the water? Of course I would! If I was their Branch chairman I might well have come to the same conclusions as they obviously have. If the ITTA can't get their house in order let's do it ourselves. I find myself in the same position, only I am Chairman of a small regional association, growing very rapidly, since we stopped trying to work within the system. Only the consequences of Ulster's actions will undermine their reputation within the rest of the Ireland of Ireland for many years to come. But there again will it matter to them? And what do we do about the counties outside of Northern Ireland?

The Membership of the ITTA: The members are quiet happy to throw accusations about the lack of work done by others. In my experience as Chairman of the Development Committee, ITTA PRO, Chairman of Munster, Cork etc. Everyone claims to be too busy to help with anything outside of their immediate interest. No one has the time to give but is happy to have a go at those that do give up huge amounts of their time. We seem to live in a society looking for revenge and retribution, rather than compensation and rehabilitation.

So in your mind who wins The Blame Game? Have I missed any group out? Maybe it's me? If I would just stop interfering and sit down, maybe it will all just sort its self out on its own. I'll have the Munster AGM tonight.

Calling all Senior Ladies
To all those women interested in table tennis,as the Head Coach of the Ballina TT Club I am determined to organize a national league on a home and away based system. We have a team of 4 willing to travel to your club, have you a team that can win a senior league? Have you a club to cater for such an event;4 tables would be quite sufficient are you available to travel on a occasional weekend a saturday or sunday to compete, if so now is your opportunity to enter your will have to play 4 league matches with 2 doubles on the night this is a chance for your club to be involved in something historic.

If there is an interest and your club is willing to compete in such an event email eamon at eamonnealon@hotmail.com.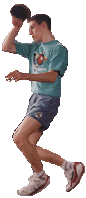 The Irish Universities Championships were held in University College Cork.
Men's Team Event: UCD A beat UCC 11-1. With this victory UCD equalled the record of eight successive victories set by Trinity College Dublin between 1949 and 1956. UCD have won from 2000 to 2007.

Women's Team: UCC A Drew with UCC B, 3-3. This is the fifth consecutive victory for UCC from 2003 to 2007.

Men's Singles: Mark White (UCC) came back from 2 sets to love down to beat Thomas Martens (UCD) 3-2 (8-11, 4-11, 11-9, 11-9, 11-9)

Women's Singles: Winner Oonagh McCullagh (UCD), Runner Up: Claire Quinlan (UCC), Third: Sinead Kelly (UCD).

Colum Slevin takes a break
writes Ken Strong, ITTA Chairman 4 February 2007
Following discussions with ITTA Chairman, Ken Strong and the ITTA Board, Colum Slevin will take a break from his part time coaching post with the ITTA following Irelands away match versus Scotland in Glasgow on 6 February 2007. This will enable Colum to spend additional time in the management and development of his physiotherapy business. He will, however, be available to undertake some work for the Association on an intermittent basis as time permits during his break.

Arrangements have been made to have Colums training and coaching duties covered during his absence.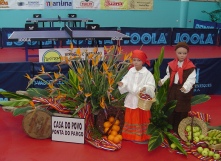 England Qualify for European Championships By Jim Beckley
England women are through to the premier division of the European Championships. But they were made to fight ever inch of the way at the Draycott Table Tennis Centre.

Following a 3-0 win in the first leg in Madeira a week ago, any thoughts of a similar result were soon dispelled as the Portuguese, all of whom were ranked well below the home players, put up a brave show eventually going down 3-2.

England No 1 Kelly Sibley was in tremendous form winning both her matches along with Helen Lower with one. But for defender Joanna Parker it turned out to be a bitterly disappointing night going down in both her matches.

The result means that when the European championships begin in Belgrade next month, England will be drawn alongside the likes of Hungary, Germany, Russia and Italy, the first time in over ten years that England women have enjoyed being in such high company.
Result: England 3, Portugal 2

European Qualification 2005-2007

Ireland lost their second leg of the playoff match against Scotland in Dublin on 13.02.07
J.Murphy lost Gavin Rumgay 7/11, 3/11,6/11
K.Knox lost Stewart Crawford 6/11,2/11, 8/11
P.Graham beat Neil Cameron 11/9,11/9,8/11,11/9
J.Murphy lost Stewart Crawford 5/11,12/14,4/11

Jason Sugrue was ill and unable to attend the match.

Scotland have now qualified for the European Championship in Belgrade in March 07.

Scotland Victorious! www.TableTennisScotland.com
European Championship Qualifier Match - Scotland v Ireland Tuesday 6th February 2007
Scotland were victorious in their match against Ireland. They won 3-0.
Gavin Rumgay recorded his first ever win over Colum Slevin in a thrilling match that had the crowd on their feet at the end. The match score was 11-9,5-11,11-6,4-11,14-12. Stewart Crawford was up next against Jason Sugrue and wasted no time beating him 11-9,11-6,11-6.
Niall Cameron didn't let the side down and, to the delight of the crowd, produced many backhand winners not seen before to win his match against John Murphy 11-8, 11-6, 4-11,11-2.
The same team will travel to Dublin for the return leg on 13th February. They will be accompanied by their coach Peter Stewart.

Ireland Special Olympic Table Tennis Squad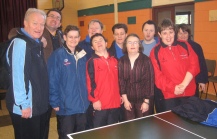 The Irish Special Olympics Table Tennis Squad for the World Games in China later this year gathered for their first training session in Dublin over the weekend of the 20th-21st January. The eight-player squad of four men and four women trained at Dunmore House under the guidance of coaches Owen Kelly, Jim Kelly and Emma Smyth. The eight athletes selected from all five regions began their eight-month preparation in good spirits and with much excitement. The squad will meet once a month in various venues around the capital including ESB Sportsco and DCU. The next training session will take place on Saturday 17th February. Irish Squad: Fergal Bolger (Leinster), Bernadette Carroll, Anna Fitzsimons, Paul Sweeny (Eastern), Gerard McCormack (Connaught), Sharon O'Brien, Pat Dorgan (Munster) and Mary Blair (Ulster).

National Selections
The London Grand Prix takes place in Crystal Palace, London from the 27/28th January 2007. Team: Gavin Maguire, Mark O'Flynn, Daniel Keenan, Ryan Flood, Colum Slevin John Murphy Fiona Dennett, Fiona Mernagh, Birgit Slevin (Chaperone) NPC: John O'Donoghue, Shay Logue

Junior British League, takes place in Aldersley, Wolverhamption on Saturday/Sunday 10/11th February 2007.

Boys Team: Keith Knox, Gavin Maguire, Mark O'Flynn, NPC John O'Donoghue

Girls Team: Fiona Dennett, Claire Nelson, Danielle Douglas NPC Shay Logue Chaperone: Phyllis Kenny

National U12/U14 ( Development) National Training Camp which will take place on Saturday/Sunday 17/18th February 2007 in Colaiste Phadraig, Lucan, Co. Dublin 11.00am -5pm. on Saturday and 10am - 4pm on Sunday.

Squad: K. Phoenix, A.Given, N.Buttimer, A.Healy, A.Walker, M.Kossowski, N.Brady, D.O'Brien S.Slater, P.McConnell, J.O'Brien, E.Flanagan, N.Irwin, D.Cooney, K.Reilly, P.Kossowski, A.Robinson, R.O'Reilly, Mark O'Dea

Mens European Qualification 2005-2007
The first leg of the final qualifying match is as follows:
Date: Tuesday 6th February 2007
Participating Teams: Scotland v Ireland
Venue: Drumchapel Sports Centre, 195a Drumry Road East, Drumchapel, Glasgow
Time: 19.00 Hrs
Team: Jason Sugrue, John Murphy, Peter Graham NPC Colum Slevin

The return leg will be held in Dublin
Date: Tuesday 13th Feb 2007
Participating Teams: Ireland v Scotland
Venue: Colaiste Phadraig, Lucan, Dublin
Time: 7.30 pm
System of play: The order of play shall be A v X, B v Y, C v Z, A v Y, B v X and the match shall end when one team has won 3 individual matches, each the best of 5 games. The winner of the match will qualify for the Challenge Division at the European Championships so please come along to Lucan to support the team.

Irish National Veterans Championships, Newtownards
Results
Mens Over 40's
Semi Finals
Willie Cherry (Ulster) bt Peter Clarke (Ulster) 3-0
Dave Pemberton (Leinster) bt Karim Sabir (Connacht) 3-2
Final
Pemberton bt Cherry 3-1

Doubles
Brian Orr/John Fall (Ulster) bt Pemberton/Billy Large (Ulster) 3-1

Over 50's
Norman Nabney (Ulster) bt Oliver Adamson (Leinster) 3-0

Over 60's
Adamson bt Derek McCann (Ulster) 3-2

Over 70's
Ussher Watson (Ulster) bt Tom Burke (Leinster) 3-2

Ladies
Over 40's
Isobel Lappin (Ulster) bt Helen Gill (Ulster) 3-2

Over 50's
Lappin bt Vivienne Barry (Leinster) 3-2

Munster Open Results 2007
Senior Men: Na Ning beat John Murphy
Senior Ladies: Renata Fulop beat Clodagh McCullagh
Under 17 Boys: Gavin Maguire beat Mark OFlynn
Under 17 Girls: Rebecca Kenny beat Ciara ODonnell
Under 14 Boys: Sam Logue beat Maciek Schmanski
Under 14 Girls: Rebecca Kenny beat Aisling Healy
Under 12 Boys: Declan OBrien beat Neil Irwin
Under 12 Girls: Kerrie Pheonix beat Edel OReilly

Top 20 Womens Ranking
1 Amanda Mogey 265
2 Renata Fulop 191
3 Claire Nelson 190
4 Tara Fusco 157
5 Jean Hughes 154
6 Fiona Dennett 148
7 Teresa Devaney 143
8 Sabina Kazimagomedova 104
9 Jenny Harrison 101
10 Na Liu 67
11 Michelle McGreevy 62
12 Amy Tobin 61
13 Sabrina Conway 52
14 Fiona Mernagh 49
15 Sarah Kenny 48
16 Elizabeth Dennett 33
17 Roslyn Carpenter 27
18 Rhonda Fox 27
19 Nicola McGrath 25
20 Leslie Harrington 25

Top 20 Mens Ranking
Rank Player Points
1 John Murphy 261
2 Brian Fitzgerald 259
3 Peter Graham 227
4 Jason Sugrue 200
5 Dave Pemberton 195
6 Keith Knox 170
7 Gavin Maguire 138
8 Phil Wallace 127
9 Laszlo Varga 122
10 Na Ning 113
11 Mark OFlynn 111
12 John Bowe 103
13 Shane Dolan 79
14 Paul McCreery 74
15 Jonny Cowan 69
16 Conor Nolan 66
17 Kevin Devaney 65
18 Daniel Keenan 63
19 David Hayes 62
20 Marcus McDonnell 61

Leinster Senior Open 20.11.06
Results:

Mens Singles Semi-finals
Irfan Tavukcupglu (Turkey) beat Safa Avci (Turkey) -8, 7, 5, 9
Peng Fei Jiang (Turkey ) beat Genlay Menge (Turkey) 9, -10, 8, -9, 9

Final: Tavukcupglu beat Jiang 10, 6, -7, 7

Ladies Singles Semi-final
Renata Fulop beat Jean Hughes 8, -9, 7, 9
Amanda Mogey beat Sabina Kazimagomedova 8, -9, 7, -8, 10

Final: Mogey beat Fulop 6, -7, 6, -11, 9

Gents Doubles Final: I. Tavukcupglu/S. Avci (Turkey) beat John Bowe/ Na Ning 4, 6, 8
Ladies Doubles Final: Renata Fulop/Teresa Devaney beat Claire Nelson -5, 10, 5, -10, 11
Ladies U21 Final: Amanda Mogey beat Sabina Kazimagomedova 9, 5, -11, 8
Gents U21 Final: John Murphy beat Shane Dolan 9, -9, 5, 10
Gents Veterans Final: Dave Pemberton beat Kevin Mackey -5, 8, 5, 9
Grade 2 Final: Renata Fulop beat Dermot Tierney 4, 8, 6

IRELAND v TURKEY
E.S.B. Sportsco, Ringsend, Dublin 4
FRIDAY 17th NOVEMBER 2006 at 8.00 pm

EUROPEAN CHAMPIONSHIPS - QUALIFICATION 2005-2007
STANDARD DIVISION - MEN Play -Off

Irish Team: Jason Sugrue, John Murphy, Peter Graham, NPC Colum Slevin
Turkish Team: Irfan Tavukcuoglu, Safa Avci, Gencay Menge, Peng Fei Jiang. NPC Chao Jiang

ETTU Umpires: Mick Strode (England) and Andy Seward (England)

There are four countries playing off for 3 positions in the Challenge division of the European Championships in 2007: Ireland v Turkey and Scotland v Latvia The winners qualify to play in the Challenge Division and the losers playoff on a home and away basis for the final position in the Challenge Division.

Mens World Rankings October 2006
1. WANG Liqin CHN
2. BOLL Timo GER
3. MA Lin CHN
4. WANG Hao CHN
5. SAMSONOV Vladimir BLR
6. CHEN Qi CHN
7. OH Sang Eun KOR
8. RYU Seung Min KOR
9. CHEN Weixing AUT
10. CHUAN Chih-Yuan TPE
11. SCHLAGER Werner AUT
12. HAO Shuai CHN
13. LI Ching HKG
14. JOO Se Hyuk KOR
15. KREANGA Kalinikos GRE
16. MA Long CHN
17. SAIVE Jean-Michel BEL
18. LIU Guozheng CHN
19. KONG Linghui CHN
20. CRISAN Adrian ROU

Womens World rankintgs October 2006
1. ZHANG Yining CHN
2. GUO Yan CHN
3. WANG Nan CHN
4. GUO Yue CHN
5. TIE Yana HKG
6. LI Jia Wei SIN
7. LI Xiaoxia CHN
8. KIM Kyung Ah KOR
9. NIU Jianfeng CHN
10.WANG Yue Gu SIN
11. BOROS Tamara HRV
12. CAO Zhen CHN
13. GAO Jun USA
14. JIANG Huajun HKG
15. LIN Ling HKG
16. FUKUHARA Ai JPN
17. LIU Jia AUT
18. STEFF Mihaela ROU
19. LI Nan CHN
20. PARK Mi Young KOR

Kong ends his table tennis career
China's former table tennis world champion Kong Linghui is retiring from competition to begin a coaching career.

Kong told the Beijing Evening News: "The main reason is I think that my technique has fallen behind."

The 31-year-old admitted: "There is no way I can get back to international competition standard."

Kong won Olympic doubles gold in 1996 and the singles title in the 2000. He is one of just three people to win the table tennis "grand slam".

His popularity slipped in July, when he was forced to make a public apology after his Porsche car hit a taxi and he was convicted of drunk-driving

European Qualifier In San Marino
Men finish 2nd in Group
The Irish Senior Mens team travelled to San Marino for their European Qualifier Group B matches over the weekend also. The team of Colum Slevin, Dublin, Jason Sugrue, London Progress, John Murphy, Dublin and Peter Graham from Belfast finished in second place in their Group which included Latvia, Lithuania and San Marino. They now await the winners of Group A, as the top two teams in two groups will battle it out for three places available at the European Championships in 2007.

European Qualifier Dublin
The Irish Senior Ladies made a winning start on Saturdays the first days play. The team playing at home at the ALSAA club in Dublin began with an impressive 3-0 win over Kossova before losing 0-3 to Group favourites Denmark.

Meanwhile Denmark went on to beat Iceland and Kossova 3-0 and Norway beat Iceland 3-0 and Kossova 3-1.

After loosing to Denmark, Ireland had to turn the tables on Norway to clinch 2nd place in the group in order to improve their qualification for the European Championships next year. This would be a difficult match as Ireland had already lost 2-3 to Norway during the previous stage of the competition.

The Irish Team treated the home spectators to a tremedous match when Michele won the first in 5 sets, Tara won hers in 3 straight and Amanda sealed victory with another 5 set win. This combined with a 3-1 win over Iceland ment that Ireland finished 2nd in the group and with the highest qualifying place for some time.

Congrats to all the players and especially to our TTIreland Player of the Year Tara Fusco Results
v Kossova
Tara Fusco bt Regibije Sejdiu 11/4, 11/4, 11/8.
Michele McGreevey bt Besire Domaniku 11/6, 11/9, 11/8.
Sabrina Conway bt Terstena Arijeta 11/6, 11/9, 11/8.

v Denmark
Michele lost Anne Catherine Bomann 9/11, 11/5, 11/6, 11/8.
Tara lost Mie Skov 11/6, 11/7, 11/6.
Amanda Mogey lost Pernille Sundergaard 11/6, 11/6, 11/8

V Iceland
Michele McGreevey bt Kristin Asta 11/7, 11/8, 11/4.
Tara Fusco bt Gudion Bjorn 12/10, 11/2, 11/5.
Sagrina Conway lost Ragnildur Sigur 9/11, 6/11, 10/12.
Michele bt Gudion Bjorn 11/2, 12/10, 11/7.

V Norway
Michele bt Anna Berner 8/11, 9/11, 19/17, 11/5, 11/7.
Tara bt Marthe Nilsen 11/4, 11/7, 11/5.
Amanda Mogey bt Therese Anderson 9/11, 11/9, 11/7, 7/11, 11/6.

Junior British League - Stoke.
Irish Boys team lost 0-6 to York Gardens, 1-5 to Barnet, 1-5 to Stowemarket, 2-4 to Progress and drew 3-3 with Ormsby. and lie at the bottom of the Premier Division. Paul McCreery tops the Irish boys averages with 4 out of 10 wins.

Irish Girls team lost 1-5 to Draycott, 2-4 to Wirall, 2-4 to Grantham, drew 3-3 with Cippenham and won 5-1 against Bridgewater and lie 4th in the Premier Division. Danielle Douglas and Claire Nelson have 5 out of 10 and

Womens British League 06.10.06 - ITTA Press
The first Stage of the Womens British League took place at the weekend, in Hereford, England. Ireland entered two teams and they turned in impressive performances.

The Premier Division team was made up of Tara Fusco (Dublin), Michele McGreevey (Belfast), and Liu Na (Belfast).

They beat Cippenham, Woodfield and Draycott / Longeaton all on 4-2 scorelines. They drew 3-3 with London Progress and lost to a very strong DML team 2-4. In this match Tara lost 3-2 to Lyndsey Thor and Liu Na lost 13/11 in the 5th set to Jiao. The leaders are on 9 points with Ireland in 3rd place on 7 points.

The Div 2 team was made up of Amanda Mogey (Belfast), Sabrina Conway (Dublin), Claire Nelson (Belfast) and Fiona Dennett (UK). They beat Sutton-on-hone 4-2, Spicer Ladies 5-1, Elgree 5-1, Drew 3-3 with Guernsey Senior A team and Drew 3-3 with Ormsby.

Three teams are on the same points at the top of the table, including Ireland. Amanda won 9 out of 10 games, Claire won 6 out of 8 and Fiona won 5 out of 8. Unfortunately Sabrina fell ill over the weekend.

The second stage will take place in Blackpool, England on 20-21 Jan 07

Irish Junior Classification at IWA, Clontarf, Dublin.
Results
Under 17 Girls
1. Danielle Douglas, Glenburn, Belfast
2. Jenny O'Donnell, Ballina
3. Fiona Mernagh, ALSAA, Dublin
4. Sarah Kenny, ALSAA, Dublin
5. Clodagh McCullagh, York Rd, Dublin
6. Robyn McClean, Glenburn, Belfast
7. Emily D'Arcy, Beech Hill, Cork
8. Ciara O'Donnell, Ballina

The score in the final was 11/8, 9/11, 11/6, 11/8.

Under 14 Girls
1. Sarah Byrne, York Rd, Dublin
2. Aisling Healy, Ballincollig, Cork
3. Ashley Givan,Greystone,Dungannon
4. Niamh McCabe, CYM Terenure, Dubllin
5. Kerrie Phoenix, ALSAA, Dublin
6. Nicole Brady, ALSAA, Dublin
7. Sarah Timlin, Ballina
8. Lavinia Matise, ALSAA, Dublin

The score in the final was 11/7, 8/11, 11/5, 11/8.

Under 12 Girls
1. Kerrie Phoenix, ALSAA Dublin
2. Ashley Givan,Greystone,Dungannon
3. Manuella Kossowski, Navan
4. Caitriona McCullagh, York Rd, Dublin
5. Niamh Buttimer, Ballincollig, Cork
6. Aisling Healy, Ballincollig, Cork
7. Annalise Walker, Glenburn, Belfast
8. Nicole Brady, ALSAA, Dublin

The score in the final was 11/2, 11/9, 3/11, 6/11, 11/9.

Under 17 Boys
1. Daniel Keenan, ALSAA, Dublin
2. Ryan Flood, St. Johns, Ballyfermot,Dublin
3. Gavin Maguire, Eastpoint, Dublin
4. Mark OFlynn, Eastpoint, Dublin
5. Karl OCallaghan, St. Johns, Ballyfermot, Dublin
6. Gary Houben, Thurles, Tipperary
7. Kevin OKeeffe, Ballincollig, Cork
8. Scott Shellard, Ballincollig, Cork

The score in the final was 11/7, 11/4, 11/9.

Under 14 Boys
1. Maciek Scymanski, St. Johns, Ballyfermot, Dublin
2. Andrew Campbell, ALSAA, Dublin
3. Scott Shellard, Ballincollig, Cork
4. Damien Reilly, St. Johns, Ballyfermot, Dublin
5. Corey ORourke, St. Johns, Ballyfermot, Dublin
6. Ian Browne, Ballincollig, Cork
7. Darragh Foley, Kenneigh, Cork
8. Donncha Gleeson, Ballincollig, Cork

The score in the final was 14/12, 11/8, 11/7.

Under 12 Boys
1. Stephen Slater, Letterbreen, Fermanagh
2. Pshemek Kossowski, Navan
3. Neil Irwin, Greystone, Dungannon
4. Peter McConnell, Glenburn, Belfast
5. Enda Flanagan, Castlerahan, Cavan
6. Jonathan O'Brien, Islandmagee, Antrim
7. David Cooney, Ballincollig, Cork
8. Kieran Reilly, Castlerahan, Cavan

The score in the final was 14/12, 11/8, 11/9.

Blackpool Junior Grand Prix 02.10.06 -
The Irish cadet cadet squad of Sam Hanley, Paul Mc Creery, Sam Logue and Neil O Flynn travelled to Blackpool to compete in the Stiga Junior Grand Prix. Their were some very impressive performances over the two days. Paul Mc Creerys defeat of Englands Sean Cullen to win the Cadet Band One Final on Saturday was the highlight our weekend.

1 st Munster Ranking, Beech Hill There were 89 Entries in the first ranking dominated by Ballincollig players.
Winners
U10 Luighsigh Carey Skibbereen, Ciaran Noonan Ballincollig
U12 Niamh Buttimer Ballincollig, Declan O'Brien Ballincollig
U14 Aisling Healy Ballincollig, Ian Brown Ballincollig
U17 Evelyn Mullane Beech Hill, Kevin O'Keeffe Ballincollig

Senior Classification
The following are the finishing positions of the Classification at the weekend:
Men
1. Jason Sugrue
2. Peter Graham
3. Brian Fitzgerald
4. John Murphy
5. Lazlo Varea
6. Daniel Keenan
7. John Bowe
8. Dave Pemberton
9. David Hayes
10. Keith Knox
11. Gavin Maguire
12. Robert Gavin
13. Marcus McDonnell
14. Kevin Devaney
15. Shane Dolan
16. Karl OCallaghan

Ladies
1. Renata Fulop
2. Tara Fusco
3. Jean Hughes
4. Amanda Mogey
5. Fiona Dennett
6. Sabina Kazimagomedova
7. Sabrina COnway
8. Amy Tobin

ITTF World´s Ranking lists, (08/2006)
Men
1 WANG Liqin CHN
2 BOLL Timo GER
3 MA Lin CHN
4 WANG Hao CHN
5 SAMSONOV Vladimir BLR
Women
1 ZHANG Yining CHN
2 GUO Yue CHN
3 GUO Yan CHN
4 TIEYana HKG
5 WANG Nan CHN

The Community Games Finals in Mosney, Co Meath
BOYS Under 13
Final: Ballyjamesduff, Cavan 6, Devlin, Co Westmeath 0
3/4th play off: Ballincollig Cork 6, Kilgefin, Co Roscommon 0

GIRLS Under 13
Final: Ballincollig Cork 5, Deansrath Dublin 1
3/4th play off: St Patricks, Cavan 6, Kilgefin, Co Roscommon 0

Ballina girls TTC have entered junior British league.
With some of the best players in the country, and after a number of years being side lined for selection by the ITTA to play British League .

The Ballina club have entered not one team but 2 teams into British league with the return of the former Irish junior no-1 Ciara O'Donnell from France teaming along side the much new and improved attacking style of Jenny O'Donnell and Susan Nealon will make up the first team. Eamon would not release the names of his second team, and only commented saying, "it had a surprise selection about it."

The club is looking forward to the challenge and with dept in strength in its players and selection will be a force to be reckoned with.

EUROPEAN YOUTH CHAMPIONSHIPS 2006
The European Youth Championships took place in Sarajewo, Bosnia from the 19th to the 30th of July. Ireland sent two teams, consisting of 2 Cadet Boys(Paul McCreery and Sam Hanley) and 2 Cadet Girls(Clare Nelson and Rebecca Kenny).

The boys finished 34th out of 42 teams, while the girls came in at 37th out of 40 teams. It was the best performance in the last number of years, with both teams winning 3 matches, the boys against Montenegro, Azerbaijan and Kosovo and the girls against Finland, Kosovo and Scotland. The boys finished last 2 years ago and second last in 2005.

Halmstad Masters in Sweden 1-3 September 2006
Friday: Men's and Women's Elite

Saturday: Men's 1, Women's 1, Men's 2, Women's 2, Men's Junior 20, Women's Junior 20, Boy's 13, Girls 13, Boy's 11, Girls 11, Boy's 10, Girl's 10, Boy's 9, Girl's 9.

Sunday: Men's 3, Women's 3, Men's 4, Men's Junior 17, Women's Junior 17, Boy's 15, Girl's 15, Boy's 14, Girl's 14, Boy's 12, Girl's 12.

-You can play max. 2 classes each day.

-In all youth classes we are playing in groups and cup in all senior classes. The eliteclasses will begin with groups.

-Last day for signing the tournament is: 15 of august 2006.

-Information about the tournament: Robert Siljan tel. + 46 702 72 14 91 (17-22) E-mail: robsil@spray.se www.halmstadbtk.com

-You can fly to Halmstad airport but Halmstad have also good connection with bus and train to Göteborg/Sweden and Copenhagen/Denmark.

-Total price money: 60.000 Swedish crowns

World Silver Medal for Bertie Levinge
Bertie Levinge, from Kinsale, Co. Cork won silver at World Vets in Bremen in Mens Doubles Over 80s playing with Les DArcy(Eng)-- they were beaten in Final by Fosberg and Osterholm(Swe). Bertie was beaten in Quarters of Over 80s Singles