CALENDAR
New calendar including West Cork Rankings and schools events has been posted HERE

West Cork Individual Table Tennis Championships 2011
Venue: Goleen Sports Complex
Date: Sunday 19th June
Entries in by Friday 17th June

This is the most important Singles event for WCTTA members please attend if you can
This is the last Official Event of the 2010-2011 Season and is played at U8/U12/U14/U17 Boys & Girls.
Winner will be the West Cork Champions for their age group.
Plate events will be played in each event where numbers permit.
Entry Form: WCTTA Individual Championships

ITTA Level 1 Coaching Course
Goleen Community Sports Complex hosted an ITTA Level 1 Coaching Course on 13th/14th/15th May. Course Tutor Owen Kelly delivered the course to 13 student coaches. the course was well received and it is hoped that this new group of coaches will become active during next season.

Irish Senior Champion Visit
John Murphy was the guest of the WCTTA at a recent weekend training camp. Over 25 students took the opportunity to train with one of the best players Ireland has produced. All the players and coaches were impressed with his skill at coaching. It is hoped that he will return again for the WCTTA Summer Training Camp in August.

Lissagriffin NS represent Munster At the All Ireland Primary Schools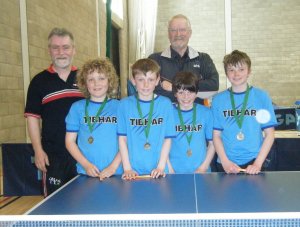 Lissagriffin one of the smallest schools represented in West Cork with only 27 children in the school have gained a strong reputation for table tennis within West Cork and at the Munster Schools Cup. With two players in the top 10 in Ireland within their age group, an Irish National Champion and another within the top 10 in Munster. This year Lissagriffin sent a team of 4 boys to Banbridge in Co. Down for the All Ireland Primary Schools Championships. The team of James Kelly, Sam Coughlan, Padraig Reidy and James O'Driscoll performed really well and finshed 3rd beating the Ulster Boys Team. Special thanks to the Lissagriffin Parent Assoc. Nottages Restaurant, Goleen TTC and Celtic Table Tennis the WCTTA sponsors.

St. Finbarr's Boys NS win All Ireland Schools U13 Title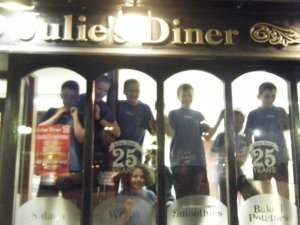 The Boys from St. Finbarr's BNS brought back the All Ireland U13 Boys title from Co. Mayo. the team of seven boys, James Lavin, Tom Walsh, Daniel Murray, Shane Murray, Leon Murkajee, Jack McCarthy and Zico McSweeney-Oliveira beat the Leinster favourites in the semi final and went on to win the final 6-0. The lads were in jubelant form when they returned and were welcomed by a large crowd of well wishers and given a garda escort around the town they were then treated to a meal by Julie's Diner the team sponsors. this was the third attempt at this event for the school who previously won bronze, silver and now gold. Congratulations to all the teachers and parents who worked so hard and supported the team so well.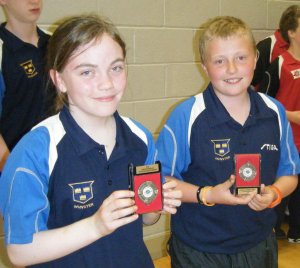 West Cork well represented at Junior Interpros
Two West Cork players made the trip to Killarney for the Junior Interpros. Mair Kelly from Goleen who has improved remarkably during the season was selected for the U12 Girls who swept all before them to win the Gold Medal. Tom Walsh from Bantry became only the second player from the town to represent Munster was also selected at the U12 age group. The team played extremely well but were beaten into third place on count back. With other teams also putting in strong performances Munster finished second overall. Congratulations to the whole squad and our West Cork players.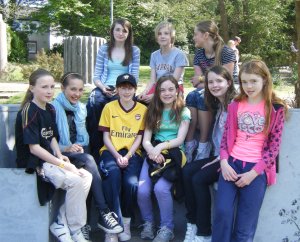 West Cork Social
Around 50 players, coaches and parents made the trip to Trabolgan for the annual West Cork TT Social. The weather was fantastic and everyone was able to enjoy all the various activities laid on. With Quad Biking, Go Karting, Swimming, Orienteering, Crazy Golf and the girls chose to go Zip Wiring as well! A social trip like this is extremely important with representatives from the four West Cork Coaching Schemes getting a chance to hang out together in a non-competitive environment. A good deal of ice cream was consumed and a mammoth football match took place on the Astroturf. We got back late and tired and we didn't manage to lose anyone, so a great success all round!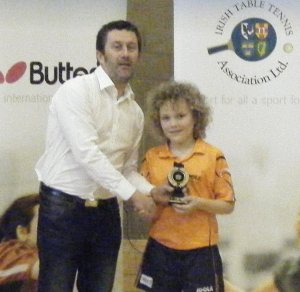 Irish National Champion
James Kelly became the first West Cork player to win an Irish National Title when he won the Under 10 title at the Irish National Championships. James has remained undefeated at the U10 category since September 2010. He has collected the Ulster, Connaught and retained the Munster Open titles this season along with the Yorkshire Open Title. Within Munster he has also remained undefeated and also achieved a remarkable double winning the Munster Top 8 U10 and U12 titles and finished No.2 U12 for the season. James Kelly has delighted his sponsor Joola and Celtic Table Tennis with his consistent performances and is well supported by the Goleen & District Community Council.


West Cork Players at the Top 8's
9 West Cork players reached the finals of the Munster Top 8's this season. James Kelly won both the U10 and U12 titles, while Aoibheann Keating finished 2nd in the U10 girls category. Players who qualified: James Kelly, Mair Kelly, Tom Walsh, Sam Coughlan, Ruaidhri Gallagher Spenser, James Heap, Aoibheann Keating, Anoshi Ghol and Megan Healy

West Cork Rankings
After the last tournament in Goleen the Final West Cork Rankings have been posted, we have a joint top spot this year for the first time. RANKINGS

West Cork Schools Cup 2011
The West Cork School Cup is the Premier event for Table Tennis within the region and one of the largest school table tennis events in the county with 60 Teams participating in 2010. This year the WCTTA has decided due to these large numbers to run the Primary event on a separate day. The intention being that the schools will be able to play more matches during the day as there will be more tables available.

This event will be held at Maria Immaculata Community College Dunmanway on TUESDAY, March 8th from 9.30 a.m. until 3 p.m. The closing date for receipt of entries is March 1st.

A Treat from Tralee
The West Cork Team Challenge brought teams from Goleen, Bantry, Skibbereen, Dunmanway and four teams from Tralee together for a fun filled family day. Full Report

Silver Award
Congratulation to Kevin Murray from Bantry who recently passed his WCTTA Silver Award.

Irish Rankings
James Kelly heads up the U10 Boys with 2 wins out of 3 and is currently 11th at U12. Mair Kelly has moved into the No.10 position in U12's and 20th in U14. Tom Walsh is 15th in the U12's with Ruaidhri Gallagher Spenser ranked 15th at U14. Anoshi gohl and Megan Healy are equal 27th.

Munster Open 2011
James Kelly won the Munster Open U10 title for the second year in a row. The first time this has been achieved. Ruaidhri Gallagher Spenser finished 13th in the U14 event, James Heap finished 24th in the U17s, James Kelly and Tom Walsh finished joint 10th in the U12 event, Anoshi Gohl and Megan Healy finished joint 18th in the U14 Girls, Mair Kelly finished 10th in the U12s. Jakob Jungwirt also played in his first Irish Ranking at U14.

Irish Squad
Congratulations to James Kelly who has been selected for the Irish U12 Training Camp in Dublin on the 5th February.

The WCTTA JOOLA Performance Squad
JOOLA one of the World's largest table tennis equipment suppliers has agreed to sponsor the new WCTTA Performance squad for this year. Full Article

WEST CORK INDIVIDUAL PRIMARY SCHOOLS CHAMPIONSHIPS 2010
The WCTTA Primary School Championships took place on Monday 13th December at the Goleen Community Sports Centre. A Full Report can be found HERE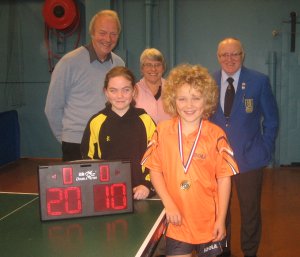 Yorkshire Junior Open
James Kelly and Mair Kelly travelled over to Halifax to play in the Yorkshire Junior Open over the half term. This was the first trip abroad for a competition for both players and a further opportunity to gain experience. James played in the U11 and U13 events where he played with his new Joola equipment for the first time. James has been awarded a sponsorship by this leading German table tennis company and he once again proved that he has tremendous talent for such a young player. He comfortably won the U11 title and also reached the quarter finals of the U13 event where he eventually lost to James Rule 11/7, 14/16, 12/14, 6/11. Mair played in both the U13 and U15 event with 12 very competitive matches. She was delighted to finish 3rd in the U15 and 5th in the U13s. Both players will be in action once again with the West Cork Rankings in Dunmanway on the 7th and the Belfast Open on the weekend of the 13th-14th.

WOMEN'S TABLE TENNIS TRAINING SESSION SUNDAY 17TH OCTOBER Female athletes from 3 West Cork Clubs took part in the first Womens Training Camp this season. The session accommodated players of all ages from U10s to Senior players. The camp focused on bringing these players together to highlight the importance of the womens game in West Cork. A special thanks to the Dunmanway Club and to Vicky Ridgeway for the use of their excellent facilities. Plans for another camp are already underway.

Munster Junior Ranking 2010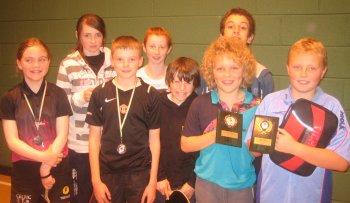 3rd October 2010 Beech Hill Table Tennis Club, Cork
14 West Cork players attended the Munster Rankings at Beech Hill, Cork on Sunday 3rd October. There were some great performances from all the players. James Kelly once again took the U10 title and reached the final of the U12s to confirm his 2nd place ranking at the age group, Tom Walsh had his best ever finish when he defeat Ballincollig's Paul Cooney to take 3rd place in the U12s. Aoibhinn Keating finished 2nd in the U10 Girls with Caoimhe Harnedy 3rd. Kevin Coughlan claimed his first ever Munster Medal in the U10 Boys Plate. Mair Kelly also had her best ever finish reaching 6th in the U12 Girls. Padraig Reidy played well to reach the U12 Plate to take 2nd with Sam Coughlan finishing 3rd. Mairéad Supple defeated both Aisling O'Driscoll in the semi final and Mair Kelly in the Final to win the U14 Plate. While Anoshi Gohl and Megan Healy reached the 2nd round of the U14 Girls. Ruaidhri Gallagher-Spencer played well in the U14s but was unable to reproduces his 4th place finish in Killarney, he raised his game in the U17s but lost in the 5th to James O'Reilly who also saw off James Heap in the same event. Congratulations to all those who took part.

Dimoleague Table Tennis
A new adults club (18+yrs) has been opened in the Methodist Hall in Drimoleague, described as the "Heart of West Cork." Bill Patterson and his wife are the drive behind this new initiative. The club has 3 tables, one provided by the WCTTA and is open on Monday evenings from 6.30pm to 10pm. Drop in any time during this period for a spot of TT and good company. Tel: 086-1043258