GALWAY STAR May 29th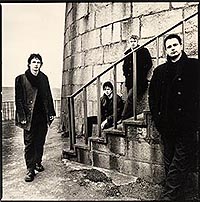 The Prayer Boat
'Polichinelle' (Invisible Records)
The Prayer Boat played Galway recently promoting their new album Polichinelle, so I decided to have a listen to them on CD after being so impressed with their live show.
The Prayer Boat, who hail from Wicklow, are not a band that drown their material out with digital samples, distorted guitars, and shouting lyrics. They're the complete opposite in fact.
The title track opens the album, and is a beautiful piece of genuinely entertaining music. Right from the start, as with their live gigs, the thing that stands out about the Prayer Boat is Emmett Tinley's voice: it's about as powerful as you're likely to hear from any male artist around. He slides from gentle melodies to high-pitched choruses without any hesitation or difficulty at all, accompanied by mainly acoustic backing with keyboards.
On some of the songs Emmett relinquishes his guitar in favour of a grand piano, which he uses to enhance the atmosphere both his voice and his brother's classical guitar playing creates. Truly powerful.
While some tracks pick up the pace a little, the majority are thoughtful and introspective. Take 'Saved' for example: right from the beginning the whole mood of the song created by all the elements involved is emotional.
An album which would be done justice by listening to it with a bottle of wine or the like. Decent indeed, although not for the fast paced.
OUR RATING: 9 out of 10 - Keith Barrett