The Parish
EMLY, a parish in the Archdiocese of Cashel and Emly, is situated in west Tipperary on the Tipperary- Limerick border. It is nine miles from Tipperary town and c.25miles from Limerick city.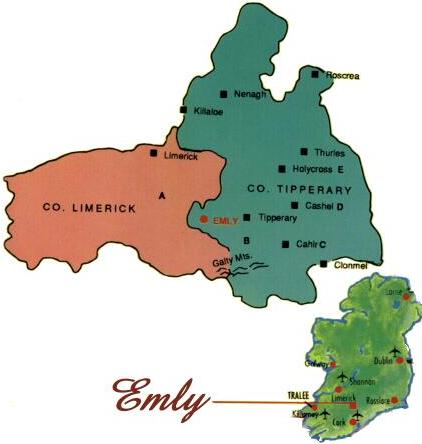 PATRON SAINT: St. Ailbe (Albeus). Tradition says he is buried in Emly.
The name Ailbe has always been a common Christian name for Emly people.

PARISH CHURCH: The Church of St. Ailbe. Archbishop Croke laid the foundation stone of the church on The 30th May 1880. The work was completed in 1882 and officially opened on 6th January 1883. This church replaced an earlier one built in 1810 and now used as a parish hall.

| | |
| --- | --- |
| "The Window of the Saints in St. Ailbe's Church. Featured are, Bl. Terence Albert O'Brien, St. Patrick, St. Ailbe, St. Bridget, Bl. Dermot O'Hurley." | |
PARISH CLERGY: Seamus Rochford PP.
Sean Kennedy CC.

SCHOOL: St. Ailbe's National School

PRINCIPAL: Sean McManus NT.

POP. of the PARISH: c. 870

POPULAR SURNAMES: Burke (Bourke), Ryan, Lonergan, McEniry.

PARISH E-MAIL : emly@eircom.net


I welcome you to our Emly Parish website.&nbsp ; If you are an Emly person who is away from home then I hope that this website will keep you in touch with what is happening in your native parish.

If your ancestors were natives of Emly this website should be of particular interest to you. If you would like to trace your Emly roots this is the place to begin.

Every effort will be made to keep this site updated but be patient with us.

Contact us at our E-mail address or at Parochial House, Emly, Co Tipperary.

Seamus Rochford PP.