Letter of Terence MacCarthy to the (Acting) Deputy Chief Herald of Ireland 1991

In chapter 6 of his entertaining best seller The Road to McCarthy (2002), the late Pete McCarthy gave an hilarious account of his encounter in Morocco with the recently 'abdicated' bogus chief Terence MacCarthy. Following his return to Dublin, Pete had a cloak-and-dagger encounter with another and unnamed 'chief', who handed him a dossier on Terence with the following comments: 'These documents are not in the public domain. They were secretly photocopied in Irish government departments. If asked, I will deny they came from me'. (Road to McCarthy, page 276.) While researching my own book, Twilight of the Chiefs: The Mac Carthy Mór Hoax (2004), copies of some but alas not all of these leaked official documents were passed on to me by various confidential sources. Since my book went to press, more of this material has come into my possession, and as I hope to publish a second edition, copies of any and all documents relating to the Mac Carthy Mór affair continue to be gratefully received.
There is one leaked letter in the writer's possession, the full text of which it is now intended to publish here for the first time, for reasons which will now be explained. While intelligent observers accept that the Genealogical Office/Office of the Chief Herald became riddled through and through with maladministration, there is an alternative fairy tale version which holds that the Mac Carthy Mór incident was an untypical lapse from generally high standards, and that the department should now be allowed to proceed on its merry way with a new head and enhanced powers and status. The fairy tale version also holds that the present writer had nothing whatsoever to do with the exposure of Terence MacCarthy, but opportunistically latched on to the matter after Chief Herald Brendan O Donoghue had stripped the Belfast hoaxer of recognition in July 1999. This account willfully overlooks the fact that I first communicated with the Chief Herald on the subject of MacCarthy in January 1999, kept him up to date with the progress of my voluntary research on the emerging scandal in the months following, and in the light of official inaction and with adequate forewarning publicly exposed the hoax by issuing a signed report on Bloomsday, 16 June 1999. The fairy tale account also holds that in drawing attention to the fact that both the then Chief Herald and his (apparently then acting but later to be formally appointed) Deputy signed the certificate of recognition of Terence MacCarthy's bogus claim to chiefship in 1992, I have maligned the latter by falsely claiming his involvement in validating MacCarthy's bogus pedigree, and that I should therefore issue an apology. As these demands for an apology have become more insistent of late, for the present I consider that I need do no more in response than to publish the full text of the following 'leaked' letter from Terence MacCarthy to the then acting Deputy Chief Herald (which those who are unacquainted with the scandal should be made aware is composed in the main of preposterous genealogical and heraldic untruths).

Arms of 'Mac Carthy Mór'
El Minzah, 85 Rue de la Liberte, Tangier, Kingdom of Morocco

Fergus Gillespie Esq, State Heraldic Museum, 2 Kildare Street, Dublin 2, Eire

October 27th 1991

Dear Fergus,
My great uncle, The Maguire of Fermanagh, has forwarded the draft pedigree which you have prepared for me. I have examined it and I have the following comments to make.
With regard to my grandfather, who ob 1947, you should insert: MacCarthy Mor, 1927-1947. This is important as he SUCCEEDED his cousin Samuel Trant McCarthy, The MacCarthy Mor in 1927. Against my father you should insert: MacCarthy Mor 1947-1980 which was the period of his chiefship. Against my own name and title it should show MacCarthy Mor 1980-. There is no reason why these amendments should not be made as they record facts. I have not become MacCarthy Mor through the Office's recognition but SUCCEEDED to the title more than a decade ago. If I did not insist on these particular amendments the pedigree would be a published libel against my father and grandfather both of whom used the title (indeed my grandfather was styled The MacCarthy Mor, Prince of Desmond when he lived in Albania in the 1920's. He was a Knight of the Black Eagle which order, the highest Albanian decoration, he received from the late King Zog).
Regarding the pedigree you have dropped out a generation between Domhnall Og and Ceallachan who ob 1613. Between these Lords of Kerslawny came Cormac, Tiarna Chois Leamhna. Tadgh III na Mainstreach King of Desmond ob in 1413 NOT 1428. Charles, son of Domhnall (ob 1752) should also be shown as 'of Srugrena Abbey'.
In the most recent generations I wish you to insert 'of Paris and Toulouse' against my great great grandfather, John, and 'of Toulouse' against my great grandfather, James. They were educated in these cities (and lived with Comte MacCarthy Reagh de Toulouse). I do not wish to be described as 'of Belfast' as I am ONLY of 'Tangier in the Kingdom of Morocco'. Belfast has such a notorious name I do not want it spoiling my pedigree!
The pedigree has been commenced with King Domnall Mor Na Curra who was, of course, the first MacCarthy Mor. I appreciate this point but regret that it chops a thousand years of the State Registered Pedigrees and leaves out one of my favourite ancestors King Cormac, who built Cormac's Chapel on Cashel. A good solution would be to add the following after Domnall's titles:
'Domnall Mor na Curra MacCarthaigh, MacCarthaigh Mor, Ri Deasmhumhan: King of Desmond, ob 1206, grandson of Cormac MacCarthy, King-Bishop of Munster who ob 1138, and great great grandson of Carthach, King of Eoghanacht Cashel, from whom the surname MacCarthy is derived. Domnall Mor na Curra was 20th in male line descent from Aongus, King of Munster, who was baptised by St Patrick, circa AD 433, and 28th in male line descent from Eoghan Mor, King of Munster, who ob ca 192 having established the Eoghanachta Dynasty.'
This addition is entirely agreeable with the Recorded Pedigrees and makes it obvious King Domnall Mor na Curra MacCarthy Mor did not just drop out of nowhere.
Now we come to the question of the arms to be shown on the pedigree. I have long objected to Donal that the 'Esquire Helmet' which the Office surmounts Chiefs' arms with is quite simply WRONG! For a grantee of arms and the chief of an ancient royal house to be given the same helmet is really very silly indeed. Accordingly I DO NOT WANT my arms surmounted with a helmet AT ALL! Nor do I want to have the 'MacCarthy Mor' crest, an embowed arm holding a newt (which is MacCarthy Reagh!) shown. The motto is LAMH LAIDIR ABU. I think that the simple shield: Argent a stag trippant gules, armed and unguled or, should be used surmounted by an antique crown proper. This has been the normal way of displaying our arms for several centuries and I have previously sent Donal copies of the arms of various branches of the French MacCarthys using this crown (and indeed our supporters). The same crown is illustrated, as you know, throughout the MS GENEALOGIE on display in the Museum. It is neither novel nor strange. This crown is displayed on the 15th century MacCarthy Mor tombstone in Muckross Abbey. It is a 'property right' and should be acknowledged as such.
Finally I can see no reason at all why the pedigree should not show the FULL and PROPER title as MacCarthy Mor, Prince of Desmond. As you are well aware in international law the head of a non regnant royal house takes the next title below that of 'king', in this case prince. You will see, from GENEALOGIE, that the style 'Prince of Desmond' was used even by the British Crown. It is far more correct in this case than the style 'MacDermot, Prince of Coolavin'. Coolavin was simply the seat of MacDermot, he was in fact Prince of Moylurg! His title is silly and would correspond to me calling myself 'Prince of Srugrena Abbey'!
You will see that Gray, in his MS on MacCarthy Mor, states whoever is MacCarthy Mor is DE JURE KING OF DESMOND. I do not aspire to such a thing being recorded on my pedigree but I cannot see why I should forgo Prince of Desmond. Surely the Irish Republic's Genealogical Office should find less difficulty in using such a Gaelic title than it does in such British titles as that of Duke of Leinster, etc. The Republic acknowledges these British-Irish titles because they were created by the British Crown prior to the State's creation. My titles were created by the Crown of Munster before the State's creation. There is no MORAL, LEGAL or RATIONAL DIFFERENCE and it would be inexcusable of me not to point this out.
To speed up this already long drawn out business can I ask you to FAX me on Tangier 934546. Hopefully, then, the pedigree can be completed within days of its final agreement and I can collect it in December. THANK YOU FOR ALL YOUR WORK ON THIS. I appreciate it!!!
Yours sincerely
Terence
The MacCarthy Mor, Prince of Desmond
The degree to which the Office of the Chief Herald was prepared to oblige the Belfast hoaxer MacCarthy can be seen in the following detail from the certificate of chiefship issued in 1992, which certificate remained valid until public exposure of the Mac Carthy Mór scandal by the present writer and others in 1999 forced its nullification.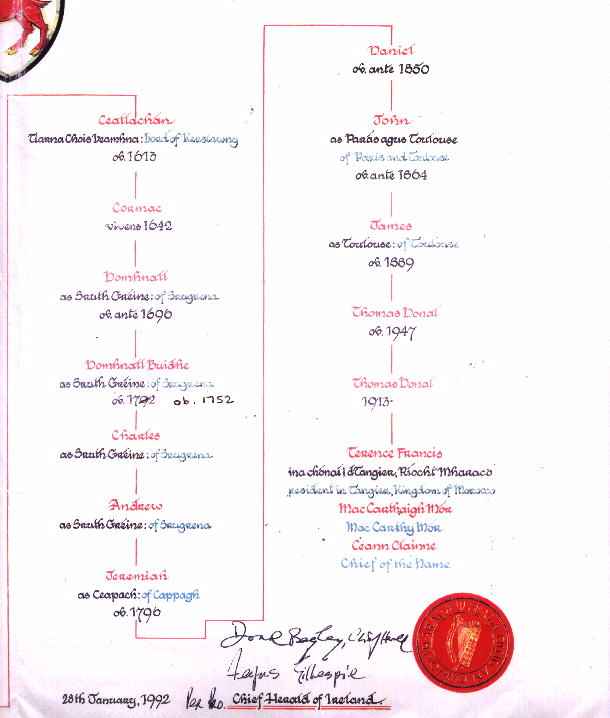 On 24 August 2005 the former Deputy Chief Herald whose signature appears above was appointed Chief Herald of Ireland.
A release of documents in July 2006 under the Freedom of Information Act featured the following statement of Mr Gillespie, which it is only fair to quote in full as it purports to exculpate him of responsibility for the Mac Carthy Mór fiasco:
'I was not a co-signatory with Mr Donal Begley of Terence MacCarthy's certificate of recognition in 1992. I signed the document on the instructions of Donal Begley as follows: Fergus Gillespie per pro Chief Herald of Ireland. I was not officially Deputy Chief Herald at the time nor did I sign myself as such (see enclosed copies of same from Sean Murphy's website). Mr MacCarthy, naturally enough I suppose, was not satisfied with document as signed, and returned it to Donal Begley, who then decided to sign it himself after all. I knew nothing of the proofs submitted by Mr MacCarthy and was not involved in any research into his family, and I only met him once for any extended period, and then in the presence of Donal Begley, MacCarthy's uncle, Terence Maguire, and two French journalists. Mr O Donoghue [former Chief Herald] is aware of the background to the signing of the document and has always been supportive of me, having received an independent account of the matter. Certainly Donal Begley knows the truth of it.' (From memorandum of Fergus Gillespie, Keeper, Genealogical Office, 19 February 2004, on Mac Sweeney Doe file in National Library of Ireland, Freedom of Information release 28 July 2006.)

I would make the following points in response:

1 As I informed Mr Gillespie himself, I would not have signed in any circumstances such a certificate as that given to the hoaxer Terence MacCarthy, and I would now add the obvious point that no civil servant is bound to do wrong on the orders of a superior.

2 I now accept that Mr Gillespie may not have been formally Deputy Chief Herald when he signed the MacCarthy certificate in 1992, but he was certainly appearing to act as such.
3 If Mr Gillespie was not acting in the capacity of Deputy Chief Herald, by what authority did he sign the 1992 MacCarthy certificate on the Chief Herald's behalf?
4 Mr Gillespie's claims that he knew 'nothing of proofs submitted by MacCarthy' and that he 'was not involved in any research into his family' are hard to square with MacCarthy's letter to him dated 27 October 1991 quoted above, which as noted involves a series of directions as to how a preposterous pedigree dating from 490 AD should be compiled.

5 The 1992 certificate provided to Terence MacCarthy by the Office of the Chief Herald of Ireland validated a bogus pedigree, arms and title, and while the certificate was nullified in 1999 following public exposure of the scandal by the present writer and others, both of the signatories should be, at the very least, thoroughly ashamed of their roles in the matter and their clear breach of their duties as public officials.
6 I believe that both signatories of the 1992 certificate must have known at the time that all was not well with MacCarthy's claims to chiefship and ancient pedigree, and it is incumbent on them to explain themselves and apologise, and certainly the undersigned owes no-one any apologies for his work in exposing the Mac Carthy Mór scandal.
Sean Murphy
Centre for Irish Genealogical and Historical Studies
16 September 2005, last updated 5 September 2006
---