Irish Historical Mysteries: Eamon de Valera's
Father Vivion Juan de Valera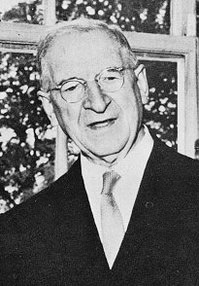 Eamon de Valera (1882-1975)

Resumen en español: El político irlandés Eamon de Valera nació en Nueva York en 1882, siendo sus padres Vivion Juan de Valera y Catherine Coll. Se dice que Vivion Juan era español o cubano, pero a pesar de intensas investigaciones no se ha encontrado ninguna evidencia que lo demuestre. Se cree que Vivion Juan murió en Nuevo México hacia 1885 y en el siguiente artículo se plantea la pregunta de si pudiera haber sido natural de dicho estado.

In the years since the death of the Irish statesman Eamon de Valera, and even during his lifetime, there has been considerable mystery concerning his paternal ancestry. It is known that de Valera was born in New York on 14 October 1882, the son of Vivion de Valera or Valero and Catherine or Kate Coll. De Valera fought in the Irish War of Independence but famously split with Michael Collins on the issue of the Treaty compromise with the British in 1921. De Valera inspired extremes of devotion and loathing, and his political opponents spread stories to the effect that he was illegitimate. (1) Starting with the basic documentation, it can be seen that there are two versions of de Valera's birth certificate, the first giving his name as George and his father's surname as de Valero, the second corrected version issued in 1910 (not 1916 as has been claimed) at the request of his mother, with the forename recorded as Edward (of which Eamon is the Gaelic form) and the family surname spelt de Valera. (2) Both certificates indicate that Vivion was born in Spain about 1854, and that Catherine was born in Ireland about 1858. While Catherine's place of origin, near Bruree, County Limerick, is well documented, persistent efforts have so far failed to confirm Vivion's country of birth.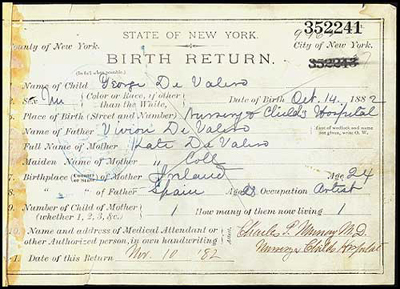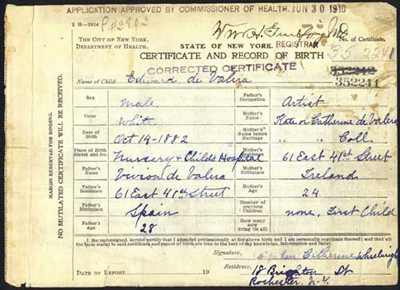 Original and corrected birth certificates of Eamon de Valera
(images courtesy of New York City Department of Records)



De Valera's official biography states that his father Vivion Juan (an added second name) was born in Spain, that the latter's father Juan 'was engaged in the sugar trade between Cuba and Spain and the United States', and that his mother Amelia Acosta 'had died when he was young'. Vivion Juan and Catherine Coll are said to have been married in Greenville, New Jersey, on 19 September 1881. The official biography further states that Vivion Juan worked as a music teacher, but as a result of illness left New York for the healthier air of Denver, Colorado, dying there or on the way in 1885. (3) Intensive efforts, particularly by de Valera's biographer Tim Pat Coogan and the genealogist Joseph M Silinonte, have failed to locate any marriage record, nor has a death record or indeed any further significant documentation relating to Vivion Juan been forthcoming. (4) Disappointingly, a major reassessment of de Valera published under the auspices of the Royal Irish Academy failed to deal with the problematic issue of its subject's paternity, indeed apparently ignoring Vivion de Valera altogether. (5)
A memoir by the late Terry de Valera, Eamon de Valera's son, contains what is claimed to be a definitive account of the Hispanic origins of the family. (6) It is claimed that a connection has been established with the Valera family of Spain, and cousinship proven with the Marqués de Auñon. In this account it is stated that de Valera's father Vivion Juan was a grandson of Antonio Valera of Seville in Spain, brother of the author and diplomat Juan Valera. It is claimed that the family had interests in Cuba, and it was from there that Vivion Juan moved to the United States, marrying Kate Coll. Unfortunately, no documentation is cited to verify the connection with the Spanish Valeras, and the tale appears to be a largely imaginative development of de Valera's own unsuccessful attempt to establish a link (of which more below). At one point Terry de Valera concedes that the name Vivion 'does not appear to have been used' by the Spanish Valeras. (7) The author angrily rejects the charge that Eamon de Valera's parents may not have married, clearly responding to an implication in Coogan's biography but without naming the author. (8) Unfortunately, it remains a fact that no trace can be found of a marriage record of Vivion de Valera and Kate Coll, and in our hopefully more understanding times, there need be no problem considering the probability that their son Edward or Eamon was born out of wedlock.
Eamon de Valera's suggested Cuban connection was in the news in recent years, with a claim by Professor Brendan Ward of Columbia University in New York that he has tracked down his father's baptism, communion and confirmation certificates in Mantanza. (9) A television documentary was reportedly planned, and the present writer would certainly be interested in examining any new evidence found. The late Proinsias Mac Aonghusa also claimed that he had confirmed a Cuban origin for Vivion Juan, stating that he had been born there in 1853 and that his father Juan Manuel owned a sugar cane estate in Matanzas Province, but unfortunately documentation to confirm this story is again wanting. (10) A Cuban connection is certainly a possibility, and it should be borne in mind that the expression 'Spanish' could apply to those born in existing or former Hispanic colonies.
The extensive papers of Eamon de Valera are now held in the Archives Department of University College Dublin at Belfield, and the present writer has spent some time examining them for information which would throw light on the matter of the statesman's paternal ancestry. (11) The substantial quantity of material in his papers relating to his ancestry, and particularly his paternal ancestry, shows that the matter was of considerable importance and indeed sensitivity to de Valera. It is clear that de Valera's mother was the prime source of the information transmitted about his father Vivion Juan. De Valera had been sent back to Ireland as a child to be reared by his Coll relatives, while his mother remained in the United States and remarried. In adulthood de Valera maintained contact with his mother, and the subject of his father came up in correspondence from time to time. Thus while in prison in Dartmoor in the wake of the 1916 Rising, de Valera put several questions to his mother concerning his father and a possible connection with certain prominent Spanish families bearing the surname, concluding rather wistfully, 'My own children will be asking these questions shortly I expect'. (12)
Throughout his years as Irish prime minister in the 1930s and even after his election as President of Ireland in 1959, de Valera maintained the quest for information on his elusive father. The usual pattern was that de Valera would initiate discreet enquiries, or respond to suggested leads, following which efforts to document Vivion Juan would be made. De Valera was sensitive to any publicity concerning his paternal quest, expressing regret that an apparently indiscreet contact in Philadelphia had been the cause of the story appearing in the press. (13) It is clear that despite the efforts of many sympathetic helpers working in the United States and Spain, nothing conclusive was ever found. A possible link to the family of the Spanish novelist and diplomat, Juan Valera, which family had Cuban connections, was explored by the Irish Ambassador to Spain, Leopold H Kerney in 1936. Kerney interviewed the Marqués de Auñon, grandson of Juan Valera, who claimed that a brother of his grandfather had married an Irish girl in New York. Unfortunately, there was no recollection of anyone bearing the distinctive forename Vivion, and both Kerney and de Valera feared that the story could be 'of recent growth'. (14)
After de Valera's election as President, he did not as might have been expected secure a grant of a coat of arms from the Office of the Chief Herald of Ireland. Advancing only his family tradition of a Spanish connection, de Valera in 1965 managed via the Cronista Marqués de Ciadoncha to secure usage of existing arms in the form of a shield quartered with lions rampant and stylised crescent moons, and a bordure of x-shaped crosses, which arms were compliantly certified by the serving Chief Herald Gerard Slevin in 1966. (15) It is important to emphasise that use of these arms is not proof of a connection between de Valera and a specific armigerous Spanish family, but is merely based on an assumption that such a link existed. De Valera's failure to secure arms from the Irish Chief Herald is ironic in light of the fact that he had facilitated the establishment of an indigenous heraldic authority to replace the British regime's Ulster's Office in 1943. Other Irish Presidents, and indeed two United States Presidents have been issued with arms by Chief Heralds over the years, although it emerged in the wake of the Mac Carthy Mór scandal in 1999 that the office had no adequate legal authority to grant arms. (16)
As late as 1962, de Valera made another attempt to trace a marriage record for his father and mother in St Patrick's Church, Jersey City, in 1881. The priest replied in the negative, suggesting diplomatically that there may have been 'neglect of entry', but that after such a long lapse of time the task of ascertaining the fact of marriage seemed 'well nigh impossible'. (17) In 1963-64, de Valera's cousin Edward P Coll was making systematic enquiries as to Vivion Juan's fate in the United States. Coll was based in the De Vargas Hotel, Santa Fé, New Mexico, where he seems to have been employed, and from thence sent out numerous requests to priests and civil registrars to search for a burial record. Coll's form letter specified that Vivian Juan de Valera had set out for Santa Fé in 1883 when suffering from tuberculosis, and that a report reached the family in 1885 that he had died and was buried in New Mexico. Coll received no positive replies to his many letters. (18) However, it would seem that some additional information may have been received by the de Valera family to shift the focus of Vivion Juan's last days from Colorado to the adjoining state of New Mexico. And as we shall now see, New Mexico had also come to my attention via other sources.
Even before tackling the de Valera Papers, I had been using the growing body of genealogical records available on the Internet in an effort to solve the mystery of Eamon de Valera's paternal ancestry. The Church of Jesus Christ of Latter-Day Saints (Mormon) website is the world's largest free online genealogical database, providing an invaluable resource for studying surname distribution in the western world and many former colonial possessions. (19) It seemed appropriate to start by listing the locations in the which were found the surname forms de Valera and de Valero, excluding other variants for the time being. The specific surname forms de Valera and de Valero were not found to be very common, and in addition to Spain, they occurred in Mexico, Cuba, Barbados, Peru, and Venezuela. The forms Valera and Valero, without the prefix 'de', were found to be much more common, and while again concentrated in the Hispanic world, in Spain, Central and South America, the Caribbean and the Phillipines, there were some occurrences also in Germany, the Netherlands and even Britain.
A second approach was to study the distribution of the surname de Valera and variants within the borders of the United States of America as recorded in the 1880 Census, which was most efficiently done via the subscription website of the firm Ancestry. (20) It was established that there were no occurrences of the forms de Valera and de Valero in the 1880 Census.

Dropping the prefix, the following results were obtained:


Valera 12 entries (8 Pennsylvania, 2 New Mexico, 1 New York, 1 Texas)
Valero 7 entries (6 New Mexico, 1 Texas)


The Pennsylvanian entries were clearly of German origin, while the single New York entry related to a Claudis, recte Claudio Valera, who was born in Cuba about 1856, and was listed as a student resident in Queens Borough. The latter individual should certainly be borne in mind given the claimed Cuban connection of Eamon de Valera's father. (21) However, the significant New Mexico cluster attracts particular attention, given the above mentioned reference discovered in the de Valera Papers.


Employing the Soundex option, whereby similarly spelt and sounding entries are returned, the following results were also noted in Ancestry's 1880 Census index:


Valerio 59 entries (47 New Mexico, 11 Colorado, 1 California)
Valeria 10 entries (7 New Mexico, 1 Iowa, 1 Kentucky, 1 New York)


It should be noted that the surname forms Valerio, Valeria and Valero are also Italian, while Valero has a small but significant German distribution, but again the New Mexico concentrations stand out.
Turning to the relatively rare forename Vivian, it was found that in general in 1880 there was either a preponderance of use in favour of females or else a rough equality, for example:


Pennsylvania 12 males and 21 females
New York 18 males and 18 females.


However, in the south-western states referred to above there was a preponderance of males called Vivian in 1880:


New Mexico 41 males and 2 females
Texas 33 males and 22 females
Colorado 8 males and 3 females


Most of the Texas Vivian entries feature non-Hispanic surnames, and while most of the Colorado entries feature Hispanic surnames, 4 of the individuals concerned are described as having been born in New Mexico. The name derives from St Vivian, a fifth-century French bishop, the usual female forms being Vivien or Vivienne (Oxford Dictionary of First Names). Vivion spelt with an 'o', the form preferred by the de Valeras in Ireland, is relatively uncommon in the 1880 United States Census and is not found at all in New Mexico. Hispanics sometimes use the form Bibian(o) in place of Vivian(o), reflecting the pronunciation of the letter 'v' in Spanish, with the female forms being respectively Viviana and Bibiana.
At this stage we can observe that both in terms of the concentration of the surname Valera and its variants and the use of the forename Vivian for males, New Mexico features very prominently. However, it should be noted that no example was found of the use of the two names in conjunction in records relating to this state. We can also recollect the element of the de Valera family story which has Vivion Juan making a final journey in the direction of Colorado and New Mexico. This gives further reason for at least considering the possibility that one of these two states could in fact have been the point of origin of Eamon de Valera's father, with New Mexico again being the one most strongly flagged. Might not the ailing Vivion Juan de Valera's final journey have been that of a man returning to his birthplace? Of course New Mexico is the most Hispanic part of the United States, and Mexico proper south of the border must be kept in the reckoning, while Spain and Cuba as we have seen remain in play. In conclusion, it should be stressed therefore that the New Mexico connection for Eamon de Valera's family which has been advanced in this piece remains a hypothesis requiring much further research to confirm or refute, which research is ongoing, and will be reported here from time to time.

Sean J Murphy
7 December 2005, last amended 21 July 2008
References
(1) Tim Pat Coogan, De Valera: Long Fellow, Long Shadow, London 1993, pages 5-10.
(2) 'Notable New Yorkers: Eamon de Valera', http://www.nyc.gov/html/records/html/features/devalera.shtml, accessed 7 December 2005, revised version noted 18 July 2008.
(3) The Earl of Longford and T P O'Neill, Eamon de Valera, London 1970, pages 1-2.
(4) Coogan, De Valera, pages 8-9; Joseph M Silinonte, articles in Irish Roots, 1999-2004.
(5) Diarmaid Ferriter, Judging Dev: A Reassessment of the Life and Legacy of Eamon de Valera, Dublin 2007; references to Vivion de Valera in the index to this work all appear to refer to Eamon de Valera's son.
(6) Terry de Valera, A Memoir, Dublin 2005, pages 157-65; references to Vivion de Valera in the index to this work all appear to refer to Eamon de Valera's son.
(7) Same, page 159.
(8) Same, pages 167-70.
(9) Ireland On-Line, 20 November 2005, http://breakingnews.iol.ie/news/story.asp?j=163160130&p=y63y6x836.
(10) Letter to Irish Times, 8 June 1999, and a letter to the author 20 February 2002, in which Mac Aonghusa stated that much of what had been written about de Valera's father is 'fiction'.
(11) De Valera Papers, Archives Department, University College Dublin, P 150, microfilm copies. The writer acknowledges permission of the UCD-OFM Partnership to cite the De Valera Papers. Access to the papers is by appointment, and for further details see http://www.ucd.ie/archives.
(12) De Valera to Mrs Catherine Wheelwright, 18 September 1916, UCD Archives P 150/172.
(13) Same to Rev Thomas J Wheelwright, 5 January 1944, UCD Archives P 150/200.
(14) Correspondence of Leopold H Kerney, Irish Ambassador to Spain, and enclosures, 1936, UCD Archives P 150/224.
(15) Correspondence concerning de Valera coat of arms, 1959-65, UCD Archives P 150/226.
(16) Sean J Murphy, 'An Irish Arms Crisis', http://homepage.eircom.net/%7Eseanjmurphy/chiefs/armscrisis.htm.
(17) De Valera to Rev James A Hamilton, 19 December 1962, and Rev Hamilton's reply 8 January 1963, UCD Archives P 150/227.
(18) Letters of Edward P Coll, Santa Fé, 1953-64, UCD Archives P 150/216.
(19) FamilySearch, http://www.familysearch.org/, search facility, accessed 7 December 2005.
(20) Ancestry, http://www.ancestry.com/, 1880 Census, accessed 7 December 2005.
(21) The Ancestry site shows that Claudio Valera was listed as an institutionalised patient in the 1900 Census, and that he died in New York in 1902.
---