Irish Historical Mysteries: The Grave of Robert Emmet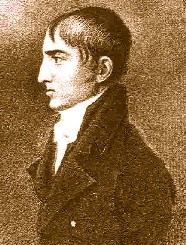 Robert Emmet (1778-1803)
Robert Emmet was born on 4 March 1778 in Dublin, and was executed for high treason in that city on 20 September 1803. Emmet's corpse subsequently to all intents and purposes disappeared, and the whereabouts of his final resting place is one of the abiding mysteries of Irish history. The romantic and tragic features of Emmet's short life ensure that his story will live on in the popular imagination. Who can forget, for example, Emmet's grief-stricken fiancée, Sarah Curran, harshly treated by her father who opposed the match, and the subject of Moore's song, 'She Is Far From the Land'? Or Emmet's loyal servant Anne Devlin, who endured torture in Kilmainham Gaol without giving information to the authorities? Interest in Emmet has of course quickened during 2003, the bicentenary of his Rising. (1)
Very few would be prepared to deny that Emmet's 1803 Rising was an ill-organised and chaotic affair, a tragic postscript to the more formidable Rebellion of 1798. When Emmet sallied forth on the evening of 23 July 1803 in military uniform, his followers proved to be little more than a disorganised rabble, notwithstanding his grand military plans. (2) Emmet quickly realised that he had inadequate support for a rising and attempted to disperse the rebels. Some ignored him and set off on what was in effect a Dublin mob riot, although one which was more serious than usual because of its scale, the use of arms and its political intent. The Chief Justice, Lord Kilwarden, was brutally murdered in his coach, and after some hours the military managed to scatter the rebels still in arms, with a number of fatalities.
Emmet was now the authorities' chief target, and having moved his hiding place from Rathfarnham to Harold's Cross, he was captured at a house there on 25 August. In Kilmainham Gaol Emmet endeavoured to plan an escape, but Dr Edward Trevor, nominally the prison physician but effectively the governor, was aware of the plan and effectively strung the unfortunate prisoner along. To add to Emmet's misfortunes, he chose as one of his lawyers Leonard McNally, a spy in the government service. It is facts such as these which are used to support the hypothesis that the whole of Emmet's Rising was a carefully orchestrated government plot to flush out and neutralise the remnants of the United Irishmen, but it has to be said that this case is not proven.
Emmet was tried at Green Street Courthouse in Dublin (still in use as the Special Criminal Court) on 19 September, the trial being presided over by Lord Norbury, the Chief Justice. The jury brought in a verdict of guilty of high treason, and before sentence of death was pronounced, Emmet was allowed deliver his justly celebrated speech from the dock, although not without some interruptions from Norbury. Emmet closed his remarkable speech with resounding words which have a direct bearing on the mystery of his burial place:
I have but one request to ask at my departure from this world: it is the charity of its silence. Let no man write my epitaph, for as no man who knows my motives dare now vindicate them, let not prejudice or ignorance asperse them. Let them and me rest in obscurity and peace, and my tomb remain uninscribed, and my memory in oblivion, until other times and other men can do do justice to my character. When my country takes her place among the nations of the earth, then, and not till then, let my epitaph be written. I have done. (3)
No time was lost in carrying out the sentence of the court, and on the day following the trial, 20 September, Emmet was taken from Kilmainham Gaol to the place of his execution, opposite St Catherine's Church in Thomas Street. Placed on the scaffold and a rope put around his neck, Emmet was twice asked by the executioner if he was ready and answered in the negative, and before he had a chance to answer a third time, was launched into eternity. The terrors of the law were not yet complete, for after death Emmet's body was taken down and the head cut off and displayed to the crowd by the hangman Thomas Galvin with the words, 'This is the head of a traitor, Robert Emmet'. (4)
Emmet's remains were conveyed first to Newgate Prison and then back to Kilmainham Gaol, where the jailer George Dunn was under instructions that if no-one claimed them they were to be buried in Bully's Acre, a nearby unofficial popular burial place in the grounds of the Royal Hospital Kilmainham. (5) Some of Emmet's relatives and friends had also been arrested, including those not involved in the Rising, such as his brother-in-law Robert Holmes, and others were too afraid to come forward. Accordingly, Emmet's body was buried after some hours in Bully's Acre, according to Dunn beside the grave of one of his executed followers, Felix Rourke, 'near the right-hand corner of the burying ground, next the avenue of the Royal Hospital, close to the wall, and at no great distance from the former entrance, which is now built up'. (6) Given that it is established that Emmet's body was at least temporarily interred in Bully's Acre, it might be appropriate to erect some sort of memorial there to record this fact, without of course representing it as an epitaphed tombstone.
These are the facts concerning the burial of Robert Emmet as we know them, and it is here that the mystery begins. It would appear that Emmet's remains were soon after taken secretly from Bully's Acre and reinterred in St Michan's, a church with strong United Irish associations, in whose vaults lie the remains of the Sheares brothers. St Michan's is a fascinating church, as the antiseptic condition of its vaults causes bodies to remain in mummified condition, and to this day visitors are shown an uninscribed marker in the churchyard which they are informed marks Emmet's grave. However, in the decades after the traumatic events of 1803, and as legend began to supplement hazy memories, it was claimed that other cemeteries in fact had the honour of providing Emmet's last resting place, including St Anne's in Dawson Street, and Glasnevin Churchyard (not to be confused with the subsequently established Glasnevin Cemetery).
Strangely, there was one place which did not figure largely in the increasingly speculative and imaginative theorising about the location of Emmet's grave, namely, his family's parochial church. The Emmet family resided in St Stephen's Green (the neglected historic house collapsed some years ago), and attended services in the Church of Ireland St Peter's Church in Aungier Street. It was in fact the tradition of the Emmet family in America that Robert had been finally laid to rest in the family vault in this church, as recorded for example by his grand nephew Dr Thomas Addis Emmet. An understanding that Emmet had been ultimately reburied in St Peter's appears also to have been an independent family tradition of the Hammonds, who were friends of the Emmets. It was believed that following the death of Mary Anne Holmes in 1804 (recte 1805?), an opportunity was presented for the discrete transfer of the body of her brother Robert from St Michan's to St Peter's under cover of her interment, which arrangement was overseen by the sympathetic Rev Thomas Gamble, who ministered in St Michan's. (7)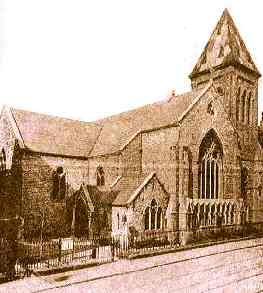 The now demolished St Peter's Church, Aungier Street,
Dublin, the most probable location of Robert Emmet's grave
As the centenary of Emmet's Rising approached, a Dublin solicitor, David A Quaid, published a booklet which made a coherent case that Robert had been buried in St Peter's. (8) Quaid again hypothesised that following the death of Mary Anne Holmes, the opportunity was taken secretly to rebury the executed rebel in the family vault in St Peter's. Mary Anne's husband, Robert Holmes, remained in prison for some time after the 1803 Rising, and clearly scarred by his experiences, for the remainder of his life he was tight-lipped about Emmet. However, Quaid noted that Holmes had never had a memorial erected to his beloved wife, suggesting that this was done to keep Emmet's burial place as secret as possible, and indeed to comply with the patriot's wishes as expressed in his speech from the dock. Unfortunately, in the late nineteenth century rebuilding work in St Peter's had already obliterated the site of the Emmet vault, but nonetheless there were excavations there and in St Michan's in 1903, the results of which were inconclusive.
The next to come forward with a new theory was J J Reynolds, who having published a book in which he came to no firm conclusions, (9) later drew attention to an unusual discovery in St Paul's Church, North King Street, which he claimed indicated Emmet may have been buried there. (10) Following the publicity over excavations in 1903, it had been brought to Reynolds's attention that a coffin with a headless body had been found in an accidentally opened vault in St Paul's. On investigation, it was found that the vault belonged, significantly, to Dr Edward Trevor, that five of the six burials therein were registered, and that the last recorded interment was in 1797. Reynolds claimed that Trevor possessed a sufficiently evil nature to serve government by perpetually concealing Emmet's body and thus preventing his grave becoming a shrine.
As is clear from newspaper correspondence in the wake of the St Paul's discovery, there was no love lost between Quaid and Reynolds. Although it was a cause of regret to Dr Thomas Addis Emmet that the location of his relative's grave should be the subject of public controversy, both Quaid and Reynolds used the Dublin press to promote their respective theories, namely, that the patriot had been buried secretly in St Peter's or St Paul's vaults. Unfortunately, St Peter's has now been totally demolished, being replaced by a YMCA premises in Aungier Street. While St Paul's Church has been converted into an enterprise centre and its interior gutted, it is possible that the Trevor vault is intact and could be re-examined using modern scientific methods. Interest in the question of where Emmet is buried has been manifested over the years, and of course is again a talking point during the bicentenary year of 2003. The reputed location of the grave has been extended outside the Dublin area, with a recent notice that remains in a County Kerry graveyard are being subject to DNA analysis!
Given that there is really no serious evidence to support the theories that Emmet was permanently buried in St Michan's, Glasnevin, St Anne's or the several other graveyards suggested, which are we to believe, Peter or Paul? The evidence in support of St Paul, namely the connection with Kilmainham Gaol through Trevor, cannot be dismissed, but in the writer's opinion is not strong. On balance, I am inclined to accept that the evidence in support of St Peter's is more compelling, namely, the tradition that Robert had been secretly reinterred there, and the likelihood that a proud family like the Emmets, and indeed the patriot's friends, would not allow the patriot's body to lie in an ignominious grave. While the evidence on the ground has been destroyed by rebuilding work and ultimately the demolition of St Peter's, the examination of documentary evidence should continue, and indeed Emmet's most recent biographer appears to indicate that St Peter's was the most likely location of his final resting place. (11) However, we must conclude by stating that the mystery of Emmet's grave has not and may never be conclusively resolved.
Sean Murphy
20 September 2003
References
(1) Among bicentenary publications, the most accessible is probably Ruán O'Donnell, Remember Emmet: Images of the Life and Legacy of Robert Emmet, and a special edition of the magazine History Ireland, Autumn 2003. See also O'Donnell's ground-breaking but perhaps somewhat overwritten two volumes, Robert Emmet and the Rebellion of 1798 and Robert Emmet and the Rising of 1803, as well as Patrick M Geoghegan's workmanlike Robert Emmet: A Life, and Marianne Elliott's 'revisionist' Robert Emmet: The Making of a Legend.
(2) O'Donnell in particular, in the above cited works, endeavours to demonstrate, not entirely convincingly, that despite its abject failure the 1803 Rising was more sophisticated and serious in its planning than realised.
(3) T D, A M and D B Sullivan, Editors, Speeches from the Dock, Dublin 1968 Edition, pages 42-43; see also version quoted in O'Donnell, Emmet and the Rising of 1803, page 159.
(4) O'Donnell, Emmet and the Rising of 1803, pages 165-66.
(5) Sean Murphy, Bully's Acre and Royal Hospital Kilmainham Graveyards: History and Inscriptions, Dublin 1989.
(6) Richard R Madden, The United Irishmen, Their Lives and Times, Dublin and London 1858-60 Edition, 3, pages 472-73.
(7) Thomas A Emmet, Memoir of Thomas Addis and Robert Emmet, 2, New York, 1915, page 283; Joseph W Hammond, 'The Rev Thomas Gamble and Robert Emmet', Dublin Historical Record, 14, 1956-58, page 100.
(8) David A Quaid, Robert Emmet: His Birth-Place and Burial, Dublin 1902.
(9) J J Reynolds, Footprints of Emmet, Dublin 1903.
(10) Same, 'The Mystery of Emmet's Grave: The Trevor Vault', Banba, 1932, pages 506-13.
(11) O'Donnell, Emmet and the Rising of 1803, pages 179-81.
---