MARRIAGE:
In January 1964, he returned home to Ireland to marry Teresa Murphy at St. Michael's Church in Tipperary Town.
"Bunny", as he was affectionately known to his family and friends, wore his Officers' Dress Blue Uniform for the ceremony. After the honeymoon, the couple returned to the United States where Second Lieutenant Landers continued his assignment at Fort Campbell, Kentucky and later at the United States Military Academy (U.S.M.A.) Westpoint, New York State and Fort Knox, Kentucky. The couple's only child, a daughter, Chantelle, was born in May 1965.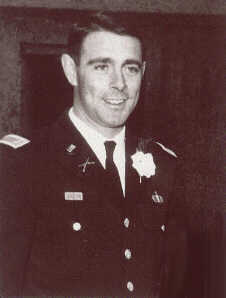 Lieutenant E.J. Landers on his Wedding Day, January 1964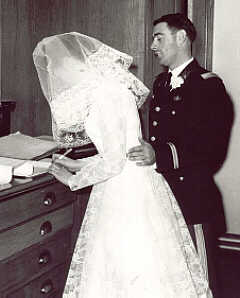 Lieutenant :Landers and his bride in the Registry of St.Michael's Church, Tipperary after their marriage, January 1964
CAREER ADVANCEMENT:
In July 1965, Edmond was promoted to First Lieutenant, and received orders to report for duty with HHC (Headquarters & Headquarters Company) 3 Brigade, 2 Infantry Division, 8th. Army, USARPAC 1, in Korea. He took up his new posting on 27 January 1966 and his family returned to Tipperary, Ireland where they were to remain for the duration of his twelve-month posting. However, his tour was cut short when his wife Teresa was involved in a serious accident in February 1966. He returned to Tipperary on thirty days' special leave during which time he was re-assigned. He was posted to Heidelburg, Germany for duty with Headquarters Special Troops (7th. Army) USAREUR 2 and made regular visits home to Tipperary, until his family were ready to join him.

1 United States Army - Pacific 2 United States Army - Europe