The Fame of Tipperary Group present...
CONFLICTS IN IRELAND

THE 1798 REBELLION
The 1798 Rebellion was the most widespread of all the Irish Rebellions. Eleven counties in Ulster, Leinster and Connacht rose against English rule over six months in 1798, leaving 30,000 dead.
'The United Irishmen' were inspired by the revolutionary ideas of the 1789 French Revolution. They were founded in Belfast in 1791 and later in Dublin with the aims of catholic emancipation and parliamentary reform. By 1794, the movement was driven underground. Its leader, Theobald Wolfe Tone had gone to seek French help in securing a revolution. Other prominent men of the movement included Belfast Presbyterians such as Henry Joy McCracken and Dublin's Lord Edward Fitzgerald. The masses that made up the bulk of the United Army were Catholic. The United Irishmen may have numbered as high as 100,000 and were arranged by county, barony and parish.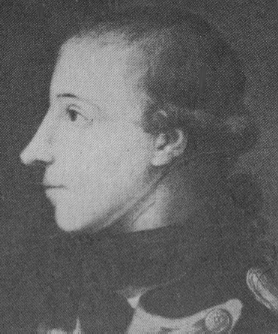 Theobald Wolfe Tone
---
By 1793, Britain and France were at war. Therefore, the British forces in Ireland were determined to put down the United Irishmen who were negotiating for aid from Napoleon. The British forces of regular soldiers, thirty-eight corps of militia and part-time yeomanry in Ireland totalled about 40,000. The United Irishmen were promised help from France, and indeed, a large French fleet of 12,000 men arrived in Bantry Bay, Co. Cork in December 1796. However, they were unable to land and so the hoped for invasion did not happen.


UNIFORMS OF 1798
The Rebels
The vast majority of the Pike men wore their ordinary clothing. It consisted of frieze or corduroy knee-breeches, an off-white or grey shirt and perhaps green or blue garters. Stockings were of various colours while leather shoes were black or brown.
Other insurgents wore black or grey civilian overcoats and decorated their felt hats with green or white ribbons.
Naturally, there were no photographs of the uniforms worn by The United Irishmen, as photographt had not been invented then, but some idea of what they were like can be seen from this 1914 photograph of mourners returning from the funeral of those killed in Bachelor's Walk, Dublin in July of that year. These men both wear costumes designed to look like uniforms of the 1798 Rebellion, although the man on the right wears a 1914-style shirt, collar and tie.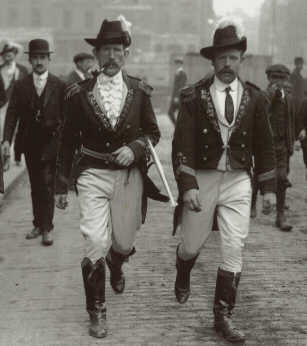 Various Flags were used and were generally green in colour, measuring anything from two foot to five foot in width. A yellow harp (the national symbol of Ireland) on a green background was used by rebels in Wicklow, Wexford and Kildare.
Their weapons were mostly Pikes. This was a steel or iron spearhead mounted on a shaft resembling a lance, produced by local blacksmiths. Its hook could be used to unseat a cavalryman or to sever a horse's bridle. Scythes and pitchforks were used when pikes were unavailable. Any swords, pistols or muskets which were used were captured from the English troops.

| | |
| --- | --- |
| | At his trial, Wolfe Tone wore his French chef de bridage uniform. He wore a blue overcoat, blue pantaloons all trimmed with gold and a large cocked hat trimmed with gold lace and cocklade. McCracken wore a dark green military coat with brass buttons and a high collar, white breeches and black boots. |
English Uniforms
Thirty-eight different regiments and battalions of the Irish Militia were formed since their inception in 1793. Their uniforms consisted of red military coats, white breeches and black gaiters and black shoes. Various facing colours were used for the different regiments such as yellow (the most popular), blue, white, black and green. Different forms of black felt three cornered hats (tricorns) and bicorns were also worn. Regiments colours were carried into battle and the King's Colour (the first Union flag) contained the crosses of St Andrew and St George. Weapons included the six-pounder cannon, swords, muskets and pistols.
Corps of yeomanry were first raised in 1796 also wore red coats while the cavalry troopers wore dark blue jackets, with white breeches, black boots.

French Uniforms
The 1796 Legion Irlandise which travelled to Bantry Bay wore red coats. These were usual for foreign regiments in the French Army. White waistcoats and breeches were worn, with black leggings and black shoes. A black felt tricorn hat with a circular cockade with the French colours of red, white and blue was topped off with a red pom-pom. A musket was the main weapon of this corps. The Legion Irlandise was disbanded in 1799.

General Humbert's force would have worn dark blue overcoats with black felt hats with a yellow pom-pom over a tricolour cockade.

1798 - THE YEAR OF LIBERTY
On 12 March 1798 sixteen of Dublin Directive (organisers), including Thomas Addis Emmet and the Sheares brother were arrested. However, their arrests failed to prevent the Rising. It first began in Clane, Properous, and Naas in County Kildare and in Dunshaughlin and Dunboyne in County Meath on 23 May 1798, spreading to counties Wicklow, Carlow and Wexford by the end of the month. The rebels failed to gain control of Dublin and were quickly brutally suppressed. The Ulster counties Antrim and Down rose under McCracken in early June but the Rising was quickly brutally suppressed as over 600 rebels were put to death.
The rebellion was most successful in County Wexford where the county towns of Ferns, Enniscorthy , Wexford town and Gorey fell into rebel hands. The United Army were led by rebel priests Fr. John Murphy, Fr. Michael Murphy and Bagenal Harvey. Wexford was declared a Republic in June 1798 under Bagenal Harvey while its citizens anxiously awaited French help in vain.
The decisive battle was at Vinegar Hill, outside Wexford town on 21 June 1798. General Lake's Crown Forces crushed the 20,000 strong United Army under Fr. Philip Roche, though several thousand United men escaped. As June and July progressed, the Crown forces won decisive battles over the United army in counties Meath, Westmeath Kildare, Kilkenny and Wexford. Between 12 and 25 of July, four United Irishmen leaders- the Sheares brothers, McCann and Byrne, were executed in Dublin.
On 22 August 1798, a French fleet did land with 1,100 soldiers in Killala Bay, County Mayo under the command of General Humbert. A willing but badly equipped peasantry flocked to accompany his troops. After the defeat of Colonel Lake's forces at the Races of Castlebar, John Moore of Moore Hall was declared President of the Provisional Government of Connacht. The Mayo towns of Westport and Newport were also captured by Humbert. Inspired by Humbert's victories, the peasantry of counties Westmeath and Longford rose on the 4 of September 1798. They attacked Granard in County Longford on the 7 September, suffering 400 dead. Humbert began to march his troops and Irish rebels towards Dublin. However, he was intercepted in Ballinamuck, near Granard, County Longford by the British troops led by Cornwallis and Lake. After some brisk fighting, Humbert surrendered. He and his troops were allowed return to France.
On 16 September and 12 October, two French fleets landed in Rutland and Lough Swilly, County Donegal respectively. The latter French expedition consisted of 3,000 troops on nine ships with Tone himself on board. However, they were intercepted by the British Commander Sir John Warren who defeated them after ten hours fighting. Wolfe Tone was arrested. His trial in Dublin on 10 November 1798 condemned him to hang. However, he died on the 19 November from a self-inflicted wound to the throat.
Subsequent court-martials in 1799 and beyond continued the roundup of suspected United Irishmen and the collapse of the movement.

THE TIPPERARY CONNECTION

On 28th of March 1798, about a thousand United Irishmen in scarlet and blue had surrounded Cahir town and searched every house. Consequently, County Tipperary was placed under martial law from 30 March 1798 as the whole county was declared to be in "a state of rebellion". The High Sheriff, Thomas Judkin Fitzgerald of Lisheen, Golden was particularly noted for his brutal and savage treatment of suspected United Irishmen; as were his troops, the Dompesch Hussein Regiment. This included public flogging, imprisonment without trial, mass arrests and torture. Consequently, the county took little active part in the rebellion.
On 16 July 1798, a group of fifty men assembled in the townland of Boytonrath, Golden with the intent of attacking Cashel. However, they dispersed without any action being taken. The ringleaders, Edmund Mullany and Terence O'Neill were arrested with seven others. Their court-martial in Cashel condemned them to death for their activities.
On 23/24 July 1798, a pitched battle occurred between the United Irishmen rebels and Government troops at the Battle of Carrickoclear, near the mountain of Slievenamon in County Tipperary. The rebels were easily defeated, and the unsuccessful Rebellion of 1798 was thus very shortlived.

Text © May 2001 Noreen Higgins
| | |
| --- | --- |
| | Click on the map image to return to the IRELAND Index |