The Fame of Tipperary Group present...
CONFLICTS IN IRELAND

THE 1803 REBELLION
Robert Emmet (1778-1803) was the younger brother of the United Irishman leader, Thomas Addis Emmet. His uprising in July 1803 in Dublin met with little success. An explosion at his arms' store in July had caused him to put forward the date of the rising. The effect was to fragment the success of the rising, as messengers sent to counties Kildare and Wicklow urged the people to rise, but without success. In Dublin, arms were distributed in a hurried and disorganised fashion. Therefore, instead of a disciplined army, the followers of Emmett were an undisciplined mob. They murdered an elderly man, Judge Kilwarden. Emmet called off the rising and left Dublin, pausing only to say goodbye to his sweetheart, Sarah Curran in Rathfarnham, on Dublin's outskirts. He was captured in her house and sentenced to death for high treason. He was hung, drawn and quartered in Thomas Street, Dublin. His speech from the dock, inspired future generations to further rebellions, of which a part is quoted here:
" When my country takes her place among the nations of the earth, then and only then let my epitaph be written".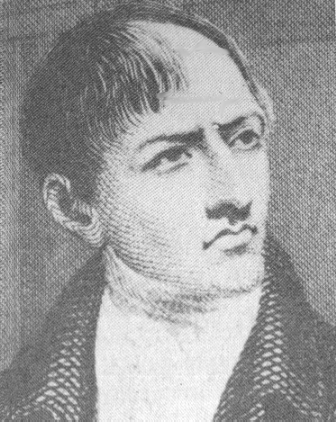 Robert Emmett of Tipperary Town
Uniforms of 1803
Emmet's supporters wore civilian clothes like their 1798 predecessors, and were armed with pikes, muskets and some blunderbusses. Robert Emmet's flag was also similar to the 1798 flags. It had a harp on a green background with the words " Erin go Bragh". Behind the harp lay a pile topped with a scarlet Phrygrian cap of liberty.
Emmet's own uniform was a dark-green double-breasted coatee with crimson labels, off-white breeches with black Hessian-pattern boots. He also wore a crimson cloak trimmed with brown fur. Other leaders such as the Quigley's, Stafford and Michael O'Dwyer had similar uniforms.
Yeomanry Infantry uniforms of 1803 such as the Royal Dublin Volunteers consisted of a scarlet coat with blue facings, blue breeches and black gaiters and black shoes. Their weapons included m
THE TIPPERARY CONNECTION
The Emmets were a prominent Tipperary Town family dating back to 1642, with property on Main Street. Robert and Thomas Emmet's grandfather, Christopher Emmet was a distinguished medical physician who died in 1743 and is buried in the local Anglican St. Mary's Graveyard. His son, Robert Emmet (father to the patriots) was born in 1729 also became a doctor, practising at Cork ity's North Infirmary. His eldest son, Thomas Addis was born there in 1770 and his younger son Robert was born in 1778 in Dublin, where his father had taken up offices as State Physician.
Thomas Addis Emmet was one of the Leinster Directory of the United Irishmen who was arrested on 12 March 1798. He was also married to a Tipperary woman, Jane Patten of Clanwilliam with whom he had eleven children. Thomas was imprisoned at Kilmanham Jail and later at Fort George, Scotland and then banished for life from Ireland for his involvement in the 1798 rebellion. He left for America in 1804, and set up a successful law practice in New York where his wife and children joined him. He eventually became Attorney General for the State of New York and died in 1827.

Text © May 2001 Noreen Higgins
| | |
| --- | --- |
| | Click on the map image to return to the IRELAND Index |