Dunganstown is forever lauding the Kennedys and Ballyporeen singing the praises of Ronald Reagan. It would be remiss of Abbeydorney not to mention its contribution to the annals of American history.
John L Sullivan, affectionately known as the 'Boston Strongboy' is the subject of our treatise. His father was born in Laccabeg, Abbeydorney and was part of the great post-famine exodus to America.  John L himself was born in Boston in 1858.
Poverty compelled John L to seek employment at a young age, he held many labouring jobs which because of his strength, he acquired easily. His skill and ability at baseball led the Boston Red Sox to offer him $1,500 a year- he declined as his prospects in the boxing arena looked more promising. Contemporary reports decribe his strength and stature in mythical terms. Boxing at that time was largely illegal and, was thus, carried out in a clandestine fashion, a feature which no doubt made it more attractive.
In Sullivans own words he described how he got into boxing when talking to the founder of the famed  Ring Magazine,
Nat Fleischer."It was 1878 that I started to take a deep interest in boxing", " I took on "COCKY" Woods in Cockerhill Hall in Boston in an exhibition, and following that I boxed exhibitions against the best men in that area.
Jim Keenan and Tom Farley who both took a keen interest in boxing advised Sullivan that he had the ability to go all the way and win the Championship."It was through their efforts that I got a three-round exhibition against former champion Joe Goss on April 6th, 1880 and then knocked out George Rooke in June of that year". "That", said John L, "was my first real fight".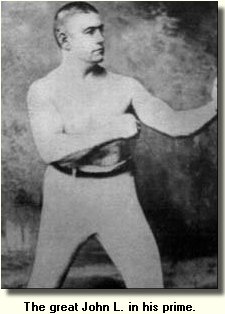 At this time people were beginning to take notice of Sullivan.  "Billy Madden had assumed my management and decided that in order to speed up my push for a title fight, I should visit New York and show the fight people there what I could do".  Madden was a great Ballyhoo artist offering any man $250 who could stand against me for four rounds.  Steve Taylor accepted and I easily beat him.  "That", says John L "was my first visit to New York and I got a real thrill out of meeting the big shots of the sports world and the famous fighters I heard so much about but never seen".  There is no doubt that John L built up a big following among 'the big shots' as he referred to them or 'the fancy' as they were known at the time.  'The fancy' realised by betting on John L they could make a lot of money.  John L was indeed the fore-runner of Mohammed Ali.  A flashy dresser, he would appear at various functions and proclaim at every opportunity  he got that "I can lick any man alive".
Finally, John L's tilt at the heavy weight crown came in 1882, when at Mississippi City he was matched with Paddy Ryan who was champion at the time.  Both boxers had very similar backgrounds.  Ryan being born in Tipperary before he emigrated to America to make his fortune.  There he won the championship of America beating all the top contenders.  So successful were the Irish emigrants of that time at boxing that they were dubbed 'the fighting Irish'.  At ringside for the Ryan-Sullivan fight were men who were noted for their speed with the gun and knife.  The famous outlaw brothers, Frank and Jesse James who looked well dressed and youthful and Red O'Leary then New York's most notorious bank robber stood out boldly at the fight.  Betting was very heavy with Sullivan at odds of 2 to 1.
In this fight the colours of the two men were the most beautiful and elaborate ever made.  The colours of each combatant were pinned in his particular corner and around them colours of the same sort fluttered in all directions adding life and romance to the scene.  Ireland, indeed, was well represented.  Ryans colours designed by New York's leading artist were of white silk, with a red, green and blue border, representing the colours of America, Ireland and New York state.  In the centre was an eagle standing on a globe, the latter blue in colour and dotted with white stars.  On the centre of the globe was a white band and on it inscribed - Paddy Ryan, Champion of America.  In the left-hand corner was an Irish Harp and in the right-hand corner a sunburst, then the emblem of the Fenian Movement of which Ryan was a member.  In the lower left-hand corner was an American shield and in the lower right hand the word 'Excelisor' over a golden sunset representing the seal of New York state.
Sullivan's colours elaborate and artistic, were also drawn on white silk with a plain green border around all.  In the left-hand upper corner there was an American flag and in the right an Irish flag, whilst on the two lower corners there were American and Irish flags.  In the centre was an American eagle.  Assisting Sullivan in his corner were Billy Madden and Joe Goss from whom Ryan had won the title.  In Ryan's corner were Tom Kelly, Johnny Roche and Dan Daly.
At that time the referee was selected at ringside.  No boxer of that time would trust a referee who was chosen before a fight.  There was too many temptations from gamblers, etc in attempts to bribe officials.  The corners could not agree to one man and at this time Sullivan shouted "let them pick their own referee.  All referees look alike to me".  Shortly after, two referees were selected to referee the fight.  One from each corner.The only time this has ever happened in the history of the prize ring.  However, this did not matter as Sullivan was declared the winner after the ninth round when Ryan was unable to rise from the ground without the aid of his seconds.  Sullivan as champion, continued to defend his title but one thing that was sure to incur his wrath was efforts to bribe him or fix a fight.  He was above all this and is knon to have administered severe beatings to gamblers etc., who approached him on such things.  John L was now a national figure and this brings its own attending dangers.
A disasterous marriage ended in haste and his generosity and ready wit led him in to company that was best avoided.  He toured the States, taking on all comers  and in 1889 in Richburg, Mississippi he participated in what was to become a milestone in boxing history.  He fought and beat Jake Kilrain in 7 rounds of what was the last bare-knuckled heavy-weight title fight.  Security men kept the police at bay during the contest and both fighters were subsequently arrested.  Sullivan was sentenced to a year in prison but he served not a day of it.  Sullivan was now past his prime and ring-weary but three years later in 1892 he ill-advisedly fought a younger and more eager opponent in James J Corbett, a fellow Irish-American.  The interest generated by this fight was immense and even though he lost, John L was now a legend.  His record in the ring was fought 42, won 38 (33 by knockout), drew 3, lost one.
Sullivan never forgot his homeland and visited Abbeydorney to see his ancestral home after his retirement from the ring.  Boxing has now taken on broad appeal and Sullivan was seen as the man who brought it from the shadows after the halycon days of his boxing success.  He dabbled in the theatre even turning to temperance on which he lectured widely.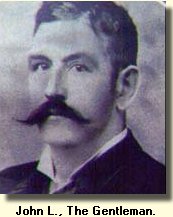 He died in 1918 at the age of 60.  His funeral a national event.  That his fame lives on is evident by the number of biographies written about him and as lately as 1989 a best seller 'John L Sullivan and his times' by Michael Isenberg.  That we fail as a nation to acknowledge our achievers is puzzling but it explains the lack of awareness of one of our greatest international stars - John L Sullivan.  Always the showman, he went out with a bang - literally - the frozen earth had to be dynamited to make his grave.
Our Own Place