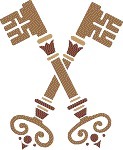 The Book "Our Own Place"


published 1989



St. Bernard Patron of the Parish

Parish Priests of the Parish

Curates of the Parish

St Mary's Church Kilflynn

Abbeydorney's First National School - 1848

When Abbeydorney saw the Light

Abbeydorney Dramatic Society - The Beginning

Coursing in the Parish

Milltown's Pride and Joy

Crotta O'Neills 1968 Champions

A Man For All Seasons

Abbeydorney's Terrible Twins

Out in the Country and Up Crotta

Abbeydorney All-Ireland Ploughing

Abbeydorney 1974 Co Hurling Champions

I am happy here at the old Railway Station

Ceoil agus Craic

Ardrahan National School 1887 - 1968

The Burning of ODorney

The Boston Strongboy

James Barton O'Connor

Abbeydorney Courthouse

Denis Hussey - Collector of Old Farmyard impliments

All Ireland Ploughmen

Hanging Bowl

Long ago when we were young

Fr. Sugrue Remembers

A Mass in the House

'Tiny O'Hanlon

The Priest who was buried Three Times

Peaceful Abbeydorney

John Dowd and the Anglo-Irish War.

The Ambush at Shannow Bridge.

Richard Farmer

The Fair of the Cross

My Beautiful Kilflynn

Cappa National School

In Memory of Herbert Parkinson

Curtain Call

Fr. Maurice Slattery S.M.A.

Molly - Radio Singing Star

St Bernard's Church Abbeydorney

Abbeydorney Dramatic Society

Christy Canty - Blacksmith and Farrier

Denis Hussey - Collector of Old Farmyard impliments

Copyright  (C) 1989 Frank O'Donovan, Milltown, Abbeydorney, All rights reserved.

to Information Page