"Bun an Tsrutháin"
---
Self-Catering Accommodation
On Southwest Ireland's Beautiful
Dingle Peninsula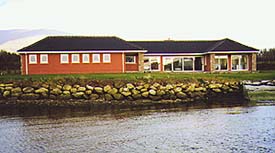 A small river flows into Dingle harbour, where in ancient times stone-age fishermen set out in their curraghs (skin boats) to fish Dingle Bay.
Here, our beautiful new bungalow, named Bun an Tsrutháin (Irish for "at the end of the river"), is exquisitely located, facing south, commanding changing and superb views of the sea, mountains, farms, boats, and coastline. The garden which laps the seashore has its own private slipway, dock and mooring. "Bun an Tsrutháin" offers a haven of peace and tranquility, with clean Atlantic sea and air all within one mile (1.6 km) from Dingle town on the Slea Head drive.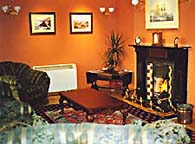 Built to the highest standards of comfort, furnished with an attractive blend of modern and antique. The reception rooms have antique fireplaces and timber and slate floors. Both the main reception and the family room offer direct access to a verandah, providing outdoor refuge for the less adventurous who might prefer to relax, watch the sea birds and ducks, and perhaps glimpse an otter family at play. From the kitchen your view extends though the sun room out to Dingle harbour, patio doors provide direct access to the BBQ area on the verandah.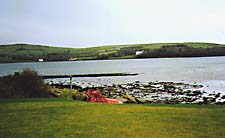 For the active, there is much to do should the spirit take you, for, at your doorstep, shaped by the surge of the Atlantic Ocean, lies the Dingle Peninsula, the most westerly point in Europe. A "rich and rare land" where majestic mountains rise from clear blue sea to sky, where golden sandy beaches nestle between rugged headlands, and where the farms and farmlands paint their canvas in an ever-changing light. Tune your ear to the Irish language and feel the culture of local craftspeople like potters, woodworkers, painters, and poets.
The Dingle Peninsula has an abundance of outdoor activities to be enjoyed. You can drive, cycle, walk, or horse ride through dramatic scenery (immortalised in the film "Ryan's Daughter") and visit archaeological sites. For the sports enthusiast, excellent sailing can be arranged through the Dingle Sailing Club. Day-long trips to the Blasket Islands can also be arranged. In the town of Dingle, you'll find deep-sea fishing boats, trips to visit Fungie, the famous Dingle dolphin, and scuba diving facilities. For the golfer, there is an 18-hole championship course at Ceann Sibéal. To keep in trim, there's a driving range and "pitch and putt" just five minutes from the house. Shore, river and lake fishing attract anglers from all over the world.
Experience a night out in Dingle Town and visit one of the Dingle Peninsula's world-famous restaurants where the specialty is locally-caught seafood. Or enjoy a drink in one of the peninsula's many pubs, where you will find traditional Irish music, story-telling, and set-dancing.
You will have the holiday of a lifetime here at "Bun an Tsrutháin". Or, as an alternative, combine a few days at our Townhouse Suites in Dingle, The Captain's House, with a week or two at "Bun an Tsrutháin."
---
BURNHAM WING  |  CLOOSH WING  |   BOOKING INFORMATION
THE CAPTAIN'S HOUSE TOWNHOUSE SUITES   |    THE DINGLE PENINSULA
 
---
For more information about booking "Bun An Tsrutháin", or to make
a reservation, please contact us by e-mail, telephone or fax.
 

JIM & MARY MILHENCH
THE CAPTAIN'S HOUSE
The Mall, Dingle, Co. Kerry, Ireland
Phone: +353-66-91-51531

E-Mail: captigh@eircom.net
---
COPYRIGHT © 2001 - 2015
MARY & JIM MILHENCH