Rahan Lodge, Country Retreat Bed & Breakfast, a break away with a difference!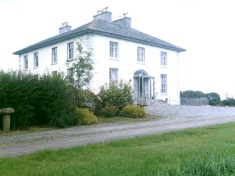 Dating from 1740, Rahan Lodge contains many Original Characteristics, including the Georgian Portico and Fanlight. Formally owned and built by the Petty family (from the "The Downs Surveys" to the British Prime-Minster,) the lodge was extended in 1850 to become a Country Retreat, while hosting the founders of many historic events. Among them Daniel O'Connell, (while in the ownership of Maria O'Brien from 1802), was a frequent visitor, and during this time Arch Bishop Murray ruled the Dublin Diocese, (obvious from his many published letters). Maria O'Brien, Arch Bishop Murray and Daniel O'Connell are well known within the Loreto, Charity, Presentation Sisters and the Jesuit Orders. Still locally known as "Sherlock's", given that, David Sherlock QC. MP., and former owner, (relation of Maria O'Brien), was the inventor of many household items in common use today. He wired the lodge for electricity; making it the first house in Offaly to have its own heating and lighting directed from a generator he invented using gas he extracted from his bog. The lodge was further extended in 1950, to accommodate, visiting Circuit Judges. Bord Fáilte officially opened the lodge in 1995 for a Bed & Breakfast.
Bed & Breakfast open from Jan 10th-Dec 10th.
Awards

Farm House Accommodation

Country living

Bord Fáilte Ireland
Irish Farmhouse Holidays Bed & Breakfast Association
Best Bed & Breakfasts of Ireland and Great Britain