A Colour party of the Dublin Sluagh, Na Fianna Éireann and supporters assembled in St Stephen's Green, Dublin on Sunday, August 20 and marched to the Fianna statue in the Green. The march was to commemorate the 91st anniversary of the founding of the Fianna on August 16, 1909.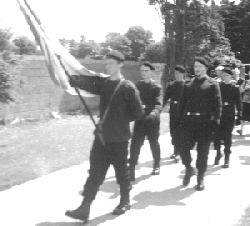 Fianna Éireann colour party in Dublin on August 20.
The proceedings were chaired by Seán Ó Sé, Dublin who called on a Fian to read the roll of honour of Na Fianna Éireann which includes 29 names of Fianna who died for Ireland from 1916 to 1981. A minutes silence was then observed in their memory, during which flags were dipped.
The chairman then called on John Horan, Republican Sinn Féin to give the main oration. The ceremony ended with the playing of the National Anthem on tin whistle by a Fian.
The commemoration went ahead despite the presence of a Garda helicopter overhead which tried to drown out the speakers and a large presence of Special Branch detectives as well as uniformed police in vans and on motorcycles.
In the course of his oration John Horan outlined the history of Na Fianna Éireann:
"Founded in August 1909 by Constance Markievicz and Bulmer Hobson, the declared aim of the organisation was 'to re-establish the independence of Ireland by means of training the youth of Ireland to fight Irelands fight when they are older'.
"Within the following 16 months, that is, by December 1910, the Fianna had active units in Dublin, Limerick, Cork and Clonmel and, thanks to Annie O'Boyle, also had active units in Derry and Belfast. It's first Ard Fheis had already been held successfully.
"In 1912 it was obvious that a lack of funds was hindering the progress of the organisation -- for then, as now, true Republicans were not funded by the establishment. Liam Mellows approached the Fianna committee and volunteered to give up his job and become a full-time Fianna organiser; the Committee accepted his offer and told him that they could pay him a salary of ten shillings a week.
"In April 1913, Liam Mellows began his work as a Fianna organiser and, due to his tremendous abilities, the Fianna established hurling and football teams, pipe bands and ambulance corps in every part of the 32 Counties.
"In 1913, the Fianna had established its own Headquarters at No 12 D'Olier St in Dublin, where Seán Heuston worked from on behalf of the Fianna. In that same year, 1913, the Fianna allied itself to the struggle of the Irish workers and played an active part in the Great Lock-Out of that year; a Fianna officer, Patsy O'Connor, died in July 1915 as a result of injuries received during a baton charge by the Dublin Metropolitan Police in August 1913, while giving first-aid to an injured worker. Na Fianna marshalled the inaugural meeting of the Irish Volunteers in November 1913 at the Rotunda, Dublin.
"Today, the primary objective of Na Fianna Éireann remains the promotion of the principles of Irish Republicanism among the youth of Ireland and thereby to aid the establishment of a 32-County democratic socialist Republic," John Horan concluded.
Contents
Type or paste text or Web address (beginning with http://) here:

Translate from:

Powered by Systran
Republican prisoner Tommy Crossan, Belfast, had his punishment hearing in front of the governor of Maghaberry prison, Co Antrim postponed from Monday, August 14 while he sought legal advice.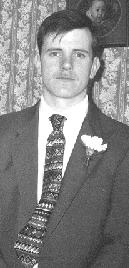 The hearing was as a result of Tommy Crossan's refusal to do prison work in his campaign for political status since his 10-year sentence for political offences on June 29 last. He has been on 23-hour lock-up since that date, only being allowed out of his cell for one hour every day.
The hearing in front of the governor of Maghaberry prison was held on Friday, August 18. He was given a "warning" and this means he can at any time be given a 28-day punishment period during which he will be deprived of letters, visits and telephone calls and kept in complete isolation. He will get just 15 minutes exercise every day outside his cell and will lose remission.
Republican Sinn Féin has reiterated its support for political status for Republican POWs in Maghaberry. "We call on all ex-political prisoners and nationally-minded people generally to publicly support this campaign.
"In particular there is an onus on the Provisionals' Gerry Adams and Martin McGuinness to explain their views on this issue. Both are ex-political prisoners themselves.
"If they continue to remain silent while a Republican prisoner endures an ongoing campaign of harassment and denial of rights for seeking political status they can only be judged to approve of this vindictive treatment. The time to speak out is now," the organisation said.
In the London Observer Sunday newspaper on August 27 last reporter Henry McDonald wrote: "Tommy Crossan, the commanding officer of the Continuity IRA prisoners . . . a 29-year-old father-of-four, embodies the hard core of rejectionist Republicans who believe the Good Friday Agreement is a sell-out of Republicanism which [Provisional] Sinn Féin should never have signed up to."
In an interview in Maghaberry jail's visiting centre, Tommy Crossan said:
"Bobby Sands is one of my great heroes . . . I was 10 when he died, that's when I became interested in Republicanism, but everything he fought for has been sold out. Prisoners like him died for political status, and now its being taken away fromRepublicans at a time [Provisional] Sinn Féin are doing something they vowed they would never do -- sit in a Stormont government."
Tommy Crossan was sentenced to 10 years in a Diplock Court on June 29 last following a gun attack on the Woodbourne British Crown Forces base in west Belfast on January 14, 1999. Two other men were sentenced to 10 and five years in jail.
Crossan told the Observer that he was "a political prisoner, not a criminal". He said he was "confident that the armed struggle will go on outside here and that, sadly, will mean more of my comrades being jailed and sent into this place. The bigger we get, the harder it will be for the authorities to treat us as criminals."
Support the Republican prisoners' demands:

Segregation
Recognition as a group
The right to have their own spokespersons and
A prison wing of their own.
Contents
On August 15 Republican Sinn Féin in Belfast issued the following statement:
"Republican Sinn Féin through statements and posters have tried to highlight the loss of political status to Republican POWs charged or convicted after April/May 1998.
"New posters showing a Blanketman in the struggle for political status of 1976/81 and demanding the return of political status as a right for Republican POWs were posted in many areas of north and west Belfast. A number of these posters were posted along the Old Park Road in the Rosapenna Street area and in a number of other streets in the Bone. These were removed not by children or the British Crown forces but by a number of people well known in this area because of their own political affiliation; these people were witnessed removing these political status posters.
"We in Republican Sinn Féin POW Department call on these people to desist from these anti-Republican anti-political status actions.
"To them we say: by your actions of street censorship against the political status issue you only serve British interests.
"Past struggles for political status have always found those who struggle for political status and those with powerful masters who tend to put such struggles down.
"This time is no different but England has found new allies willing to do the work for her. We call on everyone to support the struggle for political status and not to play England's game," the statement ended.
Contents