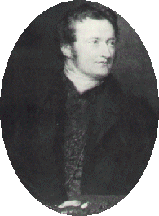 William Mulready Envelopes
1786-1863

In 1840 Great Britain issued the one-penny and two-pence stamps, stamped envelopes and lettersheets designed by William Mulready, representing a leap forward for Worldwide Communications.

Before the introduction of the famous 'Penny Black' postage stamp in Britain in 1840, there was still a penny post for sending letters of less than half an ounce within the country. For most of the year 1840 penny letters were enclosed in the Mulready envelope, named after the artist, W.Mulready R.A, whose line drawings appeared on the front cover. These wonderful images, evocative of the British Empire, are illustrated below.
Mulready Envelope, Front 1840

This envelope would have contained a separate sheet. The red Maltese cross at the top is the Post Office cancellation franking. The letter is addressed to a Mrs.William TROTTER (née Henrietta SKENE) of Bishop Auckland, Durham. After receipt she has written on the envelope "My sister Sept.27 1840. To be kept." Sadly the contents have not survived.
Mulready Envelope, Back 1840

The obverse of the envelope was sealed with black sealing wax, and franked by the sending Post Office. On this envelope the postmark is from Bedford, Bedfordshire. It was sent on September 27th 1840. The envelope unfolds to form a single sheet.
Mulready Envelope, Interior 1840

The interior of this sheet was printed with advertisements, similar in layout to those on the front page of 'The Times' that some of us can still remember. This envelope was purchased in Liverpool, Lancashire and contains local as well as national items.
BACK
---