Introducing Kells
Kells is a small Irish market town, 40 miles from Dublin in the direction of Donegal and Derry. It contains a large collection of Celtic Crosses and other remnants from the monastic age in Ireland as well as excellent facilities for sport and relaxation, not least of which are its Eating and Drinking places. In July, Kells stages a Heritage Festival, which celebrates the town's unique place in the culture of Ireland.
If you plan to visit Ireland, Kells is an essential part of your journey; visiting the town will widen your understanding of Ireland and its past. Getting to Kells is very easy, both from Dublin airport and the ferryports.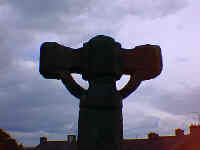 The Unfinished Cross, in stark silhouette against the evening sky. The Celtic past is never far away, though the town is far from being a living museum.