Welcome to on-line
This web page was last updated on Sunday, April 18th, 1999.
Brief background Information on Cork Motor Club:
The Club was founded in 1976 and is based in Christy's Hotel, Blarney, Co. Cork, Ireland.
Cork Motor Club has around 200 members and its main interests are the running of the following types of events:

Cork Motor Club meet every Tuesday night. Meetings start at 9.30 pm, and new members are always welcome.
See the latest results of the Yokohama Tyres Southern 4 Rally Championship
---
---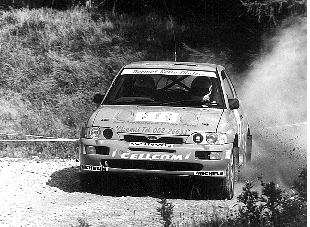 Cork Forest Rally
The 1999 Cork Forest Rally will be run in early September this year.
The rally will again be the opening round of the RIAC National Forestry Championship and is also a round of the All-Ireland Forestry Championship. Sponsored by Eamon Tarrant and Sons, Main Skoda Dealers in Banteer, the event will be run in the forests of North Cork. The Duhallow Park Hotel, located on the Mallow to Killarney road, will serve as Rally Headquarters.
The format this year is yet to be finalised, but is likely to be similar to last year, with around 40-50 stage miles.

Regs and entries can be had from Darren McCarthy at 021-891928 or 088-2738387 in the evening (after 7.30 pm).
Pictured above is the Escort Cosworth of Dermot Kelly and Kevin Casey, the winners of the 1997 Cork Forestry Rally.
---
West Cork Classic Rally 1999

The 1999 West Cork Classic Rally will be again run by Jim Walsh. This year's event is the ninth classic rally run by Cork Motor Club. The route for 1999 will measure a total length of 300 miles approximately, and consists of 5 regularities, a 50-mile night navigaton section and 15 tests and selectives.
The event will start with a test near Blarney followed by the first regulatity which will finish near Macroom. After dinner, there will be a selectioin of tests and a second regularity which will bring the crews to Bandon. The third regularity will see the competitors travel to Clonakility for the supper halt at rally HQ in the Clonakilty Strand Hotel. A 50-mile night navigation section will conclude the first day's competitioin.
Sunday dawns with a series of tests in and around the town of Clonakilty. Two further regularities will bring the crews to the lunch halt at Macroom. The afternoon will comprise of some further tests and selectives with the event finishing at Christy's Hotel in Blarney at 5 p.m.

Regulations and entries from Clerk of the Course Jim Walsh, Tibbotstown, Carrigtwohill, Co. Cork, Ireland. Telephone +353 21 883532. Fax +353 21 968157 or mobile +353 86 8238666 or via Email: nigelc@iol.ie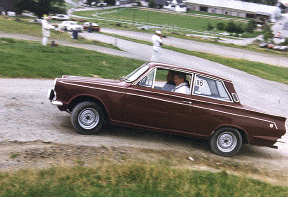 Cortina crew conquer 1998 Classic

The club's West Cork Classic Rally for 1998 took place on Saturday and Sunday, May 9 and 10.
Clerk of the course, Jim Walsh took crews through areas of North Cork on Saturday and West Cork on Sunday and was based at the club's headquarters at Christys Hotel, Blarney, Co. Cork.
After 300 miles of selectives, autotests and regularities, it was a tie breaker that gave Peter Lynch and Rory Dooley, Ford Cortina GT, victory on Cork Motor Club's Classic Rally.
Both themselves and Conor Falvey and Vincent Fagan, Ford Escort Mk.1 (winners of class 3), were tied on 232.9 penalties after two days of competition. Third place on the event went to Eamonn Byrne and Paul Phelan in an Austin Cooper S who also won class 2. The Mini crew had led the rally on Saturday night but errors on the selective on Sunday morning cost them two places.
Billy Tobin and Paddy McDonnell brought their Sunbeam Stiletto to a class 5 victory and fifth overall with McDonnell also taking the award for best navigator, decided by performance on the navigation section and the selectives.
Doug Richardson and Liam McGuinness in an MG Midget were best in class 4 and class 6 was won by Dermot Harrington and Bones O'Connor. Best overseas award went to Jack Curran and David Bardwell driving a Morris 970 Cooper.
As well as being part of the club's own championship, this year's Classic Rally was a counting round of the Welsh Historic Championship.
---
CMC Hillclimb Weekend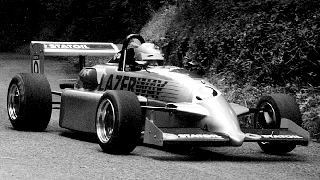 The club ran its first hillclimb events on the August weekend this year (August 1/2). Two events were run, one on Saturday, with the second on Sunday. Clerk of the Course Dick O'Brien was pleased that both rounds were granted national championship status.
The event attracted the second highest entry of the year to date, with over 70 drivers competing.

Donal Griffin took over the lead in the Dunlop Hillclimb Championship last weekend in Ballyhooley when he drove his Statoil Lazerway Formula Opel to victory on both rounds of the national series. Pic Robert O'Mahony

Cork puts Griffin tops

The Dunlop RIAC National Hillclimb Championship has a new leader after Cork Motor Club's Castle Tavern event at Ballyhooley last weekend.
Donal Griffin from Shannon, Co. Clare, driving his Statoil Lazerway Formula Opel proved to be uncatchable over the 1.8 mile course. Griffin dominated both days, setting a time of 83.03 secs (82.38 mph) on Saturday and bettered that on Sunday with 78.77 secs (86.84 mph) to move into the lead in the national series with the final rounds in Donegal next month.
Current champion Ronnie Maybin, who had been leading prior to the weekend, had to settle for the runner-up spot both days.
The first-time event also saw an end to Padraig Forde's championship hopes for this year when the Galway driver crashed his Scott Hillclimber on Saturday and did the same on Sunday in his son's car.
Class winners over the two days included John Shannahan, Noel Brady, Dick Bailey, Mervyn Shorten, Neill McCarthy.

A full copy of results are available from Dick O'Brien 021-353086.
---
Autotests

Cork Motor Club organises three Autotests (or test trials) during the year, one of which is a round of the Hewison national Autotest championship. The first of these takes place in April, the second in July and the third, the national championship event, takes place in September.

The first event took place on April 22nd in Christy's Hotel in Blarney and was won by Liam Cashman in his Mini saloon.

Our second test trial, the July event, took place on the 18th of July in Kanturk at which Waterford's Paddy Power took his Mini Special to overall victory.
The event was part of the Macroom Motor Factors Munster Autocross Championship and had an entry of 24 competitors. Early leader was Kanturk driver Michael Cashman who was quickest on test 1. A very quick time on test 2 saw Liam Cashman inherit the lead but from test 3 on Paddy Power set a string of fastest times to secure the top spot.
Class winners were Michael Cashman in Class 1; Liam Cashman Class 2; John Keohane Class 3; Michael Linehan Class 4 and Conor Falvey Class 7. Novice award went to Ed Buckley.


Cork Motor Club is pleased to announce that regulations are now available for round 1 of the 1998/99 Hewison National Autotest Championship, to be held in grounds of Vernon Mount, Cork on Saturday, September 5th and regulations are available from the Clerk of the Course Brian O'Connell, 1, Cranford Pines, Ballincollig, Co. Cork. Tel: 021 873737. Fax: 021 273179.

Entry Fee £25, inclusive of competitors personal accident insurance, and £15 for novice drivers inclusive of competitors personal accident insurance, (eligibility decided by the organisers).

Check-in at 11am.

Navigation Rallies

Two navigation rallies are organised annually by Cork Motor Club. The first of these is in January called the '1,000 Shakes' and is part of the RIAC National Navigation Rally Championship. Our second navigation event takes place in October and is a round of the Senator Engineering Munster Navigation Championship
---
Production Vehicle Trials
Also known as 4x4, this is an off-road event for four wheel drive jeeps. Venue for the production vehicle trial is at a specially built facility at Coachford, outside Cork City. The event, which takes place in November, is run over a Saturday and Sunday.
---
Autocross
The Cork loose surface Autocross is the club's last event of the year. Part of the Jerry Murphy Race & Rally Tyres Munster Autocross Championship, this event takes place two days after Christmas on December 27 each year.
---
with your comments, suggestions or inquiries !!!