CIRCLE THE WORLD WITH PRAYER || REFLECTIONS FOR LENT || PRAYERFUL THOUGHTS || MOYTURA'S JOURNEYS || GUESTBOOK || HOME || E-MAIL
ANCESTRY & GENEALOGY || MOYTURA'S IRISH SHOP || MOYTURA'S BOOKSHOP || MOYTURA'S VIDEO STORE || MOYTURA'S MUSIC STORE || WEB DESIGN || INTERNET MARKETING
Site Map | Canada | Grosse-Île | Quebec | Cap-de-la-Madeleine | Saint Anne de Beaupré | Saint Anne's Prayer | Ontario | Home | Contact
c

...............

..........Journeys To Canada..........

...............

c
Grosse-Île in Quebec - The Last resting Place For Over 6000 Irish Souls
c
My interest in Grosse-Île started when I was working on the Sligo page of the Web site. I'd heard a little about an island on the Saint Lawrence River east of Quebec in Canada which has mass graves from the famine period and was curious to know more.

Various bits of information were available but it was only just before I made my trip to Canada in September of '98 that I found the Canadian National Park's wonderful web site. I had started to speak about Grosse-Île on the Sligo page because of the shipping connections from the west of Ireland, and also because it was my father's county, but my 'famine journey' really starts on the Westport page (all links can be found below).
Grosse-Île, a small island lying about 30 miles east of Quebec city, is Canada's poignant and visible link with Ireland's Great Famine of 1845 -1849. In 1832 this little island in the Saint Lawrence River, resting mid channel and about 30 miles down river from the entrance to Quebec, was designated as a quarantine stop-over for European immigrants to the New World.
A cholera epidemic threatened North America because of the large numbers of European immigrants arriving with cholera and the quarantine island was seen as a means of containing this dreaded disease and preventing its spread. Little did the authorities of the day foresee the tragedy which was to unfold and visit its shores later that year and again in 1847.

Approach to the Island
All sailings were cancelled on the day I was to visit the island so I spent the early morning at the shrine of Saint Anne de Beaupré and the rest of the day wandering around the beautiful city of Quebec.

My visit to Grosse-Île took place on a dark, wet and dreary day and as we approached the island I tried to imagine what the passengers of so long ago could have been feeling. They had been at sea for a minimum of five weeks, most of them in appalling conditions.

For some reason those who sailed in 1847 took over 60 days to arrive on Canadian shores. The above picture would have been the view that awaited them and for some it was a glorious site - those who were well and sound of mind and body could face a life free of tyranny and starvation, albeit with apprehension but also with hope for a better future. For many, however, the ravishes of fever had left them barely alive - this island was to be their final resting place.

The cholera epidemic had taken 5 years to travel from India via Moscow to the United Kingdom where it developed as a real problem in late1831. The numbers of immigrants arriving on Canadian shores were increasing almost twofold from 1831 and the risks of an epidemic heightened with each arriving ship as they were overcrowded and poorly equipped.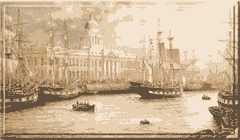 Ships at anchor in front of the
Custom's House on the banks of
Dublin's River Liffey
These European passengers were lucrative cargo for the ship owners who had lost the African Slave trade and now saw this as a means of filling cargo bays on the outward journey for Canadian timber.

By 1832 the numbers of sick passengers were at an alarming, uncontrollable rate and space on the island was insufficient to deal with the influx.

By June of that year ships were passing by Grosse-Île directly for Quebec and up to mid June alone over 25,000 people had landed in Quebec City.
By Summer's end of 1832 it was reported that 51,422 emigrants had entered the colony. Almost 3,300 deaths were reported in Quebec City by the end of September with more than that figure taking place on Grosse-Île.
By 1833 the numbers of sick immigrants had dwindled and the intervening years up to 1847 remained relatively quiet on Grosse-Île. However, 1832 was only a foretaste of what was to come as emigration continued from the 'Old World' to the New.

The United States was traditionally the route for Irish emigrants but in 1847 America enforced an increase in the cost of passage to the US and ship confiscations for overloaded vessels. This opened new routes into the States via Canada as ship owners sought the cheaper option for their human cargo.

The Canadian authorities had been watching the rise in European emigrants and were somewhat prepared for an increase in numbers in that year. What they weren't prepared for was the numbers of cholera and typhus victims who would require their medical aid on arrival. Neither did they realise the very poor condition of the passengers and the numbers who had died at sea or on ship before disembarking.

The Grosse-Île tragedy is told in more detail on my Sligo page. Here I speak of my 'pilgrimage' to this place.

Our visit to the island took in a full tour, both on foot and on the tractor train around the whole island. One of the first stops was the Irish cemetery. In this plot of approximately one acre lies over 6,000 Irish souls of the 7,480 officially reported people buried on the island - the last resting place of hope and despair, joy and heartbreak. The ridges of the mass graves can just be seen in the photo.

The Irish Cemetery
This picture shows the first Irish Memorial on the island and can be seen as the boat approaches the island. The 50 foot high Celtic Cross was erected by the Ancient Order of Hibernians on August 15th. 1909 in memory of all those Irish buried on this island.
.
The base of the cross has inscriptions on 3 sides - in Gaelic, English and French. Both the English and French translations have a less bitter inscription than that of the Gaelic.

The Inscription in both French and English read:

"...to the sacred memory of thousands of Irish who, in order to preserve their faith, suffered famine and exile, and, victims of typhus, ended their sorrowful pilgrimage here, comforted and strengthened by the Canadian Priests. Those who sow in tears reap in joy."

The Gaelic inscription reads:

"Children of the Gael died in their thousands on this island having fled from the laws of the foreign tyrants and an artificial famine in the years 1847-48. God's loyal blessing upon them. Let this monument be a token to their name and honour from the Gaels of America. God Save Ireland."


The Celtic Cross
The island has many buildings still in good repair but only The Lazaretto is still standing from the year 1847. There are two chapels - a Catholic one built in 1874 and an Anglican one built in 1877. Ministers of both denominations served on the island from its opening but the chapels were a later addition. Other houses included the Medical Officers', Nurses' and Tradesmens' residences, the wash house, disinfection centre, workshops, guard towers and in 1909 a school was constructed.
Te Lazaretto is the oldest building on the island and was constructed originally to house healthy immigrants but the flood tides of fever victims soon turned it into an infirmary. It sits on the eastern side of the island and is the only remaining building from 1847. It's re-furbishishment should be complete in 1999.

Over the years other buildings were added and among them are 3 hotels of varying degrees of 'luxury' for those who were forced to stay for the period of quarantine, although in relatively good health.

The buildings started with the 2nd. class hotel built in 1893, the 1st. class built in 1912 and the 3rd. class hotel built in 1914.

The Lazaretto

It was a strange feeling seeing the disinfection sheds with their huge metal furnaces, their large wire cages built to hold the clothing and property bags and the little shower cubicles with multiple showerheads. For some unknown reason it put me in mind of the European concentration camps.

There were 9 English speaking in our group, all with Irish connections, and one of the group had carried out a family search tracing his maternal great grandmother back to her departure from Ireland in 1834. He thought she may have arrived in North America through Grosse-Île.

As we made our way around the island we came upon a recent memorial erected in 1997 for the 150th. commemoration of the Famine. Our President, Mary McAleese, visited the island in 1998 for the official opening of the new monument.

It was a large circle of stones measuring about 30 feet in diameter. A cross pathway dissected it and down one of the paths was a string of iron sculptures shaped like ship sails and red from rust, very similar to those of the fountain in Galway's Eyre Square. All around half of the perimeter were 12 glass panels, each one interlinked and standing about 10 feet high.

The upper two thirds of each panel bore lists of names from 1832 onwards and the lower one third of each panel had tiny ships etched into the glass. Each ship represented an unnamed person buried on the island and there were 1500 of them. There on the first upper panel was the name of our friend's great grandmother. They had found her final place of rest on Canadian soil.

The Irish Famine Memorial

This island has seen diverse usage since its closure as a quarantine station in 1937. During the Second World War it was used as a secret experimental station for weapons of biological warfare. After the war the Department of Agriculture used the island, again as a means of quarantine, this time for European cattle being imported 'on the hoof'. This work contributed greatly to the successful introduction of European breeds and the growth of the Canadian National Herd.

It is only in recent years that the island has been designated as a National Park and dedicated to the memory of all those Irish who perished within sight and feel of the first freedom they had known for centuries.

It would take pages to describe all we saw on the island, but suffice it to say that the visit was memorable, one I hope to repeat to show my children and one I would recommend to anyone interested in the Irish famine or any Irish person visiting Quebec. The Canadian National Parks have retained and maintained this site as a commemoration to all those Irish who died here in exile and their own Grosse-Île web site is well worth a virtual visit. The site gives some excellent statistics for those who are interested in the history of the place.

The Voyage of the Naparima by James J. Mangan - a daily journal kept by a young Irish teacher during 1847 has been woven into this book by one of his relations. It recounts the tale of the family, the teacher and his young wife, two of his cousins and an uncle, who travel from County Sligo to Dublin during the Famine to take ship for Canada. It results in the death of all but the two young girls on the quarantine island of Grosse-Île.

The President of Ireland, Mary Robinson, visited Grosse Île on Sunday, August 21, 1994. On Feb 2nd. 1995 she addressed the joint houses of the Oireachtas (our parliament) with a speech entitled:
"CHERISHING THE IRISH DIASPORA"
President Robinson spoke of those 70 million or so throughout the world who claim Irish connections. Those who emigrated and who are decendants of those who left Ireland as explorers, as missionaries, as traders, during times of strife, famine, unemployment and recession over the past 400 years or so. Our Irishness is made up of a rich tapestry of history, yes even the bits of history some of us would decry and deny.
We are what we are and all who went before us!'
In Ireland, to mark the 150th Commemorative Anniversary of the famine, Rowan Gillespie was commissioned to provide pieces of sculpture and this group, simply entitled "Famine", now sit on Dublin's Custom House Quay. These six bronze figures will stand forever on the banks of the River Liffey, a port which saw many ships leaving, and a testimony to the suffering and despair caused by Famine.
"FAMINE"
| | | |
| --- | --- | --- |
| Father and Son | Begging | Leaving Home |

Each place I visited in Canada gave me cause for reflection and this visit to Grosse-Île brought home the concept of refugees. Each Irish person who fled their homeland because of the famine and during times of persecution was a refugee and as a nation we are indebted to the generosity of those other nations which opened their doors and took us in.

Today we see refugees from various nations fleeing their own homelands and currently in Ireland it is mainly those from Romania and some of the African Nations. I was reminded of a young family who fled their homeland 2000 years ago and lived as refugees in Egypt until it was safe to return home. It behoves us to open our doors and welcome modern day refugees with respect, dignity and a willingness to help as much as we possibly can.

Before we leave Grosse-Île I have a little story to share with you - call it coincidence, call it fate, call it what you will - I have my own ideas on this one!!!!

As I was traveling alone I had made it a point of contacting my host in Hamilton on a nightly basis to 'report in'. The hired car was due back on Friday, leaving me just 3 days to visit the places I had planned on seeing and the Monday and the Friday for the journey east and west again. My main destination was to be Grosse-Île, the whole purpose of this journey, then Quebec, Montreal and Ottawa on my way back west.

On the Tuesday night, after sailings were cancelled due to atrocious weather conditions, I rang 'home', doubtful that I would get over to the island and conscious that I had to be making my way back to Hamilton on the Thursday. While on the phone my brother, in the background, was making suggestions to go visit 2 or 3 three other places outside of Montreal if Grosse-Île was not possible.

I didn't pay much attention to his suggestions, passed on second hand by my host, and so neither took note of them nor wrote the names of the places down. As they were French place names they left my mind as soon as they had been mentioned.

Well we did sail on the Wednesday and we arrived back on shore after our visit to the island at about 6-30pm. I was anxious to start making my way back towards Montreal so that I could spend Thursday sightseeing there. I had decided to drive until dark and then find a motel but by 8pm I was still feeling quite comfortable driving.

I noticed a sign for Hôtel Dun Marie and only about 60 kilometers from Montreal, which suited perfectly, leaving me well positioned for the short drive into the city next morning. Somehow I must have passed it out and decided to keep driving, eventually seeing a signpost for Trois Rivières. This city's name had attracted me while planning the trip so I thought it would do nicely, even though it was some 30 kilometres north of me.

At Trois Rivières I pulled into a gas station to enquire about motels and was pointed towards 2 or 3 suitable places. As before, I must have passed them out because I found myself, once again, on open roads with nothing in sight. For some strange reason I kept going rather than turning back and a short while later drove into a town, not knowing where I was, but anxious to find a motel for the night.

On booking in, I asked the concierge where exactly I was and he handed me a town map which I took to the phone for my usual phone 'home'. It was Cap de la Madeleine and I had never heard of the place before. When I reported to my host where I was he told me that was the place my brother had suggested, and when I checked my little map I discovered I was just one block away from the Shrine of Notre Dame de Cap de la Madeleine - Canada's most famous Marian Shrine! Looked like Our Lady wasn't going to let me leave Canada without visiting this place.

If you have enjoyed this page please drop a comment into our Guestbook- and Don't Forget.......!

the Rest of the Journey
Here is where our Canadian Journey really starts and then moves on to my first stop - Saint Anne de Beaupré
We have included the Prayer to Saint Anne both in English and in French, stop in a whisper a wee prayer to her. Later that morning I drove into Quebec City, where I spent a lovely day, although drowned in a downpour.
I got lost making my way homewards from Grosse-Île at somehow unded up at Canada's most famous Catholic Shrines - Notre Dame du Cap-de-la-Madeleine.
My Canadian trip ended in some of Ontario's and a week of relaxation, renewed friendships, joy and tranquillity before heading back home to Galway in Ireland. That week started in Hanover and headed north to Grey Bruce County and Tobermory.
For those who have just joined me on this page why not go to the beginning and see some of the earlier places in The Start of Our Journey through the West of Ireland. My Place Amongst the Stones gives the history of my company name, Moytura - a celtic heritage going back thousands of years.
Back to our Irish journey and to my own parish of Lackagh - a small village just 12 miles from Galway with a mighty big history telling a story of one of Ireland's bloodiest conflicts in the 16th century - The Battle of Knockdoe.
From there we move on to take a quick jaunt around Galway City; and then out to the heart of Connemara - with its wild and wonderful beauty.
Our journey goes south into County Clare to see The Burren - a place that has lain undisturbed since the Ice-age and of immense botanical, ecological and archaeological importance.
We visit Ireland's finest early monastic heritage centre in Clonmacnoise in County Offaly and to my favourite of all the early Christian Church locations - Clonfert, with its beautiful tiny 12th century Cathedral of Saint Brendan. Come with me around the grounds of this lovely tiny cathedral and see the 1000 year old Yew Walk. While there, you can learn a potted history of Saint Brendan the Navigator, possibly the first European to set foot in North America in the 6th. century. See how we celebrated a most historic announcement when Clonfert Cathedral was listed in the World Monuments Watch 2000 as one of the world's most endangered buildings.
Join me on my 'Famine Journey' which starts in Westport, moves to Sligo and ends up here in Grosse-Île.
Finally, come with me on my pilgrimage to a peaceful haven in a war-torn country in Medugorje in Bosnia-Hercegovinia. The other areas of my Web site can be found in the drop-down box below.

If you are interested in Irish history or anything to do with Ireland why not visit our new additions where you will find a large selection of genuine Irish goods as well as Irish reading, music & viewing material!:

Moytura's Irish Store, Moytura's Irish Bookshop, Moytura's Irish Music Store, and Moytura's Irish Video Store

I have added links pages of other places related to the places we visit, links to leisure activities in Ireland i.e. golf, fishing, horse riding, sailing in Ireland, festivals, entertainment etc. and some of my friends' home pages.

Go raith míle maith agat - thanks a million
Beannacht Dé Ort - bain taitneamh as do thuras.
God Bless and Enjoy Your 'Journey'

Oh, I nearly forgot......come and meet me and mine HERE
See some of the awards received for this site HERE.

For those of you who are interested in tracing you family ancestry these pages might help, just hit the banners to go directly to each site or check out our Trace Your Ancestry pages first where you can see some of the vast numbers of data base lists and try out an on-line search for yourself.

Every now and then people send me stories, poems, or URLs to other Home Pages that I find very touching or uplifting, they can be found at the links below. Some will make you smile, maybe even laugh, some may make you cry or a little sad - but all will leave a little bit of a mark, if only for the few minutes you spend reading or listening to them. Enjoy - I call this section:

"PRAYERFUL THOUGHTS & THOUGHTFUL PRAYERS"

CIRCLE THE WORLD WITH PRAYER

Could you DONATE just 10 minutes of your time a day?? If Yes then- GIVE IT TO GOD! Great rewards and long-term benefits! Invitation open to ANYONE, ANYWHERE, ANY RELIGION & NONE!!
Check out the WHY, WHERE, WHEN & HOW here: Circle of Prayer Then ask yourself the question - WHY NOT?!?!

Celtic Women International

Celtic Women International is a young and vibrant organisation founded by Jean Bills, a woman with Irish roots living in Milwaukee, Wisconsin. It is now in growth phase and expanding membership throughout the whole world for ANYONE (yes, even the guys!) with Celtic roots. It's purpose is to honour, celebrate and promote our Celtic Heritage. In the near future we hope to be a resource for all things Celtic with databases of other Celtic Organisations, Support Bodies, Music & the Arts etc. Membership, for only $25!!, incorporates a quarterly newsletter with the finest of articles related all things Celtic.

Our annual conference brings together some of the best advocates of Celtic Traditions as well as musicians and artists representing the recognised Celtic Nations of Ireland, Cornwall, Scotland, Wales, The Isle of Man, Brittany and Galicia and Asturia in Spain. 2002 sees the conference on the move and will be held in New Orleans, 2003 in Toronto, 2004 in Pheonix and 2005 in GALWAY, IRELAND! Please help us to grow this wonderful organisation by joining us as a member. All are very welcome and your presence can only enrich us. Learn all about us at:

c
Moytura's web site currently has 12 definite and individual sections which can be found below:.

.
WEB DESIGN & HOSTING
by Moytura

Moytura Graphic Design offers the complete Internet solution for your company or business. We design, host and market your site, regardless of how small or large it needs to be.

You can learn more about our service by following the link to:

IT'S JUST THE IRISH IN YOU!

If you are Irish or have an affinity with Ireland, Moytura also has an Irish Book Shop, Irish Video Store and Irish Music Store, stocked with all things Irish or Irish-related. Just hit the buttons below:

INTERNET MARKETING
by Moytura

Here are hints and tips about all aspects of marketing your business on the Internet.

Get your FREE Search Engines Tactics e-book when you subscribe to our monthly newsletter:
c
Get a Free Family Coat of Arms

Just hit the banner to the left.

Are You Drawing Up Your Family Tree?

Ancestry.com has the greatest databases in the world for those in North America who are trying to trace their ancestry. Hit the banner to the right to see the some of the extensive lists available and while there why not do a search from their own database search engine?
IRISH SHOPPING WITH MOYTURA
Moytura now has a brand new Irish shopping site online, so why not go and have a mooch by hitting the logo! Here you will find a vast selection of Irish products in the following categories: Ancestry, Art, Books, Collectors items, Crafts, Crystal, Dancing, Fashion, Foodhall, Fragrances, Gifts, Heraldry, Houseware, Jewellery, Maps, Music, Names, Sportswear, Travel and Videos. All our goods are from genuine Irish suppliers.

Email addresses are used for one purpose only - to send on your newsletter.
They are given to NO OTHER third party.


HOME-BASED BUSINESS OPPORTUNITY

Moytura Graphic Design has expanded enormously since it's humble beginnings just a few years ago and has taken a new business venture which can be operated from home on a full or part-time basis. You can learn about this work-from-home opportunity here.

TELECOMMUNICATIONS INDUSTRY

The telecommunications industry goes from strength to strength world wide, especially with de-regulation opening up most countries to healthy and cost-cutting competition. The company, for which we are Independent Consultants, has been so successful since its European start-up in 1998 that it has now expanded from the UK to Ireland Belgium, and the Netherlands, with the USA opening in Feb 2002. It plans to expand even further in the very near future - to:
Australia, Brazil, Denmark, Germany, Japan, Mexico, and Poland.
If you, or anyone you know, living in any of these countries would like to start a home-based business, the opportunities are enormous as this company is only just beginning and, as Independent Consultants, everyone will be in at the very ground level. E-MAIL for details or check out the WEBPAGE.


Contact Mary Mullins, Moytura Graphic Design, Cregmore, Claregalway, Co. Galway, Ireland. Ph: +353 91 798407
© 2000 Moytura Graphic Design