Arts and Crafts

Drawing, Painting and Constructing bring together different elements of the child's experience from which new conceptual development can grow. Understanding visual imagery opens additional modes of learning and enables the child to express ideas, feelings, and imaginative insights. Opportunities to explore and investigate the visual elements of the environment help children to appreciate the nature of things and to channel natural curiosity for educational ends.

Drama: Click to find out more about this important part of Milltown N.S.'s life

CREATIVE WRITING

The Magic Castle

The castle stood at the top of the hill close enough to see ,that in a high window, stood what appeared to be a person. Whoever it was they were too far away for me to recognize them; I couldn't even tell if it was a man or a woman. It was weird because I'd never seen the castle before and I always walked this way to and from school. School was over five minutes ago and I was on my way home. It was a lovely day and the sun was shinning brightly in the sky, but over the castle there appeared to be lighting and I heard thunder. There was a winding path leading to the front door of the big, spooky, dark castle. I got all the courage that I had inside of myself and started towards the wooden door.

When I reached the gigantic door it creaked open and there stood a man. He whispered, "Don't come inside or you'll be trapped inside like me". He explained that the castle always appears every ten years. The only way to free anybody is if someone else gets trapped inside. He asked me to help him. I told him that I would try my best to free him. Then suddenly I had an idea. I told it to him and he said that it was an excellent idea but he hoped that it would work.

After the castle disappeared into smoke and the man was left sitting on the ground. Then he said to me that it was a good idea to throw the schoolbag into the castle. All I was thinking was how was I going to explain this to the teacher. She would never believe me. Noeleen Brady

My Father

It was obviously going to be an unusual day when my mom came into my bedroom and said,"Please come downstairs, I need to talk to you''. As my mother and I went downstairs, slowly I watched my mother wipe a tear from her eye. At the moment I just knew that there was something wrong. When we sat down I was thinking what my mum would say. She tried to avoid crying in front of me. Then she told me that my father had passed away earlier this morning. Suddenly my mind went blank then I remembered all that my father had done for me and all the things we had done together. I felt really sad, I knew I was going to cry. We went to the removal later on that night. There were a lot of people there. They came up to me

Shook my hand and said how sorry they were for me. All I could do was look away and bite my lip so I wouldn't cry.

That night I couldn't sleep, I had a strange feeling. In my heart I knew my father was gone although I had a strange feeling that he was still watching over me. Morning came my mother and I got ready for the funeral. The house was full of visitors before we left most of them were friends of my father. They were all very upset. At the funeral everybody was crying. My mother and I walked up to the coffin and left a rose on it. Even though I was sad I knew he had gone to a happier place and his spirit would always be with me.

Maria Mc Gurren.

A Scary Experience

I never expected that one day I'd open my closet and find two mice in it. They were small and furry. One of them had red eyes and the other one had green eyes. I thought that they were nice but they are small little creatures. When I saw them I screamed .My parents were not there at the time but when I screamed my 18 year old cousin came down to me. When she seen them she screamed as well. I was already standing on my bed and she jumped on my bed as well. My parents came back 10 minutes afterwards. We were still screaming and when my parents heard us they came down to my room. Mam and Dad didn't scream or jump on my bed because they knew about the mice but they didn't tell Cliona or I. Mam and Dad got the mice out and they made a fool of Cliona and me. Mam and Dad started laughing and Johnny landed in so we told him the story and he laughed as well.

By Lisa Reynolds.

The Day That Changed My live Forever

The waves crashed across the sand and I knew that this day was no ordinary day. I had a feeling that something unusual would happen today and for some strange reason I was right.

From the moment I woke up that morning I knew that there was something different about me but I couldn't work out what it was. As I walked to school along the sun kissed sand of the beach I got the feeling that someone or something was following close behind, but every time I turned my head around all that could be seen was the clear sea air. I walked another few yards and then looked again, this time nearly knocking the poor old man, who gazed into my eyes, down with my school bag as I turned around. " Aha!"

"You're the one you're the chosen one", he said to me with gleaming eyes. At this point I thought that he had totally lost it. I thought he was some crazed lunatic who was out to kill, but he wasn't.

He had come to tell me that I was a witch who had supernatural powers. At first I didn't believe a word he was saying. I do believe in spirits and witches and all but I really didn't think that I could have the power. Now I have the power to rid the world of evil and I am learning how to do housework without actually doing the housework which has to have its advantages.

Aishling O' Reilly

Drugs Are Not For Me

Drugs are not for me because they damage your health and some people die from drugs.There are special drugs that when somebody puts them into your drink and when you get up the next morning you don't know what happened? Theses drugs can not be stopped; they are brought over on planes from different countries . And theses are to dear for the damage that they do. There are really strong drugs called EX and cannabis and hash grass. Whenever you take a drag you go dizzy and very high and your eyes go into the back of your head. And once you start you cannot stop; it is called addiction and you go bank robbing and then you go scruffy there are many drugs dealers all around the world but nobody knows they take drugs . The pushers start beating up people for absolutely no reason at all . The addicts break into shops and banks to get money for drugs; they smuggle drugs in boats and teddy bears and bags

Kieran McGuire

Lost!

It was lost! There was nothing I could do about that now. Here's how it all started:

It was a normal Saturday, more boring than usual, raining, cold, brothers and sisters fighting by the fire. Mum cooked cheerily in the kitchen. Chicken and Chips followed by a trip to Cavan. More boring was helping with the shopping as I had to carry it. Then mum met a friend who handed me as she said a little something. It was a boring Lotto ticket. I had to admit that I was a little disappointed as she had already chosen the numbers. I took it home and pout it somewhere safe, really safe. Then we had tea as we watched Blind Date. Suddenly the Lotto numbers appeared on the T.V screen. I tried so hard to recall where I had put the ticket but it was hard under the shouts and screams of mum yelling for me to go get it. All I could recount was that those were the very same numbers on my ticket. I just had to find it. I pulled out everything. I was a millionaire yet I was not a millionaire. Pretty soon I had everyone in the house searching for it. The house turned into a complete and utter tip. When dad came home as you can imagine he was furious. We all jumped at him and started explaining to him at the same time. I could tell by the look on his face that he could not understand a word we were saying. " Wait, Wait, Wait" he shouted " What pottery?" I started laughing even in this situation. I explained to him in plain English what had happened and soon I had him searching too. We each took a room of the house and everyone kept thinking they had found it only to realize that it was in fact an old sweet wrapper. Then we froze and ran into my bedroom where mum had been searching. "I have it, I have it" was all she could say. "Where was it?" I asked her even though I couldn't wait to check the numbers. "In your trainer" she replied. My brother started making gagging noises but soon stopped after my father gave him a nudge. "What on earth possessed you to look there?" he asked her. "Well" came the reply " I remember Stacey saying she put it somewhere really safe". " Well" I said " What are we waiting for, lets check if they are the right numbers". They were. I won't even try to explain the excitement that went on in the house that night. The next day my father claimed the prize for me. I just bought a T.V & Stereo, nothing special and apart from that I am still the same old Stacey Mc Gill. I can tell you one thing and that is that I will never forget the panic and excitement that went on in my house that Saturday night.

By Holly Leddy!

BIONIC BRUNO
Bionic Bruno came from outer space one
Winter's day while doing a race.
He landed into Milltown School , the teacher
Thought he was quite a fool.
"Sit down" she said and do your work
But he just laughed and let a burp.
Master came in and flung him in the bin
But Bionic Bruno threw a punch and hit him on
The chin.
The children sabotaged him on the wall.
He was very loose , he was ready to fall.
What a shame the teacher sighed.
He could have been a nice man deep down inside.
He could have been a real good friend , instead
Of that he met his end.
By Maria Mc Gurren .
Some of our Artwork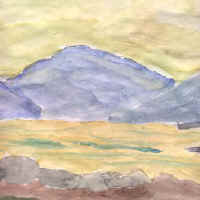 Hills Are Blue Far Away
By Claire Tivenan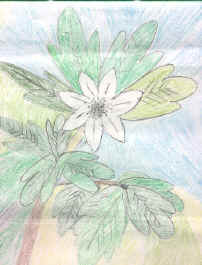 Memories of Spring
By Leontia Higgins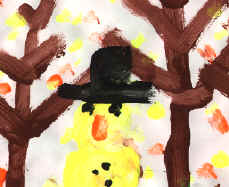 Happiness
By Emmet Leddy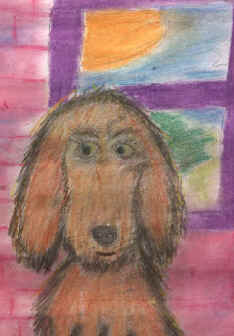 Doggie
By Ryan Dolan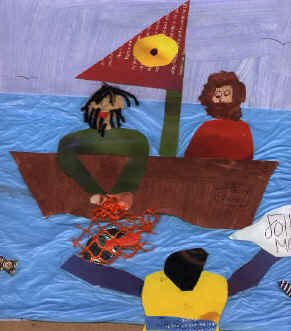 Fishing
By Emma Lunney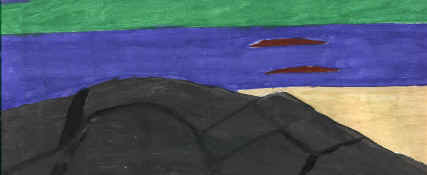 Riverside Rocks
By Niall Brady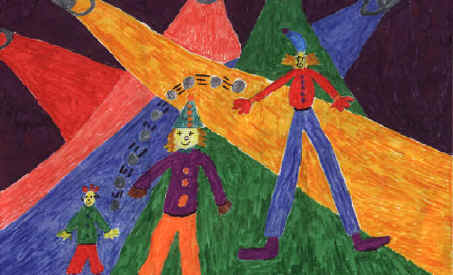 The Funny Side
By Ciara Cosgrove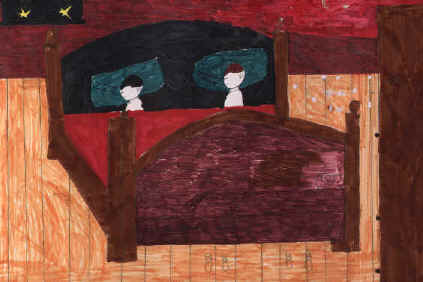 Snoozin' Time
By Ciaran McGuire
Cavan in Action
By Maria Lunney
In the Pool
By Emma Lunney
On the Bridge
By Stephen McCann
The Feet of a Dancer
By Fiona Brady