West Cork Table Tennis Assoc.
NEWS 2004-2006
2003-2004 / 2002-2003 / 2001-2002
2000-2001 / 1999-2000


Table Tennis Summer Camp. (For 8yrs+)
Two camps are being organised by ITTA/ETTA Coach Owen Kelly during the summer. The camps will be aimed at existing players who are interested in considerably improving their game and will be modelled on a high performance basis. This will require a high level of interest and committment from those taking part. The course will include:
Forehand and backhand offensive and defensive techniques.
Introduction to chopping
Spin service techniques
Competition tactics and strategies through personal video analysis.

Dates:
Camp 1: 17/18/19th July 10am - 1pm (40Euro) Assisted by ITTA Coach Richard Gostyn
Camp 2: 21/22/23rd August 10am-1pm (40Euro)

Places are limited to 10/camp. To secure a place contact Owen Kelly 028-35371.
Owen Kelly is a fully qualified Coach/Tutor and has over 25 years of experience at all levels of competition.

Celtic Celebrations
Three West Cork Coaches travelled to Brittany to the Goudelin Club. the French club is celebrating its 20th birthday this year and has developed very close connections with West Cork over the last 8 years. Owen Kelly, Ivan Shorten and Alan Hurley were all treated to the Bretons excellent hospitality and with good food, good company and some great table tennis fun the weekend could not have been better. Full report and photos to follow.



Skibbereen Vs Bantry
Skibbereen and Bantry Clubs will be in action once again as the Bantry U11 Team travel to Skibbereen to play their first match against each other. The match will take place on Tuesday 13th at 4pm at the sports centre. Bantry will be looking for revenge on the Skibbereen club who won the U13 Challenge played in Bantry.

Skibbereen Team: Patrick McCaffrey, Luighsige Carey, Tadgh Williams, Leo Rawlinson, Ethan Lawlor, Ciaran O'Regan, Reserve Shane McCarthy.

Bantry Team: Eoin Quill, Cathal McCarthy, Ben O'Donnell, Kevin Murray, Joey Weidner, Gavin O'Shea, Reserve Shane Delany.

Skibbereen Battle for Top Honours.
Skibbereen Table Tennis Club played Bantry Table Tennis Club in Bantry's first official match since the new club was opened at the beginning of the year. The teams consisting of the top 6 players in each club battled it out in the best of 9 matches, 6 singles and three doubles.

Skibbereen travelled very much as favourites, with on average an older and more experienced team. The draw has a lot to do with the result and after this was posted the match looked evenly balanced. The first round consisted of the first three singles matches. Bantry TTC No.1 was drawn against Skibbereen No.3 and Captain Adam Harris and it was Bantry's Shane Edgeworth who posted the first victory when he swept Harris aside 3/0.

Skibbereen's No.1 Cillian McCaffrey was drawn against Bantry's top U11 Jack McCarthy. McCaffrey used his experience well and took an early 2 sets to 0 lead. However McCarthy fought back well to take the 3rd set 12/10. He unable to sustain this and McCaffrey recorded Skibbereen's first win 3/1.

Bantry No.2 and Skibbereen No.2 were matched against each other in the final first round match and Skibbereen's Kevin McCarthy took and early 2/0 lead. Under 12 Cathal Power played an outstanding 3rd set winning 11/4 but once again it was the more experienced player who returned to take the 4th set to take Skibbereen into a narrow 2-1 lead.

It was Bantry who once again took first blood in the second round with their captain Tom O'Sullivan taking a comfortable 3/0 victory over Oisin Carey evening up the match. David Cassey from Bantry took on the youngest of the Skibbereen players 10 year old Tadgh Williams. Even though Williams is still young he has tremendous experience behind him from Munster Ranking events. He took the first set 11/5 using his strong forehand attack to gain the advantage. In the 2nd set Cassey took more control and evened things up to 1 a piece.

Meanwhile on the nearby table Bantry's Brian Crowley was up against Luan Hassett. The 1st set went to Crowley 12/10 and then the 2nd went to Hassett 12/10. When both matches went into the 5th set on score lines of 13-11, the match was all square and on a knife edge. Williams was first past the post when he finally managed to take the last set and the match point for Skibbereen. Hassett also managed to pull out ahead in the final set and suddenly Bantry were 4-2 down and with Skibbereen needing only one more match in the doubles for victory.

Bantry needed all three matches and it was Edgeworth and Cassey who lined out against Harris and K. McCarthy to take the first point when they went onto win their match 3/1.

Power and O'Sullivan took on the Skibbereen combination of McCaffrey and Carey and took a 2-0 lead but the Skibbereen pair were in no way finished managed to pull back to equal the score to 2-2. When Bantry took the 5th set the match lay at 4 all with the last remaining match also reaching a nail bitting 5 set conclusion.

Bantry's J.McCarthy and Crowley took Williams and Hassett right to the very edge but it was the Skibbereen pair who disappointed the good crowd who had cheered and supported the local club right up to the last point.

So it was Skibbereen TTC who took first honours at this local derby. Bantry will try and redress the balance when they send an U10 team to the Skibbereen Sports Centre.

1st Ping Pong Champion
Bantry Table Tennis Club recently held its first ever Ping Pong Championships. Table Tennis is often referred inaccurately as Ping Pong but has one important difference, in Ping Pong the ball must always hit your own side of the table before going over the net. This reduces the effect of spin on the ball and means players have to work harder on moving players out of position.

The event proved very popular with over 30 entries. The final came down to Bantry's current No.4 and No.10, Tom O'Sullivan against Eoin Quill. The match was closely fought and eventually went the way of the seeding with Tom O'Sullivan becoming the first Bantry Ping Pong Champion. U10 Ben O'Donnell Player of the Month for March took the Bronze.

Ian Hurley fought off the challenge of Emer O'Shea in the final of the Plate Competition.

The tournament was held as part of a series of events being held at the club. On Thursday 18th Bantry TTC will host a match against Skibbereen TTC. Both clubs will be fielding their strongest sides and promises to be a close match. Action starts at the Gael Scoil Bantry at 4.30 on Thursday spectators and support welcome.

Mini Wackers
In other news the West Cork Mini-Wackers will be in action on Friday 26th at the Kinneigh Table Tennis Club. An U12 Girls team selected from throughout the region

West Cork Team: Amy Buttimer and Jennifer Lawton (Kinneigh TTC), Patricia Murray (Togher NS), Luighsige Carey (Skibbereen TTC), Emer O'Shea, and Colleen Kelleher (Bantry TTC).

Doubles Champion
Ronan Lawdon claimed the Bantry Junior Doubles Title after two days of closely fought competition. Ronan finished just two points ahead of fellow St. Finbarr's player Ian Hurley who managed a late run with five consecutive wins. Tom O'Sullivan was a further five points back with current top U12 Cathal Power pushed into 4th. Under 10 James Heap was unlucky not to be in the top 3 after winning all but one of his games unfortunately he managed to miss one round which left him with the highest points average but without enough points to move up the order.

The Format: Each player was randomly drawn with a partner against another drawn pair, each match was one set up to 11 only. Scores were recorded for each individual and the highest points score wins. 15 Rounds were played. James Heap was also awarded a medal for having the highest average in the top 10 over the two days.

In the series of tournaments being held at Bantry TTC, the Ping Pong Championship starts this Thursday (12/5/06, 3Euro, all rounds are drawn.)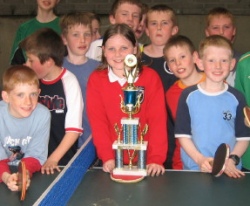 Toys Unlimited "Player of the Month" Award for Bantry Girl
Emer O'Shea became the first girl to win the player of the month award in Bantry. Emer has been a member of the Gael Scoil Bantry Club for over 3 years and has competed at four West Schools Cup competitions and three Munster Schools. Emer has also been on two Championship winning teams in 2005 and 2006. Emer remained undefeated in this years competition and is a bright, enthusiastic and helpful member of the club. 8 year-old Thomas Cheibheannaigh was presented with his ITTA 1 Star Award by coach Owen Kelly.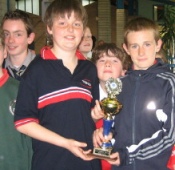 Player Awards
John Keohane Motors "Player of the Month." award for April went to Cillian McCaffrey. Cillian played for Mount Saint Michael in the West Cork Schools Cyup and remained undefeated guiding the team to its first victory on their first attempt. Cillian has been attenting the Skibb TTC for 3 years and has passed his 2 Star Level and hopes to complete his ITTA 3 Star later this season.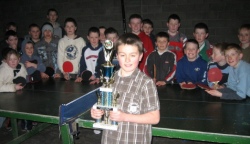 Ben named Player of The Month
Bantry Under 10 player Ben received the Bantry TTC March Player of The Month Award. Ben has attended everyone of the training sessions this year and performed well at his first tournament in Kinneigh. Ben is currently Bantry TTC's No.1 Under 10 Boy.



Schull is back!
Schull Community College are better known as a sailing school with some of the best facilities for sailing in the country however they have also been involved in table tennis for some time

Schull Community College makes a welcome return to table tennis after a break of 4 years. Schull CC were one of the first schools to initiate a West Cork Table Tennis Scheme back in 1989. The college was the venue for the first West Cork Junior Open in 1991 and had their first player Sarah Jane Jepson who finished 9th enter the Munster Rankings back in 1990. The College also entered a team in the Cork Schools Cup that year reaching the ¼ finals. Highlight of the event was Leon Welton reaching the final of the 1st year competition where he was beaten by 13 year old Brian Fitzgerald!

The college has produced a number of Munster players in the past with 5 caps going to U12 and U14 Girls. In 2002 the school undertook an ambitious development programme to build a new sports hall and the coaching scheme had to stop. However in 2003 the college managed to send an U15 girl's team to the first Munster Schools Cup and won the title beating both St. Angelas and Ursulines College Cork.

The sports hall has now been complete and the school has approached Owen Kelly to recommence the coaching scheme. The college has 4 tables which, are left up for students to play on and the sport looks set to make a comeback.

The college has become one of the biggest in the area and has a wide catchment area including students from Skibbereen and Bantry. In both Skibbereen and Bantry the students who can not attend the after school sessions can be accommodated. The new sports hall in Goleen is nearly complete and will act as the new venue to the Goleen TTC which had to close its doors after the original facility was closed. With three active clubs in the local area and now the main secondary school involved the structure for developing the sport in the West of the region looks very promising.

West Cork School Table Tennis Cup 2006
The most important event of the year for West Cork Schools Table Tennis is the annual West Cork Schools Cup. This season the event will be played once again in the Maria Immaculata Community College in Dunmanway. The sports hall is one of the best in the region and can accommodate the required number of tables. The event has traditionally been held on a Friday but as a number of West Cork players will be involved in the Munster Interpros team who travel up to Belfast for the weekend the event has been brought back to Thursday March 30th.

Last season the event attracted 30 teams from schools all over the region and once again a large entry is expected, with a number of new schools introducing the sport for the first time this season. The National School entry increased dramatically last season and a number of second divisions are to be played to accommodate this increase.

Bantry schools had major success last season with St. Finbarr's winning the NS Boys Div.1 and Gael Scoil winning the NS Girls. Both schools will be trying to regain their titles and will come under increasing pressure from the likes of Tirleton NS in the boys with Togher NS and Gael Scoil Skibbereen trying to oust the Bantry Champions in the girls. Coppeen look very strong in the Mixed especially after they claimed the Munster title earlier in the year.

The hosts Maria Immaculata will once again have a strong contingent in the secondary schools event and are likely to be challenged by the likes of Bandon Grammar, Schull Community College, Macroom De La Salle, and St.Fachtnas, Skibbereen. Clonakilty Community College has won the U19 title for the last 5 years and will once again start as favourites after their silver medal performance in the Munster Schools Cup.

The closest events to call look like the Mixed events with both Bandon Grammar and Maria Immaculata expect to field strong teams Maria Immaculata are current U15 Munster Champions while Bandon Grammar are the U19 Munster Champions with both schools finishing in silver positions in each others events. One thing for sure there will be thrills galore on display and some very tight matches fought out at this year's competition.

Table Tennis is currently proving extremely popular in West Cork with the new Bantry TTC starting this year and the Skibbereen TTC expanding with a new adult session on Tuesday evenings (6pm-7pm). The established Kinneigh TTC has some ambitious plans for expansion with a number of Munster successes under their belt already this season. 4 new schools have applied for the very popular WCTTA Coaching Scheme, which can be run at any size school and has proved especially popular with the small rural based schools with limited facilities.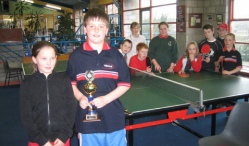 Skibbereen TTC News 9/3/06
The John Keohane Motors "Player of the Month." award for February went to Ethan Lawlor. Ethan has shown good improvement this month and was also awarded with a third place finish in the last West Cork U10 rankings. Ethan was presented with the award by last months recipient Luighsige Carey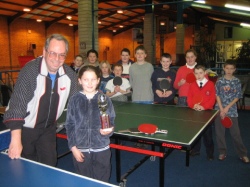 Skibbereen TTC "Player of the Month."
Luighsige Carey became the first recipient of the Skibbereen TTC Player of the Month Award for January. The perpetual award was donated by local business John Keohane Motors and will be presented every month at the club. Players who exemplify the principles of the club showing respect, commitment and fair play will be in line for the trophy. 9 year-old Luighsige has shown a great deal of commitment to her training and has improved very quickly. Luighsige recently won the U10 Ballincollig Open Plate and tops the West Cork U10 girls Rankings. The trophy was presented by visiting National Umpire Tom Mitchell.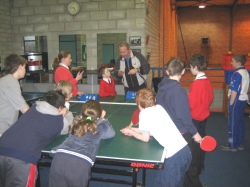 Umpire Visit
Skibbereen TTC has a special guest at the club when National Umpire Tom Mitchell made a visit. Tom is a member of the Leinster Umpires Association and plays in the Leinster League. Tom gave a short presentation on the role and duties of the umpire to a group of 8-12 year-olds during training last week. The kids were able to learn about some of the "tricks" of the trade and stories of red and yellow cards being given out seemed to be given special attention. Then the group used score cards and umpired each other very successfully.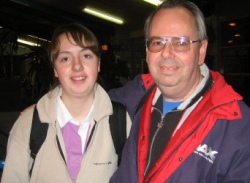 Warm Welcome
The club also welcomed back during the half term, ex Junior International Emma Jane Helen who assisted with the elite session. Emma Jane is currently doing her leaving cert. year and the players were delighted to see her take a break, it also gave her an opportunity to log more hours for her Level 1 Coaching Qualification.

2 in top 3
Ethan Lawlor was the only Skibb TT player to accompany Luighsige Carey to the West Cork U12 Rankings in Kinneigh on the 18th. Ethan was in the second division and eventually finished 3rd in the U10 ranking. Luighsige finsihing 1st at U10.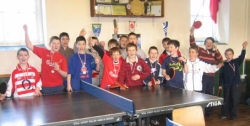 West Cork U12 Rankings, Kinneigh 18/2/06 34 players turned up for the West Cork U12 Rankings in Kinneigh. One girls and three boys divisions were played. Shane Foley caused the biggest upset when he beat elder brother and favourite Darragh Foley in the round robin and eventually took the top sport by just two points. Amy Buttimer topped the group of eight girls with 9 year old Luighsige Carey topping the U10s.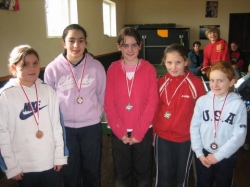 The boys U10 ranking was taken out of the results from the three divisions and sees Shane Foley capture the double with Kinneigh's Peter Kelleher taking 2nd and Ethan Lawlor from Skibbereen TTC taking third.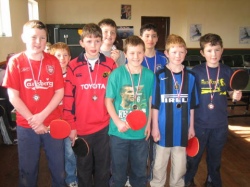 Within the divisions matches were often tight and there was no closer division than the third. The eventual result lead to a draw for the gold medal between brothers Barry and Brian Kelleher. Bantry's Ben O'Donnell took third.

Division 2 was won by David Casey of Bantry with Steven Kelleher (Kinneigh) taking second and Jack McCarthy (Bantry) taking third.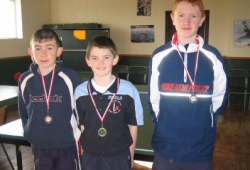 The tournament was run with divisioned groups of eight. Each player played one set up to 11 points and the player with the most points won. This system is built upon the West Cork PINGIS Scheme and enables everyone to have the same number of matches. The competition started at 10.30hrs and finished at 14.00hrs and was played on four tables.
Entries: Bantry TTC: 15, Kinneigh TTC: 10, Togher TTC: 6, Skibbereen TTC: 2, Glenbeigh TTC: 1

Rankings

"Player of the Month."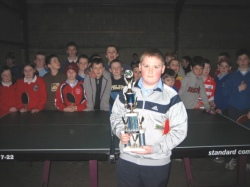 The first Bantry TTC "Player of the Month" award for January was made to Ronan Lorden. Local businessman Mike Goodhall, who runs the Toys Unlimited shop, popular with all the kids at the new club, has sponsored the monthly trophy. The trophy was presented to Ronan by club Coach Owen Kelly.

Coach Owen Kelly singled out Ronan because of the commitment he has already shown to the new club after he travelled to the recent Munster Ranking in Cork. But he went on to explain that this was not the only requirement that a member needs to show in order to claim this prestigious prize.

"It is important for all the players to be aware that the qualities of sportsmanship are highly prized at the club, work hard, play fair and respect all, should be the motto for the growing membership. I would encourage every player to give of their best both on and off the table and to take a pride in the club and town."

The club whose membership has reach the 50 mark in just 5 weeks is open from 4pm-6pm on Thursdays at the Gael Scoil. The club would like to encourage any adults or parent with or without table tennis experience that would like to help to lend a hand. Due to the overwhelming demand the club is considering either opening longer or opening on a second night. An adult club could be considered if any would like to contact Owen on 028-35371. More news and information on Bantry TTC and the many other clubs in the area can be found on the Table Tennis Ireland website www.ttireland.com

Gael Scoil Bantry Vs Togher NS 8/2/06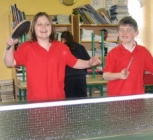 Togher and Bantry Gael Scoil have been playing an annual challenge match for the last 3 years. In that time table tennis has developed in both schools and provided an opportunity for fun and friendships to develop. This year it was the turn of Togher to be the hosts, with the school now being able to provide two quality Sponenta tables.

There was much excitement as the boys' and girls' teams began. Bantry's No.1 Girl Emer O'Shea took on Togher's No.1 Patricia Murray in the very first match and this set the standard for what was to come. Both players clearly started nervously with points seesawing one way and then the other. As the match progressed a higher and higher level of skill became apparent as the two West Cork U12's went head to head.

Eventually it was Emer who managed to creep ahead to win the match 3-1 with each set going to 11/9.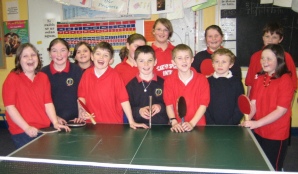 In the adjacent room the boys' first match proved even closer with Particia's younger brother Eoin Murray kicking off for Togher while Kevin O'Keefe started for Bantry. Again there was virtually nothing between the players as they struggled to gain the advantage. However it was in the fifth and final set that Kevin even as an U10 was able to show his match experience over his worthy opponent, to finish the stronger with a 3-2 result to Bantry.

Back with the girls Freya Hammer (Togher) took on Catrina Hurley to try and restore equality. The match was finely balanced with the players using the angles to move each other and seek the advantage. Catrina eventually came out on top with a 3-1 win, to move Bantry into a 6-2 set lead.

Thomas O'Sullivan took to the table for his first ever-competitive match for the Gael Scoil against Ashlin Foster. Ashlin started the stronger forcing Thomas into a number of mistakes. However as he grew in confidence Thomas was able to creep ahead and won out on a score line of 3-1 to move Bantry into a 6-3 lead in the boys.

It was now time for the Kelleher siblings from Bantry to take centre stage with Colleen (U12) in the girls and Peter (U10) in the boys both very experienced Bantry players. Lisa Cotter took on Colleen and matched her extremely well gaining in confidence as the match progressed but Colleen also managed to settle and was eventually able to take the match with a 3-1 score line.

Next door in the boys match it was a similar story with Ciaran Noonan rising against the challenge of his more experienced adversary. However Ciaran played extremely well and surprised Peter by taking a set off him but was unable to capitalise on that victory and the score finished 3-1.



It was time for Sharon O'Regan to take centre stage for the home side as she took on debutante Doireann O'Shea. Sharon was able to dominate her younger opponent and showed great skill in forcing Doireann back from the table and exploited her forehand venerability. Doireann began to settle in the third and final set but it was too late for the Bantry girl and Sharon recorded the first match victory for Togher on a score line of 3-0. This redressed some of the balance to bring the overall score to 9-6.

The final girls' singles match between Catrina Hurley and Cira Glenn became a crucial turning point for the match. Togher needed to record a second win if the had any hope of taking final victory. The stage was set for a close encounter and the two girls provided a nail biting display as the score ebbed and flowed in favour of each team. The first set falling to Togher on a 12/10 score line and finished in the same manner with Cira winning the final fifth set 13/11.

The overall score in the girls was 11-9 in favour of the away team. The final match brought Patricia Murray and her brother Eoin to the table for Togher. Bantry took a surprising risk as Doireann O'Shea was matched up with Colleen Kelleher instead of her more experienced sister Emer. This almost proved fatal as the scratch Bantry pairing quickly went down to 2-0. However Coach Owen Kelly's faith in Doireann and Colleen as they fought back to take one set and then a second. The Togher pair did sweep the fifth and final set to take the match 3-3.

With those two sets Bantry were able to celebrate a narrow 13-12 victory in what proved to be another closely fought and highly competitive match between these two schools. Togher should be well satisfied with the result as it put them ever closer to taking that elusive West Cork Schools Cup win as Bantry Gael Scoil hopes to defend its West Cork National School Girls 2005 title later on this season.

The players also took delight in watching themselves in the West Cork Table Tennis promotional video of their performances at the Munster Schools Cup 2006. Were Togher and Bantry had another closely fought battle in Cork.

Bantry Coach Owen Kelly complimented the players and staff of Togher School for their excellent hospitality making the visitors feels very welcome. "Togher School is become more and more of a challenge to play and this is obviously due to the hard work of the Togher Coach Vicky Ridgeway."

Bantry TTC at the Ballincollig Open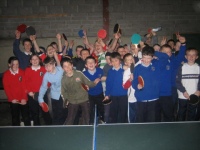 The Bantry TTC who opened their doors for the first time just 4 weeks ago have had their numbers swell to over 40. 4 players made the long trip up to the Ballincollig Open over the weekend. Brothers shane and Cian Edgeworth entered the U14 event, leaving at 7.30am. The eventually ended up playing each other in the U14 Plate Final. Younger brother Cian had beaten Shane in the club rankings but was not able to reproduce the form required to beat him on this occasion. Shane was delighted to redress the balance! U12s Ronan Lordan and Brian Crowley made their Munster Ranking debutes and were delighted to make it through the first round on the first attempt. This was great experience for the lads and we will have to see if they can capitalise on their new found experience at the U12 West Cork Rankings on the 18th of this month.

Skibbereen TTC at the Ballincollig Open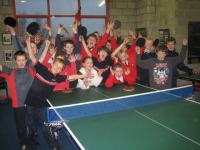 6 members of the Skibb Club travelled up to the Ballincollig Open on the 4th Feb. It was the first tournament for 4 of the players, who played well and enjoyed themselves. 9 year old Luighsige Carey won the U10 Girls Plate. Olan Towmey and Ethan Lawlor were presented with U10 Boys medals and one of the most recent members of the club Aisling O'Connell played in the U12 Girls event. More experienced players Tadgh Williams was presented with a trophy for 4th place in the U10 boys and Cillian McCaffrey was unlucky to lose on countback in the semi final group of the U14 boys plate to fellow West Cork player Cian Edgeworth from Bantry TTC. Congrats to all who played, a great day out.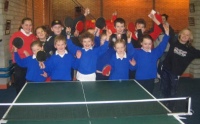 Tots delighted with new table West Cork News 27-01-06
Skibbereen Sports Centre has just has just taken delivery of a new table tennis table for the club. The club has been borrowing an old table from De La Salle School in Skibbereen to bring up the number of table to its maximum 3 for the amount of space available. However a brand new Joola Variant has now replaced this. The specialised table imported from Germany and the only one of its kind available in West Cork, can be lowered in order to provide a more suitable table for the Tots session. Most of the 5-8 year olds in the Tots session can now reach the net and play proper shots rather than having to reach above them to hit the ball. Coach Owen Kelly who witnessed the use of lower tables for under age players when in China last year was delighted with the effect it had.

"The kids were very excited about the new table and could not believe it when they discovered that it could be lowered to their level. The effect it had on their ability to play was instantaneous and this of course gave them a greater sense of achievement and allowed them to use the correct technique."

The Skibbereen Club is now in its' third year and has over 30 regular members. There are three regular training sessions on every Tuesday.
5yrs-8yrs (Tots): 15.00hrs-16.00hrs.
8yrs-12yrs (Intermediate): 16,00hrs-17.00hrs.
Elite Squad: 17.00hrs-18.00hrs.

A number of players have entered Munster Rankings and players from De La Salle, Schull C.C. Mount St. Michael's Rosscarbery, Gael Scoil NS Skibbereen and Castletownsend NS train at the club. For more information contact Owen Kelly 028-35371 or email owen@ttireland.com
The Joola Variant can be ordered from Celtic Table Tennis

Munster Schools Cup 2006
West Cork schools sent it's largest squad of players to the Munster Schools Cup in Cork. Thanks to Coaches Vicky Ridgeway, Ivan Shorten, Alan Hurley and Owen Kelly Friday the 13th proved to be a lucky day for the further development of West Cork Table Tennis. With a number of teams from Bantry Gael Scoil, St. Finbarr's NS Bantry, Tirelton NS, Copeen NS, Togher NS, MICC Dunmanway, Clonakilty CC and Bandon Grammar.
MUNSTER SCHOOLS CUP 2006
| | | | | | |
| --- | --- | --- | --- | --- | --- |
| | National Schools Girls | | U15 Girls | | U13 Boys |
| 1 | Scoil Mhuire, Ballincollig | 1 | St Josephs, Abbeyfeale | 1 | Colaiste Choilm A |
| 2 | Meenkilly | 2 | St Angelas A | 2 | Colaiste Choilm B |
| 3 | Gaelscoil Bheanntrai | 3 | St Angelas C | 3 | Midleton A |
| 4 | Togher | 4 | Ursuline Convent | 4 | Midleton B |
| | | 5 | St Angelas B | 5 | Maria Immaculata |
| | National Schools Boys | | U19 Girls | | U15 Boys |
| 1 | Scoil Eoin A | 1 | St Angelas A | 1 | Colaiste Choilm |
| 2 | Scoil Eoin B | 2 | St Angelas B | 2 | Midleton A |
| 3 | Tirelton | 3 | Ursuline Convent | 3 | Midleton B |
| 4 | St Finbarrs, Bantry | 4 | Midleton A | 4 | Maria Immaculata |
| 5 | Togher A | 5 | Midleton B | 5 | Clonakilty |
| 6 | Togher B | | | | |
| | National Schools Mixed | | U15 Mixed | | U19 Boys |
| 1 | Coppeen | 1 | Maria Immaculata A | 1 | Colaiste Choilm |
| 2 | Meenkilly A | 2 | Bandon Grammar A | 2 | Clonakilty A |
| 3 | Meenkilly B | 3 | Maria Immaculata B | 3 | Clonakilty B |
| 4 | Togher A | 4 | Bandon Grammar B | 4 | Midleton A |
| 5 | Gaelscoil Bheanntrai | | U19 Mixed | 5 | Midleton B |
| 6 | Togher B | 1 | Bandon Grammar A | 6 | Midleton C |
| | U13 Girls | 2 | Maria Immaculata | 6 | Midleton D |
| 1 | St Joseph's Abbeyfeale | 3 | Bandon Grammar B | | |
MUNSTER SCHOOLS CUP 2006
by Owen Kelly
51 Teams from 16 schools took part this year. In 2005 there were 41 teams from 12 Schools. This year there were three new schools competiting for the first time Tirelton NS, St. Finbarr's Boys NS, Bantry and St Joseph's Abbeyfeale. 8 Schools and 22 teams travelled up from West Cork, 2 Schools and 5 teams from Limerick, 6 schools and 24 teams from Cork. Congratulation to everyone who played and to the organisers who provided such an excellent event.

O'Keeffe has big success in West Cork by KIM SIN YAP
The Kinneigh Junior Open which is the second Munster ranking tournament for the 2005/2006 season was staged at the Kinneigh Table Tennis Club in Castletownkinneigh recently.

The Boys' U17 final saw two players competed in their first final of the season with Ballincollig's Kevin O'Keeffe taking the title after a dramatic victory over Thomas Cahill of CBS Thurles. Prior to the final, O'Keeffe defeated teammate, Andrew Reck in straight games whilst Cahill disposed of the winner of the Beech Hill Open and clubmate, Gary Houben.

Sarah Dorney of Ursulines Convent, Blackrock captured her first title this season in an exciting match against Andrea Shorten of the host team. Earlier in the semi-final, Dorney eliminated another Kinneigh's player, Sinead Hennessy on a score of 3-0 while Shorten had an energy-sapping five games thriller against Emily D'Arcy of Beech Hill.

Houben wiped off the disappointment of losing the Boys' U17 title when he secured the U14 crown with a four games victory over teammate, David Ryan. James Herley of Ballincollig went down to Thurles' David Ryan at the semi-final stage. This is the second consecutive time that Herley had lost to Ryan having done that during the Beech Hill Junior Open two months ago.

The talented Sinead Hennessy of Kinneigh signalled her arrival to the Munster table tennis scene with a 3-1 win over Meenkilly's Kimberley O'Brien in the Girls' U14 category. Hennessy won all the U12 titles last season. She is set to do the same in the U14 event this season. Earlier in the semi-final stage, Hennessy got the better of another Meenkilly's player, Naomi McCarthy.

The Cooney brothers showed their prowess with Alex winning the U12 title while David the U10. Both the Cooneys met the same players they beat during the first tournament. Alex defeated teammate, Declan O'Brien on a score of 3-2 while David ousted Skibbereen's Tadgh Williams.

Meenkilly club had the consolation of taking home the Girls' U12 title when Kimberley O'Brien beat Niamh Buttimer of Scoil Mhuire. Later during the day, Aoife O'Connor added the second title for the club from Abbeyfeale when she took home the Girls' U10 title. It was a 1-2 finish for Meenkilly when Jemima McCarthy finished in second place.

This was the first Munster ranking tournament being held at Kinneigh club and Ivan Shorten, the Head coach for the club was satisfied with the level of participation. "We received a great number of entries in our first tournament. It was a great success and we hope to do better in next season's edition," said Shorten.

A Star Permormance
Congratulations to Ciaran O'Regan from Castlehaven National School who recently was awarded with his 1ITTA 1 Star Award for Table Tennis by ITTA Coach Owen Kelly. Ciaran who attends the Skibbereen TTC on Tuesdays in the Sports Centre joins a growing number of players who have successfully passed their 1 Star Award. Coming up to Christmas a number of players through out West Cork will be taking their ITTA Awards, with a handful of candidates attempting the 3 Star Level for the first time.

Bantry opens its doors
The new Bantry Table Tennis Club held its first "Open Day" on Thursday 1st December. 25 players aged under 12 years old from 5 different schools in the Bantry and Skibbereen area played on the 5 tables at the Gael Scoil. The players were divisioned into three groups. Tadgh Williams from Lisheen NS finished with the best score with Cathal Carroll and Cathal Power from St. Goban's 2nd and 3rd. Cathal Power from St.Finbarr's topped the Bantry National School players while Emer O'Shea from Gael Scoil was the highest placed girl in Division 1 finishing 5th.

11 year old Jack McCarthy won the 2nd Division beating fellow St. Finbarr players Kevin Murray and Shane Delany. Ciaran O'Reegan from Castlehaven NS at 5th was the highest placed player from outside Bantry. Catrina Hurley finished just ahead of Doreann O'Shea to finish as the top girl in Division 2 finishing 6th and 7th respectively.

In the 3rd Division 10 year old Ben O'Donnell topped the group with 9 year old Cathal McCarthy finishing 2nd. Local Gael Scoil player Sahnya Shiels topped the girls in 3rd. Philip Walters from St. Finbarr's was the youngest player at 8 years old.

Bantry Table Tennis Club will officially open its doors after Christmas but with so many showing an early interest in the area it is hoped the club will be able to successfully build on the existing involvement of so many of the local schools.

West Cork Girls Back on Top 20/11/05
West Cork has a long tradition of producing top junior girls and 2005 is proving to be no exception. The first Munster Junior Championships were held at Christ The King Secondary School in Cork, with 85 players in 8 categories.

Sinead Hennessey last year's Munster No.1 under 12 has made an easy transition to the higher under 14 age group. Sinead from the Kinneigh Club won the Munster U14 Girls Title beating this years No.1 under 12 Kimberlee O'Brien from Meenkilly TTC, Abbeyfeale in the final.

Sinead went on to put in another impressive performance when she reached the Semi finals of the under 17 event. Sinead who is sponsored by Celtic Table Tennis eventually finished 3rd beating Beech Hill's Emily D'Arcy.

However it was another West Cork player who took the prestigious Munster Junior Girls Title as ex Irish squad player, Andrea Shorten who made an appearance to record a win against another Beech Hill girl Evelyn Mullane in the final.

Kinneigh girls Amy Buttimer beat Roisin Kelleher in the final of the U14 Girls plate.

Gavin O'Leary headed up the U10 Boys challenge reaching the final, while Shane Foley, Peter Kelleher finished 4th and 5th. Barry Kelleher won the plate. Skibbereen TTC Tadgh Williams had a disappointing day finishing 8th but still retains his No.2 Munster Ranking on previous performances.

In the U12 Boys Darragh Foley topped the West Cork players finishing 5th while Sean Henessey beat Kinneigh club mate Peter Kelleher in the plate final.

Leon Reid finished in the Top 8 in the U17 Boys event while Zoron Teodorovic reached the plate final.

U17 Boys Munster Champion: Gary Houbin (Thurles TTC)
U17 Girls Munster Champion: Andrea Shorten (Kinneigh TTC)
U14 Boys Munster Champion: Gary Houbin (Thurles TTC)
U14 Girls Munster Champion: Sinead Hennessey (Kinneigh TTC)
U12 Boys Munster Champion: Alex Cooney (Beech Hill TTC)
U12 Girls Munster Champion: Kimberlee O'Brien (Meenkilly TTC)
U10 Boys Munster Champion: David Cooney (Beech Hill TTC)
U10 Girls Munster Champion: Jemima McCarthy (Meenkilly TTC)

Kerry Revisited
Owen Kelly was invited back to the Holy Family National School in Tralee to assess some of the players that have been training under the guidance of Principal John O'Connor since his first visit last year. With 58 players actively taking part it was a long day. 6 hours of training!

The all boys National School has been actively participating internally in table tennis for many years and has 5 tables available for play. The school Principal John O'Connor and a number of other teachers have an interest in the sport but unfortunately they have been unable to become involved in the provincial scene. This is down to a number of factors but mainly because of the lack of organised activities in the county.

A large number of the kids appear interested in the sport and some show a good degree of ability. They lack the experience of external competition and the skills this generates. For example there is little use of spin within shots and service. Most of this could be solved with some training from a qualified coach. I intend to recommend to the new Munster Director of Participation that a select number of players be invited to a suitable training camp next season.

The school is understandably wary of entering the Munster Schools Cup without any real experience but with the 50 5th years that I assessed over the 6 hours and the obvious support and interest shown by the staff at the school while I was there they certainly warrant some attention.

However Holy Family is not the only school in Kerry that has shown an interest in developing table tennis in the last couple of years, Scoil Eoin Girls National School just across the road and the CBS Secondary School in Tralee have also shown an interest. But when I'm personally faced with a two and half-hour drive to Tralee it is unlikely this active and promising area will be brought into the fold without some planned centralised action from the provincial branch.

The West Cork Table Tennis Schools Cup
The West Cork Schools Cup first started in 2000 and in the five years that it has been running the event has grown from 9 primary and secondary schools to an entry of 33 teams this year. With 7 national schools entering 21 teams it will be the largest primary school competition in Munster this year.

The West Cork Table Tennis Association is delighted that the event which will be held on Friday the 11th March, will be hosted in the excellent facilities of Maria Immaculata Community College in Dunmanway this proved very popular with all concerned last season.

Clonakilty Community College will start as favourites to take the U19 Secondary School title for a remarkable fifth consecutive year but are likely to face stiff competition from the host school Maria Immaculata C.C. The two schools will also be fighting it out for the U15 title and will be joined by a team from Macroom De La Salle who last entered in 2002. Maria Immaculata CC will start as favourites for the U13 Boys and U13 Mixed event.

The Primary School competition has always proved a closely fought affair with any number of teams in the running. Last year's Boys Champions Bantry Gael Scoil will once again be in action but the favourites tag will fall to debutantes and rival Bantry school St. Finbarr's who have already put in a couple of impressive performances this season. However Togher National School near Dunmanway has finished second three times and will be eager to take their first victory. With 2003 Mixed Champions St. Mary's Enniskeane in the running this year's and Skibbereen Gael Scoil in the draw as well the event is likely to prove to be a very close run thing.

The Primary School Mixed event will see Coppeen trying to retain their title from last year and are likely to meet newcomers Tirelton NS who have current West Cork No.1 U12 Darragh Foley leading the team. However Coppeen can call on Munster No.1 U12 girl Sinead Hennessey and her brother Munster No.2 U10 Sean Hennessey in their line up. West Cork have tremendous depth at primary school level and neither Bantry Gael Scoil who finished runners up last year and Togher NS can not be ruled out of this years championship.

Bantry Gael Scoil have been runners up in this event for two years and will battle it out once again with Togher and St. Mary's Enniskeane for the girls title and with defending champions Coppeen NS concentrating on the Mixed event we are guaranteed a new champion in 2005.

The growth of table tennis especially within primary schools is reflected in the entry from three new schools and a number of new coaching schemes, as well as a summer training camp have been organised this season. Table Tennis is a sport that is ideally suited especially to the smaller schools in the region as it is relatively inexpensive, safe and can be accommodated by schools with limited facilities as well as played by both boys and girls all ages. West Cork is very lucky to have many qualified coaches throughout the region. If you would like to know more about how to start one of the most popular sports in the World in your school please contact the WCTTA on 028-35371

Sinead continues to impress
Ballincollig Open (Munster Ranking): Sinead Hennessey (Kinneigh) was in outstsnding form and spurred on by her new sponsorship deal with Celtic Table Tennis claimed the Munster U12 title and also reached the final of the U14 event where Evelyn Mullane (Beech Hill) took revenge for her resnt defeats at the hands of the young and up and coming West Cork star.

Andrea Shorten made a welcome comeback after an extended absence from the game to reach the final of the U17 event and was only narrowly defeated by Beech Hill's Clare O'Callaghan.

Dunmanway boys Joseph Sherlock reached the second round and Kieran McCarthy (Kinneigh) played well to reach the semi final of the U17 event.

Skibbereen begin in Ballincollig
Skibbereen Table Tennis Club sent it's first group of players to the Ballincollig Open over the weekend. This was a full Munster Junior Ranking with a large entry from all over the province, with events for under 10's, under 12's, under 14s and under 17's all playing on the same day. Skibbereen had three entries in the under 10 boys section and three in the under 12 section.

All the Skibbereen players performed well and boosted the already significant West Cork entry. 9-year old Tadgh Williams put in one of the performances of the day reaching the final of the under 10 boys where he eventually lost to Declan O'Brien from Cork.

10 year old Patrick McCaffrey and 8 year old Leo Rawlinson played very well in their opening rounds and gained confidence as the event progressed, both players played well in the plate competition. Leo Rawlinson lost out to fellow West Cork player Sean Hennessey (Kinneigh) who eventually went on to win the competition.

Cillian McCaffrey and Stephen Halliday had mixed emotions when the two were unlucky enough to be drawn together in a group with No.1 under 12 seed and local favourite Aiden Grabbe. Grabbe showed good form beating the two Skibbereen debutantes who then shaped up to play each other in a tense and closely fought battle. Cillian held his nerve to win and go through to second round. Meanwhile the third Skibbereen player Hugh Rawlinson also moved into the plate competition and became the second victim of Sean Hennessey from Kinneigh. Sean went on to make it a trio of Skibbereen players when he added Stephen Halliday to his list in the semi-final stage of the event.

Skibbereen Coach Owen Kelly was delighted with the performances of all the players and with the assistance he received from Mrs Williams and Mrs McCaffrey with their help on the day. It was a very promising start for this new and very young club. Training continues at the Skibbereen Sports Centre on Tuesdays, 4yrs-7yrs 15.30hrs - 16.00hrs, 8yrs - 12yrs 16.00hrs - 17.00hrs. For more information contact Owen 028-35371

The Battle of Bantry
St. Finbar's Boys National School Bantry played their first inter-school table tennis challenge match, travelling down the hill to play two Gael Scoil teams. The "Battle of Bantry," saw both Gael Scoil's boys and girls teams in action against the three man St. Finbar's A and B teams.

Shauna Ni'Chárthaigh was first up for the Gael Scoil girls team, Shauna is in her first year of playing was up against 5th year Ian Hurley of the St. Finbarr's B team. The match was very tight with the first set finishing 14/12 in favour of the visitors. Ian Hurley began to grow in confidence and managed to secure the first victory for his school.

In the all boys encounter Cian Edgeworth from the Gael Scoil used all his experience in a titanic match against St. Finbarr's School Champion Alan Keane. With some excellent rallies and a great fight back by Alan to take the second set 11/9 it came down to the final set where Cian managed to move ahead to secure the first Gael Scoil victory.

Meanwhile on the other tables Gael Scoil Girls went down by two with Cathal Power securing a win against Emer O'Shea and made sure of at least a draw by taking the third match with Cathal Carroll defeating Coleen Kelleher in a closely fought encounter.

St. Finbarr's Marc Burke beat U9 Peter Kelleher in the second match in the boys group and St. Finbarr's pushed ahead when Grahame O'Leary won his match against U9 Kevin O'Keefe.

Both matches moved into the doubles phase with Gael Scoil needing to secure a victory in either match to stay in the running. Emer O'Shea and Coleen Kelleher put up a brave fight against the St. Finbarr's pairing but finally lost out 13/11 and St. Finbarr's secured their first ever inter-school challenge match.

This was followed up by a surprise victory for Alan Keane and Grahame O'Leary against Cian Edgeworth and Peter Kelleher in the boys match and St. Finbarr's took their second victory of the day.

After a very good humoured encounter a number of the St. Finbarr players joined in with a Gael Scoil training session which, was much enjoyed by everyone. With a good standard of ability being shown by all players and with such a range of young talent the future of table tennis in Bantry things look very promising and makes predictions for the West Cork Schools Competition very difficult this year.

Mixed Success for West Cork Schools
Coppeen National School added to their current West Cork Schools Title when they won the Munster National School Mixed Title at the Munster Schools Championships in Cork, the team was Sinead Hennessey, Sean Hennessey and Lisa Cronin.

Bandon Grammar also took a Mixed Title at the U19 age group and also took 2nd place at the top Munster Schools Competition. Bandon Grammar who have established a strong tradition of table tennis over the last few years also took the U15 Mixed Title at the same event.

Hamilton High School from Bandon finished in third place in the U15 Boys event. Only three schools represented West Cork this season, a considerable drop in numbers. However a large number of schools have indicated their interest in competing in the West Cork Schools event to be held later this year.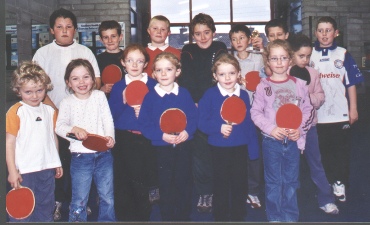 Skibbereen 1 year old
Skibbereen TTC is one year old. The club which is located at the Skibbereen Sports Centre, started by coach Owen Kelly with one session on one table has now doubled in size with two tables and two sessions. There are 20 players ranging from 4 years old to 13 years old.

Sessions are conducted on Tuesdays with the first session from 3pm-4pm for beginners (ages 4yrs-8yrs). The seconbd session from 4pm-5pm is for participant level (8yrs-13yrs). Sessions cost 2 Euro/hour.

A number of players have passed their 1 Star Awards with Cillian McCaffrey and Steven Halliday recently being awarded their 2 Star Awards.

A third session will come into effect next season so that those players who will be attending secondary school will be able to continue their development (5pm-6pm). Currently Irish Junior No.2 Emma Jane Helen trains at the club and has assisted a number of players.

Tadgh Williams became the first Skibbereen TTC player to win a tournament when he defeated Munster No.2 Sean Hennessey at the Kinneigh Closed. Tadgh also went on to reach the final of the Cork Closed.

West Cork Table Tennis Christmas Party
There was a good turn out for the West Cork annual Christmas Party held in Dunmanway. Players from a number of clubs attended with our first player from the new scheme at St. Finbarr's Boys School in Bantry. Other clubs represented included Bantry Gael Scoil, Skibbereen Gael Scoil, Lisheen N.S. Skibbereen TTC, M.I.C.C. Togher N.S. Copeen N.S. Lissagriffin N.S. Kinneigh TTC & Goleen TTC. With the youngest particpant only 4 years old!

A number of adults as well as coaches took part in the 3 hour party, which included classic favourites 100 ball pick up, Pirate Snow Ball, Round'd'table, jelly bean table tennis, noughts and crosses and one mega session of local table tennis game "Guardian." A game of penalty shoot out gave away even more prizes while most of the kids stuffed their pockets with sweets and some of the largest jaw breakers you've ever scene! Well over 40mm!

Congratulations to Cillian McCaffrey from Skibbereen TTC on being awarded his 2 Star Award.

The WCTTA would like to thank all those who participated and especially parents and club leaders who once again gave of their time to bring us a really fun day. Happy Christmas!

Thanks to Iain O'Neill our official photographer on the day and we will post them as soon as we can.

Queen of the Castle
Sinead Hennessey from Castletown Kinneigh Table Tennis Club added the U12 Cork Closed Title to her Thurles Open U12 and U14 titles at the Beech Hill Club in Cork over the weekend. Sinead, who is one of a number of talented players being trained under Team Kinneigh Head Coach Ivan Shorten, looks on target to claim her second Munster Cap in two years.

Skibbereen Table Tennis Club, were once again celebrating as Tadgh Williams reached his second final in 7 days this time against tougher oposition playing in the U10 Cork Closed table tennis tournament in Beech Hill TTC in Cork City. Tadgh showed tremendous skill for such a young player with a very high standard in the group stages defeating Munster No.1 David Gillin and then only loosing out narrowly to Declan O'Brien in the final.

Bantry was well represented with Cian Edgeworth in the U12 Boys section and older brother Shane Edgeworth in the U14 event. Cian finished third in his group narrowly missing out on a semi-final place. Shane started off nervously in his first match but managed to come back from 2 sets to 0 and 9-4 down in the third to win 11-9 in the fifth. Shane went on to win all his matches in his group only loosing out to Munster No.1 and eventual winner Ian Shellard (Beech Hill). In the semi-final Shane took top Munster player Kevin O'Keefe (Ballincollig) to 5 sets before finishing 4th overall. All bodes well for the future for this up and coming 13 year old.

Kieran McCarthy from Maria Immaculata Community College Dunmanway represented Kinneigh TTC in the Cork Closed Tournament U17's, currently ranked Munster joint No.1, and finished an excellent 2nd over all. No Munster points were awarded at this event and it will have no effect on his prospects of a Munster Interprovincial Cap. West Cork players now have 4 weeks to prepare for the Irish National Championships and the biggest tournament of the year the Munster Open, held in Cork in January.

The next event on the West Cork table tennis calendar is the WCTTA Christmas Party on Sunday 19th December at 11.00hrs - 14.00hrs in Dunmanway Hall, cost 5 Euro. It is a fun event for all levels of ability and ages with lots of organised games including Guardian, team table tennis, Round'd'table, ball bouncing, relays, balloon throwing, jelly bean table tennis, noughts & crosses, penalty serve, and loads more with lots of prizes, for more information contact Owen 028-35371

Kinneigh Closed
Kinneigh was the venue for the latest West Cork table tennis rankings. There was a good turn out for the event, which included under 10, under 12 and under 14 events. The first event of the day saw the U10 girls in action. Amy Buttimer took the title against Kinneigh club mate Jennifer Lawton. Ciara Glenn from Dunmanway took third with the youngest competitor of the day Chloe Mulhall (7yrs) taking 4th.

Due to a large entry the U10 boys was divided into two divisions. Tadgh Williams from the Skibbereen club took his and his club's first ever tournament win beating Munster No.2 Sean Hennessey in a very close and exciting match, with both boys showing tremendous ability. Sean's Kinneigh team mates took 3rd, 4th, 5th & 6th. With Skibbereen players taking 7th and 8th. Peter Kelleher took the Division II title with Eoin Barclay (Skibbereen) 2nd, Jake Inglis (Dunmanway) 3rd and Clay Cracknell (Dunmanway) 4th.

Kinneigh players dominated the U12 girls finishing with a top 4 sweep for the hosts Kinneigh with Sinead Hennessey, Amy Buttimer, Ashling O'Callaghan and Stephanie Hayes finishing in that order. The U12 Boys saw another title go the hosts as Darragh Foley beat Sean Hennessey in his second final of the day. Robin Smiles and Eoin O'Neill finished 3rd and 4th.

U12 and U14 Munster No.1 Sinead Hennessey added another title to her collection taking the U14 girls trophy from Julie McCarthy and nearly securing the U14 Mixed title but being narrowly defeated by David Shorten in the final. Julie McCarthy finished third with Darragh Foley 4th.

A number of players will be travelling to Cork next weekend for the Cork Closed. Watch this space for more details of the West Cork Table Tennis Christmas Party for Sunday 19th December.

| | | | | | |
| --- | --- | --- | --- | --- | --- |
| | U10 Boys | | | U10 Girls | |
| 1 | Tadgh Williams | Skibbereen | 1 | Amy Buttimer | Kinneigh |
| 2 | Sean Hennessey | Kinneigh | 2 | Jennifer Lawton | Kinneigh |
| 3 | Gavin O'Leary | Kinneigh | 3 | Ciara Glenn | Dunmanway |
| 4 | Shane Foley | Kinneigh | 4 | Chloe Mulhall | Bantry |
| 5 | Trevor Horgan | Kinneigh | | | |
| 6 | Jack O'Callaghan | Kinneigh | | U12 Girls | |
| 7 | Leo Rawlinson | Skibbereen | 1 | Sinead Hennessey | Kinneigh |
| 8 | Patrick McCarthy | Skibbereen | 2 | Amy Buttimer | Kinneigh |
| | Division 2 | | 3 | Ashling O'Callaghan | Kinneigh |
| 1 | Peter Kelleher | Kinneigh | 4 | Stepanie Hayes | Kinneigh |
| 2 | Eion Barclay | Skibbereen | | | |
| 3 | Jake Inglis | Dunmanway | | U14 Girls | |
| 4 | Clay Cracknell | Dunmanway | 1 | Sinead Hennessey | Kinneigh |
| | | | 2 | Julie McCarthy | Kinneigh/Dunmanway |
| | U12 Boys | | | | |
| 1 | Darragh Foley | Kinneigh | | U14 Mixed | |
| 2 | Sean Hennessey | Kinneigh | 1 | David Shorten | Kinneigh |
| 3 | Robin Smiles | Dunmanway | 2 | Sinead Hennessey | Kinneigh |
| 4 | Eoin O'Neill | Dunmanway | 3 | Julie McCarthy | Kinneigh/Dunmanway |
| 5 | William Horgan | Kinneigh | 4 | Darragh Foley | Kinneigh |
| 6 | Peter Kelleher | Kinneigh | 5 | Paul O'Sullivan | Kinneigh |
| 7 | Paul O'Sullivan | Kinneigh | 6 | Danial Daley | Dunmanway |
| 8 | Erin Inglis | Dunmanway | | | |
TABLE TENNIS, TWO AT THE TOP
The West Cork table tennis community were celebrating as Emma Jane Helen from Rossmore reached her first ever Irish National Final at the STGA Ulster Junior Open on Saturday 20th and in doing, so swept aside the No.1 seed Amy Tobin from Dublin, in three straight sets in the semi final.

Emma Jane also beat the No.6 seed Fiona Dennett from England in a close 5 set quarter-final eventually winning 12/10, 6/11, 11/5, 8/11, 11/8.

The final saw Emma Jane up against fellow surprise finalist Ciara O'Donnell from Ballina, Co. Mayo. Emma Jane was very confident having not lost to Ciara previously. The first set however indicated that the match was going to be very tough with Emma Jane winning 13/11. The second set was as close with Emma Jane losing 10/12, unfortunately for the Munster supporters, Ciara went on to win the final two sets and the Ulster Junior Title (13/11, 10/12, 7/11, 9/11).

After returning from the long trip to Belfast Emma Jane was delighted with the result and described it as her most significant and enjoyable result in her 6 year playing career, even surpassing her Interprovincial Titles. She told her coach Owen Kelly that this was different to other events as it had to be an individual performance,

"This is my final season as a junior and I have had a National Final as my goal for a while now. Last season was frustrating as I reached the ¼ final of every National Tournament and lost to the same person each time. At the end o last year I won the Irish Top 12 tournament but that was a league and you don't get the added pressure of a final."

"I was disappointed only reached the ¼ final of the first event of this season and I really needed this result for confidence and motivation. I will now have my sites set on the National Junior Championships in Dublin at the beginning of January. I would very much like to finish this season with a National title."

Owen Kelly, Emma Jane Helen's coach described the result as "a major breakthrough. I have always felt it was just a matter of time. Emma Jane is one of the most consistent and talented players in the country, she has played for Munster an incredible 7 times, in every junior age group and has represented Ireland on a number of occasions from Primary Schools on up."

Emma Jane Helen will have every chance of full filling her dreams as she will start the Nationals as Irish No.2. and will play on home ground in the Munster Junior Open soon after. Emma Jane is a member of the Kinneigh Club and is sponsored by Celtic Table Tennis and supported by Skibbereen Sports Centre.

The Kinneigh Club had more than one finalist to celebrate as David Hayes (Bandon) reached the U17 boys final only to lose to Ulster's local favourite Peter Graham in a very and exciting match (13/11, 9/11, 12/10, 9/11, 10/12). David still remains No.1 in Ireland due to his previous results.

Club mate Kieran McCarthy (Dunmanway) struggled to find form in Ulster but still hopes to make the Munster Interprovincial team this season and will be back in action at the Cork Closed early next month.

"The Battle of the Gaels": Skibbereen score first victory
The first ever table tennis match between Bantry and the new Skibbereen club took place on the four tables at the Bantry Gael Scoil on Thursday 7th October. The teams were made up of boys and girls between 9 and 12 years old from the Bantry Gael Scoil, Skibbereen Gael Scoil and Lisheen NS. This was also the first competitive match for the new Skibbereen Club where children from 6 different National Schools train.

The Bantry Gael Scoil who are the current West Cork Boys National School Champions put out a mixed team of players including Coleen Kelleher (U11), Catrina Hurley (U10), Sahnya Shields, Peter Kelleher & Kevin O'Keefe (U9's).

Cillian McCaffrey (U12) one of three boys from the Gael Scoil in Skibbereen met Coleen Kelleher in the first match and took the first points 14/12, 11/7. Then with Coleen's younger brother Peter facing Tadgh Williams (U9) form Lisheen in a match which finished 13/11, 12/10, Skibbereen took a 2 to 0 lead at this very early stage. Sahnya Shields managed to score Bantry's first points but only after a close 3 setter against Patrick McCaffrey (U10 Gael Scoil Skibbereen) 11/8, 10/12 & 11/8. With Hugh Rawlinson (U11) beating Catrina Hurley 11/9, 11/7, Skibbereen moved into a 3-1 lead after the first round of matches.

Tadgh Williams surprised the pundits extending Skibbereen's lead by beating the Bantry team No.1 Coleen Kelleher 11/6, 11/5. Then Peter Kelleher pulled out a top draw performance to beat Skibbereen No.1 Cillian McCaffrey 11/7, 11/9. However Hugh Rawlinson again played to his best and took the points against Sahnya Shields and Patrick McCaffrey took the next against Kevin O'Keefe (U9) even after losing the first set 7/11, 11/4, 11/6. This put Skibbereen into a 6 -2 lead with the doubles to be played at the halfway mark.

Brother and sister combination of Coleen and Peter Kelleher were unable to stop Tadgh and Cillian (11/9, 11/7) as Skibbereen added yet another score, while Sahnya and Kevin took one back defeating Hugh and Patrick 11/8, 11/9.

Skibbereen needed only one more point to assure themselves of at least a draw but it was Bantry's Coleen Kelleher who won the next 11/9, 11/8 against Patrick McCaffrey. With Peter Kelleher securing another point against Hugh Rawlinson (11/5, 11/9) Bantry began to threaten once again.

It was not however to be Bantry's day as Tadgh Williams and Cillian McCaffrey both ran-out winners against Sahnya Shields and Kevin O'Keefe respectively. Tadgh Williams also went onto beat Kevin O'Keefe in the final round. The final match of the day brought a consolation win by Peter Kelleher 11/9, 114 against Patrick McCaffrey. The final score Skibbereen 10 Bantry 6.

Man of the match for Skibbereen was Tadgh Williams and for Bantry Peter Kelleher.

Bantry Gael Scoil first team will be in action next week against their close West Cork rivals Togher NS. This annual event has proved to be very close in the past with Togher looking t revenge their defeat in the West Cork Schools Cup last season.

4th for Kieran
Congratulations to Kieran McCarthy from Dunamanway and the Kinneigh Club who finished 4th in the Munster Junior Rankings in Beech Hill.

ITTA Awards in Skibbereen
7 year old Leo Rawlinson from the Gael Scoil in Skibbereen became the youngest receipient of the 1 Star award in West Cork. Leo is the 8th player from the new Skibbereen Club to pass this year.

Co Action recently sent a squad of 11 players to the Munster Regional Games held in Cork and were extremely pleased with all the players performances, returning with 3 Gold, 5 Silver, 2 Bronze and 2 4th places.

Gold: Jerry McCarthy, Chriss Mannering, Michael O'Grady/ Michelle Benham(Mixed Doubles)
Silver: Michelle Benham, Michael O'Grady, Seán Healy, Julie Collins & Timo Zahl
Bronze: Martin O'Mahoney & Conor McCarthy
4th place: Brendan Hanley, Alan Burke

Back To Top