West Cork Table Tennis Assoc.
Bronze Awards
The W.C.T.T.A was formed in 1989 to serve the West Cork region. Coaching schemes were started in a number of schools around the area. Schull Community College, Schull National School, Bantry Secondary, Rosscarbry, Rossa College Skibbereen, Cape Clear Island School and an open coaching scheme in the Goleen Parish Hall. Further coaching schemes have been set up at Coolmountain T.T.C, Kinneigh T.T.C, Clonakilty T.T.C and Macroom T.T.C. The West Cork Awards Scheme has now been running for over ten years and has received sponsorship from many local businesses named below. The bronze award gives novice players an uncompetitive focus to help them improve. Each successful student receives a certificate and badge on finishing.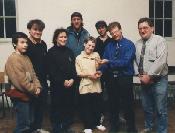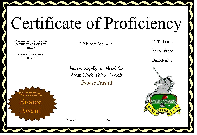 Bronze Awards 1997-98
from left to right:G.Man,O.Kelly(coach), K.Jepson, C.Berges, J.Smiles, M.Maw,C.Higgins(Irish Cpt.), D.Sheehan(sponsor:Sheehan`s Mini Market & Sheehan`s Auctioneers)
Award Scheme Sponsors:Heron`s Cove Restaurant Goleen, Barley Cove Hotel Goleen , Goleen Parish Hall, Schull Community College, Barnett`s Drapery Schull, Sheehan`s Auctioneers Bantry, Tri Na Locha Services Drimoleague.