Emyvale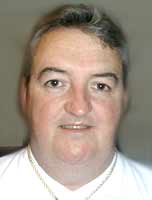 Plunkett has resided all his life in the Barony of Errigal Truagh, County Monaghan, Ireland. His late father, Cathal, was the descendant of two McKenna's; his mother Mary Catherine McKenna ([Frank] ancestral name), and his father Peter McKenna ([Atty] ancestral name). They were known locally as Mary Catherine Frank and Peter Atty, and were married in Ballyoisin church.

The Atty McKenna's are descendants of Art McKenna who was recorded in 1591 as a freeholder owning seven townlands in the Ballyoisin district.
Courtesy of the late Owen Smith & Clogher Record.

The Frank McKenna's are descendants of the grandson of The McKenna, Major John McKenna who was killed defending the fort at Drumbanagher (1689), near Glaslough. He escaped the an earlier massacre of the McKenna's by Cromwell (1641) because he was a baby fostered in the mountains. The grandson's name was Francis from Monmurry, Glaslough, and who was brother to Charles McKenna, who was ordained a priest on the continent of Europe, was chaplin to the Irish Brigade at the battle of Fontenoy (1745) and later Parish Priest of Donagh. Thus the name of my late father, Cathal or Charles in English.
_Irish Pedigrees_ by John O'Harte, New York1923.