Bristol City Report
by "Robaldo"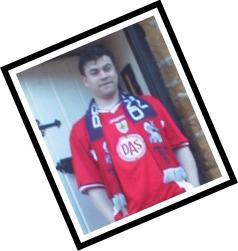 A report by Rob Moss (AKA Robaldo) and a few snaps of the last match of the season against Bristol City on May 8th
As expected, the supporters got North End out of the division got their chance to celebrate in style, without Radio Deepdale hampering events. A constant river of supporters flooded into the away end, thanks in part to the usual Bristol ticketing policy; all ticket for away fans, unless you turn up without a ticket - in which case you can pay on the turnstiles. The away end is an old yet presentable seated area, with backless seats and an inverted V roof that really amplifies the noise and as it filled almost to capacity the noise was immense.
The police began to look a little nervous as the fans kept coming in - still a constant stream at 10 past 3, and after arresting all the staff on the burger bar the police had to juggle selling burgers and trying to get 1000 fans in the corner to sit down, futilie attempts on both counts.The game kicked off with 5000 North End fans out of their seats, arms heldaloft as the atmosphere that had been building for an entire season raisedthe roof off Ashton Gate.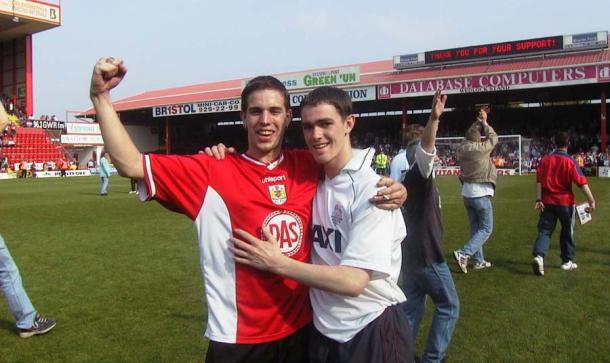 It was refreshing to see the jovial atmosphere that we've come to expect from Bristol City, without any hint of the juvenile shite that Millwall indulged in. Chants of 'We hate Rovers' rangaround the ground, to the applause of the City fans, even if we were singingabout a different Rovers - but we joined in the fun singing, "We beat theRovers 3 times" this time talking about the same team. A goal conceded by Bristol Rovers at Cardiff and the conga started in the home end, mirroring that of the away end - at one point the pie-eating steward got dragged into the conga before deciding it was time to call it a day, trying in vain to get people back to their seats - oh, feel that power with 5000 singing, "Who ate all the pies" at you!
Of the game, what of it? Rankine was inspired, and play-making - if you can't see it, you must be blind. If he'd have known I'd have hold of his right ankle by the end of the match he'd have run faster for that tunnel! I must stop ironically shouting "SHOOT" every time Rankine gets the ball - though his woodwork rattler of a shot was as good as they get! Brett Angel changed my mind completely about him - he was twice the player this week that he was last.....I'd better get on with eating my hat! Lovely to see Parkinson back, and brought on to instantly take a free-kick on the edge of the box. No shot though, unfortunately.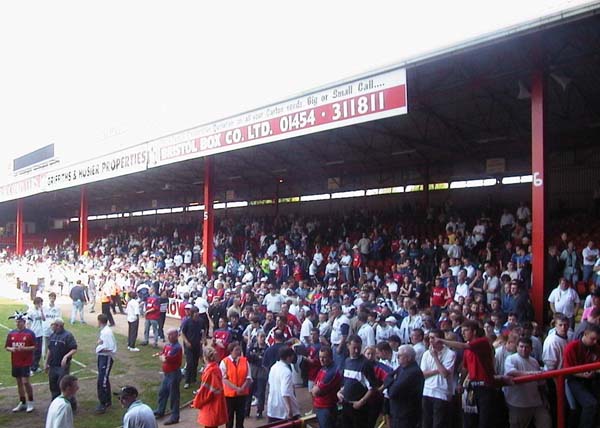 The final whistle went, the shaky tannoy in the away end muttered something to itself as we went charging across the pitch, meeting the City fans half-way to hugs and handshakes. We bounced Rankine about in the air and then I grabbed myself a big-ish looking City fan and swapped shirts - trading up from my Large Baxi shirt into an XXL City one - apologies to the poor sod who took all of ten minutes to get his new North End shirt on - and a word of advice to him; change the aftershave, it really made us gag! "Get off the pitch, the players will come out again" - sod that! We were having too much fun. Got some lovely photos, including a few with City and North End fans singing, hugging and jumping up and down on the pitch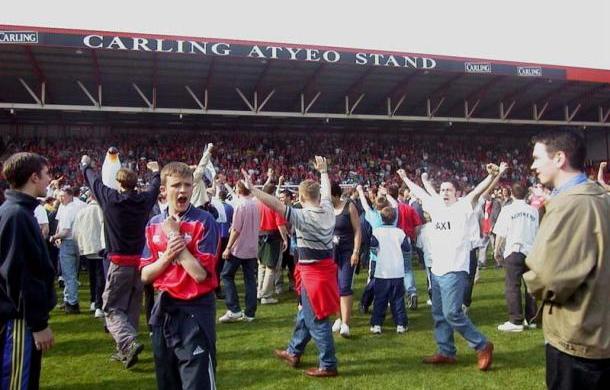 We eventually got off the pitch and departed the stadium, isolated bits of scrapping outside between City and Rovers fans I think and then off back home to Banbury, with big smiles on our faces. Best promotion season ever, thankfully resurrected after Deepdale last week by our hosts at Bristol City. (they really need to work on their fans leaving ten minutes early though!)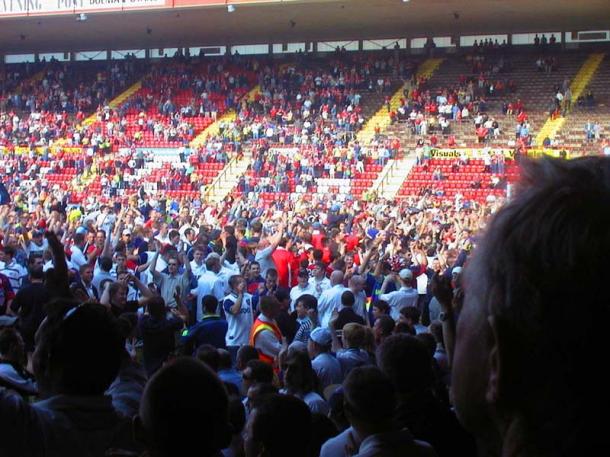 A big Thank you to Bristol City FC fans! PNE fans wish you the best of luck next year!
---