Luas network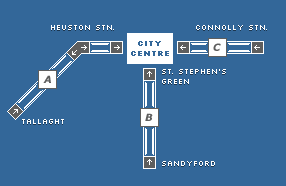 Luas is the Irish word for speed. It is also the name for a new system of fast trams in Dublin. At present the building of two and a half lines has been completed:
Line A runs from Tallaght in South-West county Dublin to the North inner-city. In Abbey Street the name changes into line C and it runs further to Busáras (the national bus station) and Connolly Station. In a later stage line C will be extended to the Point Theatre in the Docklands.
Line B runs from the Sandyford Industrial Estate in South-East county Dublin to Stephen's Green in the South inner-city. Within a few years time line B will be extended from Sandyford to Cherrywood.
As from the start of the passenger service on line B, in late June 2004, the lines have a colour code. Line B is called the Green Line, whilst line A/C on which in late September 2004 the first passengers have been transported, is called the Red Line.
The Green Line and Red Line combined are 26 kilometres in length. Plans are in an advanced stage to extend the present Luas network and the building of a metro (to the Airport). On some stretches the proposed metro and the Luas will share their tracks. For more information on this topic, see Luas and Metro.
---
This document was created by Huib Zegers ©2001-2004 - last update: 10-10-2004