Why not give a WARM welcome to the Year 2,000 with a
SUPERSER
Mobile Gas Heater?
Home/Office Superser Green Heaters:
"Cash & Carry" price of £87:50 each.
Cheques with £100 guarantee cards accepted.
ANOTHER EXCLUSIVE
FROM FLOGAS!
FLOGAS HAVE JUST LAUNCHED
A NEW BLACK CATALYTIC MOBILE
GAS HEATER - ADDING TO THEIR
STUNNING SUPERSER RANGE
ALL THREE MOBILE HEATERS
CAN BE SUPPLIED BY FINNERTY'S
New Inn, Ballinasloe. Phone (0905) 75825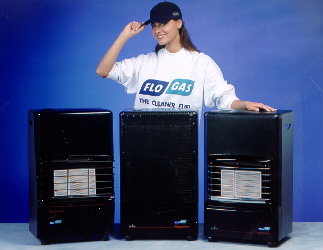 The latest edition SuperSer Catalytic mobile gas heater from Flogas is the ultimate, new state of the art heating accessory for homes and offices. It is a catalytic heater that burns without a flame, doesn't produce carbon monoxide and has lower touch temperatures - which means safe and economical heat at the touch of a fingertip! The new model has elegant good looks and its easy-glide castors help move it effortlessly from room to room for convenience.
Reaching retail outlets in time for winter 1999 the new Black Catalytic Heater complements the popular SUPERSER GREEN and SUPERSER Black range already available from Flogas.
Only recently redesigned the SUPERSER GREEN proudly combines style with one of the most economical, clean & environmentally friendly fuels. Providing three selectable heat settings of 1.4Kw, 2.8Kw and 4.2Kw, the SUPERSER GREEN is finished in smart British Racing Green with a black front panel. New manufacturing technology at the Spanish factory means the new epoxy textured paint finish is even easier to clean than the previous gray finish.
The top corners of the cabinet are now rounded off and finished with tough ABS protectors. Smaller than its popular predecessor, the SUPERSER GREEN takes up less floor area than before while the reduced body depth and lower base make gas cylinder handling easier. Integrated handles and four 360-degree swiveling castors allow easy maneuverability.
The top-mounted controls have been redesigned for easier selection of the three heat settings and the one-finger ignition system works more quickly and quietly than previously.
Most importantly, safety features include an atmospheric analyzer/flame failure device.
If the oxygen level in the room drops by only 1.5%, the atmospheric analyzer will cut off the supply of gas to the burner. The same thing happens if the flame is blown out by a sudden draft.
"Despite the increasing use of central heating, a mobile gas heater is a very handy appliance to have around the home," says Richard Martin, Sales & Marketing Director of Flogas Ireland.
"They're simple and very economical to use and ideal for quickly heating a room when it's not really cold enough to switch the central heating on. Early in the morning, for example, heat is instantly available at the press of a button."
"Our heaters are also particularly popular with those who need a simple and efficient method for heating Homes, Restaurants, Pubs, Guest Houses and even Conservatories."
Cylinder Seals
"Butane gas, which is distributed in smaller cylinders,
is a relatively low-pressure gas which is suitable for use indoors."
Flogas and Ergas Jumbo-valve butane cylinders are fitted with a tamper-proof seal. This is your guarantee that it has been subject to our Quality Control system; that it is safe (every cylinder is individually tested for leaks); and that it is full, just as it left one of our plants.
It guarantees that it has been filled by the Flogas nationwide distribution system and not by a pirate or illegal filler. This seal is fitted to all of our "Jumbo" valve butane cylinders (which are colored a light yellow for the Flogas brand and an orange for the Ergas brand). A similar design will shortly be introduced for our Ergas Green cylinder, which is fitted with a significantly narrower "compact" valve.
Flogas - The Cleaner Fuel
The term "gas", in the context of fuel, covers three different types of gas all of which are used for fuelling all the usual domestic and industrial equipment such as boilers, water heaters, etc. The types are:
Liquefied Petroleum Gas (LPG): This is the type of gas that Flogas distribute, in tanks and cylinders, throughout the country.
Natural Gas: This is piped from the sea off the South of Ireland to houses and factories in a number of areas in the country by Bord Gais. Obviously, you cannot get a Natural Gas supply unless you are located beside a distribution pipe.
Towns Gas: This is no longer available in Ireland but was the "piped gas" used before Natural Gas. Unlike the other two, this gas was poisonous.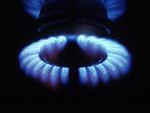 LPG and Natural Gas share many common properties, such as both being clean-burning fuels, sulfur-free and smoke-free.
The fact that gas is clean, highly controllable and very versatile is shown by the enormous variety of applications in which it has proved so successful. An ever-increasing number of users in the domestic, industrial / commercial, agricultural and catering areas now benefit from its great cost-effectiveness and economic installation costs.
Liquefied Petroleum Gas includes two gases, butane and propane. Butane gas, which is distributed in smaller cylinders, is a relatively low-pressure gas which is suitable for use indoors. It is not suitable for use outdoors at low temperatures, as low temperatures result in a low amount of gas being available from the cylinder. Propane, on the other hand, is a higher pressure gas distributed in both small and large cylinders as well as tanks. These cylinders and tanks should be kept outdoors. Relatively large quantities of gas can be drawn from these cylinders and tanks at low temperatures.
Flogas distributes LPG in all three forms and with different options to suit all customers.
Unique Qualities
Both lead and sulfur free, Flogas is clean and highly efficient fuel with unique qualities that offer many advantages.
Efficient
LPG allows direct fired heating of products or space, thereby eliminating wastage and achieving efficiencies up to 100%.
Much of the content of this page came from material which was very kindly placed at Finnerty's disposal by Flogas. If you would like to know more about the Flogas company and its products, the address of their Internet web site is given further down.
Newcomers to the Internet may wish to be informed that clicking on the address below will take them to a completely different Internet location, and (as is often the case) that there are no return links back to the site they left.
One of the simplest ways to return from such "visits" is to press on the "BACK" button - which is usually in the top left hand corner of the Internet screen, and often has an arrow pointing to the left.

ADVERTISING ON THE INTERNET PUTS
VAST RESOURCES AT YOUR DISPOSAL
Web site design: W. Finnerty
"St Albans", New Inn, Ballinasloe, Co. Galway, Republic of Ireland.

Phone/Fax (from Republic of Ireland): Ballinasloe (0905) 75853
International: + 353 (0)905 75853