Brian Clarke
2011 ....... Silversmithing Workshops ....... 2011
"Anticlastic Raising Tools"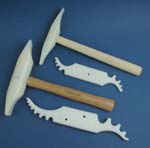 This is a technique which was explored, named, and exploited by Michael Good, a goldsmith from Maine in the USA.
Special tools were developed for the process and these have been evolving over the years.

Brian, through his long experience with Anticlastic Raising, has developed a range of his own design, a small quantity of which are available for sale. These are made by Brian by hand so there are slight variations in each piece consistant with hand work.