Home|News|Weather|Locals|Centre|Join|Links
Breaks|Tides|Photos|Events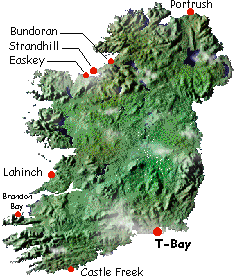 Surfing Hot Spots of Ireland
This is where I reveal some of Irelands surfing spots, not all though. Since we're an island in the middle of the north Atlantic, Ireland has its' advantages for surfing, especially on the west coast.
T-Bay
Located on the south coast, Tramore boasts the largest surf club in Ireland. The waves here might not be the hottest but the crack is only great. There are many locals here and piece out in the water at the weekends is no longer a reality. The waves tend to be weaker than the west coast and a south west swell is by far the best for the main beach. A low passing into Biscay will give the best swell, not too many of them though!
Castle Freak
This one hell of a right hander. It must be home to the best wave on the south coast, a long peeling right hander with barrelling sections, much like the waves in France. Crowds aren't a problem here, yet!
Brandon Bay
There are plenty of waves to be found around this section of the coast line. Mossies is a classic wave and the ledge out at Gary William point is worth a go for those of ye experienced enough. The main beach in Brandon Bay (if that's what you want to call it) is a good wave to surf when everywhere else is blown out. A good north swell and south wind is what you want for this region.
Ballybunnion
Situated just up the way from Brandon bay this is the home of surfing in Kerry. There are some good waves to be had in this region with any kinda west swell running. The best winds would have to be easterly but there are some places that work on others.
Lahinch
Crowds are a major issue here, a Sunday in Lahinch is just crazy! But the quality of the waves around the region makes up for it. There are plenty of good beach breaks around the region and reef breaks are also plentiful. Lahinch and its' surrounding region provide a wide variety of waves and conditions for all surfers. The night life is good fun there as well. More that likely if there is a swell out in the Atlantic anywhere, Lahinch will have waves.
Easkey
Good old Easkey, here's a town in the middle of nowhere that provides travelling surfers with all there need. Unfortunately travelling surfers that come here don't seam to leave and Easkey gets very crowded, not good!! The waves here are quality, a good lefthander that hold a bit of size and about 200m down the road a smashing right-hander that is just what a natural footer needs. A north swell with southerly wind is the best.
Strandhill
Home to a good few local surfers, Strandhill is a class beach break. There is plenty of waves to be got and crowds aren't the worst. The town of Sligo isn't too far a bit of night life and there is nearly always waves. Like Lahinch, if there is a swell Strandhill will find something.
Bundoran
The king of Irish surf towns, good waves, good night life and plenty of sound locals to Drink with. Home to 'the Peak', Bundoran has everything and with a abundance of spots within walking distance of the town, it is by far the best spot to set up camp. If it is plenty of waves you want then this is the place. There will nearly always be some where to surf and if not, you'll find something to do!
Portrush
Home to the major population of Irish bodyboarders, Portrush has plenty of waves and an excellent night life. The best swell is one from the north, and since the Irish prevailing wind is southerly, you should be guaranteed some off-shore days during your stay.