Dear Student,
The College, established in 1968, the first senior cycle Institute in the Republic of Ireland receives no government funding, and enjoys complete academic freedom. The College is conveniently located in the heart of the city centre adjacent to the Cork Courthouse.
The College opened its Cork Law School in 1989 and offers conversion-to-law courses to non-law graduates who wish to train as solicitors. This enables the student to read for the Irish Law Society Final Examinations Part 1 (FE1) within one year after completing their primary degree. This course is also open to Diploma in Law students with five years' experience as Law Clerks. Full-time and part-time Revision Courses are available to Law Graduates wishing to sit the FE1 Examination.
Since 1990 we offer full-time day and evening courses for the LLB degree (External Programme, University of London); access courses in Law and Politics (University of London A-Levels) are also available. Courses are based on lectures given by experienced barristers, solicitors and academics with tutorials from honours research graduates. Lectures are well structured, tutorials are detailed with maximum student participation. Group study is guided; written assignments and trial examinations are compulsory.
Seminars are conducted by guest politicians, experts and academics. Video films on law topics are used to augment tutorials. There is a fully supplied law library and educational trips are arranged to the Irish Courts, the Court of Justice in Luxembourg and the Court of Human Rights in Strasbourg.
Why study Law? Law is central to Society. Every community has found a need to regulate the rights and duties of individuals, both to each other and to the State, and part of the fascination of studying law is to examine the widely varying methods used in this process. A law degree will develop powers of analysis and reasoning.
The key to success in a rapidly changing world is adaptability. As increasing emphasis is laid on specialist knowledge, there is a sharp rise in demands for critical and analytical skills, the ability to communicate by spoken and written word, the capacity for sustained effort and a readiness to work harmoniously and effectively with others. Holy Trinity College offers an environment in which these criteria are held in high regard. Mature students feature strongly in our community and their presence encourages a calm atmosphere in which academic study can flourish. Holy Trinity College's independence and reliance on fee income provide a sharper focus of student motivation.
I hope you will find interest in this website but there is no substitute for personal contact. The syllabus and formal outline of the course are a small part of the reality. Holy Trinity College is an exciting place to be and you will find a warm welcome should you decide to join us.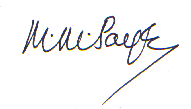 College Manager