The Name Kilkenny has always been associated with quality, crafts and excellence. Kilkenny is a county steeped in tradition and history. At the heart of the County is Kilkenny City, the former medieval capital of Ireland. With the splendid Kilkenny Castle, Black Abbey, Rothe House and other architectural treasures the city has a character and ambience like no other.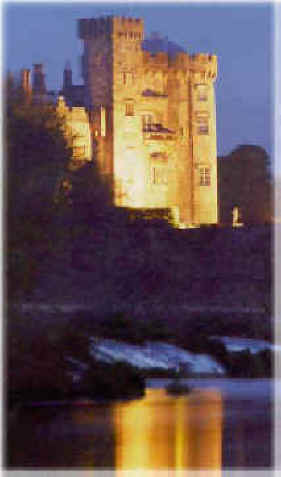 In the South there is Licketstown, the world-renowned Famine Village on the River Suir. Thomastown is home to Jerpoint Abbey, while in Callan the birthplace of Edmund Ignatius Rice can be found. Kilkenny's great hurling tradition is celebrated at the Lowry Meagher Heritage Center in Tullarone. Then there is the famous Dunmore Caves outside Kilkenny City.
Kilkenny is a great sporting County. While hurling is the premier sport, there is also horseracing, golf, fishing, and many other sporting activities. Mount Juliet's Golf Course just outside Thomastown is the most beautiful in the country. There are also courses in Kilkenny, Callan and Ferrybank. Gowran Park holds its horseracing festival in August, and has other meetings throughout the season. Fishing is plentiful in the many streams and rivers in the county.
With beautiful towns like Graignamanagh, and picturesque villages like Inistioge and Kilmacow, Kilkenny is an ideal place to spend some time when you visit Ireland.