How D'ye Spell That?
Welcome to the Cyberhome of the Prendivilles...or the Prendevilles...or the Prendervilles...or the Prindivilles...or the Prendables...or whatever the hell we're called! This clan of Norman descent appears to have acquired an inability on how to agree on the spelling of its surname. And not only that, but I reckon only a handful of people (not being one of our bewildered bunch) have ever spelt my name correctly without being coached by me, ergo the name of this page. Sometimes I've considered changing my name of Smith (or Smyth)...:-). But, shur, no matter, as they say in Ireland!
Even though I've been a member of the clan for over 30 years now, I know little enough about the origins of the name(s), but I intend to use this page as a forum for other members of the clan to display their knowledge (and to increase mine!).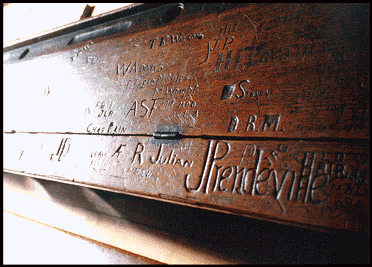 Here's a photograph taken in 1997 by Bob Estus, in Christchurch, New Zealand. Seems as if one of my ancestors was intent in carving out a career for himself...


---
Click here to see photographs of key Prendiville sites and other items of interest around my hometown of Castleisland, Co. Kerry. If any of your ancestors came from Castleisland, perhaps I can take some photographs of your cherished sites and display them on this page.. If you're interested, e-mail me . Any family photographs will also be gratefully accepted and will be proudly displayed in

.
Meanwhile, Christi Malone has some very interesting family history to impart right here

.
And I have transcribed a short biography of one of my own illustrious ancestors for your information. Click

, and please let me know if you find any typos...:-)
---
If you want me to carry a link to your e-mail address or your home page, you only have to ask. I'll be more than willing to link to you...! I'd be especially interested if you'd let me have a graphic image of yourself/selves, just so that I can put a face to the name...
---
Oh, and I have just set up a Prendy mailing list. Click here to join....

Member of the Internet Link Exchange