---

LEINSTER NEWS
News Archive
Highpoint for Eastpoint John Boewe
Eastpoint Table Tennis club maintained their winning form in the league by capturing the League Cup.

They beat UCD 7-5 in close topsy turvy match that had everything. The match was started at 6pm and finished at 11.30pm with John and Mark winning an amazing doubles match. The Eastpoint Team was Austrian player Bernard Weiss, and Dubliners John Bowe and Mark O'Flynn. John beat James 3-2 and Bernard beat james 3-2 which put Eastpoint in a commanding position. UCD was Englishman James Whiteman, German Player(Not sure of Name) and Dubliner Ross Cullen.

Dunshaughlin Table Tennis Club
The Dunshaughlin Table Tennis Club is holding our annual Christmas FUN tournament on Tuesday 27th December. It is a chance to run off the turkey and try out your new blades and rubbers. This is not an official tournament, it is a club event. We ran it last year with around 50 Juniors and it was a great success. We expect it to be larger this year. We have also added a senior event with the emphasis on fun.

We are inviting juniors ranked outside the top 5 in Leinster and seniors at division 3 or lower Leinster league standard. The Hall opens at 10.30 for warm up. We will have between 12 and 16 tables depending on demand. The focus will be on giving people as many games as possible. Prizes will be equipment/clothing from the Tommy Fitzgerald's Table Tennis shop which will be onsite for the day.

Age Groups
Boys U 12 Start 11.00
Boys U 14 Start 11.00
Girls U 12 Start 11.00
Girls U 14 Start 11.00
Seniors Mixed Start 12.30
Finished around 17.30
Players who arrive late for play will be scratched.

Entry Fees are €8 for juniors and €12 for seniors. Juniors can only enter one age group although a limited number of U14's will be allowed to participate in the seniors event. This will be decided on the day.

Payment is on the day but names must be submitted in advance to rob.cowan@iaa.ie or phone Natalie on 01-8258411.

Information required is Players Name, Date of birth, Club, Age group. Please provide a club contact (email and phone) when submitting entries.

Closing date for entries is Wed 21 December.

Location
Dunshaughlin Community Centre. It should take approx 15 mins from the M50/N3 junction. From the M50, take the N3 Northwards for 12 miles to Dunshaughlin village. At the end of the village the road forks, take the left and continue past the council offices (200M) on the left. A further 200M ahead take left into school (signpost on right) and community centre is at the rear. I will forward a map to clubs who are entering.

We have tried get to as many clubs as possible. Apologies to any clubs we have missed. Please feel free to pass this along in particular to junior clubs who are developing new players currently playing at the low to middle of the standard.
Regards
Rob Cowan
Dunshaughlin and Skryne Table Tennis Club

UCD Leinster & Irish Champions
University College Dublin Table Tennis Club completed an unprcedented 'treble' as they stormed to victory in the Leinster Cup, both retaining the title and adding it to the Premier League and Irish Universities titles won earlier in the season.

The decision by the players to participate in English tournaments ahead of Irish tournaments, made principally on foot of the new ranking system, and also the decision by key members to prioritise their Club ahead of non-existent opportunities at International level and an embarassiing international set-up, paid rich dividends for UCD this season.

UCD completed the third leg of their achivement with a 7-1 scoreline in the Cup Final against a St. Pauls team comprising old stalwarts Ollie Adamson, Tom Burke, 'youngster' Pat McLaughran and Jack O'Meara. The scoreline belies what was a tough and competitive fixture, as UCD had to come to terms with losing #1 Eoin Byrne to illness only hours before the match, with Patrick Green taking his place and joining Robbie Becker and James Whiteman on the team. Whiteman & Becker remained unbeaten, despite a tough match between the latter and O'Meara, while Green lost his first match on against Adamson, but recovered well to take a comfortable victory against O'Meara and set UCD up for the win.

Earlier in the week, in the semi-final, UCD accounted for a solid Pioneers team 7-0, where a full strength UCD team of Eoin Byrne, Ryan Jenkins and James Whiteman dealt with the challenge of Pioneers' Damien Lynch, Kevin Mackey and Dave Pemberton dropping only 4 sets. Jenkins & Whiteman took 2 singles each, while Byrne closed out the match with a 3-2 victory over Lynch.

UCD had already won the Premier League title for the first time since 2001, dropping only 1 point in a drawn match away to defending 3 time champions Eastpoint and finishing 3 points clear of Pioneers who they defeated at home and away. The season got off to a flying start, with the visit of old rivals Pioneers to Belfield early in the New Year. A UCD team of Byrne, Whiteman and Ross Cullen recorded a 7-2 win over Pioneers' Lynch, Mackey and Pemberton, with Damien Lynch taking Pioneers' only 2 points on the night.

From there on, the strength in depth of the UCD team really showed, as the selections rotated between a squad of 8, all of whom have played at international level. The backbone of the team was James Whiteman, who lost only 2 matches in the entire League campaign, recording wins over Irish Internationals Lynch, John Bowe & Conor Nolan, and taking the Individual title in the League.

The first leg of the 'treble' was completed in February, as UCD retained their Irish Universities title, taking the trophy for the 6th year in a row at the Championships in Belfast. Closest rivals UCC were defeated in the final, while in the Singles Championships Whiteman showed his class by defeating an in form Mark White(UCC) by a scoreline of 3-0.

UCD, supported by club sponsors Tibhar, Bank of Ireland, MRL, Marathon Travel and Cafe Brava, now look to the summer and the decision whether or not to take up the option of competing in the ETTU Cup in September.

UCD Squad; R.Becker, C.Byrne, E.Byrne, R.Cullen, P.Green, R.Jenkins, D.McNeill,J.Whiteman, E.Wrynn

Latest Leinster Junior Ranking Feb 2005
You can find the latest ranking Here...

Sam in Scotland by Paul Dolan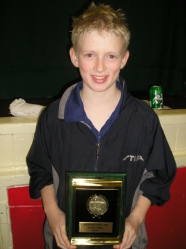 Sam Hanley from the ALSAA Table Tennis Club Dublin, added to his grand Slam of Irish victories the Leinster, Ulster, Munster, and National U12 Titles by winning the U13 Championship at the West Of Scotland Open In Glasgow this weekend he also won the U17 Band 2.

ALSAA club mate Daniel Keenan played with the Irish Cadet squad travelling to Scotland, and Junior Amy Tobin was selected to play on the Irish Ladies B team to play British League

It was after seeing how well Sam was playing in the Nationals and Munster Championships that Senior Club Coach Paul Dolan decided to send Sam, along with Irish No 4 Junior Shane Dolan and player coach Conor Fahy.

"While winning the event is an absolutely tremendous achievement by Sam the main reason for sending him was to expose him to stronger players in the UK and see how he got on, We also had great performances from Daniel Keenan in reaching the Semis in the U15 event with Shane Dolan losing in a tight 5th set to the Scottish No 4 seed."

ALSAA Table Tennis Club have large group travelling to next weekends Cotswold 4 Star Grand Prix in Cheltenham, comprising 11 players, club Coaches Phylis Kenny, Shay Logue and Paul Dolan, and a number parents. It's been a busy month for the progressive ALSAA Club.


Pat Nolans(Faircitys Barry O'Hanlon) Club in Conary, Avoca,Co.Wicklow.Tommy Fitzgerald organised an exhibition between John Murphy and Conor Nolan for the club

Tallaght Table Tennis Club Closes its doors
Just dropping you a line to let you know that it is with regret that Tallaght Table Tennis Club (originally Sacred Heart TTC) no longer exists. A lot of members have moved out of Tallaght and with a sever lack of interest in general, the club decided to close it's doors.

I want to take this opportunity to thank everyone in the club for all there hard work in the past and in particular Cyril Sweeny who was the original founder of the club back in the late 70's early 80's.

The fact that Tallght TTC did not have any junior members over the last 15 years, advancing on to senior level, indicates why the club has failed to survive. This only proves that juniors are extremely important members of any club and are the foundation to having a strong and stable club for the future.
Thanks Ian Hutchinson.

Dundrum Table Tennis Club
have been in the St Olaf's GAA clubhouse in Stillorgan Industrial Estate, Dublin 18 since Sept 03. We left the old club because the new owner wanted to use the land for something else, even though we own the clubhouse! We were paying rent for the land. We would have been better to be squatters! Anyway way are very happy with the new premises, the GAA committee, Larry Kinsela in particular have been more than helpful and accomodating. They installed new lights for us and provided a storage area where we can lock the tables away safely. They have a magnificent basketball arena, full bar facilities, wheelchair access (lift), and the function room, where we play is available for all kinds of activities. We have two new Stiga blue tables. The club nights are Monday and Thursday, 7.30 to 12.00. We are always looking for new members!

Club Secretary: Pat O'Kane, 36 Coolkill, Sandyford, Dublin 18, Tel: 01-2953668

INTERNATIONAL TABLE TENNIS CAME TO DUBLIN by Paul Dolan
OVER 300 SPECTATORS ENJOYED A FANTASTIC NIGHT OF TOP CLASS TABLE TENNIS. HOSTED BY STIGA IRELAND THE VENUE WAS COLAISTE PHADRAIG, LUCAN. THIS WAS THE SECOND NIGHT OF THE VISIT OF FORMER WORLD NO 1 PETER KARLSSON FROM SWEDEN AND WINNER OF THE EUROPEAN SINGLES CHAMPIONSHIPS IN 2000 AND THE TEAM CHAMPIONSHIPS 6 TIMES AND WORLD TEAM CHAMPIONSHIPS 3 TIMES.

Joining Peter on the Stiga Team was Irish No 2 Damien Lynch, from China Na Ning, and Former U17 Irish No1 Sabrina Conway from Ballymun. The Irish Team was lead by National Coach Colum Slevin who has been Irish No 1 for the past 20 years, still playing professionally in Germany and the highest ever ranked Irish player in World Table Tennis, also on the Irish team were Alsaa players Conor Nolan (Ir No 4) and John Murphy (Ir No 6) and Ladies No 1 Tara Fusco.

The match finished level 2 games each with Sabrina Conway being beaten 2 v 1 by the more experienced Tara Fusco. Connor Nolan with a great win over Damien Lynch 2 V 1, And the youngest player on the night John Murphy losing a great match to talented Chinese player Na Ning 1 v 2. The final match between these two masters of the sport and what a thrilling exhibition of World class Table Tennis this proved to be the Swedish No 1 eventually winning out 3 v 2 over the the Irish Champion. Some of the play was breathtaking with the players jumping over barriers to return some of the forehand smashes that were non stop by each of these great athletes.

This was a memorable night for fans that turned up with many vowing to make the trip to Belfast the following night, for the final night of Peter's mini tour, Such was the enthusiasm generated by this master class.

Congratulations to Stiga Ireland and Tommy Fitzgerald for putting on such a great exhibition.

Leinster Branch Officers elected at EGM 6/9/04
Chairperson Lola Cooke.
Treasurer Joe Lamon.
Hon Sec. Tommy Keenan.
Tournament Sec, Martin Hannon
President. Alex Thackleberry.
Development Liam Kelly.
Marketing. Stephen Walsh.
Coaching. Teresa Devaney.
Affiliation Sec Bernie Downey.
Paul Forbes.
Noreen Tobin.
Tony Martin.

Alsaa TTC Training Camp.
Special thanks to Colum Slevin,Jing Yi, Lu Na, Teresa Devaney and Phylis Kenny for their work in making this a very successful seven day camp