---


Goleen Table Tennis Club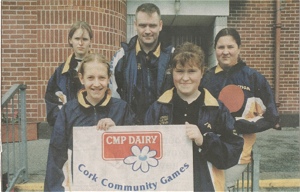 2002
Goleen & District Team win Bronze Medal at the Cork Finals of the Community Games.
The team was well supported by the local Community council, local business man Dermot Sheehan and STIGA. This was the first time the club has entered a team and everyone was well pleased. Team: Kloe Wood, Janna Bailey, Ronja Bailey, Alice Camier, NPC Owen Kelly.

Club Finds New Venue
The Goleen Club has moved from the Kilmoe Church to its new home at the Altar Hall at Toormore, the club has two tables and it is hoped will become a regular venue for the players around the Goleen area.

Two Goleen U12's are selected for Munster
Ronja Bailey and Eliza Wood were selected for the Munster U12 Team to play in Ballina Co.Mayo. Both players aquited themselves very well.

2001
Alice Camier was selected for the Munster U12 Girls Team. Deirdre Cotter & Kloe Wood were also selected for the second time but unable to travel.

2000
Two Goleen U12's are selected for Munster
Goleen TTC players Kloe Wood and Deidre Cotter have been selected to play for the Munster Junior Interparochial Team. This has been achieved within one year of starting the club and shows the level of committment by the youngsters of the Goleen and District. 7 out of the top 10 U12 Girls in Munster and 7 out of the top 20 in Ireland come from this club which trains on one table in an old church.

Goleen sent 10 juniors to the Cork Interparochial Championships for the first time ever.
RESULTS:
In the boys doubles Martin Hurley(Goleen) partnered Barry Horgan(Kinneigh) and lost in the final to Alan Hurley(Kinneigh) and Clive Sweetnam(Clonakilty)
Brian Clarke(Goleen) reached the Quarter Final of the U14 Boys.
Martin Hurely(Goleen) reached the Semi Final of the U12 Boys.
Janna Bailey(Goleen) reached the doubles Semi Final with Emer Maguire(Rosscarbery).
Jenny Kearney(Goleen) partnered by Diana Buttimer reached the Quarter Finals of the Girls Doubles.
Ranja Bailey(Goleen) also reached the Quarter Finals with Gillian Roycroft(Clonakilty)

GOLEEN SQUAD: Brian Clarke U14, Martin Hurley U12, Pat Scully U12, Daniel O'Driscol U12, Deidre Cotter U12, Ranja Bailey U10, Janna Bailey U12, Laura Louise O'Meara U10, Daria Parsapour U16, Jenny Kearney U10.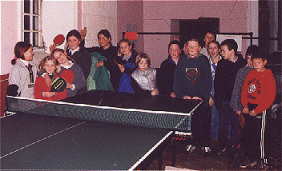 ---
Email Us For More Info