---


Shots of the past.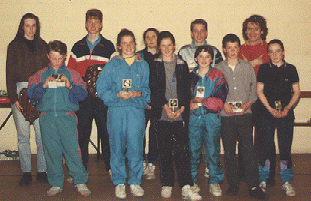 Sinead Twomey U17, Mike Lehane U17, Sarah Jane Jepson 2nd U17, Ken Gould U14 2nd, O.Kelly (WCTTA)
front row: Brian Fitzgerald U14, Olive Murphy U14, Gail Burchill U14 Plate, Ita Donovan U14 2nd Plate, Brian O'Reilly U14 Plate, Fiona Higgins U14 2nd.
"If memory serves me!"