---





VOTE



Munster Events 2004-2005


Stiga Ireland Presents
The Irish visit of PETER KARLSSON
Sweden's Peter Karlsson, European Singles Champion in 2000 will be in Colaiste Choilm at 8pm on Mon next 4th Oct There will be an exhibition match with Colm Slevin, our National Coach, and World Ranked Player. So if you would like to see Table Tennis "as it should be played", please come along
Admission is FREE !!!!!!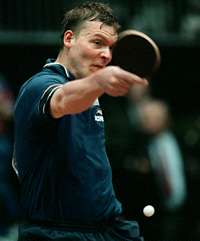 Peter Karlsson (SWE) Date of Birth - May 29, 1969, Height: 1.89 m /6'2".
Style - Shakehands, Right-handed topspin attack, both wings.
Club: Elan Nevers, FRA (ONS 06/08/04)
Coach: Peter Sternborg (ONS 06/08/04)
When and where did you begin this sport? Age seven, Sweden.
Why this sport? "My brother and I started to play at home."
Most influential person in career. His parents. "They helped me a lot when I was young." (Athlete 09/02/00)

Ambitions: To do my best and also have time to relax and enjoy life. (Athlete 09/02/00)

Titles:
2003 Croatian Open Finalist
2002 Italian Open Champion
2000 European Singles Champion
2000 European Team Champion
2000 World Team Champion
1999 Czech Open Men's Singles Semi-finalist
1999 Brazil Open Men's Singles Semi-finalist
1993 World Team Champion
1991 World Team Champion
1991 World Doubles Champion

Equipment:Stiga Allround , Stiga Mendo 2.0 Red and Black

Irish Calendar of Events