NEW BOY KNOXING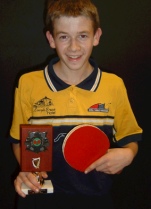 Keith Knox, from Trillick and a member of Kesh Table Tennis Club recently tasted success after a magnificent performance in winning him his first Irish Under 14 title at the Irish Junior ranking tournament in Cork at the last Irish Junior Ranking of the season. Keith showed that he was one of the best Under 14s in Ireland by beating No.5 seed Patrick Guy (Belfast) in the semi-final and then No.1 seed Shane Dolan (Dublin) in a thrilling and nail-biting five setter in which he won 11-8 in the fifth set. Needless to say Keith played his best Table Tennis ever, as his concentration and total approach to his matches was excellent.

Keith's brilliant performance continued through to the Under 17 event in which he beat one of Fermanagh's top Under 17 players Wayne Crawford in the Last 16 and went through to play No.2 seed Conor Fahy (Dublin). This was another epic match, which also went to the fifth set, and Keith was narrowly defeated by the very talented and experienced Irish International. Keith then progressed through to the 5th-8th place play-offs, where he met the No.4 seed Killian Healy (Cork) who proved a very awkward player to attack and his defencive style proved to difficult for Keith. Keith then had to play for 7th-8th play-off and defeated Jonathan Ray (Dublin) ( the No3 seed @ U14 level ), to finish 7th in the Under 17 event.

A number of National Coaches were very complimentary about Keith's success and he has certainly pushed himself firmly into contention for the Irish Squad to play at the European Championships in Yugoslavia during the summer. Keith is now off to Belgium to play in the International Youth Cup in Hasselt in June.

The Reggie Duncan Memorial Junior Tournament
The annual Reggie Duncan Memorial Junior Tournament took place in Kesh Community Centre recently. Once again it was well supported by all clubs within the Fermanagh League. It was just a pity it coincided with the Inter-Provincial Tournament in Belfast on the same date and therefore some of the cream of Fermanagh were representing Ulster on the same day. It did also give opportunities to others to show their competitive spirit and abilities on the table. The Kesh Club which organised the tournament had decided to introduce a new category for juniors ie U10 Boys and U10 Girls to allow those in their early years to show their potential and introduce a competitive edge to the future of table tennis in the county.

With now eight categories available, U10, U12, U14 and U17 Boys and Girls there was a large entry of 94 and play commenced at 2.00pm and finished at 9.30pm with group stages leading to knockout events, culminating in the finals.

In the U10 category there was a lot of entertaining games with both boys and girls finals being close encounters. Ivan Mayne overcame his brother Andrew in a tense shoot-out winning in 5 sets, Charlene Knox of Kesh's own club beat Ruth Trimble from Clogher in 4 sets only just winning 12-10 in the fourth.

In the U12 category Ruth Trimble again reached the final only to be beaten by a strong Gillian Alford from Newbliss, in the boys final Thomas Mayne comprehensively beat an up and coming Keith Clarke from Clogher in 3 straight sets.

In the U14 category Grant Ellis of Kesh regained his U14 title by defeating Thomas Mayne only just in 5 sets, Jayne Irvine of Clogher beat a surprise finalist Rachel McConkey of Newbliss to win her first Reggie Duncan Tournament category.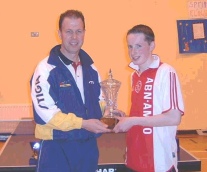 The U17 boys category proved to be the most intriguing of the days play. Leroy Carleton just returning from injury and the reigning champion had strong opposition from Mervyn Funston, Gervis Knox and Jordan Ellis. In the eventual semi-final line up Carleton overcame Funston and Knox despite being two sets down against Ellis regained his composure to meet Carleton in the final.

The final over seven sets based on European Rules was a close encounter with Carleton playing his all-round game of defence/attack, Knox using his top-spin backhands and forehands at times forced Carleton almost out of the hall. Carleton eventually won in 5 sets with scores 11-8, 11-6, 9-11, 11-7 and 13-11 and therefore retained his title for another 12 months.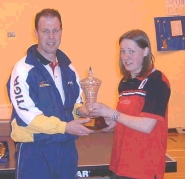 The U17 girls category was won by Ruth Whittaker, the innaugural winner in 2001, with Amanda Magee on Provincial Duty she disposed of her Clogher team mate Jayne Irvine 11-5,5-11,11-5 and 11-9.

This tournament has once again proved to be a huge success and the Kesh Club would like to thank all the participants along with the parents and helpers who ferried the children to and from the tournament.

The National Boys Brigade Table Tennis Competition.
The 2nd Enniskillen BB Company table tennis team recently won the Irish Section of the National Boys Brigade Table Tennis Competition The team consisting of Wayne Crawford, Jordan Ellis and Grant Ellis had several matches to play in the knockout competition. They travelled to Ballymena, Portadown and also entertained a team from Dublin on their way to the Irish Section final.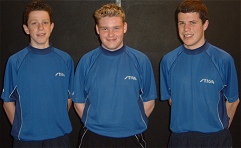 In the final they met a team from the 39th Company in Belfast, the reigning Irish Champions, they overcame their opponents quite easily to win the title for the second time in three years.

The team missed out on last year's competition because of the sudden death of their BB officer and table tennis coach Sandy Fulton, so it was fitting that they regained the title this year.

The boys now go on to represent Ireland at the BB United Kingdom National Championships to be held in Bristol this forthcoming weekend.

Ulster Mini Prix & Charity TT Tournament
Ulster Mini Prix & Charity TT Tournament at Gelnburn - organised by Ulster Veteran player, Peter Clarke, raising over £1000 for 'Friends of Montgomery House' Cancer fund:

Results:
Mini Prix Final Josh Boyd bt Wayne Crawford -5, 11, 5, -13, 7;
3/4 Playoff: Ivan Jeffers bt David Kyle 8, -8, 9, -9, 6
Ulster Hradbat Champs: David Kyle bt Jeremy Lappin -4, 6, 7, 7
Open Doubles: Naiu/Danielle Douglas bt Gillian Richardson/Barry Dickson 7, -8, 8, -6, 8

Ulster's titanic battle for gold
ULSTER stand at the threshhold of two gold medals at the Interprovincial table tennis Championships in Dublin but had it all to play for against champions Leinster.

Jonny Cowan and Jing Yi Gao opened with convincing victories over Damien Lynch and Sabrina Conway to go into a 2-0 lead over the host province, but Leinster battled back to lead 3-2.

Andrew Dennison lost 11-9 in the fifth set to Conor Nolan, Michelle McGreevy went down in four sets to Tara Bollard and then Daryl Strong lost out to John Bowe.

A Leinster veteran side lead Ulster 3-2 but Jenny Harrison spared the Ulster blushes with a victory over Teresa Deveney and then the Glenburn partnership of Norman Nabney and Willy Cherry recovered to defeat Dave Pemberton and Peter McCabe.

Meanwhile the Ulster Under 21s side were locked in battle with Leinster having earlier gone down to Munster.

Table tennis: Ulster teams far too strong 1st Day
ULSTER senior and veteran teams got off to a flying start at the inter-provincial championships in Dublin with resounding victories over Munster.

Daryl Strong was the hero of the senior team, surviving one match-point before beating Munster number one Mark White 3-2.

Jonny Cowan returned home to provide a clean sheet, joining Andrew Dennison, Jing Yi Gao and Michelle McGreevy in the 11-0 victory.

Willie Cherry made his debut for the Ulster veterans and also recorded a clean sheet as Ted Mahaffy's veteran team won 9-0 over Munster.

Norman Nabney battled hard to defeat Philip Shaw in the crucial opening encounter while Peter Clarke and Jenny Harrison were in top form in the Ulster win.

In contrast Munster defeated Ulster 9-2 in the under-21 encounter despite a brilliant win by Stuart Armstrong (Fermanagh) over the opposing No 1 Terry Conroy.

Ruth Whittaker and Haylet Glover made their debut for the under-21 side, teaming up with Mervyn Funston and Dane Smith under the joint captaincy of Na Liu and Jim Elliott.

Leinster took a vital 5-3 win over Connacht in the opening veteran round while champions Leinster easily defeated Connacht in the opening senior match.

Western set for shootout
MANY of Ulster's brightest young table tennis stars will be on show at the Golden Cow Youth Games in the Belfast Tennis Centre tomorrow when the Western squad defends its team trophy from last year.

Jim Elliott will call upon several Fermanagh coaches to tutor his young squad.

However, it is likely that the North Eastern and Belfast squads will challenge the Western supremacy with Andrew Dennison and Herbie Ross at the helms of these groups.

William Trimble steps up as senior coach to the Southern squad

All go for top duo
JOSH Boyd and Peter Graham continue their hectic schedule this weekend by representing Ireland at the Lancashire Junior 3 Star tournament.

Boyd, from Bangor, has had a topsy turvy season, following Ulster's disappointing silver medal at the Junior Boys' Interprovincial event at Ballina but deserves this elevation onto an Irish Select side alongside Ross Cullen, Ed Wrynn, Jonothan Ray, Shane Dolan and, of course, Graham.

Graham, indeed, was extremely disappointed when his Ulster Cadet side lost out by the narrowest of margins to champions Leinster at the Cadet Interpros.

Danielle Douglas and her Glenburn colleagues, Claire Nelson and Amy Kerr, provided a gold star performance at the Interprovincials to add to Ulster's four silver medals.

Meanwhile, Peter Clarke is back in action as tournament organiser for a new May Day tournament at Downpatrick and has included an invitation singles for Ulster top ten players.

Clarke will receive entries to his tournament which will support the Friends of Montgomery House charity, by telephoning 02892 682767.

Young Danielle steals the show
TEN-year-old Danielle Douglas stole the show at the Ulster Junior Championships with a a pair of singles titles.

The Lisnasharragh Primary pupil, tutored by Ging Yi Gao, easily won the U-12 title and then battled through five sets to oust Irish number one Amy Tobin (Dublin) in the Cadet girls five-set final.

Peter Graham added Ulster's third gold by claiming a further Irish Cadet honour, setting him head and shoulders above the U-14 opposition.

Patrick Guy (Inchmarlo) edged his way into the U-12 boy's final, only losing out in five sets to Michael O'Flynn with his Glenburn colleague, David Budden, in third spot.

Ulster took three other bronze medals as it prepares for the inter-provincial series at Ballina next weekend with Amanda Moggey (Junior Girls), Jervis Knox (Cadet Boys) and Claire Nelson (U-12 Girls) proving their worth.

Connor Mackle led the AIB Bank side to the inter-bank men's team title, teaming with Ossie Copes, Dave Gibbons and Alan Seymour, to retain the trophy.

Bank of Ireland, fielding Irish International, Michelle McGreevy, returned home as the most successful business, winning both women's and mixed team titles.

Results: Junior boys: 1, C Nolan; 2, C Byrne; 3, J Murphy; 4, S Brady.

Cadet boys: 1, P Graham; 2, E Wrynn; 3, G Knox; 4, J Ray.

U-12 boys: 1, M O'Flynn; 2, P Guy; 3, D Budden; 4, N McDonnell.

Junior girls: 1, S Conway; 2, L O'Sullivan; 3, A Moggey; 4, R O'Connor.

Cadet girls: 1, D Douglas; 2, A Tobin; 3, A Shorten; 4, L Healey.

U-12 girls: 1, D Douglas; 2, C Nolan; 3, C Nelson; 4, J Irvine.

Banking on Mackle
CONOR Mackle is back in the centre of table tennis organisation at Queen's University today, organising the Inter-Bank Champion- ships.

Mackle has been the centre-pin of the Queen's club for many years, jubiliant at the success of his senior team's success in winning the Belfast Premier Division.

He will feature on the reigning men's champion AIB side today, alongside Ossie Copes, Dave Gibbons and Alan Seymour.

However, AIB will need to be in top form to stay ahead of the Northern Bank who are able to field seasoned league players, Roy Copes and Stephen Bloomfield.

Bank of Ireland enter the event as women's champions and have been able to add Irish international Michelle McGreevy (pictured left), to their side and must remain favourites to grab further honours.

Meanwhile, Ulster's junior squad are in action at the Valley leisure centre in the Ulster Junior Open with junior coach Jing Yi Gao keen that her team members are well prepared for the Junior Inter-provincial Series at Ballina next weekend.

Northern Ireland Commonwealth tabletennis team manager Alan Strong has teamed up with Billy Stewart (Chef de Mission) and Jack Monaghan (team manager) to visit the Commonwealth Games venues in Manchester, as part of the preparation for the Commonwealth 2002 Games.

Table Tennis: Knox boys fly the flag
THE Knox brothers, Gervis and Keith, from Trillick, epitomise the vastly improved performance of Fermanagh table tennis players after being named in a group of six from the region to represent Ulster at the junior inter-provincial championships in Mayo on April 27.

The Fermanagh strength in the Ulster squads is challenged by the Belfast club Glenburn who has a representative number of five, including Irish number one cadet Peter Graham and Irish U-12 champion Danielle Douglas.

The Ulster party, managed by Noel Smith (Cavan) and coached by Jing Yi Gao, is hopeful of at least two gold medals to repeat its 2001 performance but also has its sights set on taking the overall Interprovincial Shield.

Ulster party - Junior Boys: J Boyd (Bangor), L Carleton (Fermanagh), S Brady and D Smith (both Cavan).

Cadet Boys: P Graham (Glenburn), D Stephens (Fermanagh), I Jones (Bangor), G Knox (Fermanagh).

U-12 Boys: D Budden and P Guy (both Glenburn), I Knox (Fermanagh).

Junior Girls: Amanda and Abigail Mogey (both Carnmoney), F Gibson (Bangor), A Magee (Fermanagh).

Cadet Girls: R Corrish (Carnmoney), R Walker (Antrim), O Smith (Cavan).

U-12 Girls: D Douglas and C Nelson (both Glenburn), C Trimble (Fermanagh).

Table Tennis: Irish travel far to face locals
IRELAND travel all the way to Zagreb in Croatia on Friday for the European championships ... to face local rivals Scotland and Wales in the men's Division Two opening group!

Irish champion Andrew Dennison and Ulster champion Daryl Strong team up with Irish national coach Colum Slevin and surprise new cap John Bowe (Dublin) for the top quality competition.

Scotland have been weakened by the absence of its national No.1 Euan Walker.

Ireland would hope to defeat Scotland but will need to be in top form, depending on Slevin's vast experience, to challenge the Welsh side led by Newtownabbey Grand Prix men's champion Ryan Jenkins.

Germany heads the seeding list for both men's and women's team events.

Andrew Dennison will need to be in top form this weekend and well rested as he plays a vital League match for Glenburn on Thursday before catching an early morning flight from Dublin en route to Zagreb, and this encounter with Annahilt requires the East Belfast champions to record a 10-0 victory in order for them to draw level with Queen's.

Slevin returns to Ulster
COLUM Slevin returns to Ulster in his new role as Irish table tennis coach this weekend and will oversee training and competition for his European Championship National side.

Slevin rose to fame as a 14-year-old starlet from Stillorgan, Dublin and soon moved on to a prolific professional career, playing in the German Bundesleague, and now in the twilight years of his career practises as a physiotherapist in Germany.

His appointment as Irish National coach was heralded as an innovative move and he takes in the Easter Challenge at Sixmile Leisure Centre, Ballyclare on Saturday.

Leading Irish player, Brian Fitzgerald, has opted out of both the European Championships in Croatia and the Easter tournament due to French League commitments leaving the door open for a repeat of the Irish Nationals final when Sixmile manager, Andrew Dennison, took the title ahead of his Ulster partner Daryl Strong.

Most of the Irish leading players will be in action at the Ballyclare venue on Saturday while Ulster's two Junior proteges, Peter Graham and Josh Boyd, have been given wild card entries into the elaborate round robin competition.

FERMANAGH OPEN WIN FOR DARYL
Omagh's Daryl Strong followed up his recent Ulster Senior Championship Belfast & District League Championship successes by winning the Men's Singles title at the prestigious Fermanagh Open Championships held at the Lakeland Forum, Enniskeane, on last Sunday. Daryl, Irish No.3, easily beat Gloucestershire based Ulster player, Brian McRandal, in the quarterfinal 11/4, 11/4, 11/6. In the semi-final, he came up against Chinese player, Patrick Lynn, currently in Dublin and a surprise semi-finalist. Lynn was considered to be a difficult opponent for Daryl. However, after a first set, which Daryl struggled to get to grips with the Chinese player's high quality serving technique, Daryl raised his game to win the next 3 sets 11/6, 11/9, 11/6.

In the final, Daryl met Irish and Ulster team-mate, Andrew Dennison, ranked No.2 in the country. After Daryl's success over Dennison in the recent Ulster Senior Championships Andrew was undoubtedly keen to reverse that result and win the final. What a final and titanic struggle it proved to be between two excellent exponents of the modern top spin game. Andrew won the first set 11/7 but after that the next four sets were evenly contested. Despite having a good lead in the 5th and final set, Daryl had to fight hard to win 12/10. The final result was: D. Strong beat A. Dennison 7/11, 9/11, 11/9, 11/9, 12/10.

In the men's Doubles, Daryl and his Queen's team-mate, Philip Wallace, seeded No.1, were surprisingly beaten in the semi-final by Chinese pair, Patrick Lynn and Peter Graham (Belfast).

SINGLES TITLES GO TO WELSH & CHINESE @ NEWTOWNABBEY GP COUNTY ANTRIM

The Welsh champion and no.1 Ryan Jenkins and Chinese student Liu Na lifted the menís and womenís open singles at the Butterfly Grand Prix held at Newtownabbey, County Antrim over the weekend. The Newtownabbey event, which has incorporated the Bangor Open, is the first tournament in Northern Ireland to be included in the Butterfly Grand Prix and attracted players from all over Britain and Ireland, as well as from Europe and Asia.






Jenkins, aged 23 and seeded 2, was the only player who was able to rally consistently with former England & Commonwealth champion Alan Cooke, outgunning the no.1 seed from Chesterfield, Derbyshire 6-11, 11-8, 11-5, 11-4 in the menís final. However, after dispatching Hungarian Gergely Urban 10-12, 11-6, 11-5, 11-8 in the quarters, he was fortunate to survive two match points in the 4th game whilst scraping through his semi-final clash with Jason Sugrue (Middlesex), 7-11, 8-11, 11-5, 12-10, 11-7. 22 year old Sugrue from Kingsbury, North West London, who is a stalwart of British League champion club London Progress, had caused the shock of the championships when he defeated Scottish and Home Countries champion Euan Walker in an epic 5-11, 9-11, 11-9, 11-9, 11-9 quarter-final match. Sugrue was so sharp that he is apparently exploring whether he is eligible to play for Ireland Ė his parents are of Irish origin although he has previously represented England juniors.




In his half of the draw Alan Cooke, 35, had comfortable wins over Scottish junior no.1/ senior no.2 Gavin Rumgay (11-5, 11-6, 11-9), and the former Cameroon international who is currently studying at Middlesex University, Marco Essomba (11-3, 11-5, 11-7) to reach the final and professed not to be too disappointed at not winning: ďThe top young players are practising all the time and making progress, so I feel happy if I can still beat them. And Ryan (Jenkins) is one of those players who can pull out the extra when it matters.Ē

18 year old Liu Na, who is studying English at Belfast Institute, was a bit too fast for English womenís champion Nicola Deaton (Chesterfield, Derbyshire), to pick up her second Butterfly Grand Prix singles title (her first was at Newcastle) with her 11-8, 11-6, 11-9 victory. 17 year old Louise Durrant (Worksop, Nottinghamshire), looked quite impressive against Liu in her 5-11, 10-12, 9-11 semi-final encounter (and in fact had taken a game off her in their under 21 womenís singles final, before losing 7-1, 11-9, 5-11, 4-11) and in the round before gained a hard fought 11-4, 11-6, 10-12, 6-11, 11-9 victory over Ulsterís Andrea Glover.

Nicola Deaton, who his finding her Psychology studies at Nottingham University demanding, had a comfortable 11-5, 11-8, 11-5 quarter-final win against Hungarian student Dorks Nagy, but in the semi-finals looked decidedly shaky against another Hungarian, a fired-up Barbara Kiss, who is studying at South Bank University, before fighting through 3 match points against her to gain the 10-12, 11-6, 11-7, 7-11, 12-10 verdict.

Alan Cooke and Ryan Jenkins combined to easily lift the menís doubles 11-3, 11-3, 11-5 over London Progress pair Marco Essomba & Jason Sugrue. In an excellent womenís doubles final Nicola Deaton and Louise Durrant only just pipped Liu Na and Chinese Ulster coach Jing Yi Gao 14-12, 8-11, 11-8, 9-11, 12-10.





Irish No.1 Brian Fitzgerald had an excellent tournament with a victory in five set in the Band One Final. Fitzgerald has dominated the domestic scene this season and he proved his abilities with a final win against in an exciting match against Niall Cameron (Scotland) 7-11, 13-11, 13-11, 6-11, 11-8.

Finals Results:

Menís singles (from semi-finals): Alan Cooke (Derbys) bt Marco Essomba (Surrey) 11-3, 11-5, 11-7. Ryan Jenkins (Wales) bt Jason Sugrue (Middlesex).

Final: Ryan Jenkins (Wales) bt Alan Cooke (Derbys) 6-11, 11-8, 11-5, 11-4.

Womenís singles (from semi-finals): Liu Na (China) bt Louise Durrant (Notts) 11-5, 12-10, 11-9. Nicola Deaton (Derbys) bt Barbara Kiss (Herts) 10-12, 11-6, 11-7, 7-11, 12-10.

Final: Liu Na (China) bt Nicola Deaton (Derbys) 11-8, 11-6, 11-9.

Menís doubles: Alan Cooke (Derbys)/Ryan Jenkins (Wales) bt Marco Essomba (Surrey)/Jason Sugrue (Middlesex) 11-3, 11-3, 11-5.

Womenís doubles: Nicola Deaton (Derbys)/Louise Durrant (Notts) bt Liu Na (China)/Jing Yi Gao (Ulster) 14-12, 8-11, 11-8, 9-11, 12-10.

Under 21 menís singles: Gavin Rumgay (Scotland) bt Anthony Glain (France) 11-7, 11-8, 11-4.

Under 21 womenís singles: Liu Na (China) bt Louise Durrant (Notts) 11-7, 9-11, 11-5, 11-4.

Veteran menís singles: Jimmy Robinson (Antrim) bt Trevor Campbell (Essex) 11-8, 11-4, 9-11, 11-5.

Veteran womenís singles: Teresa Devaney (Ireland) bt Jane Durham (Cleveland) 7-11, 11-9, 11-5, 2-11, 11-8.

Junior singles: Gavin Rumgay (Scotland) bt Nicol Craig (Scotland) 11-2, 11-6, 11-3.

Menís band 1 singles: Brian Fitzgerald (Ireland) bt Niall Cameron (Scotland) 7-11, 13-11, 13-11, 6-11, 11-8.

Menís band 3 singles: Brian McRandall (Gloucs) bt Roy Norton (Worcs) 13-11, 11-5, 12-10.

Menís band 5 singles: Anthony Glain (France) bt John Murphy (Ireland) 11-4, 11-9, 11-9.

Womenís band 1 singles: Jane Durham (Cleveland) bt Linda Mountjoy (Ireland) 11-8, 9-11, 11-9, 11-6.

County Umpire Course - Venue: Valley Leisure Centre, Newtownabbey
Date & Time: Saturday 1 December 2001;
Session 1 - 10.30 -13.30; Session 2 - 14.30-17.30;
Assessment will be held during Butterfly Super Grand Prix at Newtownabbey on 4/5 January 2002
Award: Irish Provincial Award (equivalent to ETTA County Umpires Award)
Tutor: Richard Scrutton (England) - International Referee & Umpire's Tutor
Applicants should be:
a. Over 16 years;
b. have working knowledge of competition Table Tennis;
c. be committed to contributing to ITTA Ltd Umpire provision in next 3 years;
d. be available to umpire at major events

Cost: £5 per head, with substantial support from ITTA Ltd, including copy of ITTF Rules

Applications to Miss Jing Yi Gao (Table Tennis) at House of Sport, Upper Malone Road, Belfast BT9 5LA, no later than 29 November 2001 Entries can also be placed by Email to wa.strong@ulst.ac.uk

4 Chinese Coaches/Players will visit Ulster in August 2001 to take a number of Caching Sessions across the province. To become involved, gain information or offer an invite to your area, contact Jing Yi, Gilbert Graham or Herbie Ross

Editorial
"Ken in Strong Lineup" was the headline in the Belfast Telegraph Table Tennis article on 9 June 2001 following the Ulster AGM. This headline made 3 significant and different points for all Table Tennis enthusiasts:
Table Tennis in Ulster owes a 'debt of gratitude' to Kenneth C Strong as he steps up from Chairman to the Honorary role of Ulster President after over 15 years in the engine-room of Ulster Administration (see tribute below)
The AGM was a lively event with a wealth of 'lively and stimulating debate', a range of Leagues represented and a selection of new post-holders, especially with Gilbert Graham FCA stepping into the leadership role as Chairman and Tom Heasley being elected as Affiliations Officer, after Stewart Reilly's retirement
Table Tennis depends on the media to get it's message out, so the regular presence in the leading daily is essential to developing a public profile and for informing the TT Family; But, don't forget this Newsheet with 5 issues in 00/01

ITTA (Ulster Branch) Ltd : Executive Committee (2001/2002)
President: K Strong; Chairman: G Graham; Hon Secretary: M Guy; Treasurer: Dr A Parke; Affiliations Officer: T Heasley; Schools' Secretary: T Phillips; Director of Coaching: WA Strong; Hon Auditor: RM Thompson; PRO: WA Strong; Committee: J Thompson, M Brady, P Clarke, D Coates, N Ellis, T Mahaffy, I Mogey, C Morrison, N Nabney, V O'Regan, S Reilly, N Smith, P Wallace, A Wright

Ken Strong & Stewrt Reilly have both served Ulster Table Tennis with distinction and commitment over many years. Strong, starting his career in Trillick, Co. Tyrone, was a dogged defensive player who broke the hearts of many leading players, with a string of successes to show for his efforts. He graduated to Ulster & Irish Coaching and Captaincy roles in the early 80's holding National posts for over 20 years. Reilly was a protegy from Limavady who had the distinction of gaining Ulster & Irish Senior honours in the presence of the famous trio of Langan, Caffrey & Thompson. He held several Admin posts including Belfast County Chairman and Ulster Affiliations Officer, Irish Vice-President anddelivered over 100 Coaching courses across Ulster. Both of these "unsung heroes" were awarded the Joe Veselsky Trophy for 'services to Table Tennis in Ireland'

Coaching
Coaching Courses at Level 0 (Initiator Award) and Level 1 are available for groups of 8+ players who wish to develop the art of Coaching, want to contribute to the future of Table Tennis and have 'time & patience' to work on a regular weekly basis with stars of the future

All Leagues are encouraged to arrange a Coaching Audit - to establish levels & activity of existing Coaches, simulate all Coaches into the NCTC system and to identify future Caoch Education needs

Contact Alan Strong (Director of Coaching) for fuller details and to arrange suitable times

TABLE TENNIS NEWSHEETS - What do you think of them? What should they contain; Could you write 70-100 words for 1 of the 6 issues? Where are the League Details?
For the record, in 2000/2001, the 6 issues covered:
September 2000: Equipment change: Tianjin Team Visit; List of Awards; Calendar
October 2000: Eddie Limberg Obituary; Press Clipping selection
November 2000: Coaching makes a Difference; Press Communications; Web pages
January 2001: Commonwealth Championship Plans; Coaching Courses; Andrea in France v April 2001: Frank Spalding death; Jonny - China; Foot & Mouth; Stannifer/Estonville Sponsorship

Thumb-nail sketch of activity since Easter:
N Irealnd Squad limp home from India, after severe 'stomach and mosquito' problems; Women take 8th spot, Men in 13th place; Cowan collapses with 2-0 lead; Heasley learns: "Need to go, BUT what a nightmare!"
J Cowan, M McGreevy & A Glover take their 'bites' to Osaka, Japan for record-entry Worlds: China take clean-sweep of titles; Ireland in 51 after promotion, Women in 53
Golden Cow Youth Games prove a "roaring success"; TT "milked it up"; "what a Tail!"
Western (36pts) take Team Title, ahead of N East (34) & S East (29); Junior Category: 1 S East(21), 2 N East(20) 3 West(19) 4 Southern(10) 5. B'fast (0) Cadet Category: 1 Belfast (24) 2 West (17) 3 N East (14) S East (8) 5 Southern (7)
Bangor Open was "outstanding success" with an unprecedented array of international players; Alan Cooke (England)) & Lu Na (China) won the top honours but ALL credit goes to Vincent O'Regan (Tournament Director) & his Team for the excellent event!
Foot & Mouth continued to play havoc with the Calendar, with Sen & Junior Inter-Pros being put off, but the Stannifer Ulster Junior Open was staged with Ulster successes
Ulster Juniors gained national selection recognition: P Guy (Home Countries Primary Schools) P Graham & J Boyd (Belgian Youth Event), S Brady & P Graham (European Youth Champs - Italy), Am Mogey, S Brady, P Graham(Home Countries Jun & Cadet)
Stiga sponsors Commonwealth Squad and Inter-Provincial Teams

RULE CHANGE!!!
(agreed at ITTF Meetings @ Worlds in May 2001) :
Abbreviated summary
Game : up to 11 pts or by 2 pt lead (at 10-all)
Match: Best of 'any odd number of games' - popularily taken as 5 games
Serving: Change service after each 2 pts; change ends in final game when 1 player has 5 pts
Expedite System: Intro after 10 mins in 1 game; not after 9 -all; continues to end of match
Intervals: 1 min between successive games; brief stop after 6 pts & 'change of end' in final game All changes have been endorsed by Ulster for Tournaments AND Leagues are advised to adopt

Ulster Senior Quartet of Jonny Cowan, Andrea Glover, Daryl Strong & Andrew Dennison share an impressive Grant of over £30,000 to assist with preparation for the Commonwealth Games at Manchester in August 2002. Michelle McGreevy also hopes to gain support

Table Tennis Sponsors Sought! - You are invited to search out potential sponsors to cover Events, Clothing, Travel, Equipment. This could be for your Club, League or Ulster event. Contact Table Tennis Office for details of Publicity Opportunities for Sponsors

Ulster Calendar will be issued in August 2001; it is hoped to include the 2001 Irish National Champs in the new season (Foot & Mouth casualty) as well as more Snr. Graded events and Jnr. Ranking events outside Belfast
---
Stop Press No. 1: 3 or 4 Chinese Players will visit Ulster in the Summer. Contact Herbie Ross for Coaching arrangements
Stop Press No. 2: Top English players Nicola Deaton & Alan Cooke will play at the Bangor Open on 24 March 2001

COACHING
Coaching Courses are currently being held as follows: Belfast - Level 1 for 7 Coaches (Nov 2000 - Jan 2001); Fermanagh - Level 1 for 14 Coaches (Dec 2000 - Jan 2001); Strabane - Level 0 for 8 coaches (Nov 2000 - Feb 2001); Belfast - Level 0 for 16 Coaches (Dec 2000 - Feb 2001)
Future Courses are planned: Cavan - Level 1; Belfast - Level 1; Fermanagh - Level 1
For details of Future Courses, contact Alan Strong (Director of Coaching)
Alan Strong has been approved as an accredited NCTC Coach Tutor, for delivery of TT Courses
5 Regional Schools of Sport, via Education &Library Boards, are being set up with Coach Coordination by Herbie Ross (Belfast); Jimmy Robinson (Southern); Malcolm Guy (S East); Andrew Dennison (N East); Jim Elliott (West)
Herbie Ross was awarded one of the 6 UTV Coach of the Year Awards in Dec., 2000 for his contributions in Ulster, Glenburn, Belfast Cross-community scheme over 20 years - Congratulations!

Affiliation Fees must be finalised with Dr Alex Parke (Treasurer) no later than 30 January; failure to sort this out could result in non-selection of players, etc

A recent grant from the Talented Junior Athlete Lottery Programme will assist with an innovative "Provision of Elite Table Tennis" [POETT} for 10 Junior players

All are invited to a 'Night at the Races' in Morrison's, Dublin Road on Fri., 31 March 2001 to assist with Fund-Raising for the Commonwealth Squad. For further information, contact Tom Heasley at 02890 966196 or 07733 238251

15th Commonwealth Table Tennis Championships
Indira Gandhi Indoor Stadium, New Delhi, India on 14-20 April 2001; should attract 20 nations, after success of the 14th Champs. in Singapore. We plan to send full teams, with final selection in late January. Defending Men's Champ, Matthew Syed (Eng) will not attend as he is the Labour Party candidate for Wokingham and will be preparing for the possible Election in Spring 2001

STIGA Irish Junior Ranking, Belfast: Results.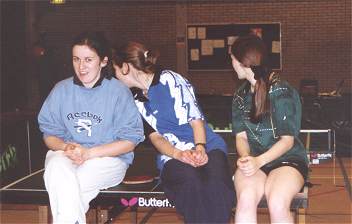 New Ulster Junior Rankings.

Table-tennis: Ulster's trio shine
THREE Ulster juniors stamped their authority on the Stiga Irish Junior ranking event at the Queen's PE Centre. And in doing so, they showed that Ulster is on its way back in the bid for Irish supremacy. Sean Brady from Cavan came home by the narrowest of margins to claim the junior boys' title and then Ian Jones from Bangor proved that he is capable of taking the Irish U-12 end-of-season title with a convincing victory over Noel McDonnell at Queen's PE Centre.
Peter Graham completed the hat-trick by grabbing the Irish ranking Cadet title to follow on from his under-12 supremacy last season.
He pulled out all the stops to recover from a one set deficit to easily defeat Killian Healey (Cork).
Linda O'Sullivan, also from Cork, won the junior girls' title, in the absence of Ulster's Allison Parke (Ballymena) who was unable to play.

Tribute to Edward (Eddie) K Limberg
Died Monday 25 October 2000
An Appreciation of Eddie Limberg
The following snapshot details can hardly play full credit to the character, courtesy and contribution of Eddie for the last 50 years, as thoughts and sentiments are raw and confused at his unexpected death, having presided, yet again, over a major sporting event - the Home Countries Veteran Championships in Dublin on 16/17 September; much help is still needed to express his record by dates and successes:

Played a key role in the progress and development of Table Tennis in Newtownards, in both Ards & Glenford clubs
Architect and Leader of many large local events, as organiser, Honorary Referee and Benefactor
Key Administrator in Ulster Branch on Executive, as Chairman (approx 20 yrs) and President (approx 10 yrs)
Irish Management Committee member, latterly as President
President and advocate of British Olympic TT Federation
Mentor, Selector, Non-Playing Captain and Manager to at least 3 decades of Ulster & Irish Junior & Senior teams
Donor of trophies to all levels of Table Tennis, including Senior and Veteran Home Countries Singles titles
Champion for Umpires and Referees; organiser of training
Avid supporter and founder member of Irish Veteran TTS
Leader in successful bid to attract Commonwealths to NI
Member of NI Sports Forum
Story-teller extraordinaire; connoisseur of good food and wine; seasoned traveller; "friend of all"

Tributes have been received from STTA, BOTTF (Alan Ransome), ITTA Ltd (Alex Thackaberry), Jim Ellis (Patron), SCNI, ETTA


You are invited to send in your comments, stories, records of Mr Limberg, as we assist in tracing his family

TRAGIC DEATH of Ulster & Irish President!

We are deeply saddened to inform you of the tragic and untimely death of our President, Mr Eddie Limberg, who was found dead in his home in Upper Malone Road on Tuesday 26 September 2000. Eddie's funeral took place at St. Brigid's RC Church, Derryvolgie, Malone Road, Belfast on Monday 2 October, followed by Roselawn Crematorium. Table Tennis was widely represented at the funeral, including Scottish Chairman, Mr David Clifford, and Lesley Ann Harris (Scottish Veteran Association), as well as many Ulster players and administrators.

As a mark of respect to our dear friend, this issue is dedicated primarily to Eddie and contains snippets of information about him. To present a full picture of his immense contribution to Table Tennis at home and overseas would be almost impossible as his career spanned over 50 years, and was liberally sprinkled with anecdotes, experiences and successes which add to the flavour of his colourful life and involvement.

The Belfast Telegraph Obituary (30 Sept., 2000) heading adequately summed up the sentiments of us all: "Sport loses a great friend" Written and spoken tributes have already been paid by several international friends, and these will be recorded for posterity as time unfolds, but Eddie's contribution and character surely could not be confined to the written word as many many people will have memories that could only be fully appreciated "in the telling!"

As opportunities and information sources arise, we will keep you informed, but time will not replace or indeed remove our memories of President Eddie Limberg" Ulster Branch Office Bearers & Executive
---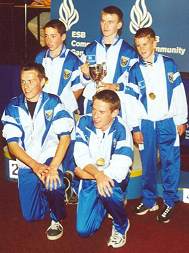 The Cavan Community Games team who won the U16 Competition was made up of Sean Brady, Peter Fitzpatrick, Sean Fitzpatrick, Ronan Flanagan and Dane Smith

Table Tennis: Daryl, Michelle make their mark
Results
DARYL Strong and Michelle McGreevy each grabbed second place at the Irish Senior classification tournament in Dublin, picking up where they left off with their mixed doubles success against Tianjin Province last week.

Daryl upset the seedings by taking out top player Brian Fitzgerald in his opening group of eight and then defeated Anthony Redmond in the semi-finals.

Meanwhile, Ulster's other leading performer Andrew Dennison finished top of his group but went out to Fitzgerald in the crossover semi-finals with Fitzgerald, as former Irish Universities champion and current Irish No.1, reversing the tables on Strong to take top place.

Michelle entered the women's event as favourite, having been rated No.1 in Ireland in the end of season listing, but went down 23-21 to Cork's Linda Mountjoy in the final set in the final.

Tianjin coach Xan Liu has returned to China but his two star players, Si Wing Mu and Xiao LI, remain in Belfast and are available for personal coaching, by contacting Alan Strong or Jing Yi Gao.

Irish Senior Classification tournament final places - Men's: 1, B Fitzgerald, 2, D Strong, 3, a Dennison; 4, A Redmond; 5, E Byrne; 6, A Monks; 7, Bowe; 8, S Spelman; 9, T Caffrey; 10, M White; 11, K Sabir; 12 T Dolan; 13, K Mackey; 14, W Cherry; 15, R Becker; 16, M McDonnell.

Women's: 1, L Mountjoy; 2, M McGreevy; 3, T Bollard; 4, T Devenney; 5, L Long; 6, R Fox; 7, S Conway; 8, L O'Sullivan.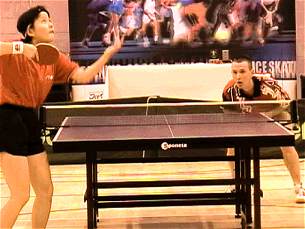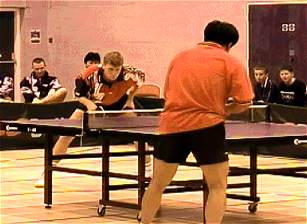 Darryl Strong v Si Ying Mu............................Jonny Cowan v Xun Liu
For Results On Match

GRAND PRIX WINNERS - 1999/2000.
Senior Men : Andrew Dennison
Senior Women : Jing Yi Gao
Veteran : Syd Beasant & Norman Nabney
Under 21 Men : John Coates
Junior Boys : Dane Smith
Junior Girls : Amanda Mogey
Cadet Boys : Peter Graham
Cadet Girls : Amanda Mogey
Under 12 Boys : Peter Graham
Under 12 Girls : Rebecca Corrish
MINI PRIX (Class II) : Phillip Wallace
MICRO PRIX (Class III) : Keith Gregg

AWARDS 1999/2000
ROLL OF HONOUR
∑ McCormick Trophy - "Best Senior Player" - Michelle McGreevy

∑ BHS Junior Award - "Most Improved Junior" - Dane Smith

∑ RUC Community Relations Cup - "Most Improved Cadet" - Amanda Mogey

∑ EK Limberg Award - "Most Improved U12 Player" - Peter Graham

∑ Bob Greer Award - "Ulster Boy's Champion" - Keith Clements

∑ Dale Farm Trophy - "Grand Prix Top Score" - Peter Graham & Amanda Mogey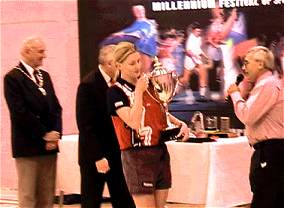 INTERNATIONAL TABLE TENNIS - Results

ULSTER
-V-
TIANJIN PROVINCE - CHINA

Tuesday, 22 August 2000, 7.15 pm
Lough Moss Recreation Centre, Carryduff.

ALSO FEATURING
AN EXHIBITION MATCH BETWEEN
ULSTER COACH - JING YI GAO and
HEAD TIANJIN COACH - XUN LIU

The Tianjin team will include
XUN LIU (once top 9 in China)
19 year old XIAO LI (top 8 National Youth Championships)
16 year old SI YING MU (5th in National Youth Championships)

The Ulster team will include
JONATHAN COWAN
ANDREW DENNISON

Come and enjoy a feast of top class Table Tennis
Refreshments will be available at the Interval
ADMISSION will be by programme price £2 (Juniors free)
THE SEASON STARTS HERE
PLEASE PASS THIS INFORMATION TO ALL INVOLVED IN TABLE TENNIS


Stop Press No1

Table Tennis has been included in the Golden Cow Ulster Youth Millennium Games, which will be staged in Belfast on 17 June 2000 5 Regions (covering Education & Library Boards), involving over 2500 competitors will compete in 17 sports, and our Squads have been allocated as follows:
Western: Fermanagh League (David Wilson)
North Eastern: Antrim League (Ian Mogey)
Belfast: Belfast Youth (Herbie Ross)
Southern: Greystones League (Percy Farrell)South Eastern: Bangor League (Morris McCullough/Malcolm Guy)

Stop Press No2

"40mm Table Tennis balls, weighing 2.7g, will be used at all Irish Senior and Junior Ranking Tournaments from 1 October 2000. Local tournaments and Leagues can continue to use 38mm balls", declared the ITTA Management Committee on 29 March. This was the most radical of 2 new laws and 4 new International Competition regulations introduced by the ITTF 2000 General Meeting. Ulster Branch strongly recommends that the 40mm ball is used in all domestic leagues and tournaments from 1 October. Sources will be advised to League Secretaries

Chinese Connection No1

16 th Bangor Open attracted 2 leading Chinese players from Liao Ning Province, and Liu Na (aged 16 years) graced the Arena by taking home both Women's Singles and Doubles titles, the latter with Ulster's Jing Yi Gao!

Chinese Connection No2

Three Chinese players/coaches will visit Ulster in August & September to coach and play. The visit is being arranged as part of the Belfast Youth Pilot Scheme (showing a new meaning to Cross-Community activity)

For details on Connection No2, contact the Office or Gilbert Graham (0802 694924)
Stop Press No3
Other ITTF Rule changes include: Law: "A player obstructs the ball if he, or anything he wears or carries, intercepts it when it is moving towards the playing surface and has not passed beyond his end line, not having touched his court since last being struck by his opponent" (Altered wording in italics) - Prize of three 40mm balls to the person who can state this law in "plain English" Competition
Regulation 1: Racket/Bat cannot be changed during a match unless it is accidentally damaged so badly that it cannot be used.
Regulation 2: Shirts may have 3 Advertisements on front and sides, with total area of < 200 sq. cm [ 15 cm x 15 cm]
Regulation 3: Referee can disqualify Coach who has been sent away from playing area
Regulation 4: Both players must be from same Association in World Championships doubles
COACHING UPDATE! "Good Coaching makes a Difference!"
Calling all league players and club organisers to register interest in becoming a Qualified Coach at Level 1, as part of the Irish National Coaching Development Programme. Opportunity now exists in Ulster to be tutored and assessed at Level 1 (18 hrs course contact; 2 hrs study; 6 hrs logged experience). Students may start at the "Initiator Award" - 12 hrs. Existing Coaches will be assimilated into the new grades (Level 1, 2, 3, 4) Coaches are encouraged to attend a Refresher Course, with a new emphasis on developing Personal Skills. All qualified Coaches in Ulster can benefit from individual membership of the NI Institute of Coaching with a. Liability Insurance -coaching or officiating; b. Legal Advice; c. Information. Leagues in Ulster have been invited to carry out a Coaching Audit to find out Need of Coaches; Levels required; identification of potential coaches; possible coaches courses. For any questions on Coaching, details of new schemes, opportunity to develop at National level or be involved with Ulster Squads etc, Contact: W Alan Strong.