---


VOTE



RESULTS

OK Marine 21st Bangor Open Results
Supported by NI Events Company. All Photos by Malcom Guy.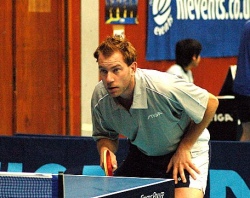 Men's Singles
Semi Finals
Fredrik Hakansson (Sweden) bt An Shu (China) 3-1
Magnus Mansson (Sweden) bt Alex Perry (England) 3-1
Final
Hakinsson bt Mansson 3-0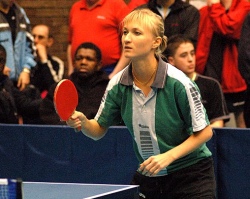 Ladies singles
Semi Finals
Petra Lovas (Hungary) bt Sabina Kazimagomedova (Russia) 3-0
Yue Jiao Wu (China) bt Na Liu (China) 3-1
Final
Lovas bt Wu 3-1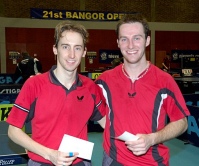 Open Doubles
Alex Perry/Terry Young (England) bt Colum Slevin (Ireland)/Gavin Rumgay (Scotland) 3-0

Veterans singles
Roberto Giontella (Italy) bt Abdul Wuraola (England) 3-2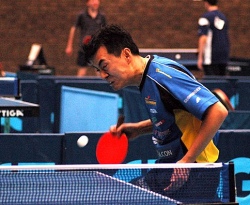 Mens under 21's singles
Yin Xin (China) bt Lucas Ryden (Sweden) 3-2
Ladies under 21's singles
Claire Nelson (Northern Ireland) bt Amy Tobin (Ireland) 3-0

Mens Band 1 singles
Giontella bt Na Ning (China) 3-0
Band 2
Thomas Openchowski (Poland) bt Marcus McDonnell (Ireland) 3-0
Band 3
Tom Heasley (Northern Ireland) bt Shane Dolan (Ireland) 3-0
Band 4
John Magnall (Isle of Man) bt Jack Cash (Northern Ireland) 3-0
Band 5
Mark O'Flynn (Ireland) bt Gavin Maguire (Ireland) 3-0
Band 6
David Nolan (Ireland) bt Stephen Keenan (Ireland) 3-0

Ladies Band 1 singles
Amy Tobin (Ireland) bt Teresa Devaney (Ireland) 3-0
Band 2
Brenda Munroe (Ireland) bt Niamh Hogan (Ireland) 3-0
Band 3
Kazimagomedova bt Judith Atwell (Northern Ireland) 3-0

Junior Boys singles
Craig Hardie (Scotland) bt Scott Johnston (Scotland) 3-2
Junior Girls singles
Claire Nelson (Northern Ireland) bt Kazumagomedova 3-0
Women's Veterans
Winner Theresa Devaney R/U Penny Perry


Graham's champion at the double in Scotland Belfast Telegraph 24 January 2005
Peter Graham claimed two titles at the prestigious Glasgow and West of Scotland Open Championships, while Na Liu and Claire Nelson grabbed headlines at the British Women's League.

Graham (Dundonald) struck U-21 men's gold, finishing with a brilliant 5-set victory over close Anglo-Irish rival David Hayes, and then Graham teamed up with 15 year-old Keith Knox (Tyrone) to win the Junior boys doubles, defeating Scottish internationals Craig Howieson and Scott Johnston in 4 sets.

Ryan Jenkins (Wales) was the toast of the West of Scotland event in winning the Drumchapel Club 'Battle of Britain' over Alan Cooke (England) and continuing by taking the men's singles, while Daryl Strong and Philip Wallace (Queen's) caused a series of surprises before limping out of the men's doubles semi-final with Strong suffering a finger injury.

Irish Ladies took silver medals in both Premier and Division 2 of the British Women's League. DML Woolwell were premier winners after a 'games count-back calculation' despite Na Liu (Ulster) being joint with Markets Myskova (Woolwell) in the individual stakes. Michelle McGreevy (Darragh Cross) and Tara Fusco (Dublin) provided valuable support. Claire Nelson (Glenburn) performed well with six victories for Irish Ladies 2, such that Arthur Brett's squad of Amy Tobin and Sabrina Conway joined Nelson as they moved from 4th to 2nd behind Draycott and Long Eaton.

Action moves to the Valley Leisure Centre on Saturday for the Ulster Championships. Entries to the House of Sport (02890 383811) before Tuesday.

Munster Open 2004 Full article
The finals were played out in front of a good crowd, with invited guests including the Lord Mayor of Cork and the Munster members of Team Ireland Special Olympic Table Tennis Team and Team Ireland Head Coach Arthur Brett.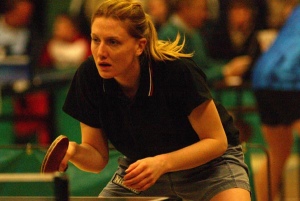 The ladies final saw Michelle McCreevy (Ulster), at the Munster Open for the first time, take out Irish No.1 Tara Fusco (Leinster) in a courageous semi final 11/13, 13/11,7/11, 11/5, 11/8. Elizabeth Dennett (Eng) one of Ireland's top juniors reached the ladies final for the second time in a row by beating Tara's sister Rhonda Fox in the other semi final 11/6, 7/11, 11/4, 10/12, 11/7. However Elizabeth wasn't able to topple Michelle and the ladies title took the long trip up to Belfast on a score of 13/11, 11/6, 4/11, 11/7.

Disappointment for Amanda in Junior Final
Elizabeth Dennett from England made it a good day for the foreign players taking the Junior title (Under-17) from Amanda Mogey (Ulster) 7/11, 11/9, 11/6, 15/13. In the semi-finals Amy Tobin took Elizabeth to the fifth set only to lose 11/7 and Fiona Mernagh took Amanda to four sets 11/6, 11/8, 5/11, 11/8. Amy finished 3rd with Fiona 4th. Amanda and Elizabeth now hold joint No.1 in the Irish rankings.

Athlone represented in Final
The winner of the U21 Mens title was Conor Fahy who overcame Darragh Keegan from Athlone in the final. This turned out to be a very exciting game 11/7, 9/11, 11/5, 9/11,11/6 with some fine table tennis being played in a see-saw battle. Brian Farrell finished 3rd with Simon Holohan 4th.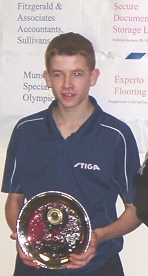 The winner of the U-17 Boys title was John Murphy who has a victory over Peter Graham in the final 11/7, 9/11, 11/9, 11/9. John took his revenge in the semi-final by beating David Hayes, who had beaten him in the senior event earlier in the day. Peter Graham overcame Keith Knox in the other semi-final 11/7, 13/11, 11/8. David finished 3rd with Keith 4th.

The Under-14 title went to the favourite, Keith Knox who had a victory over the improving Niall McDonnell 11/5, 9/11, 11/7, 11/8. Keith had earlier beaten Mark O'Flynn in one semi-final with Niall beating Gavin Maguire in the other semi. Even the ¾ playoff went to five sets with Mark beating Gavin 9/11, 13/11, 11/7, 7/11, 11/8.

Ulster Branch Primary Schools
ITTA Ulster Branch Primary Schools individual championships took place at the Glenburn Club on Wednesday 12 March 2003. Due to an unexpectedly high level of entries, an additional hall at the nearby Lisnasharragh School had to be brought into use. 188 competitors from all areas of the Province made this the biggest Primary Schools event in Ulster for many years.
The results were:
U12B 1st Paul McCreery (Incnmarlo)
2nd Marcus Maxwell (Incnmarlo)
U12G 1st Judith Atwell (Carntall)
2nd Lana Kaka (Rockport)
U10B 1st David Nicholl (Strandtown)
2nd Matthew McGuigan (Incnmarlo)
U10G 1st Rosslyn Blackburn (Carntall)
2nd Elaine McComb (Carntall)
U9B 1st Ashley Robinson (Clogher)
2nd Darren Reilly (St Clare's Ballyjamesduff)
U9G 1st Jenny Frazer (Downey House)
2nd Bronwyn McLean (Victoria College)
U8Mixed 1st Ciaran Reilly (St Clare's Ballyjamesduff)
2nd Daniel Braniff (Holy Cross, Belfast

Easter Challenge 2002
FINAL PLACINGS
1 E Byrne
2 D Strong
3 A Dennison
3 D Lynch
5 Na Lui
6 W Cherry
7 M MC Donnell
8 J Bowe
9 C Nolan
10 P Graham
11 J Murphy
12 C Byrne
13 N Nabney
14 P Wallace
15 S Dunne
16 T Sidebottom
17 J Lappin
18 T Mehaffy
19 J Boyd
20 R Carpenter
21 R Cullen
22 E Wrynn
23 G Crawford
24 P Clarke

Ulster Junior Open, 31/3/01 - Valley Leisure Centre.
U17 Boys:
1st John Murphy
2nd Colin Byrne
3rd Conor Nolan
4th Sean Brady
5th Dane Smith
6th David McNeill
7th Sean Givernaud
8th Andrew Boland
U17 Girls
1st Linda O'Sullivan
2nd Amanda Mogey
3rd Sabrina Conway
4th Margaret Burke
5th Fiona Boyle
5th Claire Quinlan
5th Rachel O'Connor
5th Abigail Mogey
U14 Boys
1st Josh Boyd
2nd Peter Graham
3rd Ronan Flanagan
4th Stephen Keenan
5th Andrew Loane
5th Shane Dolan
5th Gervis Knox
5th Edward Wynn
U14 Girls
1st Abigail Mogey
2nd Faye Gibson
3rd Grainne McKenna
4th Veronica Burke
5th Fiona Mernagh
5th Orla Fahy
5th Rachele Walker
5th Orna Smith

U12 Boys
1st Ian Jones
2nd Daniel Keenan
3rd Niall McDonnell
4th Patrick Guy
5th Andrew Holohan
5th Nigel Chan
5th Gavin Maguire
5th Shane O'Flynn

U12 Girls
1st Fiona Mernagh
2nd Danielle Douglas
3rd Orna Smith
4th Claire Nelson
5th Catherine Trimble
6th Victoria Gamble
7th Robyn McLean
8th Rebecca Bleakley
New Year Challenge 2001.
1 A Monks
2 A Dennison
3= E Byrne
3= D Strong
5 J Bowe
6 P Wallace
7 W Cherry
8 J Robinson
9 T Frempong
10 N Nabney
11 G Crawford
12 J Lappin
13 K Burke
14 M Burke
15= A Glover
15= M McGreevy
17 K Sabir
18 S Dunne
19 T Sidebottom
20 R Carpenter
21 R Coard
25 L Allen
26 B Gamble

Ulster Schools' Individual Championships
16 January 2001
Under 19 Boys
1 Gary Erskine RBAI
2 Matthew Corrie Belfast Royal Academy
3= Christopher McDowell Fivemiletown HS
Robert Fleck Ballymena Academy

Under 16 Boys
1 Keith Clements Ballymena Academy
2 Josh Boyd Regent House
3= Gary Ferson Ballyclare HS
Stewart Armstrong Fivemiletown HS

Under 14 Boys
1 Peter Graham RBAI
2 Gordon Ross RBAI
3= Chris Porterrbai
Andrew Davies Ballyclare SS

Under 12 Boys
1 Ian Jones Bangor GS
2 Ryan Walker Ballymena Acdemy
3= James Patterson RBAI
Daniel Gouk Rockport

Under 19 Girls
1 Helen Johnston Ballymena Academy
2 Helen Mahood Cookstown HS
3 Ruth Mahood Cookstown HS
4 Leona Dickson Ballymena Academy

Under 16 Girls
1 Amanda Mogey Antrim GS
2 Claire Dodds Glenlola Collegiate
3= Rebecca Kelso Cookstown HS
Lorren Crabbe Ballymena Academy

Under 14 Girls
1 Abigail Mogey Antrim GS
2 Faye Gibson Our Lady and St Patrick's College
3= Rachele Walker Ballymena Academy
Ruth Whittaker Fivemiletown HS

Under 12 Girls
1 Emma Wilson Ballyclare HS
2 Ashley McBride Ballyclare HS
3= Rebecca Stevenson Ballymena Academy
Serena Parsons Rockport

STIGA Irish Junior Ranking, Belfast: Results.

Irish Senior Classification tournament final places
Men's: 1, B Fitzgerald, 2, D Strong, 3, a Dennison; 4, A Redmond; 5, E Byrne; 6, A Monks; 7, Bowe; 8, S Spelman; 9, T Caffrey; 10, M White; 11, K Sabir; 12 T Dolan; 13, K Mackey; 14, W Cherry; 15, R Becker; 16, M McDonnell.

Women's: 1, L Mountjoy; 2, M McGreevy; 3, T Bollard; 4, T Devenney; 5, L Long; 6, R Fox; 7, S Conway; 8, L O'Sullivan.

---
International Table Tennis Ulster v Tianjin Province (China)
Results
1. Michelle McGreevey lost Si Ying Mu 13-21, 9-21
2. Jonny Cowan beat Xun Liu 21-16, 21-17
3. Andrew Dennison lost Xiao Li 9-21, 17-21
4. Darryl Strong lost Si Ying Mu 16-21, 11-21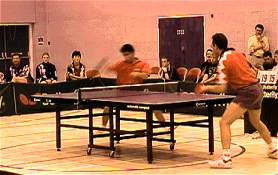 EXHIBITION MATCH
Jonny Cowan beat Jing Yi Gao 21-13
5. A Dennison/W Cherry lost Xun Lui/Xiao Li 14-21, 11-21
6. M McGreevey/ D Strong beat 11-21, 21-19,
Si Ying Mu/Xiao Li 21-17

MATCH RESULT Ulster 2 Tianjin 4
---


Ulster Women scored a brilliant success in the British Women's League by easily winning Division 1, with 9 wins and 1 draw. Tom Heasley's side of Jing Yi Gao, Jennifer Thompson and Nora Tallon promoted to the Premier Division and were declared the "Team of the Weekend". Irish Ladies missed out on Premier glory and could face Ulster in 2000!

Commonwealth glory was not to be in Singapore, with stiff opposition and difficult draws being the order of the event, with 19 nations entered. Best performance was reserved for Andrew Dennison and Andrea Glover who got to the Quarters of the Mixed Doubles. Men finished 11th, and Women took 8th place, AND sights are now set for India in 2001.

16 th Bangor Open was the best yet! Vincent O'Regan assembled the best field of players in Irealnd since the heady days of the 1991 Milk Irish Open in Maysfield when 13 nations played in front of capacity crowds

Sean McAnaney and Vincent pulled off a coup in attracting Lui Na and Wang Zi from China, with the 2 entertaining players acting as coaches to the Ulster Junior Squad

The North Down Institute of F&HE proved to be an adequate venue for the record entry of over 100 players, but Bradley Billington stole the show with a hat-trick of titles in Men's Singles (over Marco Essomba), MD with Essomba and XD with Nicola Deaton (England)

Michelle McGreevy (Raffrey) came of age in the Irish National Championships by adding her first National Women's title to the Leinster Open victory, defeating Tara Bollard (recently spotted in Hollywood!), and sharing the WD with Andrea Glover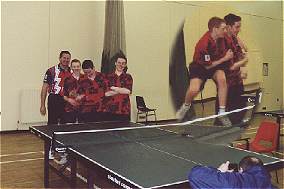 Ulster failed to make an impact in either the Abbey Centre Senior Inter-Provincial Championships in the Valley Leisure Centre or in Cork at the Junior Championships, taking silver or bronze across the board.



Ulster Junior Open
25-03-2000
Valley Leisure centre
NEWTOWNABBEY


Junior Boys
S.Brady
D.McNeill
C.Byrne
D.Smith
C.Nolan
C.Curtis
T.McDonagh
S.Givernaud
Cadet Boys
K.Healy
S.Givernaud
J.Murphy
A.Boland
C.Nolan
B.Farrell
P.Graham
B.McDonnell
U12 Boys
P.Graham
S.Dolan
J.Ray
C.Shields
I.Jones
C.O'Brien
L.Barry
S.O'Gorman
Junior Girls
L.Long
J.O'Sullivan
L.O'Sullivan
V.Ray
M.Burke
R.O'Connor
R.Lord
C.Roche
Cadet Girls
R.Lord
R.O'Connor
Am.Mogey
S.Tummon
G.Coughlan
A.D'Arcy
J.M.Collins
Y.Hurley
U12 Girls
F.Mernagh
R.Corrish
A.Tobin
J.Rea
O.Smith
J.Williams
D.Douglas
D.Savage


Ulster Primary Schools' Team Championships 2000

Under 11 Boys
1st = Inchmarlo 'A' and Holy Cross 'A' after a 2-2 and 5-5 draw
3rd = Inchmarlo 'B' and Inchmarlo 'C'

Consolation event
1st Inchmarlo 'D' (2-2 and 5-4)
2nd Inchmarlo 'E'

Under 9 Boys
1st Holy Cross (4-0)
2nd Lisnasharragh 'A'
3rd = Inchmarlo and Sacred Heart 'A'

Consolation event
1st Downey House (4-0)
2nd Sacred Heart 'B'

Under 11 Girls
1st Downey House (4-0)
2nd Rockport

Under 9 Girls
1st Lisnasharragh only entry - played in the boys' event.

Cookstown Junior Open 2000 - Results

Under 11 Girls
1st Orna Smith
2nd Danielle Douglas
3rd Catherine Trimble
4th Hannah Butler
5th Robyn McLean
6th Tara Thompson
7th Jenna Watt
8th Fiona McKee

Under 12 Girls
1st Rebecca Corish
2nd Orna Smith
3rd Danielle Douglas
4th Danielle Savage
5th= Hannah Butler, G Watters, Fiona McKee

Under 14 Girls
1st Amanda Mogey
2nd Abigail Mogey
3rd= Faye Gibson, Rebecca Corish
5th= Claire Dodds, Rachelle Jackson, Sarah Rea, Rebecca Kelso
9th= Kelly Anderson, Sarah Fleming

Under 17 Girls
1st Amanda Mogey
2nd Abigail Mogey
3rd Ruth Mahood
4th Sarah Rea
5th Helen Mahood
6th Rebecca Kelso
7th Laura Fleming
8th Sarah Fleming
9th= Rachel Kelso, Victoria Watson

Under 11 Boys
1st Ian Jones
2nd Patrick Guy
3rd= Nigel Chan, Kyle Crawford
5th= David Budden, Max Gilbert, Jamie Thompson, Fergal Flanagan
9th= Joshua McLean, Jonathan McKee, Alexander Minter,

Under 12 Boys
1st Peter Graham
2nd Ian Jones
3rd= Aaron Kelly, Andrew Loane
5th= Patrick Guy, Gareth Dunlop, Fergal Flanagan, Nigel Chan
9th= Neil McKee, Daniel Prekop, Jonathan McKee, Grant Ellis, Kyle Crawford, Michael Watson, David Budden, Raymond Miller

Under 14 Boys
1st Peter Graham
2nd Josh Boyd
3rd= Gordon Ross, Sean Fitzpatrick
5th= Mervyn Funston, Ronan Flanagan, Leroy Carleton, Philip Chan
9th= Gareth Dunlop, Philip Morton, Chris Porter, Gordon Ellis
13th= Daryl Hazzard, Andrew Loane, Stewart Armstrong, Christopher Prekop, Colin Loane, Neil McKee
20th= Gordon Ellis, Rodney Smith, Stephen Brown, Roger Sloan, Peter Sloan, Mark Walker

Under 17 Boys
1st Andrew Carleton
2nd Keith Clements
3rd= Josh Boyd, Leroy Carleton
5th= Peter Fitzpatrick, Gordon Ross, Ronan Flanagan, Mervyn Funston
9th= George McMahon, Stewart Armstrong, Sean Fitzpatrick, Chris Porter,
Mervyn Glasgow, Alastair Freeburn, Clarke Hill, Neil Freeburn
17th= Mark Johnston, Jonathan Gamble, Andrew McMahon, Robbie Gilmour, Gordon Ellis

Ulster Junior Closed 2000 - Results

Under 9 Girls
1st Danielle Douglas
2nd Danielle McLeod
3rd Robyn McLean
4th Tara Thompson


Under 11 Girls
1st Hannah Butler
2nd Lucy Robinson
3rd Kerri Handley
4th Chelsey Kaka


Under 12 Girls
1st Rebecca Corish
2nd Philippa Baird
3rd Danielle Savage
4th Hannah Butler


Under 14 Girls
1st Faye Gibson
2nd Abigail Mogey
3rd Claire Dodds
4th Rachelle Jackson


Under 17 Girls
1st Abigail Mogey
2nd Sarah Rea
3rd Faye Gibson
4th Claire Dodds


Under 9 Boys
1st David Budden
2nd Jonathan McKee
3rd Alexander Minter
4th Nathan Flynn


Under 11 Boys
1st Ian Jones
2nd Nigel Chan
3rd Jamie Thompson
4th Max Gilbert


Under 12 Boys
1st Peter Graham
2nd Ian Jones
3rd Aaron Kelly
4th Andrew Loane


Under 14 Boys
1st Peter Graham
2nd Josh Boyd
3rd Gordon Ross
4th Sean Fitzpatrick


Under 17 Boys
1st Keith Clements
2nd Josh Boyd
3rd Gordon Ross
4th Peter Fitzpatrick


ULSTER PRIMARY SCHOOLS' CHAMPIONSHIP 2000
RESULTS
Under 12 Girls
1st Jenny Collins (Downey House)
2nd Jill Richardson (Downey House)
Consolation 1st Juliet Cooke (Rockport Prep)

Under 10 Girls
1st Lucy Robinson (Rockport Prep)
2nd Serena Parsons (Rockport Prep)
Consolation 1st Juliet Cooke (Rockport Prep)

Under 9 Girls
1st Danielle Douglas (Lisnasharragh PS)
2nd Robyn McLean (Victoria College)
Consolation 1st Tara Thompson (Victoria College)

Under 12 Boys
1st Ian Jones (Connor House)
2nd James Patterson (Inchmarlo)
Consolation 1st Michael Burke (Inchmarlo)

Under 10 Boys
1st Patrick Guy (Inchmarlo)
2nd Nigel Chan (Inchmarlo)
Consolation 1st PeterShields (Inchmarlo)

Under 9 Boys
1st Deaglan McNeill (Holy Cross PS)
2nd Niall Hawkins (Holy Cross PS)
Consolation Joint 1st Alexander Minter (Lisnasharragh PS) and David Graham (Sacred Heart PS)

ULSTER SECONDARY SCHOOLS' SINGLES CHAMPIONSHIP 2000

RESULTS

Under 19 Boys
1st Gary Erskine (RBAI)
2nd Jonathan Fay (RBAI)

Under 16 Boys
1st Mathew Corrie (BRA)
2nd Keith Clements (Ballymena Academy)

Under 14 Boys
1st Josh Boyd (Regent House)
2nd Gordon Ross (RBAI)

Under 12 Boys
1st Peter Graham (RBAI)
2nd Matthew Holmes (Ballyclare HS)

Under 19 Girls
1st Desirée Todd (Ballymena Academy)
2nd Katie Morrison (Ballymena Academy)

Under 16 Girls
1st Alison Parke (Ballymena Academy)
2nd Kelly Anderson (Cookstown HS)

Under 14 Girls
1st Amanda Mogey (Antrim GS)
2nd Faye Gibson (Our Lady and St Patrick's College)

Under 12 Girls
No Entries