Jerpoint Abbey.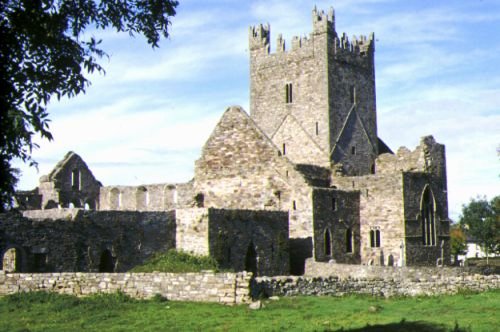 The dark, biscuit-coloured tower of Jerpoint Abbey, with its battlements, rears above a bend on the road south of Thomastown. The Abbey is one of the most awesome religious remains in Ireland, Yet because many of its domestic arrangements are still recognisable, it also gives an intimate picture of monastic life.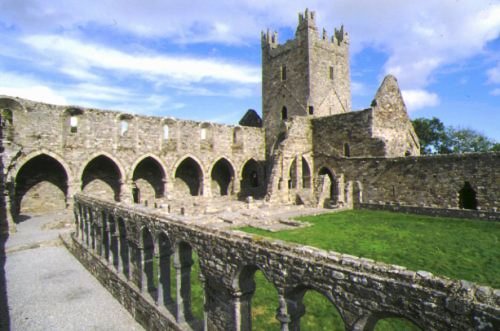 The present Cistercian structure dates mainly from about 1180 to 1200, and was probably built on the remains of a Benedictine abbey founded about 1158 by Donal MacGillapatrick, King of Ossory. The oldest parts are the Irish-Romanesque transepts and chancel, where Bishop O'Dulany lies. He died in 1202. The east window above dates from the 14th century and the magnificent central tower was added in the 15th. Also in the chancel are faded wall paintings, said to be of the transcepts bear stylised portraits of saints. The long run of the nave, where the choristers sang, was completed before 1200. Wooden steps still follow the run of the night stairs down which the choral monks decended to night office. By going up them you reach the roof to look down upon the Dublin-Waterford railway line.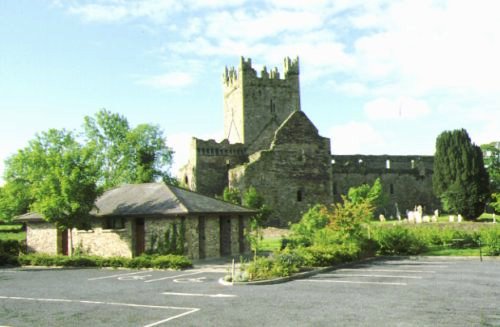 The restored cloister piers carry carvings of knights and ladies , bishops, dragons, and even a man with stomach-ache, echoing the drawings found on medieval manuscripts. The abbey was dissolved in 1540 and its 1880 acres were presented to the earls of Ormonde. A touch of continuity with the past is that local people are still buried in its cemetry.

Back To Kilkenny.
Kilkenny Castle, Saint Canice's Cathedral, Rothe House, Black Abbey, Kells Priory, Tullaherin, Cantwell Fada, Jerpoint Abbey, Inistioge.