Seatown Castle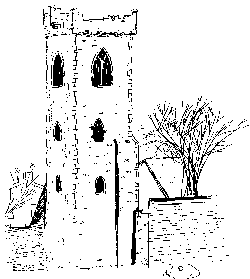 It is one of the oldest landmarks in Dundalk and is at the end of our street. It isn't really a castle. It's a bell tower of a Franciscan monastery which was founded by John de Verdon in 1240.
It has recently been restored and it now looks very well. There used to be a seat under it where old people sat and watched the world go by.
Seatown Windmill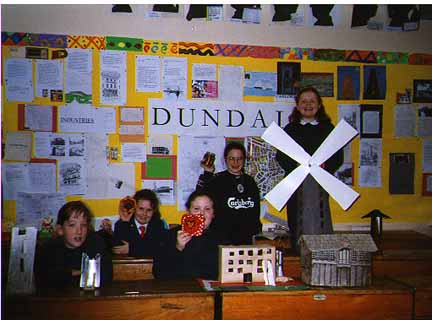 When we look out our classroom window we can see Seatown Windmill. It is seven stories high and was built in the early 19th. century where there was once a brewery. It was no longer used after 1885 and the wooden parts were taken down in 1890.
It is hoped to restore it to its former glory and put the vanes back on as a Millenium Project.
The Windmill
The windmill is located between Seatown Place and Mill St. towards the Eastern side of Dundalk. The mill was built by a Mr. Martin in the early 19th century on the site of a former brewery. The building is seven stories high and contained five pairs of stones for grinding the oats etc. into flour. These stones were turned by gears that were connected to the wooden sails. These sails were turned by the wind.
Due to the height of the building it can easily be seen from outside the town. The windmill has not been used since 1855 and it's sails were taken down in 1870 because they were in a dangerous condition. It is a pity that the windmill has lost it's sails as it looks sad without them. It would have been lovely to see the sails turning in the breeze!
By :Sarah