WEEKLY SESSION O'CONNELL'S OF GLANMIRE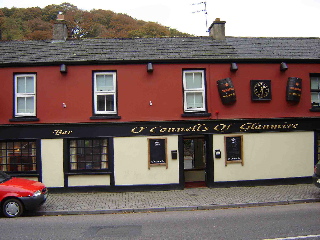 Fáilte romhat go dtí an Seisiún in O'CONNELL'S!
Music Sample: The Blackbird (mp3 format) [click here]
Tomás holds a weekly session of music and song at O'CONNELL'S pub in Glanmire, on the outskirts of Cork city, every Tuesday evening at 9.30 pm. Admission is free and everyone is welcome, whether as player (any instrument), singer (Irish, English, or whatever!), storyteller, reciter of poetry, or interested listener.
Recent performers with Tomás (all of whom are included on the new Video of O'CONNELL'S) are:
Bonnie Shaljean, Sinéad Cahir, Seán Ó Sé, John A. Murphy, Áine Meirbhic, Charlie Healy, Tadhg Lynch, Dolores Healy, Domhnall Mac A' Bhaird, Ann Mullen, Barry Looney, Cliff Wedgebury, Tom Mullins, Mary Canniffe, Barry O'Connell, Maeve O'Hare, Margaret Walsh, Bob Jennings, John Spillane, Pat Speight, John Maguire, Rosina Joyce, Mícheál Ó Fearghail, Gus McLaughlin, Treasa Ní hEalaithe, Neil Chambers, Gerry O'Neill and Hugh Maguire.
Fortunately for everybody,
they won't all be there on any one night!!