---
While the four photographs further down the page are loading, you may wish to read about a quiz prize, and a poetry competition that Finnerty's have decided to sponsor:
It has been noticed that there is a spelling mistake in one of the three New Inn Primary school poems published on this web site a few weeks ago.
A prize of one hundred and fifty 1 penny sweets will be awarded (by Finnerty's) to the pupil who first spots the mistake. (Note: Prize chosen to make sharing with fellow pupils easy - if winner feels so inclined.)
Additional clues for finding the wrongly spelled word:

It would probably not be found by any normal kind of computer spell checker;

Word refers to small animals with wings - who may be related to the Dracula family of Transalvania (which on the map is to the east of Ballinasloe).
Rules:

Winner must be a pupil attending New Inn Primary School;

Winner must tell somebody at Finnerty's what the wrongly spelled word is before the Summer holidays start on Friday June 25th. (NOTE: anybody who crosses the road during school hours to tell us the answer to this quiz, without first getting their teacher's permission, will be disqualified.)
---
NOTE ADDED ON JUNE 25th 1999
The above quiz prize has been won - for details please see end of page.
---
Finnerty's were surprised and delighted by the high standard of some of the poems written by local children, and we wonder if more new material could be produced during the long Summer holidays? (If there is a strong enough demand for it, we may be able to provide a quill sharpening service!)
Provided we get at least eight entries before September 1st 1999, we will give cash prizes (in mid-September) to the three poems we feel are the best: £5 for first, £2.50 for second, £1.25 for third, and one hundred and twenty five 1 penny sweets to be shared between the runners up.
Note added on October 7th 1999:
Sadly, the condition regarding a minimum of eight entries mentioned in the paragraph above was not met, and consequently the competition never too place. This we think is a definite set back for world literature. However, there may be other opportunities later.
Also, the three winning poems will be published on the Internet; and, if the standard is high enough, some publishing organizations (in places like Dublin, London, New York, Sydney etc.) could easily be sent Emails - with suggestions that they might find it interesting to have a look at the winning poems on this web site. (Nothing ventured, nothing gained!)
Rules:

Poem can be on any subject;

Only one entry per person allowed;

All entries must be handed in on a piece of paper (with name and age included) to someone at Finnerty's before September 1st 1999;

Competition is only open to pupils who are at present (June 23rd 1999) attending New Inn Primary School.
---
Father Kenny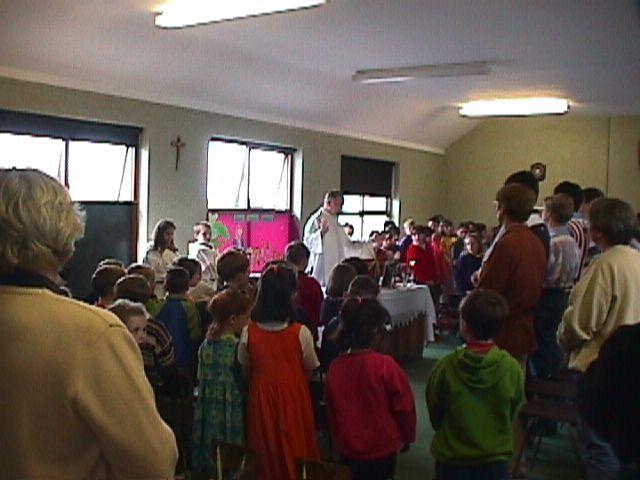 1999 New Inn Confirmation Group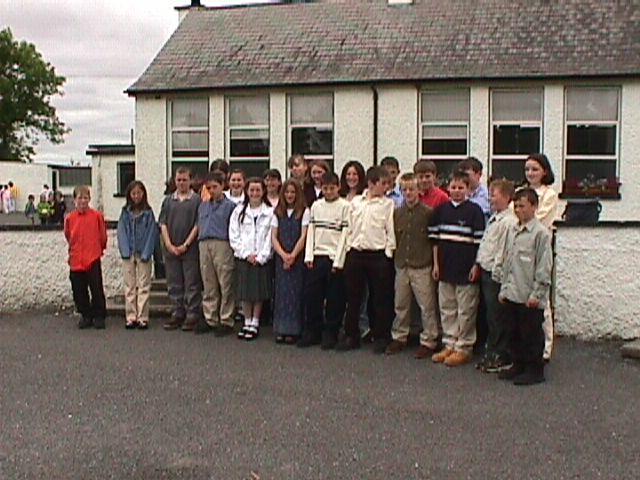 ---
Finnerty's would like to take this opportunity to thank the pupils, parents, and teachers connected with New Inn Primary School who have helped us in recent weeks to provide content for this experimental web site.
We hope you all have a lovely Summer holiday.
---
(This section added to page on June 25th 1999- please see quiz clues above)
QUIZ WINNER

Ivan Kenny - and his prize
Within two hours or so of the quiz being announced on the Internet yesterday morning, Ivan Kenny handed us in a slip of paper with the word "fleas" written on it - and won the prize of 150 one penny sweets. Congratulations Ivan, and thank you for your interest in our web site.
Quick on the ball Ivan is the son of veteran Sarsfields goal keeper Tommy Kenny, and we wonder if there might be a future Sarsfields goal keeper in the making?
---
END OF PAGE
---