How To Help
The present premises is old and not capable of holding the numbers of animals we receive. It is, however, a valuable site and has enabled us to finally start on the move to the outskirts of the city that has been planned for over 25 years. This move is crucial to us and a new state-of-the-art designed Animals' Home with plenty of open space is currently under construction near Mahon Point.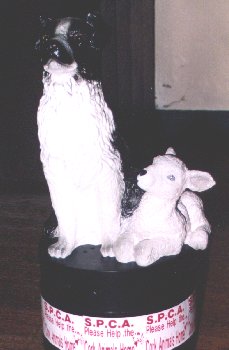 Our New Collection Boxes
The new premises includes many innovations, including underground central heating in the kennels which sounds extravagant, but will enable wet dogs to dry off quickly and cut down on disease problems encouraged by cold and damp weather. An increase in the number of yards and exercise areas will greatly improve conditions for the animals. There is also an Education Centre with projection room for school trips.
While the costs of building the new home are likely to be covered by the sale of the existing Clontarf Street site, the running costs of the bigger premises will need to be financed and if you can help with ideas for fundraising please contact us on 1550 200789.
We appeal to the Public for financial assistance and to the Business Community for help as we provide an excellent service to the people of Cork City and County.
We also appeal to schoolchildren, etc. to organise fund-raising events and raise money for the Society and, even more importantly, to visit us and come up with ideas for improving the lot of Ireland's animals.
People can deposit money at a/c No. 43682158, Ulster Bank, 54 South Mall, Cork. Code 98-54-85.

You can also fill out a Giro form at any Bank. Money can also be sent by crossed cheque addressed to CSPCA, Clontarf Street, Cork.