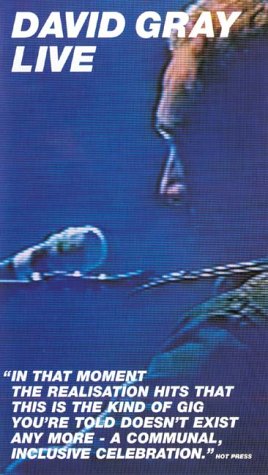 Live at the Point
Released: 2000
iht / EastWest
Buy this video

DVD due to be released early 2001, and will include a 52 minute documentary.
Recorded at Dublin's Point Depot in December 1999, this video is a must for all fans, both to relive his fantastic live presence, or witness it yourself, if you have never had the privilage.
The video highlights the intensity of a typical David Gray concert, and displays the adoration of his Irish fans in all its glory. David himself has dubbed it one of the crowning achievements of his career to date, and at the time was the largest solo gig he has performed.
Complete track listing:
Sail Away
White Ladder
Late Night Radio
Faster Sooner Now
Lead Me Upstairs
Babylon
The Light
We're Not Right
Flame Turns Blue
This Year's Love
Coming Down
Shine
A Century Ends
My Oh My
Wisdom
Silver Lining
Please Forgive Me


This Years Love (movie soundtrack)
Released: 1998
Buy this album (UK)

Buy it on DVD (UK)
Buy it on VHS (UK)

(David Gray tracks:)
This Years Love
Monday Morning

David Gray featured 2 tracks on this hit British film. The title track was released as a single by David - the video of which features footage from the movie. The rest of the album has an impressive line-up too, including the unreleased song from David, 'Monday Morning', and songs from Stereophonics among others.
The film itself is a very funny comedy, with a few hilarious cameo appearances by David himself, as the singer with a pub cabaret band!