Headfort House was built roughly two hundred years ago for the Earl of Bective, Thomas Taylour. The facade of the house is a severe, almost drab grey. It is built of Ardbraccan limestone in an extremely plain style. The house itself was designed by the Irish architect George Semple. The interiors were designed by the Scottish architect Robert Adam . His designs were somewhat simplified for various reasons. Much of the interior remains in very good condition, thanks mainly to the school's occupancy. It remains the only intact Adam interior in Ireland. The Green Drawing Room The Front Hall and the Ballroom are the three principal rooms.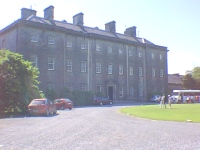 The North Front
Much of the original furniture, which would have been designed by Adam to complement his lofty interiors, is still in place.Some items were recently bought by the state, with a view to their being displayed in the house eventually. These items, including pier glasses and tables, are undergoing restoration in Kilkenny Castle, as part of an ongoing exhibition of Irish Furniture. The furnishings from the magnificent Chinese Drawing Room have long since gone.
The school uses the main house and one of the wings. The other wing is used as a self-contained private house. There were about 1000 acres of land associated with the house until recently, with interesting trivia dotted around. That land has now been sold to the Headfort Golf Club and others. The old farmyard has been developed as housing units.