West Cork Table Tennis Assoc.
NEWS 2006-2007
2004-2006 / 2003-2004 / 2002-2003 / 2001-2002
2000-2001 / 1999-2000
West Cork Old Boy
I was up training the Irish Special Olympic Team when I bumped into Joe Warne at DCU, running past with his head phones on he was quiet surprised to see me. Joe was a student at MICC in Dunmanway and played in West Cork for a number of years. He is now dedicated full time to his running, specialising in the 800 metres. He tells me he is ranked around 5th in the country now and is working his way towards the London Olympics. It was great to catch up on the news and I'm sure all of us in West Cork wish him the best. For those of you in Cork you can catch him running this weekend at the Cork City Sport. Go Joe! His twin brother Jake was last seen somewhere behind a computer in Cardiff!

Bantry TTC Player of the Month.
Charlie O'Mahony was presented with the Toys Unlimited Player of the Month Award at the end of term presentations at St. Finbarr's Boys School in Bantry. Charlie recenly captain the Bantry "Tails" to their first success against Goleen TC. The school invited their coach Owen Kelly into the school to acknowledge the work that he has been doing within the school and to show both parents, teachers and guests the new equipment supplied by local businesses. The school has a long tradition in Gaelic Games and table tennis is relatively a new departure for the school and has proved very popular with over 50 children taking part in the school training programme. Owen Kelly thanked the staff and school for their tremendous support and especially to Pat O'Grady who has been the main link within the school and wished him the very best in his retirement.

Term ends for Skibb Tots 19-06-07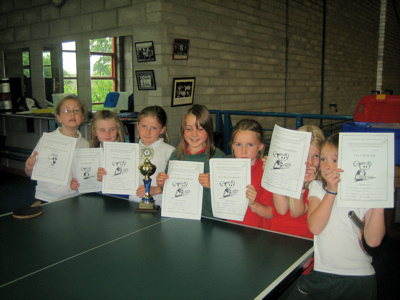 PINGIS certificates were presented to the Skibbereen "Tots," on their last session of the season. Aoibhann Keating topped the U6 section with a score of 97 with Briana Daly the next highest on 75. Sorcha Browning reached the highest in the Under 9 section with a score of 160. Alexandra Lieb gained 58 on last season's score when she accumulated 154 points. Leah Crowley also beat her personal best score by a huge 76 point margin when she scored 146 points in total. Orláith Keating also beat her personal best score by 40 points breaking the 100 point barrier with a score of 107.

The John Keohane Motors Player of The Month Trophy was presented to 9 year old Leah Crowley who has been playing since she was 7yrs. Leah who imporved on her PB PINGIS score by 76 points, has steadily improved as a player and is looking forward to playing in next season's West Cork Rankings as an U10.

Skibbereen host Bantry "Bees." 19-06-07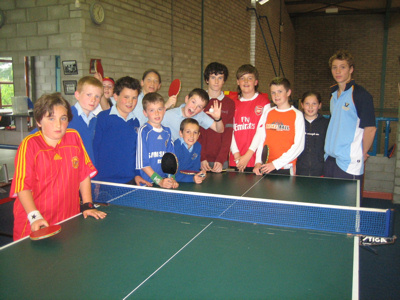 Skibbereen Table Tennis Club brought another successful season to a close with the second part of the inter-club annual challenge. Bantry won the first part against the Skibbereen A team last week and Bantry sent a strong squad of U12's to try and complete the double.

Skibbereen Captain Ciarán O'Regan made the draw against Bantry's Kevin Murray and Bantry came off the better when they decided to lead off with their two top players Jack Hanley and Kevin himself. Skibbereen lead off with top Munster U10 Girl Luighsige Carey and Skibb's No.3 Ethan Lawlor. Both matches went the way of Bantry.

The next round saw Skibbereen debutante Ruari Gallagher who only started this season and has flown up the Skibbereen Rankings to take the top spot in the 2nd Division. He was up against James Heap who finished the Bantry Rankings in 11th place. Ruari surprised the spectators when he stormed the first set with an 11/5 score. James composed himself for the second and the set swung one way then another to eventually leave James on top 12/10. The final set again proved close with James taking an early lead and then Ruari coming back at him in the latter stages. It was Ruari who took the match 12/10 in the end to record Skibbereen fist win and bring the sides to 2-1.

Skibb Captain Ciarán O'Regan put in a good performance against Bantry's No.9 Joe Murphy but it was Joe who took the points 2-0. Bill O'Flaherty, the first Skibbereen player from the new Wednesday training to be selected took on Anthony Hanley who ended the season as Bantry's No.3 U10. The first set was a nail bitter with and eventual 12-10 score line but it was Anthony who took the initiative in the second to pull away 11-7.

With only 1 singles left it was a late call up for Olan Twomey who replaced the Skibbereen No.1 Cormac Browning. It was a tall order for Olan against Daithi Murphy who finished off the singles giving Bantry and unassailable 5-1 lead. The three doubles matches saw Ethan and Luighsige take on James and Kevin. This was another close three setter but it again went the way of Bantry and with Jack and Joe and Anthony and Daithi winning their doubles Skibbereen had to concede their biggest defeat.

After the match was finished a number of short set games were played amongst the players. There were notable wins for Kevin McCarthy (Skibb) against Ben O'Donnell (Bantry) and for Shane McCarthy against James Heap with Bill O'Flaherty also going close 13/11 with Bantry 2nd Division No.1 Jack Hanley.

A number of the players will be attending the Goleen Summer Training Camp in July and a good number have entered the Goleen Tournament on 20th July. A second Summer event, the Goleen Festival Open is taking entries for Sunday 12th August when the Goleen Summer Festival will lead off with a table tennis tournament for the first time.

Goleen TTC Vs Bantry TTC "Tails," June 18th 2007
Goleen: Aaron Barry (Cpt), Darryl Connell, David Donovan, James Kelly, Tadgh Culnane & Mark O'Reilly.

Bantry: Keith Collins, Charlie O'Mahony (Cpt), James O'Sullivan, David Murnane, Cormac O'Mahony & Michael O'Sullivan.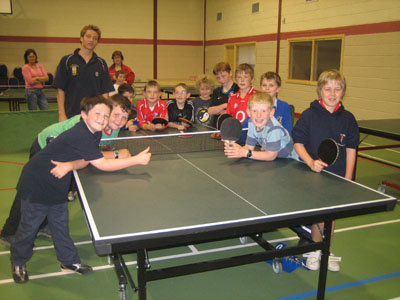 This was the first competitive club match that any of the players from either side had been involved in. The Goleen players have just finished their 8 week "Introduction to Table Tennis" phase and a "friendly" challenge match was organised between the two clubs. The Bantry players would have been involved in table tennis on average for a year and would be at the lower end of their club rankings.

The teams were divided into two teams of three in order to guarantee that players of an equal age and ability would be match against each other but would still have an equal opportunity to contribute to the teams score.

The start of the match was delayed with a number of players arriving at 4.30pm. We planned to run a Warm-Up session with both sets of players and this was implemented by a visiting student coach Joe Sherlock from Dunmanway. All the players seemed to enjoy the opportunity to inter-mix and socialise prior to the match.

The draw was made and each player was to play 2 of the 3 of the visiting team, with a match of doubles only for the older players to bring the score out of 7.

The first 4 matches were played at the same time with Richard Gostyn, Joe Sherlock, one of the older players and me umpiring.

Aaron Barry (U11) was the first of the Goleen players matched against Jamie O'Sullivan (U11). This was a very close match with Aaron winning the first 11-8. The second went to Jamie 10-12 with Aaron pulling of an excellent victory 11-9 in the third.

Darryl Connor (U11) played the Bantry No.1 Keith Collins (U9). Keith is currently the No.1 U9 in West Cork and will be challenging for a top position in the U10 Munster Rankings next season. He has been playing for 2 years and showed his experience winning 11-8, 11-9. Darryl's first performance was very encouraging and he has some very good shots, with some more experience I feel confident he will develop into a fine player.

With the first group score equal after the first round of matches the scores went the same way in the second group. James Kelly (U6) was drawn against Michael O'Sullivan (U9). James was very confident as he had played and beaten Michael before at training in Bantry. James went into an early start with Michael coming back in the latter stages. James won the first game 11-5 and went on to dominate the second 11-1.

Tadgh Culnane (U8) played Cormac O'Mahony (U9). Cormac would be a much more experienced player and managed to move Tadgh around the table well. Tadgh returned serve well and a good level of control. Cormac drew the teams level with an 11-6, 11-5 win.

David Donovan (U10) played Bantry Captain Charlie O'Mahony (U11) in the second round of the older group. David started nervously and gradually relaxed well but found Charlie too hot to handle on the day with Charlie going on to win in 2 straight sets.

The two clubs No.1's were up next with both Aaron Barry and Keith Collins undefeated. Keith was in great form and was able to use his greater spin and control to good effect. Aaron moved well but was unable to make enough room for his strong forehand shot and Keith stretched Bantry's lead.

Mark O'Reilly (U7) a late replacement for the Goleen Team was drawn against one of Bantry's fastest improving players David Murnane (U9). Mark played well and showed a greater level of talent and ability than he had before as well as strong determination. However this was not enough on this occasion and David recorded another victory for the Bantry side.

Meanwhile on another table Darryl Connell and Charlie O'Mahony went head to head. Charlie took the first set 11-5 and looked to be in control but as Darryl gained confidence in the second the match swung in his favour winning the second 11-8. With all to play for in the third both players raised their game moving each other around the table. It went close but Darryl pulled away at the end to record his first win 11-9.

In the second group the team looked to James Kelly to repeat his first win this time against Cormac O'Mahony. James went into an early lead which he managed to sustain and won the first set 11-5. 7-1 up in the second it looked like this was another much needed point for the Goleen team. But the lead slipped away as Cormac made an excellent comeback to equal the score at 8 all. The points went evenly until deuce when James managed to find some of his earlier form and won 12-10, to bring the team back to level pegging.

Tadgh Culnane faced a very tough challenge in the shape of David Murnane and put up a great show in the first set with David eventually winning 11-8. The second set was one step too far for the young player and David dominated the points to take his team into a one point lead.

The final match in the younger series was between Mark O'Reilly and Michael O'Sullivan. Goleen could only draw at this stage but Michael was looking for an outright Bantry win and he came out swinging with some fast serves and good forehand play. Mark was unable to stem the tide and Michael recorded a 2-0 win and sealed the match for the Bantry Team.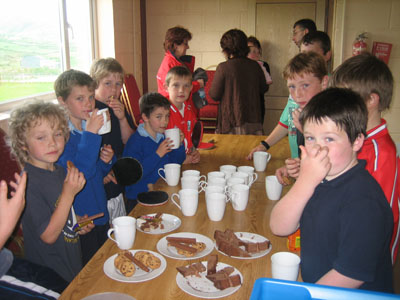 With a withdraw of one of the Goleen senior players James Kelly was drafted in to face Bantry's Jamie O'Sullivan. The younger Goleen player pulled off some remarkable shots and played very well but the older and more experienced Jamie O'Sullivan never looked like slipping up and comfortably took the final singles match.

Aaron and Darryl teamed up in the doubles against Charlie and Keith. The first set went to the Bantry team as Darryl and Aaron struggled to play as one unit. However in the second set the players began to work together and made the Bantry players try to win the point. Gradually as their confidence grew the balance of power shifted and the Goleen players began to raise their game with an 11-8 win in the second the players changed end for the third and final set. This time the Goleen pair did not hesitate to take the initiative and took the last match of the series 11-6.

The matches were close, the teams played well and the facilities at the Goleen Sport Complex were top rate. After the photos all the players then tucked into the cake and celebrated Goleen's first ever inter-club friendly. Here's to many more!

PINGIS South Western Challenge 2007
A number of players from both the Skibbereen TTC and Goleen TTC took part in a West Cork PINGIS Challenge. The PINGIS Challenge is based around the ITTA 1 Star Scheme and players score points with each of the ball bouncing tasks in the 1 Star. Each player scores a point per bounce within a 30 Second period. The players are divided by age and can score from Level 1 to Level 3. Each player is awarded a certificate with their Personal Best Scores marked.

For full results go HERE.

Eimear Sheehan an U12 from Goleen scored the top mark with 238, 91 Forehand Bounces. Sorcha Browning from Skibbereen had the highest score in the Girls U9s with a total of 160. The score of the competition would have to be that of U6 James Kelly who scored 177 with next closest U8 James O'Driscoll also from the Goleen Club who scored 172. Skibbereen's Leah Crowley had the highest improvement score when she topped last year's score by 76 with club mates Alexandra Lieb improving her score by 58 and Orláith Keating also making a jump of 40. Congratulations to all those who took part and keep bouncing!

Skibbereen and Bantry go Head to Head
Skibbereen Table Tennis Club will host the last Inter-Club match of the season with the visit of the Bantry "B" Team. Last season Skibbereen won the A Team clash and lost the B Team match, with the Skibbereen A Team already defeated it will be up to the second team to swing back the balance of power in the South West.

Heading up the team is Ruairi Gallagher who started this season and will play his first club match on Tuesday at the Sports Centre. He is joined by Cormac Browning, Ethan Lawlor, Ciaran O'Regan, Charlie O'Donnell and current Munster No.1 Under 10 Girl Luighsige Carey.

Bantry field a very strong team with Kevin Murray captaining the side for the first time along with James Heap, Jack Hanley, Anthony Hanley, Daithi Murphy and another newcomer who has climbed the Bantry rankings Joe Murphy.

Bantry TTC end the year on a high.
Thursday 14th saw the last day of Bantry TTC first full season. There was a great buzz with a number of matches and the results of the very closely fought club league. The Skibbereen team visited the club with an under strength side which the Bantry team managed to dominate. There were good performances on both sides and a close match between Shane McCarthy (Skibb) and Cathal McCarthy (Bantry), the final result fell to the Bantry player and with Bantry No.1 Jack McCarthy against Skibbereen's No.3 Shane McCarthy Bantry took a 3-0 lead into the doubles. With Jack first partnering Ben O'Donnell to victory and then his younger brother Cathal the Bantry team over turned the loss of last year's match with a clean sweep.

The Bantry Club also had two popular visitors with Aishling Healy and Niamh Buttimer two of the Irish Primary Schools Internationals, visiting from Cork. The girls first joined in with the Gael Scoil School session and then stayed on to play various matches against Bantry Club players. It was a great experience for everyone and a big thanks to Claire Healy for bringing the girls down. The girls were presented with a badge from club sponsors Table Tennis Ireland (www.ttireland.com).

Even though this was the last Bantry Club session of the season, a club team will travel out to Goleen TTC for the first time. This will be the last match of the season for the club and the very first for the new Goleen Club. Charlie O'Mahaony captains the side with Cormac O'Mahony, Jamie O'Sullivan, David Murnane and Keith Collins all representing Bantry for the first time.

The result of the club ranking was a close as it could be with the last victory of the season going to Ben O'Donnell against Jack McCarthy. Jack has been the club No.1 for nearly the entire season with Ben breathing down his neck. When the points were all added together both players had equal point difference and so had to finish equal which was appropriate to the amount of hard work both players have put in this season. Both players were awarded with a West Cork Table Tennis Shirt.

A number of the players will be attending the Summer Camp in Goleen on the 18th-19th & 20th July with many entering for the competition on Friday 20th July. For more information contact Owen Kelly 028-35371.

New club opens its doors.
The small village of Goleen down on the Mizen Peninsular has a long history of table tennis. Over 25 years ago there was an active Church of Ireland League team playing in the old Church of Ireland hall. This closed and a new club then opened in the Parish Hall around 15 years ago, this proved very popular with around 30 kids attending every Sunday. That only lasted around 2 years before the club had to move once more. The club moved into the old Church and a small group of players kept that going on one table for another couple of years before that had to close as well. During this time the club produced 4 Junior and 1 Senior Munster players.

Two years ago the Goleen and District Community Council put an ambitious project in place and as a result we now have a brand new sports hall with GAA and Soccer facilities as well. The club had a quiet launch on the same weekend as the 6 Nations Primary Schools and is now up and running with over 30 kids, 4 weeks into an 8 week introduction course. The kids range from 6-12yrs and are all from the local national schools of Goleen, Lissagriffin and Schull.

The club boasts 6 brand new 22mm tables, 4 of which are the new Sponeta-rollerways as well as 2 Dunlop Revolutions. With club sessions on Fridays and Sunday mornings the club has had good local support and will be organising a number of events including a Summer Training Camp and 2 tournaments during the summer.

The club is well served with two qualified coaches and a number of volunteers agreeing to help out. With active clubs in Bantry and Skibbereen, the Goleen Club forms a neat triangle covering the South Western region of West Cork. The massive expansion of table tennis in this area is a direct result of the strategy put in place 7 years ago with all 3 clubs starting in this time along with 14 schools (8 National and 6 Secondary) participating in the scheme.

With the club's sights firmly set on increasing participation rather than performance and the distance from Cork it is unlikely that there will be any direct increase in provincial events for some time but with so many players now playing locally and now with excellent local facilities the need to travel out of the region has been addressed.

Skibbereen Closed
John O'Sullivan beat off the challenge of Bill O'Flaherty winning the Skibbereen Closed with a 2 point margin. The tournament format sees players being drawn for each round, with each round consisting of 1 set up to 11 with no duece. The winner is the one with the highest average. Players have to play a minimum of 5 rounds. Adriss Rquibi made it a clean sweep for the boys of St. Patrick's Boys School with Ethan Lawlor finishing 9th, ighest of the Gael Scoil entries.

Bantry Player of the Month
Damien Collins was awarded the Bantry TTC "Toys Unlimited" Player of The Month award. Damien from Durrus has shown tremendous improvement moving up from 28th this time last season to 6th this season. The retiring 11 year old left hander has begun to add power and spin to his consistent style of play and will feature in the Bantry Community Games team in the Cork finals on May 12th.

Skibbereen Invitational
18 Players from 4 different National Schools took part in this 2nd Skibbereen Invitational event. Players came together from the Tuesday and Wednesdays Sessions for some very exciting competition. Overall winner was Bill O'Flaherty from St. Patrick's Boys National School, this was Bill's first tournament title.

Cormac Browning (Gael Scoil) was awarded the John Keohane Motors Player of the Month Trophy for January. This is Cormac's first season and he has shown great promise and works hard in training.

| | | | |
| --- | --- | --- | --- |
|   | Division 1 |   |   |
| 1 | Bill O'Flaherty | U12 | St. Patrick's NS |
| 2 | Ethan Lawlor | U11 | Gaelscoil, Skibbereen |
| 3 | Patrick McCaffrey | U12 | Gaelscoil, Skibbereen |
| 4 | Ciaran O'Connor | U11 | St. Patrick's NS |
| 4 | Ciaran O'Regan | U12 | Castlehaven NS |
| 4 | Luighsige Carey | U10 | Gaelscoil, Skibbereen |
|   | Division 2 |   |   |
| 7 | Ryan Chalkey | U12 | St. Patrick's NS |
| 8 | Jay Mann | U12 | Abbeystrewry NS |
| 9 | Adriss Rqibi | U11 | St. Patrick's NS |
| 10 | Maraid O'Driscoll | U9 | Castlehaven NS |
| 10 | Leo Rawlinson | U11 | Gaelscoil, Skibbereen |
| 10 | Thomas Hayes | U12 | St. Patrick's NS |
|   | Division 3 |   |   |
| 13 | Cormac Browning | U11 | Gaelscoil, Skibbereen |
| 14 | Tony Walsh | U11 | Gaelscoil, Skibbereen |
| 15 | Sinead McKennedy | U9 | Castlehaven NS |
| 16 | John O'Sullivan | U12 | St. Patrick's NS |
| 16 | Charlie O'Connell | U11 | Gaelscoil, Skibbereen |
| 16 | Peter Losberg | U12 | St. Patrick's NS |
Strong West Cork Contingent at Ballincollig Open
West Cork Junior Table Tennis has built a strong reputation both within Munster and on a national level over the last 10 years. Though small the Kinneigh Table Tennis Club has consistently flown the flag and has regularly produced players of talent and skill who have performed well in this very competitive arena and this was once again confirmed at the recent Ballincollig Open. With the likes of Brian Kelleher at under 10, Shane Foley Barry Kelleher and Darragh Foley at U12 and U14 boys levels and Amy Buttimer, Sinead Hennessey and Roisin Kelleher at U12, U14 and U17 girls.

However Team Kinneigh no longer stands alone, two new West Cork clubs, Skibbereen and more recently Bantry TTC have burst onto the Munster scene. Over the last couple of years Table Tennis in West Cork has grown at a phenomenal rate with 15 West Cork schools taking part in the schools cup and a number of new clubs and coaching sessions thriving around the region.

10 year old Luighsighe Carey from Skibbereen TTC currently holds the No. 1 position in the Munster Rankings and once again proved her dominance by winning the Ballincollig Open event without dropping a set, winning the final on an 11-3, 11-7 score line, this is Luighsighe's third Munster title this season and she continues to develop well as a player.

Skibbereen TTC caters for all ages and Senior player Catherine Harnedy followed on from her 2nd place finish at the Munster Open with a 1st in the Ballincollig Ladies Veterans and a 2nd in the Senior Ladies. The entries for this event were disappointing and Catherine will be under more pressure at the upcoming Munster Veterans Championships later this month.

Skibbereen debutants Shane and Cathal McCarthy were in action in the very competitive U12 event. Both players went into the Plate competition which Shane went onto win in straight sets against Philip Desmond of Ballincollig.

Bantry TTC had a squad of 13 players playing in three different age groups. The club was only established in the town last year and the club celebrated its first birthday with some tremendous performances from its young members. Cathal McCarthy caused a number of upsets on his way to the final working his way through the top players in Munster eventually beating local favourite and Munster No. 2 Ciaran Noonan in the semi final. Bantry team mate Darren Cronin also managed to navigate his way through to the other semi final by beating the Munster No.4 Jack Graham also from Ballincollig. Darren then came up against Munster No.1 Brian Kelleher from Kinneigh TTC. Darren put in a good performance but was unable to dislodge Brian from his final slot. So it was an all West Cork affair in the final with Brian Kelleher against Cathal McCarthy. Brian showed great composure to win a very tight and exiting match. Darren finished 4th with Bantry players Stephen Hanley 6th and Anthony Hanley 9th.

Eight Bantry players took part in the very competitive U12 Boys event with seven out of the eight making it out of the first round group stages with Bantry players beating a number of the top 10 seeds. Eoin Quill, Jack Hanley, Jack and Cathal McCarthy, Darren Cronin, Greg Clifford all performed well with Shane Delaney showing significant improvement from his last outing. However performance of the day belonged to Ben O'Donnell who managed to oust three of the top 10 before reaching the last eight where he eventually lost out 12/10 in the fifth and final set to Munster No.4 David Gillen from the Beech Hill club. Ben went onto win his next two play-off matches beating Kinneigh's Peter Kelleher in the last match of the day for 5th place.

Brian Crowley, Ronan Lordan and Killian Andrews entered the U14 event with Brian managing to move out of the first round group stages. The U14s is extremely tough event dominated by Ballincollig players. All three Bantry players are still U13 and will have an extra year to acclimatise to this event.


Munster Table Tennis Schools Cup 2007.
"Strong showing from West Cork Schools."
This is one of the main participation events for schools in Munster with 49 teams from 17 different schools taking part at 11 different age categories. West Cork once again showed its strength with over half the schools taking part from the region.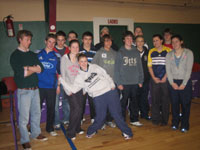 West Cork has had a very strong tradition within the mixed events and this year all the mixed titles went west with Coppeen NS taking the National School title and Togher NS (Dunmanway) taking second, Meenkilly from Limerick took third. In the U15 Mixed Maria Immaculata Community College, Dunmanway took the title along with second place and Bandon Grammar third. The U19 Mixed had Bandon Grammar taking both first and second.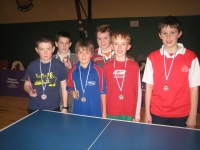 In the Boys National School event Scoil Eoin, Ballincollig lifted the title after a close match against Tirelton NS and St. Finbarr's Bantry took third and fourth. In the Girls National School event it was once again a Ballincollig School, Scoil Mhuire who took the title with Meenkilly, Limerick and Gaelscoil Bheanntrai finishing second and third.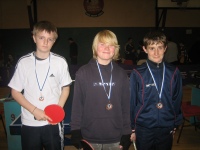 Colaiste Choilm from Ballincollig have a developed a strong reputation within the sport with a number of All Ireland titles, this year they took all three Munster Schools titles as well as a second place in the U15 category. De La Salle Macroom took third and fourth in the U15 event with newcomers Mount St. Michael's, Rosscarbery finishing fifth and Clonakilty Community College sixth in a strong age category.

After winning the National School title in 2006 Scoil Eoin NS were allowed to enter the U13 event and managed a second place finish with Midleton third. Midleton went one better in the U19 event and collected both second and third places with Clonakilty Community College fourth.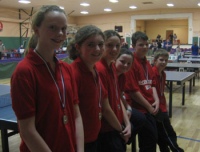 In the girls age groups there was a title for Scoil Mhuire, Ballincollig at U13, St Josephs, Abbeyfeale at U15 and St. Angles College Cork in the U19 event.

Controversially Scoil Mhuire National School were allowed to enter the U19 Event by tournament organisers. This was the first time a National School has been allowed to enter this age group and there were a number of complaints by schools attending. The organisers sited that there were no rules against the entry but assured the other schools attending that this would be discussed at the next meeting.

The date for the West Cork Schools has been confirmed for Wednesday 21st March at Maria Immaculata Community College, Dunmanway. The West Cork Schools Cup is the largest schools tournament in the country and it is expected that the entry will be even bigger this year. The event is open to all National and Secondary Schools in the West Cork and Kerry Region. For entry forms and more information email owen@ttireland.com or phone 028-35371.

West Cork Ranking at Kinneigh
Under 10's and under 12's from all over the West Cork region gathered on Saturday 6th for the first table tennis tournament of the New Year at the Kinneigh Table Tennis Club. First out were the under 10's whose numbers have been steadily increasing. the girls event was dominated by the Skibbereen Club with all top 4 places going to Skibbereen players. (1st Luighsighe Carey, 2nd Sinéad McKennedy, 3rd Sorcha Browning, 4th Aoife O'Regan. The boys under 10 saw some very close matches with a closely fought semi-final between Cathal McCarthy (Bantry) and Cathal Foley (Kinneigh) with Cathal eventually winning out to play club-mate Darren Cronin who beat Anthony Hanley in the other semi-final. Cathal McCarthy went on to win the event with Darren 3rd and Cathal Foley 3rd.

The under 12 girls saw girls from Kinneigh and Dunmanway taking the top 4 places with 1st Cadhla Tanner (Kinneigh), 2nd Ciara Meara (Kinneigh), 3rd Cira Glenn (Dunmanway) and 4th Megan Healy (Dunmanway).

The under 12 boys event saw a high standard of skill even during the opening stages. Munster No.3 and top seed Shane Foley (Kinneigh) eased into the final with wins against Jack James (Dunmanway) in the ¼ finals and then Damien Collins (Bantry) in the semi-final. On the other side of the draw Jack McCarthy Bantry TTC No.1 eased passed Cormac Browning (Skibbereen) in the ¼ finals and then had a far tougher test against Bantry TTC No.2 Ben O'Donnell. The form book held however and it matched up Shane Foley and Jack McCarthy for the last final of the day. Jack took the first set but Shane using his greater experience adapted his game and won out 3-1 and took his first West Cork U12 Title. Jack Hanley (Bantry) beat Ciaran O'Regan (Skibbereen) in the plate final.

A number of schools around West Cork will travel up to Cork for the Munster Schools Cup this Friday. West Cork has a strong record especially at the mixed team events and both Bandon Grammar and Clonakilty Community College are likely to be in the running at the U19 level this year. Togher NS, Gael Scoil Bantry, St. Finbarr's NS Bantry, M.I.C.C. Dunamanway, Coppeen NS will also be looking for the medal places at one of Ireland's biggest schools events.


Results for the Skibbereen Graded on Saturday 9th December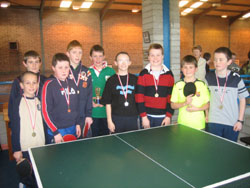 Skibbereen Graded Table Tennis Tournament Skibbereen Table Tennis Club held its first open tournament on Saturday 9th, with under 14 players from 4 different coaching schemes taking part. With only three tables available the event was divisioned on ability rather than on age. The first division was a closely fought affair with the more experienced players displaying considerable skill.

There were a number of surprises and in the opening round James Heap of Bantry TTC scored a first time win against his club mate Cathal McCarthy. Unfortunately for James he then went on to be beaten by another Bantry player Brian Crowley in the ¼ finals. The semi final between local Skibbereen No.1 Killian McCaffrey and Bantry's Ben O'Donnell threw up another surprise when Ben recorded an excellent win when he won 12-10 in the fifth and final set.


Bantry No.1 Jack McCarthy beat Brian Crowley in the other semi to set up the final between the Bantry TTC club mates that Jack went on to win, securing his first West Cork win and establishing himself as one of the top players in the region. His younger brother Cathal McCarthy went on to win the Plate.

The Second Division was dominated by local Skibbereen players with Shane McCarthy taking an unexpected victory in the first round groups against pre-tournament favourite Patrick McCaffrey. Ciaran O'Regan became Shane's 2nd victim in the semi-final while Patrick recovered to reach the final by ousting Munster No.1 U10 girl Luighsighe Carey in the other semi final. Shane once again upset Patrick to take the Division 2 crown and move up to the top division. Mirroring the first division it was Shane's younger brother another Cathal McCarthy who took the plate final with Bantry's Fergal Crowley finishing second.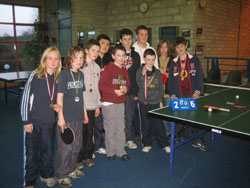 The Third Division was made up of players who started playing this season with the majority from the new Skibbereen coaching Session on Wednesdays lead by Richard Gostyn. The standard was surprisingly high and bodes well for the future. In the main competition Cormac Browning met Ryan Chalkey in the semi-final. With both mothers working at the Skibbereen Sports Centre there was even more excitement than usual with good support for both sides. Cormac eventually won out. Cillain Newman took on Ciaran O'Connor in the other semi-final and once again it proved an exciting match with Ciaran reaching the final. The final was the last action of the day and proved to be the most exciting. Ciaran finally came back to win in the final set and both players were treated to a tremendous cheer for their efforts. John O'Sullivan claimed the plate final defeating Adriss Rqibi.

The event organised by coaches Owen Kelly and Richard Gostyn proved a great success and with so many new clubs and school participating this season there are already plans for similar events around the region. If you would like to find out more about West Cork Table Tennis please contact Owen Kelly on 028-35371.

| | | | |
| --- | --- | --- | --- |
| | Division 1 | Division 2 | Division 3 |
| 1 | Jack McCarthy | Shane McCarthy | Ciaran O'Connor |
| 2 | Ben O'Donnell | Patrick McCaffrey | Cormac Browning |
| 3 | Killian McCaffrey | Luighsighe Carey | Cillian Newman |
| 4 | Brian Crowley | Ciaran O'Regan | Ryan Chalkey |
| 5 | James Heap | Cathal McCarthy* | Daniel Keating |
| 6 | Kevin Murray | Fergal Crowley | Bill O'Flaherty |
| 7 | Cathal McCarthy* | Eoin Barclay | John O'Sullivan* |
| 8 | Rob O'Flaherty | . | Adriss Rqibi |
| 9 | Tadgh Harrington | . | Jay Mann |
| 10 | . | . | Diarmuid Ryan |
| 11 | . | . | Sean Ryan |

*Plate Winners

Togher visit Bantry 30/11/06
The Gael Scoil in Bantry was this year's venue for the annual challenge match between the Gael Scoil and Togher National School. This event in its fifth year is a highlight for many of the young players from both schools. The event was first staged as a warm up for the West Cork School Cup and with the continued growth in this area the match gives both schools an opportunity to judge the opposition.

This year the event saw eight teams competing on four tables. The first match saw the current Girl Champions Gael Scoil take on the Togher girls. Ellen O'Donnell was first up for the home side taking on Lisa Cotter, who she beat 2/0. Meabh Ni Shúill Eabhán moved the home side into a 2-0 lead when she beat Ciara Glenn. Sharon O'Regan put Togher back into the match when she fought back to beat Catríona Hurley 2/1. Gael Scoil won the match 3-1 with Ellen and Catríona winning the doubles against Lisa and Sharon.

The second match involved the Bantry Gael Scoil Boys against the Togher Mixed team. Gael Scoil has had a high level of success against Togher in the past and it is a tribute to the coaching of Vicky Ridgeway that Togher made light work of the Bantry Boys. Ian Crowley won his match in straight sets against Kevin O'Keefe and with Patricia Murray also winning 2/0 against Thomas O'Sullivan it put Togher into a very strong position. They then managed to see out the match with a 2/1 victory for Eoin Murray against Peter Kelleher. Patricia and Eoin made it a clean sweep when the beat Kevin and Peter in the doubles.

The other two matches gave both schools the opportunity to give less experienced players a much-needed opportunity to hone their skills. Gael Scoil and Togher players mixed together to give some competitive matches. Doireann O'Shea record a good win against fellow school mate Eoin O'Donoghue while Togher's Thomas Furlong won out in a tight match between himself and Tadgh Linehan.

Participating Players:
Gael Scoil: Ellen O'Donnell, Meabh Ni Shúill Eabhán, Catríona Hurley, Kevin O'Keefe, Thomas O'Sullivan, Peter Kelleher, Sarah Ducker, Doireann O'Shea, Deidre O'Sullivan, Jenny Cheibheannaigh, Tadgh Linehan, Cathal Hurley, Thomas Cheibheannaigh, Damien Hurley and Eoin O'Donoghue.

Togher: Lisa Cotter, Ciara Glenn, Sharon O'Regan, Ian Crowley, Patricia Murray, Eoin Murray, Ciorán Noonan, Oisin, Jake Ingles and Thomas Furlong

Bantry Table Tennis Club Bantry played host to the Togher National School players when they stayed on after their match with Gael Scoil earlier in the day. Three matches between club members from St. Finbarr's Boys National School and Togher players were organised.

Local lads Killian Andrews, Kevin Murray and Darren Cronin took on a Togher Boys team of Ian Crowley, Eoin Murray and Jake Ingles. Every match was close with Eoin just beating Kevin in the singles to bring the doubles with a 2-1 score line in favour of the hosts. Killian and Kevin eventually went on to win the match 2-1.

Togher Girls Patricia Murray, Sharon O'Regan and Lisa Cotter had their work cut out when they faced a Bantry team of Cathal McCarthy, James Heap and Shane Delany. The lads recorded a 3-0 sweep in the singles but Togher pulled back the doubles when Patricia and Lisa beat Conor Greegan and Jamie O'Leary in a tight 2-1 match.

The Bantry boys proved too strong for the Togher Team of Oisin, Thomas Furlong and Ciarra Glenn. Ciarra only narrowly lost out to Daniel McCarthy while Fergal Crowley and Tadgh Harrington won their matches. Jake Hanely and Jo Murphy teamed up for the first time to beat Ciarra and Thomas in the final doubles.

The Togher players also took part in a number of other fun games and their visit was enjoyed by all. It is hoped that another visit will not be too long in the making.

West Cork Table Tennis Debutantes
7 new players joined the ranks of Munster Junior Table Tennis players at the Beech Hill Tournament in Cork City over the weekend. 6 under 12 players from the new Bantry Club travelled up with Coach Owen Kelly.

4 of the 6 players made it through to the second round of the event with Shane Delaney making the quarter final of the plate event and James Heap going one better into the semi final. Jack McCarthy finished the best of the squad after he made it to the quarter final of the main event and eventually finished 7th. His brother Cathal McCarthy who is still under 10 managed to win his first round group and finished equal 9th. Ben O'Donnell had the unluckiest draw of the competition when he had to face the Munster No.1 in the first round and the Munster No.2 in the 2nd round.

Club coaches Owen Kelly and Richard Gostyn were delighted by their first real test against top players in their age group and feel the players will have benefited greatly from their first experience. Special thanks to the Bantry soccer coach who let some of the players off for the day and the table tennis players were delighted to here Bantry still managed a 3-2 victory in their match on Saturday.

It was also a first time outing for 9 year old Sinead McKennedy from the Skibbereen Club. Sinead played in the U10 event where club mate Luighsige Carey is currently ranked No.1. Sinead put in a good performance and finished 6th. Luighsige put in another good show this time finishing 3rd over all.

Once again West Cork was well represented by the Kinneigh Club who were still celebrating their success in the senior events the night before. Alan Hurley claimed the Mens' U21 event while Emma Jane Helen wrapped up both U21 and Senior Ladies titles. Ivan Shorten moved up the Veteran Rankings finishing 4th after beating World Veteran Champion Bertie Levinge from Kinsale.

It was gold again on Saturday in the Boys U10 when Brian Kelleher saw off the Ballincollig Challenger in the final. Shane Foley took a Bronze Medal for third in the U12 Boys while older brother took 4th in the U14 Boys. Roisin Kelleher managed an impressive 4th in the U14 Girls and went on to finish 5th in the older U17 category.

Skibbereen Seniors face their first challenge. 21/11/06
Skibbereen TTC played their first competitive match against a scratch side, made up of players from around the region. First out of the blocks was Skibbereen's current No.1 Mike Williams who faced Richard Gostyn from Goleen and his wife Julie Williams took on Julia Eisele from Durrus. Both matches were close with the visitors taking the points.

The second round saw Peter Dorrington take on Matt Maw from Dunmanway and Catherine Herney against Vicky Ridgeway also from Dunmanway. These matches proved even closer with Matt Maw celebrating his return to the game after a 10-year gap and Catherine collecting Skibbereen's first points of the night.

Matt Maw was once again in good form as he took on Mike Williams running out a close winner and Richard Gostyn put in an uncompromising performance against Peter Dorrington. It was Catherine Herney who once again picked up vital points when she beat Julia Eisele and then Julie Williams who worked extremely hard to collect points against Vicky Ridgeway.

The visitors went into the final two matches with a 5/3 lead and with Skibbereen needing to win both mixed doubles matches. Mike and Catherine took on Richard and Julia while Peter and Julie took on Matt and Vicky. Again the matches were close but the visitors using their greater experience managed to secure both victories to finish the match 7/3.

The match was played in great spirit and all agreed it was an entertaining night. The Skibbereen seniors now have something to aim for as another match up is planned for latter on in the season. Anyone who is interested in getting involved in table tennis there is an adult training session on Tuesdays between 6pm-7pm at the Skibbereen Sports Centre all standards welcome.

WEST CORK TABLE TENNIS NEWS ROUND UP 21/11/06
It is hard to keep up with all the activity at the moment but here is a brief run down of what's going on.

Skibbereen TTC has their first Senior Match against a scratch side made up of players from Goleen, Durrus and Dunmanway. This will be played on Tuesday 21st in Skibbereen Sports Centre starting 6pm.

Saturday 25th sees the Munster Ranking in Cork. A squad of U12s from Bantry is due to travel up; this will be the first tournament outside of Bantry for most of these kids. A couple of players from Skibbereen TTC and Dunmanway are also expected to play.

Thursday, November 30th sees the annual friendly match between Togher National School and Gael Scoil Bantry. It is the turn of Gael Scoil to host the event and Togher are expected to bring a squad of 12 players. The Togher kids will also get the chance to join the Bantry TTC session after the match for a few more matches.

A number of West Cork coaches will be travelling up to Cork on Saturday December 2nd to take part in a Munster Special Olympic "Fun Day." The Fun Day is being organised as part of the Munster SO Table Tennis program and is intended to bring those interested in table tennis together from both main stream and Special Olympics. West Cork has strong links with Munster Special Olympics and this has been strengthened with the addition of a new club at COPE in Clonakilty being organised by Ivan Shorten.

Still on Special Olympic news, West Cork Coach Owen Kelly was recently selected as Head Coach for the Irish Team at the World Summer Games in Shanghai, China. Owen has been involved with Special Olympics for sometime firstly coaching at CoAction in Bantry and as Munster Head Coach for the last 5 years.

Saturday December 9th sees the first Skibbereen Invitational tournament. U14 players from Bantry, Skibbereen and Dunmanway will play in divisions. This is the first time Skibbereen TTC have organised such a tournament and entries are already coming in.

Other News.
A new coaching scheme has started at St. Patrick's NS in Skibbereen on Wednesdays with Richard Gostyn, you can find out more details by contacting the Skibbereen Sports Centre, this bring the number of coaching sessions at the Sports Centre to 6.

The new season at Bantry Secondary School has now been well established and a number of the kids also train at the Bantry TTC.

There is an introduction day being held at the New Model School in Dunmanway on Monday 28th. Vicky Ridgeway and Owen Kelly will deliver the open day and Vicky will hold a weekly coaching session. Vicky who coaches at Togher NS has also started sessions in the nearby Maria Immaculata Community College.

Skibbereen, Dunmanway and Bantry all now have at least two National Schools and one Secondary School receiving regular coaching sessions.

On the club front, Durrus and Goleen both hope to have new table tennis clubs up and running after Christmas. Both Community Councils have built brand new facilities and there appears to be a good deal of interest from all ages. Castlehaven Community Council also hopes to have a new club but they will not be ready until next September.

Bantry - ITTA Skills Awards
Congratulation to the students of Bantry Secondary School who passed their ITTA Skills Awards. The school has started a new after school club with 10 first years but with all classes playing during school hours. A number of students also attend the Bantry TTC.

1 Star Players: Cathal O'Sullivan, Daniel Lynch, Mark Lynch, Eileen O'Donovan, Abi Cronin, James Oliver.

2 Star Players: Ronan Lordan, Brian Crowley, Tom O'Sullivan.

Well done to Brian Crowley who won the U14 Plate at the Munster Rankings in Kinneigh.

Club Update


Skibbereen News October
Congratulations to Kevin McCarthy and Adam Harris of the Skibbereen TTC who passed their ITTA 2 Star Awards and Robert Flaherty also passed his 1 Star Award.

In other news Luighsighe Carey won her second Munster U10 Girls ranking at the Kinneigh Open.

An "Open Day" was held recently for the 6th years of St. Patrick's Boys National School in Skibbereen by coaches Owen Kelly and Richard Gostyn in the Skibbereen Sports Centre.

Due to the growing popularity of Table Tennis in the town two more training sessions are being held. First session 3.15-4.15 and 2nd 4.15 - 5.15 on Wednesdays. Both session are currently full but you can apply for the waiting list by contacting Skibbereen TTC on 028-35371.
Back To Top