The Christmas Play.
When we did the Christmas play Sarah, Rachel, Aishling and I were angels.
We liked getting dressed. Rachel was the guardian angel. James and Tasmin were readers. Elizabeth was an innkeeper. Ellen was a reader too. We had a great time doing the play.
BY CIARA
The Christmas Play
The night came for our play. I was very nervous and I guessed Mary was too. The curtains opened and the play began. The children came out and said "Jesus Christ is born by Second Class" and it started. The people and children thought it was very good but it came to the end. We all bowed three times and the people clapped.
By Claire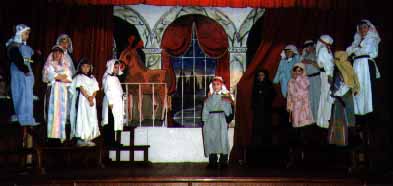 The Christmas Play
I was a narrator in the play.
So was my friend a narrator.
Amy C was Mary, Niall M was Joseph. Some classes came to see the play. I was nervous the first time in front of everybody so the second time was better. I enjoyed Christmas.
BY
ELLEN
Our Play
I was a villager in the Christmas Play. Everyone had a part. The play went like this. "Many years ago Mary and Joseph went to Bethlehem. They rested in a stable for the night. Mary had a baby. Shepherds came to see him. The three kings brought him presents. At Christmas we remember Jesus.
By Rebecca