| | | |
| --- | --- | --- |
| | Our visit to the New Recycling Plant | |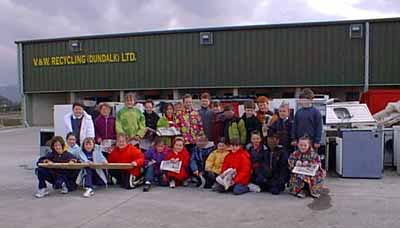 Our Trip to the Recycling Plant

Today is Wednesday. This morning we went to the recycling plant. Some of the children's mammies gave us a lift up. I went in Michael's car. Then we went on our trip around the place.

We saw all the old cookers, washing machines, sinks and all metal. Then we moved on to the cardboard but if your were throwing cardboard in the recycling bin it had to be clean and no sellotape on the cardboard. When we saw the newspaper some of the class brought newspaper and put it in. Then we went to the cans. Seán and I got a photograph taken putting the cans in the dump. Then we went to the brown glass and saw all the beer bottles. Then it was the clear bottles and there was lots of them. Soon we came to green bottles, there were lots of harp and other wine bottles there. On the cardboard you were not allowed cereal boxes because they are too glossy.

After the green bottles is the textiles. There were lots of old clothes and they were sending them to Romania. The footwear came next. They had to be tied together or sellotaped. After that it was the car batteries and we saw all the liquid in the batteries. Then it was time to go back to the school. I had a great day.

By Orlagh.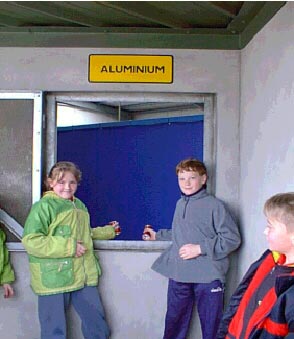 Welcome Page | About Our Area | About our School | Activities | Classes
Our e-mail address is: realtjunior.ias@eircom.net