Computer Experience.
I have spent ours, days, weeks and if I am to be honest a couple of months now learning everything about my Computer. Teaching myself how to make web pages and believe me it has been a long road. Eight months ago my computer arrived in about 6 boxes. Printer, computer, scanner, screen and much more. It was a jigsaw and I had not idea where to put what. It took about 3 days for me to get it setup and plugged in. Guess what! Nothing happened when it was turned on. I guess I should have read the books that came with it in more detail. Windows 95 had to be installed before I could expect it to do anything for me. The fun was just starting. I had to reinstall windows 5 times in the first week. Tech support were nearly part of the family by the time I was finished. I am so happy that I have got this far, I truly never thought I would ever get this web page up and running.
Look. This beautiful Castle is in my City.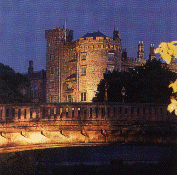 Kilkenny Castle
i


My name is Vicky. I was born here in
Ireland. I live in the South East of my
Country in a small city called Kilkenny.
I am a mum to 5 children, 3 boys and 2 girls.

I started to collect Beanie Babies over eighteen months ago. I went to America to see my brother on holidays and he introduced me to the Beanie Babies. There are about 100 in my private collection plus I have another 100 I would like to sell or trade. Don't be shy if you are interested in buying or trading. Contact me and lets make a deal. You can message me on ICQ or email me. Many thanks for spending time on my pages. Don't forget to bookmark me so you can call back to see me again sometime.